Abstract
Purpose
The aim of this study was to report our postoperative results concerning the vertical rectus (VR) muscle union combined with lateral rectus (LR) plication for the treatment of large-angle esotropia (ET) in complete abducens nerve palsy.
Methods
Medical records from 36 patients who had undergone the VR union procedure for ET treatment due to sixth-nerve palsy between July 2014 and July 2018 at Beyoglu Eye Research and Training Hospital were reviewed. One week before surgery, all patients underwent a 4-IU botulinum toxin A (btx) injection into the ipsilateral medial rectus (MR). All patients then underwent a VR muscle union procedure. A non-absorbable suture was inserted through the lateral muscular margin of each VR muscle at approximately 1/5 the width from the edge at 10 mm distance from the VR insertion. Both sutures were then tied to each other above the LR. Plication of the LR muscle using a non-absorbable suture was performed in all cases.
Results
The study population consisted of 14 (38.9%) females and 22 (61.1%) males. The mean age was 36.31 ± 19.16 years. The mean preoperative deviation angle in primary gaze into distance was 47.77 ± 18.48 prism diopter (PD). The mean deviation angle 1 year after surgery was − 1.0 ± 6.62 PD. Abduction improved from − 4.27 ± 0.46 to − 1.88 ± 0.96.
Conclusion
The VR muscle union in combination with LR plication appears to be an effective treatment procedure for complete abducens nerve palsy patients.
This is a preview of subscription content,
to check access.
Access this article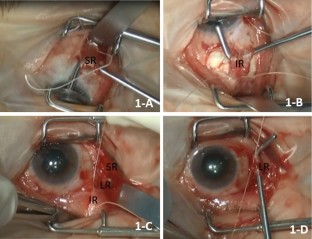 References
Kinori M, Miller KE, Cochran M, Patil PA, El Sahn M, Khayali S, Robbins SL, Hertle RW, Granet DB (2015) Plication augmentation of the modified Hummelsheim procedure for treatment of large-angle esotropia due to abducens nerve palsy and type 1 Duane syndrome. J AAPOS. 19(4):311–315. https://doi.org/10.1016/j.jaapos.2015.05.005(Epub 2015 Jul 30)

Muraki S, Nishida Y, Ohji M (2013) Surgical results of a muscle transposition procedure for abducens palsy without tenotomy and muscle splitting. Am J Ophthalmol 156(4):819–824. https://doi.org/10.1016/j.ajo.2013.05.020(Epub 2013 Jul 20)

Von Noorden GK, Campos EC (2002) Binocular vision and ocular motility, theory and management of strabismus, 6th edn. Mosby Inc. St. Louis, Missouri

Bleik JH, Cherfan GM (1995) Anterior segment ischemia after the Jensen procedure in a 10-year-old patient. Am J Ophthalmol 119(4):524–525

Nishida Y, Inatomi A, Aoki Y, Hayashi O, Iwami T, Oda S, Nakamura J, Kani K (2003) A muscle transposition procedure for abducens palsy, in which the halves of the vertical rectus muscle bellies are sutured onto the sclera. Jpn J Ophthalmol 47(3):281–286

Marcon GB, Pittino R, Martini N, Muner G (2013) Transactions of the 36th meeting of the European strabismological association (ESA) meeting, pp 161–164

Akar S, Gokyigit B, Pekel G, Demircan A, Demirok A (2013) Vertical muscle transposition augmented with lateral fixation (Foster) suture for Duane syndrome and sixth nerve palsy. Eye (Lond). 27(10):1188–1195. https://doi.org/10.1038/eye.2013.167(Epub 2013 Aug 2)

Britt MT, Velez FG, Velez G, Rosenbaum AL (2005) Vertical rectus muscle transposition for bilateral Duane syndrome. J AAPOS. 9(5):416–421

Gunton KB (2015) Vertical rectus transpositions in sixth nerve palsies. Curr Opin Ophthalmol 26(5):366–370. https://doi.org/10.1097/ICU.0000000000000178

Frueh BR, Henderson JW (1971) Rectus muscle union in sixth nerve paralysis. Arch Ophthalmol 85(2):191–196

Selezinka W, Sandall GS, Henderson JW (1974) Rectus muscle union in sixth nerve paralysis. Jensen rectus muscle union. Arch Ophthalmol 92(5):382–386

Brooks SE, Olitsky SE, deB Ribeiro G (2000) Augmented Hummelsheim procedure for paralytic strabismus. J Pediatr Ophthalmol Strabismus 37(4):189–195 (quiz 226-7)

Neugebauer A, Fricke J, Kirsch A, Rüssmann W (2001) Modified transposition procedure of the vertical recti in sixth nerve palsy. Am J Ophthalmol 131(3):359–363

Park KA, Oh SY (2013) Muscle union procedure with medial rectus recession for unilateral abducens palsy. J Pediatr Ophthalmol Strabismus 50:e11–e14. https://doi.org/10.3928/01913913-20130306-01

Park KA, Lyu I, Yoon J, Jeong U, Oh JE, Lim HW, SY Oh (2015) Muscle union procedure in patients with paralytic strabismus. PLoS ONE 10(6):e0129035. https://doi.org/10.1371/journal.pone.0129035.eCollection

Rosenbaum AL (2004) Costenbader lecture. The efficacy of rectus muscle transposition surgery in esotropic Duane syndrome and VI nerve palsy. J AAPOS. 8(5):409–419

Chaudhuri Z, Demer JL (2014) Surgical outcomes following rectus muscle plication: a potentially reversible, vessel-sparing alternative to resection. JAMA Ophthalmol. 132(5):579–585. https://doi.org/10.1001/jamaophthalmol.2013.8188

Paysse EA, Brady McCreery KM, Ross A, Coats DK (2002) Use of augmented rectus muscle transposition surgery for complex strabismus. Ophthalmology 109(7):1309–1314
Ethics declarations
Conflict of interest
All authors declare that they have no conflict of interest.
Ethical approval
All procedures performed in studies involving human participants were in accordance with the ethical standards of the institutional and/or national research committee and with the 1964 Helsinki declaration and its later amendments or comparable ethical standards.
Informed consent
Informed consent was obtained from all individual participants included in the study.
Additional information
Publisher's Note
Springer Nature remains neutral with regard to jurisdictional claims in published maps and institutional affiliations.
About this article
Cite this article
Inal, A., Gokyigit, B., Ocak, O.B. et al. Vertical rectus muscle union combined with lateral rectus plication for complete abducens nerve palsy. Int Ophthalmol 40, 423–429 (2020). https://doi.org/10.1007/s10792-019-01200-x
Received:

Accepted:

Published:

Issue Date:

DOI: https://doi.org/10.1007/s10792-019-01200-x
Keywords