Abstract
Purpose
To evaluate the influence of preoperative mitomycin C (MMC) on the proliferative behavior of fibroblasts and fibrovascular tissue derived from the primary pterygium using the immunohistochemical method (Ki67 and CD34).
Design
Randomized clinical trial.
Subjects, participants and/or controls
Sixty-five patients with primary pterygium were randomly selected and divided into one of three groups. The control group had 29 patients that were only submitted to pterygium removal. The group that received the MMC injection a month before surgery had 16 patients, and the group that received the MMC 2 weeks before surgery had 20 patients. Each patient only had one eye operated on.
Methods
Sixty-five patients were selected to undergo pterygium excision surgery. We randomly placed the patients into three groups: one without MMC (n = 29), one with MMC application 1 month before surgery (n = 16) and another with MMC application 2 weeks before surgery (n = 20). Subconjunctival injection was applied with 0.1 ml of 0.02% MMC in the pterygium body, and patients were followed for 2 years.
Main outcome measures
Proliferative behavior of fibroblasts and fibrovascular tissue using the immunohistochemical method (Ki67 and CD34) comparing the three groups.
Results
Of the total 29 patients (44.6%) in the control group (without MMC application), 11 cases had recurrence (37.9%), of which seven (63.6%) were within 3 months of follow-up and four (36.3%) within 6 months of follow-up. The mean proliferation index of the recurrent cases was 4.5%, and of the cases without recurrence, it was 6.1%. There were 16 patients (24.6%) in the MMC application group 1 month before surgery, in which one case (6.25%) recurred at 6 months. In the group with MMC application 2 weeks before surgery, of the total of 20 patients (30.7%), there was one case of recurrence (5%) at 6 months. The proliferation index of the group that had MMC administered and did not have a recurrence was 7.2%, and in the group with recurrence, it was 6.4%. The CD34-labeled cell count was 5.8% among cases with recurrence and 5.6% in cases without recurrence. No side effects of MMC application were reported during the study follow-up period.
Conclusion
MMC was efficient to reduce the recurrence index despite the absence of a direct relation with its antimitotic and antiangiogenic effect in the samples that were analyzed.
This is a preview of subscription content, log in to check access.
Access options
Buy single article
Instant access to the full article PDF.
US$ 39.95
Price includes VAT for USA
Subscribe to journal
Immediate online access to all issues from 2019. Subscription will auto renew annually.
US$ 99
This is the net price. Taxes to be calculated in checkout.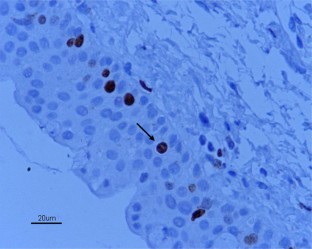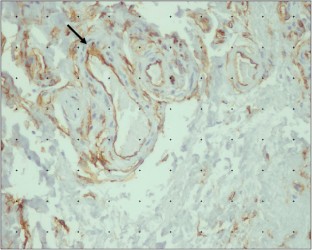 References
1.

Romano V, Cruciani M, Conti L, Fontana L (2016) Fibrin glue versus sutures for conjunctival autografting in primary pterygium surgery. Cochrane database Syst Rev. 12:CD011308. https://doi.org/10.1002/14651858.cd011308.pub2

2.

Song P, Chang X, Wang M, An L (2017) Variations of pterygium prevalence by age, gender and geographic characteristics in China: a systematic review and meta-analysis. PLoS ONE 12(3):0174587. https://doi.org/10.1371/journal.pone.0174587

3.

Hosseini H, Nejabat M, Khalili MR (2007) Bevacizumab (Avastin) as a potential novel adjunct in the management of pterygia. Med Hypotheses 69(4):925–927. https://doi.org/10.1016/j.mehy.2007.01.047

4.

Mansour AM (2009) Treatment of inflamed pterygia or residual pterygial bed. Br J Ophthalmol 93(7):864–865. https://doi.org/10.1136/bjo.2008.155291

5.

Kam KW, Belin MW, Young AL (2015) Monitoring corneal densities following primary pterygium excision with adjuvant topical mitomycin-C application: an observational study of corneal scar changes. Cornea 34(5):530–534. https://doi.org/10.1097/ICO.0000000000000400

6.

Hussain Z, Rehman HUBM (2013) Comparison of preoperative injection vs. intraoperative application of mitomycin C in recurrent pterygium. Ophthalmol Updat 11:21–24

7.

van Diest PJ, Brugal G, Baak JP (1998) Proliferation markers in tumours: interpretation and clinical value. J Clin Pathol 51(10):716–724

8.

Kenyon KR, Wagoner MD, Hettinger ME (1985) Conjunctival autograft transplantation for advanced and recurrent pterygium. Ophthalmology 92(11):1461–1470

9.

Ucuzian AA, Bufalino DV, Pang Y, Greisler HP (2013) Angiogenic endothelial cell invasion into fibrin is stimulated by proliferating smooth muscle cells. Microvasc Res 90:40–47. https://doi.org/10.1016/j.mvr.2013.06.012

10.

Gu F, Li X, Kong J et al (2013) VEGF111b, a new member of VEGFxxxb isoforms and induced by mitomycin C, inhibits angiogenesis. Biochem Biophys Res Commun 441(1):18–24. https://doi.org/10.1016/j.bbrc.2013.09.144

11.

Donnenfeld ED, Perry HD, Fromer S, Doshi S, Solomon R, Biser S (2003) Subconjunctival mitomycin C as adjunctive therapy before pterygium excision. Ophthalmology 110(5):1012–1016. https://doi.org/10.1016/S0161-6420(03)00091-5

12.

Carrasco MA, Rapuano CJ, Cohen EJLP (2002) Scleral ulceration after preoperative injection of mitomycin C in the pterygium head. Arch Ophthalmol 120(11):1585–1586

13.

Rhiu S, Shim J, Kim EK et al (2012) Complications of cosmetic wide conjunctivectomy combined with postsurgical mitomycin C application. Cornea 31(3):245–252. https://doi.org/10.1097/ICO.0B013E3182343073

14.

Wan Norliza WM, Raihan IS, Azwa JA, Ibrahim M (2006) Scleral melting 16 years after pterygium excision with topical mitomycin C adjuvant therapy. Cont Lens Anterior Eye 29(4):165–167. https://doi.org/10.1016/j.clae.2006.08.001

15.

Hwang S, Choi S (2015) A comparative study of topical mitomycin C, cyclosporine, and bevacizumab after primary pterygium surgery. Korean J Ophthalmol 29(6):375–381. https://doi.org/10.3341/kjo.2015.29.6.375

16.

Singh P, Sarkar L, Sethi H, Gupta V (2015) A randomized controlled prospective study to assess the role of subconjunctival bevacizumab in primary pterygium surgery in Indian patients. Indian J Ophthalmol 63(10):779. https://doi.org/10.4103/0301-4738.171508

17.

Liu T, Liu Y, Xie L, He X, Bai J (2013) Progress in the pathogenesis of pterygium. Curr Eye Res 38(12):1191–1197. https://doi.org/10.3109/02713683.2013.823212

18.

Martins TGDS, de Costa ALF, Alves MR, Chammas R, Schor P (2016) Mitomycin C in pterygium treatment. Int J Ophthalmol 9(3):465–468

19.

Tan DT, Liu YPSL (2000) Flow cytometry measurements of DNA content in primary and recurrent pterygia. Invest Ophthalmol Vis Sci 41(7):1684–1686

20.

Girolano ND, Tedla N, Kuman RK, MacCluskey P, Lloyd ACM, Wakefield D (1999) Culture and characterization of epithelial cells from human pterygia. Br J Ophthalmol 83:1077–1082

21.

Ozsutcu M, Ayintap E, Akkan JCU, Koytak A, Aras C (2014) Repeated bevacizumab injections versus mitomycin C in rotational conjunctival flap for prevention of pterygium recurrence. Indian J Ophthalmol 62(4):407–411. https://doi.org/10.4103/0301-4738.120220
Ethics declarations
Conflict of interest
The authors declare that they have no conflicts of interest.
Ethical approval
All procedures performed in studies involving human participants were in accordance with the ethical standards of the institutional and/or national research committee and with the 1964 Declaration of Helsinki and its later amendments or comparable ethical standards.
Informed consent
Informed consent was obtained from all individual participants included in the study.
Additional information
Publisher's Note
Springer Nature remains neutral with regard to jurisdictional claims in published maps and institutional affiliations.
About this article
Cite this article
dos Santos Martins, T.G., de Azevedo Costa, A.L.F., Furuzawa, K.M. et al. Evaluation of antimitotic and antiangiogenic effect of preoperative subconjunctival application of mitomycin C in primary pterygium: a randomized trial. Int Ophthalmol 39, 2435–2440 (2019). https://doi.org/10.1007/s10792-019-01081-0
Received:

Accepted:

Published:

Issue Date:
Keywords
Mitomycin C

Pterygium surgery

Recurrence rate

Immunohistochemistry

Cell proliferation