Abstract
Purpose
To evaluate the effect of topical sodium hyaluronate (SH) 0.18% treatment on corneal epithelial healing after epithelial debridement in pars plana vitrectomy in diabetic patients.
Method
This is prospective and randomized clinical trial. Our study population included 30 eyes undergoing pars plana vitrectomy that required near total corneal debridement intra-operatively for surgical view. We compared the residual wound and wound healing rate in between 3 groups: 10 diabetic eyes (DMV) on topical SH 0.18%; 10 diabetic eyes (DMC) and 10 non-diabetic eyes (NDM) not treated with topical SH 0.18%. The corneal epithelial wound was measured at 12, 24, 36, 48, 60, 72 and 120 h after the vitrectomy surgery.
Results
DMC group had corneal wounds that reepithelialization significantly more slowly than in NDM and DMV groups at 12, 24, 36 and 48 h (Mann–Whitney test p < 0.05). The epithelial healing rate was significantly faster at 12 h in NDM and DMV group (Mann–Whitney test p < 0.05). No differences in the residual epithelial wound and wound healing were detected in between NDM and DMV groups. The mean for epithelial closure in DMC group was delayed 87.6 ± 28.31 h, compared with DMV group (64.8 ± 21.31) and NDM group (56.4 ± 9.88). All groups were followed up 1 month beyond completed wound closure. No recurrent corneal epithelial wound, corneal melting or corneal neovascularization was noted.
Conclusion
Diabetic patients on SH 0.18% four times daily for epithelial defect had similar corneal wounds healing rate as non-diabetics. This treatment significantly improved corneal wound healing and accelerated complete corneal wound resurfacing in diabetic patients.
This is a preview of subscription content, log in to check access.
Access options
Buy single article
Instant access to the full article PDF.
US$ 39.95
Price includes VAT for USA
Subscribe to journal
Immediate online access to all issues from 2019. Subscription will auto renew annually.
US$ 99
This is the net price. Taxes to be calculated in checkout.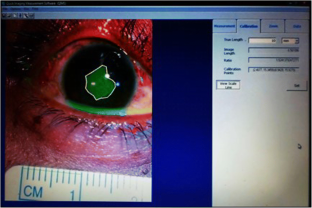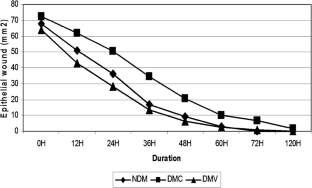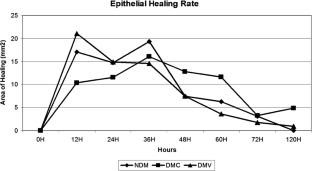 References
1.

Friberg TR, Ohji M, Scheree JJ, Tano Y (2003) Frequency of epithelial debridement during diabetic vitrectomy. Am J Ophthalmol 135:553–554

2.

McDermott AM, Kern TS, Murphy CJ (1998) The effect of elevated extracellular glucose on migration, adhesion and proliferation of SV40 transformed human corneal epithelial cells. Curr Eye Res 17:924–932

3.

Inoue M, Katakami C (1993) The effect of hyaluronic acid on corneal epithelial cell proliferation. Invest Ophthalmol Vis Sci 34:13–15

4.

Gomes JAP, Amankwah R, Powell-Richards A, Dua HS (2004) Sodium hyaluronate (hyaluronic acid) promotes migration of human corneal epithelial cells in vitro. Br J Ophthalmol 88:821–825

5.

Nakamura M, Mishima H, Nishida T, Otori T (1994) Binding of hyaluronan to plasma fibronectin increases the attachment of corneal epithelial cells to a fibronectin matrix. J Cell Physiol 159:412–422

6.

Chen WYJ, Abatangelo G (1997) Functions of hyaluronan in wound healing. Wound Rep Reg 7:79–89

7.

Graue EL, Polack FM, Balazs EA (1980) The protective effect of Na hyaluronate to corneal endothelium. Exp Eye Res 31:119–127

8.

Shimmura S, Ono M, Shinozaki K, Toda I, Takamura E, Mashima Y et al (1995) Sodium hyaluronate eye drops in the treatment of dry eyes. Br J Ophthalmol 79:1007–1011

9.

Aragona P, Papa V, Micali A, Santocono M, Milazzo G (2002) Long term treatment with sodium hyaluronate-containing artificial tears reduces ocular surface damage in patients with dry eye. Br J Ophthalmol 86:181–184

10.

Stuart JC, Linn JG (1985) Dilute sodium hyaluronate (Healon) in the treatment of ocular surface disorders. Ann Ophthalmol 17:190–192

11.

Nishida T, Nakamura M, Mishima H, Otori T (1991) Hyaluronan stimulates corneal epithelial cell migration. Exp Eye Res 53:753–758

12.

Nakamura M, Sato N, Chikama TI, Hasegawa Y, Nishida T (1997) Hyaluronan facilitates corneal epithelial wound healing in diabetic rats. Exp Eye Res 64:1043–1050

13.

Asari A, Morita M, Sekiguchi T, Okamura K, Horie K, Miyauchi S (1996) Hyaluronan, CD44 and fibronectin in rabbit corneal epithelial wound healing. Jpn J Ophthalmol 40(1):18–25

14.

Yokoi N, Yamada J, Nishida K, Kinashita S (1995) Effect of sodium hyaluronate on diffuse epithelial keratitis after penetrating keratoplasty. Transpl Proc 27:1412–1413

15.

Mohd Hanif MS, Wilson YWS, Aini H (2008) Area measurement of regular and irregular shape polygon from photographic image using Quick Imaging Measurement Software (QIMS). Universiti Kebangsaan Malaysia, Bandar Baru Bangi

16.

Wakuta M, Morishige N, Chikama T, Seki K, Nagano T, Nishida T (2007) Delayed wound closure and phenotypic changes in corneal epithelium of the spontaneously diabetic Goto-Kakizaki rat. Invest Ophthamol Vis Sci 48(2):590–596

17.

Robin JB, Keys CL, Kaminski LA, Viana MA (1990) The effect of collagen shields on rabbit corneal reepithelialization after chemical debridement. Invest Ophthalmol Vis Sci 31:1294–1300
Acknowledgements
This research was done according to Malaysian Good Clinical Practice (MGCP) 2nd edition January 2004 and was registered with the National Medical Research Register (NMRR) (Research identity: 11322) upon approval of the study by supervisors from institution and university.
Ethics declarations
Conflict of interest
The authors declare that they have no conflict of interest.
Ethical approval
The study was conducted in accordance with the principles of the Declaration of Helsinki. The approval from Research and Ethics Committee, Faculty of Medicine, University Kebangsaan Malaysia and Ministry of Health Malaysia, was obtained (Project code: FF-245-2010). The purpose of the study was explained to the patients in detail. Written consent was obtained from patients at study entry.
About this article
Cite this article
Ling, K., Bastion, M.C. Use of commercially available sodium hyaluronate 0.18% eye drops for corneal epithelial healing in diabetic patients. Int Ophthalmol 39, 2195–2203 (2019). https://doi.org/10.1007/s10792-018-1057-1
Received:

Accepted:

Published:

Issue Date:
Keywords
Sodium hyaluronate (SH)

Hyaluronan

Corneal epithelium

Wound healing

Vitrectomy

Diabetes