Abstract
Purpose
To investigate the elasticity of ocular structures in patients with rheumatoid arthritis (RA) without ocular involvement.
Methods
The study included 56 RA patients (study group) and 24 healthy volunteers as the control group. The rheumatoid arthritis patients were divided into two subgroups as those in active phase (Group 1, n = 25) or in remission phase (Group 2, n = 31) according to the disease activity index (DAS 28) score. The elastography values of the ratio of orbital fat-sclera (ROF/S) were measured with real-time US elastography, and corneal mechanical values were measured with the Reichert Ocular Response Analyzer in each eye.
Results
The mean ROF/S value was 5.2 ± 1.8 in Group 1, 0.7 ± 0.4 Group 2, and 0.6 ± 0.1 in the control group. There was a significant difference between the Group 1 and control group with regard to ROF/S (p < 0.001), but no significant difference was determined between Group 2 and control group (p > 0.05). The mean ROF/S value was a significant difference between the Group 1 and 2 (p < 0.001). ROF/S was significantly correlated with DAS-28 and C-reactive protein (CRP) (r = 0.816, p < 0.001 and r = 0.259, p = 0.006).
Conclusions
ROF/S was significantly increased in patients in the active phase of RA. Findings revealed that ocular tissue structural changes may occur in the active phase and these could be related to ocular complications as a prognostic factor.
This is a preview of subscription content, log in to check access.
Access options
Buy single article
Instant access to the full article PDF.
US$ 39.95
Price includes VAT for USA
Subscribe to journal
Immediate online access to all issues from 2019. Subscription will auto renew annually.
US$ 99
This is the net price. Taxes to be calculated in checkout.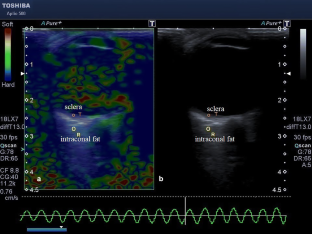 References
1.

Grassi W, De Angelis R, Lamanna G, Cervini C (1998) The clinical features of rheumatoid arthritis. Eur J Radiol 27:18–24

2.

Scutellari PN, Orzincolo C (1998) Rheumatoid arthritis: sequences. Eur J Radiol 27:31–38

3.

Alamanos Y, Voulgari PV, Drosos AA (2006) Incidence and prevalence of rheumatoid arthritis, based on the 1987 American College of Rheumatology criteria: a systematic review. Semin Arthritis Rheum 36:182–188

4.

Huizinga TWJ, Pincus T (2010) In the clinic. Rheumatoid arthritis. Ann Intern Med 153:ITC1-1-ITC1-15; quiz ITC1-16

5.

Scott DL, Wolfe F, Huizinga TW (2010) Rheumatoid arthritis. Lancet 376:1094–1108

6.

Silman AJ, Pearson JE (2002) Epidemiology and genetics of rheumatoid arthritis. Arthritis Res 4:265–272

7.

Turesson C (2013) Extra-articular rheumatoid arthritis. Curr Opin Rheumatol 25:360–366

8.

Harper SL, Foster CS (1998) The ocular manifestations of rheumatoid disease. Int Ophthalmol Clin 38:1–19

9.

Vignesh APP, Srinivasan R (2015) Ocular manifestations of rheumatoid arthritis and their correlation with anti-cyclic citrullinated peptide antibodies. Clin Ophthalmol 9:393–397

10.

Lemp MA (2005) Dry eye (keratoconjunctivitis sicca), rheumatoid arthritis, and Sjögren's syndrome. Am J Ophthalmol 140:898–899

11.

Artifoni M, Rothschild P-R, Brézin A et al (2014) Ocular inflammatory diseases associated with rheumatoid arthritis. Nat Rev Rheumatol 10:108–116

12.

Sigrist RMS, Liau J, El Kaffas A et al (2017) Ultrasound elastography: review of techniques and clinical applications. Theranostics 7:1303–1329

13.

Dewall RJ (2013) Ultrasound elastography: principles, techniques, and clinical applications. Crit Rev Biomed Eng 41:1–19

14.

Goekoop-Ruiterman YPM, de Vries-Bouwstra JK, Kerstens PJSM et al (2010) DAS-driven therapy versus routine care in patients with recent-onset active rheumatoid arthritis. Ann Rheum Dis 69:65–69

15.

Nayak BK, Hazra A (2011) How to choose the right statistical test? Indian J Ophthalmol 59:85–86

16.

Bacons PA, Kitas GD (1994) The significance of vascular inflammation in rheumatoid arthritis. Ann Rheum Dis 53:621–623

17.

Genta MS, Genta RM, Gabay C (2006) Systemic rheumatoid vasculitis: a review. Semin Arthritis Rheum 36:88–98

18.

Voskuyl AE, Zwinderman AH, Westedt ML et al (1996) Factors associated with the development of vasculitis in rheumatoid arthritis: results of a case-control study. Ann Rheum Dis 55:190–192

19.

Smolen JS, Steiner G (2003) Therapeutic strategies for rheumatoid arthritis. Nat Rev Drug Discov 2:473–488

20.

Smolen JS, Aletaha D, Koeller M et al (2007) New therapies for treatment of rheumatoid arthritis. Lancet (London) 370:1861–1874

21.

Choy E (2012) Understanding the dynamics: pathways involved in the pathogenesis of rheumatoid arthritis. Rheumatology (Oxford) 51:3–11

22.

Cojocaru M, Cojocaru IM, Silosi I et al (2010) Extra-articular manifestations in rheumatoid arthritis. Maedica (Buchar) 5:286–291

23.

Scott DG, Bacon PA, Tribe CR (1981) Systemic rheumatoid vasculitis: a clinical and laboratory study of 50 cases. Medicine (Baltimore) 60:288–297

24.

Rao NA, Marak GE, Hidayat AA (1985) Necrotizing scleritis. A clinico-pathologic study of 41 cases. Ophthalmology 92:1542–1549

25.

Androudi S, Dastiridou A, Symeonidis C et al (2013) Retinal vasculitis in rheumatic diseases: an unseen burden. Clin Rheumatol 32:7–13

26.

Duru N, Altinkaynak H, Erten Ş et al (2016) Thinning of choroidal thickness in patients with rheumatoid arthritis unrelated to disease activity. Ocul Immunol Inflamm 24:246–253

27.

Sims J (2012) Scleritis: presentations, disease associations and management. Postgrad Med J 88:713–718

28.

Jayson MI, Jones DE (1971) Scleritis and rheumatoid arthritis. Ann Rheum Dis 30:343–347

29.

Garra BS (2007) Imaging and estimation of tissue elasticity by ultrasound. Ultrasound Q 23:255–268

30.

Frey H (2003) Realtime elastography. A new ultrasound procedure for the reconstruction of tissue elasticity. Radiologe 43:850–855

31.

Luce DA (2005) Determining in vivo biomechanical properties of the cornea with an ocular response analyzer. J Cataract Refract Surg 31:156–162

32.

Taş M, Öner V, Özkaya E, Durmuş M (2014) Evaluation of corneal biomechanical properties in patients with rheumatoid arthritis: a study by ocular response analyzer. Ocul Immunol Inflamm 22:224–227

33.

Prata TS, Sousa AK, Garcia Filho CAA et al (2009) Assessment of corneal biomechanical properties and intraocular pressure in patients with rheumatoid arthritis. Can J Ophthalmol/J Can d'Ophtalmologie 44:602

34.

Can ME, Erten S, Can GD et al (2015) Corneal biomechanical properties in rheumatoid arthritis. Eye Contact Lens 41:382–385

35.

Detorakis ET, Drakonaki EE, Tsilimbaris MK et al (2010) Real-time ultrasound elastographic imaging of ocular and periocular tissues: a feasibility study. Ophthalmic Surg Lasers Imaging 41:135–141

36.

Pekel G, Ağladıoğlu K, Acer S et al (2015) Evaluation of ocular and periocular elasticity after panretinal photocoagulation: an ultrasonic elastography study. Curr Eye Res 40:332–337

37.

Unal O, Cay N, Yulek F et al (2016) Real-time ultrasound elastographic features of primary open angle glaucoma. Ultrasound Q 32:333–337

38.

Agladioglu K, Pekel G, Altintas Kasikci S et al (2016) An evaluation of ocular elasticity using real-time ultrasound elastography in primary open-angle glaucoma. Br J Radiol 89:20150429
Ethics declarations
Conflict of interest
All authors declare that they have no conflict of interest.
Ethical approval
All procedures performed in studies involving human participants were in accordance with the ethical standards of the institutional and/or national research committee and with the 1964 Helsinki declaration and its later amendments or comparable ethical standards.
Informed consent
Informed consent was obtained from all individual participants included in the study.
About this article
Cite this article
Can, M.E., Unal, Ö., Kars, M.E. et al. An assessment of ocular elasticity using real time ultrasound and ocular response analyzer in active or remission rheumatoid arthritis. Int Ophthalmol 39, 2187–2194 (2019). https://doi.org/10.1007/s10792-018-1055-3
Received:

Accepted:

Published:

Issue Date:
Keywords
Rheumatoid arthritis

Ocular elasticity

Ultrasound elastography

DAS 28