Abstract
Purpose
To present multimodal imaging of multifocal chorioretinitis secondary to endogenous candida infection in a young adult.
Methods
A 49-year-old woman who presented for evaluation of bilateral endogenous candida chorioretinitis underwent complete ophthalmic examination, in addition to fundus photography (FP), enhanced depth imaging optical coherence tomography, fundus autofluorescence (FAF), fluorescein angiography (FA), indocyanine green angiography (ICGA) and optical coherence tomography angiography (OCTA).
Results
Multimodal imaging of both eyes of the patient affected by endogenous candida chorioretinitis was performed. FP showed multiple white chorioretinal lesions at the posterior pole, FAF showed dark dot at the posterior pole surrounded by hyperautofluorescence area, FA showed early hyperfluorescence round perifoveal lesion at the posterior pole and small hyperfluorescence dots under the inferior retinal vessels. Early ICGA showed hypofluorescence dots at the posterior pole. Late ICGA showed dark hypofluorescence dots at the posterior pole surrounded by faint hyperautofluorescent ring. OCTA showed dark areas corresponded to hypoperfusion areas seen with early ICGA.
Conclusion
We reported multimodal imaging of an unusual occurrence of multifocal chorioretinitis due to immunosuppression. These findings suggested that the infection resulted from choroidal infiltration via the short posterior ciliary arteries with resultant breakthrough into the retina, rather than via the central retinal artery. By comparing findings on OCTA with data obtained from traditional systems, we are gaining essential information on the pathogenesis of endogenous candida chorioretinitis.
This is a preview of subscription content, log in to check access.
Access options
Buy single article
Instant access to the full article PDF.
US$ 39.95
Price includes VAT for USA
Subscribe to journal
Immediate online access to all issues from 2019. Subscription will auto renew annually.
US$ 99
This is the net price. Taxes to be calculated in checkout.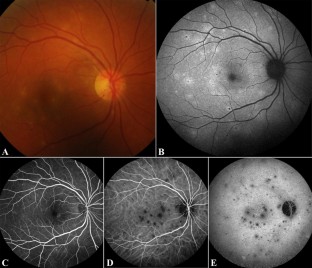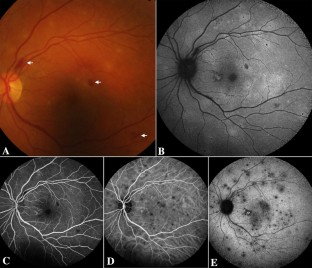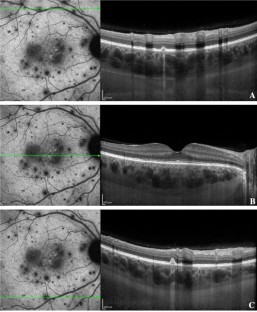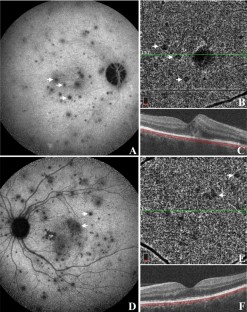 References
1.

Morinelli EN, Dugel PU, Riffenburgh R, Rao NA (1993) Infectious multifocal choroiditis in patients with acquired immune deficiency syndrome. Ophthalmology 100:1014–1021

2.

Invernizzi A, Symes R, Miserocchi E et al (2018) Spectral domain optical coherence tomography findings in endogenous candida endophthalmitis and their clinical relevance. Retina 38:1011–1018

3.

Adam MK, Rahimy E (2015) Enhanced depth imaging optical coherence tomography of endogenous fungal chorioretinitis. JAMA Ophthalmol 133(11):e151931

4.

Lavine JA, Mititelu M (2015) Multimodal imaging of refractory Candida chorioretinitis progressing to endogenous endophthalmitis. J Ophthalmic Inflamm Infect 5:54

5.

Stephens JD, Adam MK, Todorich B et al (2017) Optical coherence tomography findings in endogenous fungal chorioretinitis, retinitis, and endophthalmitis. Ophthalmic Surg Lasers Imaging Retina 1(48):894–901
Ethics declarations
Conflict of interest
The authors declare that they have no conflict of interests.
Additional information
This study was performed in the Ophthalmology Unit, Sant'Orsola-Malpighi Hospital, University of Bologna, Bologna, Italy.
About this article
Cite this article
Veronese, C., Maiolo, C., Gurreri, A. et al. Multimodal imaging of multifocal chorioretinitis secondary to endogenous candida infection. Int Ophthalmol 39, 2137–2142 (2019). https://doi.org/10.1007/s10792-018-1025-9
Received:

Accepted:

Published:

Issue Date:
Keywords
Bilateral endogenous candida chorioretinitis

Multimodal imaging

OCTA