Abstract
Purpose
Cystinosis is an autosomal recessive inherited lysosomal storage disease with an incidence of 1:100.000 up to 1:200.000 caused by a gene mutation of a lysosomal transport protein resulting in deposition of cystine in lysosomes in all cells and tissues. In the cornea, crystalline, gold-dust deposition of cystine leads to visual impairment, recurrent erosions, photophobia, epiphora and blepharospasmus. Standard therapy is topical and systemic application of cysteamine which may resolve the accumulated cystine crystals.
Patient and methods
This is a case report of a thirty-one-year-old patient who already underwent renal transplantation because of nephropathic cystinosis. Visual impairment by cystine crystal deposition was aggravated by a central avascular pannus formation in his right eye. Penetrating keratoplasty was performed in intention to improve the patient's visual acuity and life quality.
Results
After penetrating keratoplasty in the right eye, there was only a slight visual improvement. OCT scans of the macula revealed intraretinal cystine crystals and a cystoid macular edema, which was treated with a bevacizumab injection. Transmission electron microscopy of the excised cornea revealed spiky intracorneal inclusions and confocal in vivo microscopy of the left eye allowed detailed visualization of the cystine crystal deposition.
Conclusions
There is a variability of ocular manifestations of nephropathic cystinosis. Ophthalmologists have a central role in the early diagnosis of cystinosis as mostly the first manifestation are cystine crystals in the cornea. Penetrating keratoplasty may be one of the therapeutical options. Nevertheless, the patient has to be informed about the limited prognosis because of the persisting underlying disease.
Access options
Buy single article
Instant access to the full article PDF.
USD 39.95
Price includes VAT (USA)
Tax calculation will be finalised during checkout.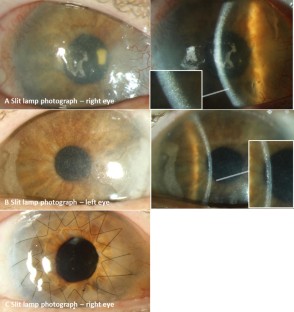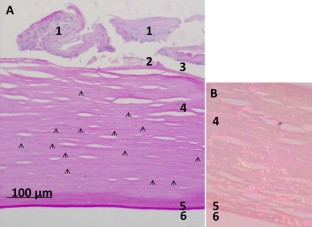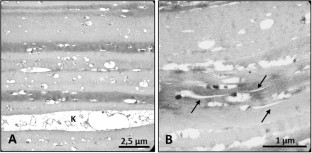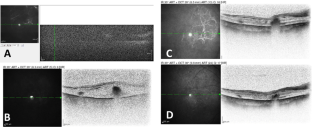 References
1.

Gahl WA, Thoene JG, Schneider JA (2002) Cystinosis. N Engl J Med 347:111–121

2.

Abderhalden E (1903) Familiäre Cystindiathese. Hoppe-Seylers Z f Physiol Chem 38(5-6):557–561

3.

Hohenfellner K, Harms E (2015) Spezielle Cystinosesprechstunde. Dtsch Ärztebl. 112:B 1160

4.

Gräf M, Grote A, Wagner F (1992) Cysteamine eyedrops for treatment of corneal cysteine deposits in infantile cystinosis. Klin Monatsbl Augenheilkd 201:48–50

5.

Kashtan CE, McEnery PT, Tejani A, Stablein DM (1995) Renal allograft survival according to primary diagnosis: a report of the North American Pediatric Renal Transplant Cooperative Study. Pediatr Nephrol 9:679–684

6.

Gahl WA, Kuehl EM, Iwata F, Lindblad A, Kaiser-Kupfer MI (2000) Corneal crystals in nephropathic cystinosis: natural history and treatment with cysteamine eyedrops. Mol Genet Metab 71:100–120

7.

Tsilou E, Zhou M, Gahl W, Sieving PC, Chan CC (2007) Ophthalmic manifestations and histopathology of infantile nephropathic cystinosis: report of a case and review of the literature. Surv Ophthalmol 52:97–105

8.

Tsilou ET et al (2006) Nephropathic cystinosis: posterior segment manifestations and effects of cysteamine therapy. Ophthalmology 113:1002–1009

9.

Katz B, Melles RB, Schneider JA (1960) Crystal deposition following keratoplasty in nephropathic cystinosis. Arch Ophthalmol Chic Ill 1989(107):1727–1728

10.

Mahoney CP, Striker GE, Hickman RO, Manning GB, Marchioro TL (1970) Renal transplantation for childhood cystinosis. N Engl J Med 283:397–402

11.

Fahey DK, Fenton S, Mohamed Q, Logan P (2001) Cystinosis, cataract surgery, and corneal erosions. J Cataract Refract Surg 27:2041–2043
Ethics declarations
Conflict of interest
Elias Flockerzi has received a travel grant from Orphan Europe Germany GmbH to present the corneal slit lamp findings of the patient described in this manuscript at the second Ophthalmology Cystinosis Forum (OCF II) Conference in Berlin, Germany, June 30, 2017 and a travel grant from Orphan Europe Germany GmbH to attend the third Ophthalmology Cystinosis Forum (OCF III) Conference in London, United Kingdom, June 15, 2018. The other authors declare that there is no conflict of interest.
Ethical approval
The local ethics committee of Saarland (Ethikkommission bei der Ärztekammer des Saarlandes) was informed. Because this article does not contain any studies with human participants or animals performed by any of the authors as it describes the required ophthalmological treatment of one nephropathic cystinosis patient, the ethics committee of Saarland approved the publication of this article.
Informed consent
Informed consent to publish this case study was obtained from the patient.
About this article
Cite this article
Flockerzi, E., Daas, L., Schlötzer-Schrehardt, U. et al. Ocular changes in nephropathic cystinosis: The course of the gold-dust. Int Ophthalmol 39, 1413–1418 (2019). https://doi.org/10.1007/s10792-018-0954-7
Received:

Accepted:

Published:

Issue Date:
Keywords
Nephropathic cystinosis

Cystinosis

Cystine crystals

Cornea

Keratoplasty