Abstract
Purpose
The retina is continually exposed to free radicals from its rich blood supply, numerous mitochondria, and photons of light which strike its surface. Most pathological processes that take place in the retina, such as inflammation, cell apoptosis, or angiogenesis, can hence involve free radicals directly or indirectly.  Since inflammatory and oxidative stress pathways underlie retinal pathology, compounds that address these factors are therefore natural choices for treatment. This review article summarizes and provides commentary on curcumin's therapeutic potential use in ophthalmology with principal focus on retinal dosorders.
Methods
Curcumin (diferuloylmethane) is a compound of the Indian spice turmeric (Curcuma longa) that has been found to be efficacious in preventing and treating a number of inflammatory diseases and neoplastic processes. Curcumin exerts anti-inflammatory, anti-tumor, antioxidant, and VEGF inhibition properties through modulation of numerous biochemical mediators. This makes curcumin particularly effective in retinal disorders.
Results
Curcumin has found a role in slowing, and in some cases even reversing, age-related macular degeneration, diabetic retinopathy, retinitis pigmentosa, proliferative vitreoretinopathy, and retinal cancers.
Conclusions
However, studies on curcumin's efficacy have been limited mostly to animal studies. Moreover, the biomedical potential of curcumin is not easy to use, given its low solubility and oral bioavailability—more attention therefore has been given to nanoparticles and liposomes.
Access options
Buy single article
Instant access to the full article PDF.
USD 39.95
Price excludes VAT (USA)
Tax calculation will be finalised during checkout.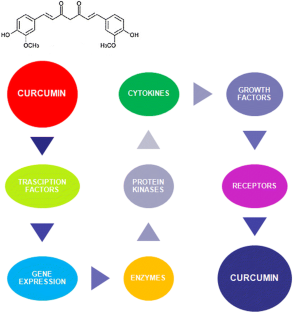 References
Shaban H, Richter C (2002) A2E and blue light in the retina: the paradigm of age-related macular degeneration. Biol Chem 383(3–4):537–545

Sparrow JR, Vollmer-Snarr HR, Zhou J, Jang YP, Jockusch S, Itagaki Y, Nakanishi K (2003) A2E-epoxides damage DNA in retinal pigment epithelial cells. Vitamin E and other antioxidants inhibit A2E-epoxide formation. J Biol Chem 278(20):18207–18213

Wu Y, Yanase E, Feng X, Siegel MM, Sparrow JR (2010) Structural characterization of bisretinoid A2E photocleavage products and implications for age-related macular degeneration. Proc Natl Acad Sci USA 107(16):7275–7280

Pescosolido N, Giannotti R, Plateroti AM, Pascarella A, Nebbioso M (2014) Curcumin: therapeutical potential in ophthalmology. Planta Med 80(4):249–254

Burugula B, Ganesh BS, Chintala SK (2011) Curcumin attenuates staurosporine-mediated death of retinal ganglion cells. Invest Ophthalmol Vis Sci 52(7):4263–4273

Pescosolido N, Barbato A, Pascarella A, Giannotti R, Genzano M, Nebbioso M (2014) Role of protease-inhibitors in ocular diseases. Molecules 19(12):20557–20569

Qi RF, Song ZW, Chi CW (2005) Structural features and molecular evolution of Bowman–Birk protease inhibitors and their potential application. Acta Biochim Biophys Sin (Shanghai) 37(5):283–292

Kolb H, Fernandez E, Nelson R (eds) (1995) Webvision: the organization of the retina and visual system. University of Utah Health Sciences Center, Salt Lake City

Limoli PG, Vingolo EM, Morales MU, Nebbioso M, Limoli C (2014) Preliminary study on electrophysiological changes after cellular autograft in age-related macular degeneration. Medicine (Baltimore) 93(29):e355

Limoli PG, Limoli C, Vingolo EM, Scalinci SZ, Nebbioso M (2016) Cell surgery and growth factors in dry age-related macular degeneration: visual prognosis and morphological study. Oncotarget 7(30):46913–46923

Grassmann F, Fauser S, Weber BH (2015) The genetics of age-related macular degeneration (AMD)—novel targets for designing treatment options? Eur J Pharm Biopharm 95(Pt B):194–202

Whitmore SS, Sohn EH, Chirco KR, Drack AV, Stone EM, Tucker BA, Mullins RF (2015) Complement activation and choriocapillaris loss in early AMD: implications for pathophysiology and therapy. Prog Retin Eye Res 45:1–29

Adams MK, Simpson JA, Aung KZ, Makeyeva GA, Giles GG, English DR, Hopper J, Guymer RH, Baird PN, Robman LD (2011) Abdominal obesity and age-related macular degeneration. Am J Epidemiol 173(11):1246–1255

Dasari B, Prasanthi JR, Marwarha G, Singh BB, Ghribi O (2011) Cholesterol-enriched diet causes age-related macular degeneration-like pathology in rabbit retina. BMC Ophthalmol 11:22

Cougnard-Grégoire A, Delyfer MN, Korobelnik JF, Rougier MB, Malet F, Le Goff M, Dartigues JF, Colin J, Barberger-Gateau P, Delcourt C (2013) Long-term blood pressure and age-related macular degeneration: the ALIENOR study. Invest Ophthalmol Vis Sci 54(3):1905–1912

Marquioni-Ramella MD, Suburo AM (2015) Photo-damage, photo-protection and age-related macular degeneration. Photochem Photobiol Sci 14(9):1560–1577

Fischer T (2015) The age-related macular degeneration as a vascular disease/part of systemic vasculopathy: contributions to its pathogenesis. Orv Hetil 156(9):358–365

Zhu W, Wu Y, Meng YF, Wang JY, Xu M, Tao JJ, Lu J (2015) Effect of curcumin on aging retinal pigment epithelial cells. Drug Des Devel Ther 9:5337–5344

Howell JC, Chun E, Farrell AN, Hur EY, Caroti CM, Iuvone PM, Haque R (2013) Global microRNA expression profiling: curcumin (diferuloylmethane) alters oxidative stress-responsive microRNAs in human ARPE-19 cells. Mol Vis 19:544–560

Woo JM, Shin DY, Lee SJ, Joe Y, Zheng M, Yim JH, Callaway Z, Chung HT (2012) Curcumin protects retinal pigment epithelial cells against oxidative stress via induction of heme oxygenase-1 expression and reduction of reactive oxygen. Mol Vis 18:901–908

Li Y, Zou X, Cao K, Xu J, Yue T, Dai F, Zhou B, Lu W, Feng Z, Liu J (2013) Curcumin analog 1, 5-bis(2-trifluoromethylphenyl)-1, 4-pentadien-3-one exhibits enhanced ability on Nrf2 activation and protection against acrolein-induced ARPE-19 cell toxicity. Toxicol Appl Pharmacol 272(3):726–735

Mandal MN, Patlolla JM, Zheng L, Agbaga MP, Tran JT, Wicker L, Kasus-Jacobi A, Elliott MH, Rao CV, Anderson RE (2009) Curcumin protects retinal cells from light-and oxidant stress-induced cell death. Free Radic Biol Med 46(5):672–679

Nebbioso M, Federici M, Rusciano D, Evangelista M, Pescosolido N (2012) Oxidative stress in preretinopathic diabetes subjects and antioxidants. Diabetes Technol Ther 14:257–263

Yu Y, Chen H, Su SB (2015) Neuroinflammatory responses in diabetic retinopathy. J Neuroinflamm 12:141

Barber AJ (2015) Diabetic retinopathy: recent advances towards understanding neurodegeneration and vision loss. Sci China Life Sci 58(6):541–549

Wan TT, Li XF, Sun YM, Li YB, Su Y (2015) Recent advances in understanding the biochemical and molecular mechanism of diabetic retinopathy. Biomed Pharmacother 74:145–147

Wu Y, Tang L, Chen B (2014) Oxidative stress: implications for the development of diabetic retinopathy and antioxidant therapeutic perspectives. Oxid Med Cell Longev 2014:752387

Gupta SK, Kumar B, Nag TC, Agrawal SS, Agrawal R, Agrawal P, Saxena R, Srivastava S (2011) Curcumin prevents experimental diabetic retinopathy in rats through its hypoglycemic, antioxidant, and anti-inflammatory mechanisms. J Ocul Pharmacol Ther 27(2):123–130

Wang C, George B, Chen S, Feng B, Li X, Chakrabarti S (2012) Genotoxic stress and activation of novel DNA repair enzymes in human endothelial cells and in the retinas and kidneys of streptozotocin diabetic rats. Diabetes Metab Res Rev 28(4):329–337

Khimmaktong W, Petpiboolthai H, Sriya P, Anupunpisit V (2014) Effects of curcumin on restoration and improvement of microvasculature characteristic in diabetic rat's choroid of eye. J Med Assoc Thail 97(Suppl 2):S39–S46

Mrudula T, Suryanarayana P, Srinivas PN, Reddy GB (2007) Effect of curcumin on hyperglycemia-induced vascular endothelial growth factor expression in streptozotocin-induced diabetic rat retina. Biochem Biophys Res Commun 361(2):528–532

Tam LC, Kiang AS, Campbell M, Keaney J, Farrar GJ, Humphries MM, Kenna PF, Humphries P (2012) Protein misfolding and potential therapeutic treatments in inherited retinopathies. Adv Exp Med Biol 723:567–572

Shintani K, Shechtman DL, Gurwood AS (2009) Review and update: current treatment trends for patients with retinitis pigmentosa. Optometry 80(7):384–401

Hartong DT, Berson EL, Dryja TP (2006) Retinitis pigmentosa. Lancet 368(9549):1795–1809

Cottet S, Schorderet DF (2009) Mechanisms of apoptosis in retinitis pigmentosa. Curr Mol Med 9(3):375–383

Emoto Y, Yoshizawa K, Uehara N, Kinoshita Y, Yuri T, Shikata N, Tsubura A (2013) Curcumin suppresses N-methyl-N-nitrosourea-induced photoreceptor apoptosis in Sprague–Dawley rats. In Vivo 27(5):583–590

Vasireddy V, Chavali VR, Joseph VT, Kadam R, Lin JH, Jamison JA, Kompella UB, Reddy GB, Ayyagari R (2011) Rescue of photoreceptor degeneration by curcumin in transgenic rats with P23H rhodopsin mutation. PLoS ONE 6(6):e21193

Kwon OW, Song JH, Roh MI (2016) Retinal detachment and proliferative vitreoretinopathy. Dev Ophthalmol 55:154–162

Tikhonovich MV, Iojleva EJ, Gavrilova SA (2015) The role of inflammation in the development of proliferative vitreoretinopathy. Klin Med (Mosk) 93(7):14–20

Artem'eva OV, Samoilov AN, Zhernakov SV (2014) Proliferative vitreoretinopathy: modern view on etiology and pathogenesis. Vestn Oftalmol 130(3):67–71

Sun Y, You ZP (2014) Curcumin inhibits human retinal pigment epithelial cell proliferation. Int J Mol Med 34(4):1013–1019

Gong L, Jiang D, Zhu X, Guo L (2004) Curcumin inhibits the proliferation of cultured human fetal retinal pigment epithelium cells. Yan Ke Xue Bao 20(4):246–258

Alex AF, Spitznas M, Tittel AP, Kurts C, Eter N (2010) Inhibitory effect of epigallocatechin gallate (EGCG), resveratrol, and curcumin on proliferation of human retinal pigment epithelial cells in vitro. Curr Eye Res 35(11):1021–1033

Lu HF, Lai KC, Hsu SC, Lin HJ, Yang MD, Chen YL, Fan MJ, Yang JS, Cheng PY, Kuo CL, Chung JG (2009) Curcumin induces apoptosis through FAS and FADD, in caspase-3-dependent and-independent pathways in the N18 mouse-rat hybrid retina ganglion cells. Oncol Rep 22(1):97–104

An JB, Ma JX, Liu DY, Gao YJ, Sheng MY, Wang HX, Liu LY (2009) The effect of curcumin on DNA content, mitochondrial transmembrane potential and calcium of rabbit cultured retinal pigment epithelial cells. Zhonghua Yan Ke Za Zhi 45(3):210–215

Sachdeva UM, O'Brien JM (2012) Understanding pRb: toward the necessary development of targeted treatments for retinoblastoma. J Clin Invest 122(2):425–434

Cohen VM (2013) Ocular metastases. Eye (Lond) 27(2):137–141

Papastefanou VP, Cohen VM (2011) Uveal melanoma. J Skin Cancer 2011:573974

Badiyan SN, Rao RC, Apicelli AJ, Acharya S, Verma V, Garsa AA, DeWees T, Speirs CK, Garcia-Ramirez J, Esthappan J, Grigsby PW, Harbour JW (2014) Outcomes of iodine-125 plaque brachytherapy for uveal melanoma with intraoperative ultrasonography and supplemental transpupillary thermotherapy. Int J Radiat Oncol Biol Phys 88(4):801–805

Verma V, Mehta MP (2016) Clinical outcomes of proton radiotherapy for uveal melanoma. Clin Oncol (R Coll Radiol) 28(8):e17–e27

Sreenivasan S, Thirumalai K, Danda R, Krishnakumar S (2012) Effect of curcumin on miRNA expression in human Y79 retinoblastoma cells. Curr Eye Res 37(5):421–428

Lu HF, Yang JS, Lai KC, Hsu SC, Hsueh SC, Chen YL, Chiang JH, Lu CC, Lo C, Yang MD, Chung JG (2009) Curcumin-induced DNA damage and inhibited DNA repair genes expressions in mouse–rat hybrid retina ganglion cells (N18). Neurochem Res 34(8):1491–1497

Verma V (2016) Relationship and interactions of curcumin with radiation therapy. World J Clin Oncol 7(3):275–283

Lin HJ, Su CC, Lu HF, Yang JS, Hsu SC, Ip SW, Wu JJ, Li YC, Ho CC, Wu CC, Chung JG (2010) Curcumin blocks migration and invasion of mouse-rat hybrid retina ganglion cells (N18) through the inhibition of MMP-2, -9, FAK, Rho A and Rock-1 gene expression. Oncol Rep 23(3):665–670

Aggarwal BB, Harikumar KB (2009) Potential therapeutic effects of curcumin, the anti-inflammatory agent, against neurodegenerative, cardiovascular, pulmonary, metabolic, autoimmune and neoplastic diseases. Int J Biochem Cell Biol 41(1):40–59

Lou J, Hu W, Tian R, Zhang H, Jia Y, Zhang J, Zhang L (2014) Optimization and evaluation of a thermoresponsive ophthalmic in situ gel containing curcumin-loaded albumin nanoparticles. Int J Nanomed 9:2517–2525

Duan Y, Cai X, Du H, Zhai G (2015) Novel in situ gel systems based on P123/TPGS mixed micelles and gellan gum for ophthalmic delivery of curcumin. Colloids Surf B Biointerfaces 128:322–330

Kuo CN, Chen CH, Chen SN, Huang JC, Lai LJ, Lai CH, Hung CH, Lee CH, Chen CY (2017) Anti-angiogenic effect of hexahydrocurcumin in rat corneal neovascularization. Int Ophthalmol. https://doi.org/10.1007/s10792-017-0530-6

Steigerwalt R, Nebbioso M, Appendino G, Belcaro G, Ciammaichella G, Cornelli U, Luzzi R, Togni S, Dugall M, Cesarone MR, Ippolito E, Errichi BM, Ledda A, Hosoi M, Corsi M (2012) Meriva®, a lecithinized curcumin delivery system, in diabetic microangiopathy and retinopathy. Panminerva Med 54(1 Suppl 4):11–16

Du JD, Fong WK, Caliph S, Boyd BJ (2016) Lipid-based drug delivery systems in the treatment of wet age-related macular degeneration. Drug Deliv Transl Res 6:781

Chaniyilparampu RN, Nair AK, Parthasarathy K, Gokaraju GR, Gokaraju RR, Bhupathiraju K, Mandapati VNSRR, Somashekara N (2010) Curcuminoids and its metabolites for the application in allergic ocular/nasal conditions. WO2010109482
Ethics declarations
Conflict of interest
The authors have no financial or proprietary interest in any materials or methods described within this manuscript.
About this article
Cite this article
Peddada, K.V., Brown, A., Verma, V. et al. Therapeutic potential of curcumin in major retinal pathologies. Int Ophthalmol 39, 725–734 (2019). https://doi.org/10.1007/s10792-018-0845-y
Received:

Accepted:

Published:

Issue Date:

DOI: https://doi.org/10.1007/s10792-018-0845-y
Keywords