Abstract
Background
To investigate response of dissolving collagen contact lenses as an alternative for bandage contact lenses, for the post-interventional care of epithelial defects after corneal cross-linking (CXL) treatment for keratoconus.
Patients and methods
Follow-up visits were performed at day 1, 4 and 1 month after the intervention. We reviewed notes for re-epithelialization, comfort/pain and any untoward effects of Collagen SOFT SHIELD®. Assessment included visual acuity (VA), refraction (SE); corneal haze, epithelial erosion and pain status were assessed subjectively on a 4-point scale, from 0 (none) to 3 (severe).
Results
Thirty consecutive CXL patients with collagen shield application after CXL were included. Mean age was 28 years (range from 16 to 51 years old). Pre-CXL VA was 0.7 logMAR IQR 0.4–1.0; post-CXL VA at day 4 and month 1 was 0.6 logMAR IQR 0.4–0.9. Post-operative mean SE was 5.5D ± 4.1D. In all patients, the Collagen SOFT SHIELD® was completely dissolved at the 4-day follow-up visit. In most cases, epithelial defect was closed at day 4, on average 0.8 ± 0.5 days post-intervention; all epithelial defects were closed by month 1. Haze was minimal (mean haze score 1.4 ± 0.7 at day 4 and 1.0 ± 0.6 at 1 month). No adverse effects such as infection were observed.
Conclusions
This study indicates that Oasis Collagen SOFT SHIELD® is valuable and safe alternative to standard bandage contact lens for the treatment of epithelial defects. This outcome may be of particular interest in patients where the contact lens removal is likely to be problematic.
This is a preview of subscription content, log in to check access.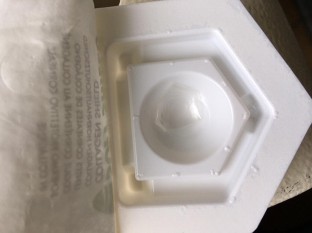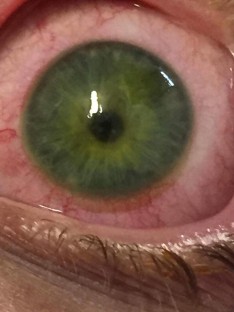 References
1.

Willoughby CE, Batterbury M, Kaye SB (2002) Collagen corneal shields. Surv Ophthalmol 47(2):174–182 (review)

2.

Zhou S, Hunt KM, Grewal AS, Brothers KM, Dhaliwal DK, Shanks RMQ (2017) Release of moxifloxacin from corneal collagen shields. Eye Contact Lens 10:10. https://doi.org/10.1097/icl.0000000000000421

3.

Zidan G, Rupenthal ID, Greene C, Seyfoddin A (2018) Medicated ocular bandages and corneal health: potential excipients and active pharmaceutical ingredients. Pharm Dev Technol 23(3):255–260 (review)

4.

Guber I, Guber J, Kaufmann C, Bachmann LM, Thiel MA (2013) Visual recovery after corneal crosslinking for keratoconus: a 1-year follow-up study. Graefes Arch Clin Exp Ophthalmol 251(3):803–807

5.

Sharma N, Maharana P, Singh G, Titiyal JS (2010) Pseudomonas keratitis after collagen crosslinking for keratoconus: case report and review of literature. J Cataract Refract Surg 36(3):517–520

6.

Rama P, Di Matteo F, Matuska S, Paganoni G, Spinelli A (2009) Acanthamoeba keratitis with perforation after corneal crosslinking and bandage contact lens use. J Cataract Refract Surg 35(4):788–791
Ethics declarations
Conflict of interest
The authors declare that they have no conflict of interest.
About this article
Cite this article
Guber, I., Bergin, C., Malde, S. et al. First experience with Oasis Collagen SOFT SHIELD® for epithelial defect after corneal cross-linking. Int Ophthalmol 39, 2149–2151 (2019). https://doi.org/10.1007/s10792-018-01070-9
Received:

Accepted:

Published:

Issue Date:
Keywords
Collagen soft shield

Corneal epithelial defect

Bandage contact lens

Corneal re-epithelialization

Corneal collagen cross-linking