Abstract
Purpose
Report on the safety, efficiency and refractive outcomes of LASIK surgery in patients aged 65 or older.
Methods
This study includes a case series of patients ≥65 years that underwent corneal refractive surgery during the period June 2010 to June 2015 at Hospital Zambrano Hellion, Monterrey, Mexico. Inclusion criteria were normal topography, central corneal thickness >500 μm, preoperative manifest refraction spherical equivalent (MRSE) up to −8.5 D and +6.0 D, cylinder up to −6.0 D, CDVA of 20/25 or better and with no other ocular pathology.
Results
A total of 44 eyes (24 patients) were included. Mean age was 67.2 ± 2.1 years (range 65–80), with mean follow-up of 12.2 ± 1.3 months. Conventional LASIK was performed in 20 patients (group 1, 36 eyes) to improve UDVA (10 eyes myopic LASIK and 26 eyes hyperopic LASIK) and presbyopic LASIK (monovision) in 4 patients (group 2, 8 eyes) to restore near-vision performance. Preoperative MRSE group 1 was myopic: −2.79 ± 1.88 D; hyperopic +2.19 ± 1.88 D; and +2.10 ± 0.87 D in group 2. Preoperative UDVA in group 1 was 0.67 ± 0.30 LogMAR; 0.46 ± 0.18 LogMAR; and Jaeger ≥4 in 90% in group 2. Postoperative MRSE: −0.29 ± 0.86 D (myopic LASIK) (p < 0.001), +0.34 ± 0.62 D (hyperopic LASIK) (p < 0.001) and −1.25 ± 0.59 D (non-dominant eye) in presbyopic LASIK. Postoperative UDVA in myopic LASIK was 0.15 ± 0.30 (p = 0.001) and 0.11 ± 0.11 (p < 0.001) for hyperopic LASIK. In group 2, binocular UDVA was 0.16 ± 0.17 (p = 0.12) and UNVA was ≥J2 in 100% of the patients.
Conclusion
Even though elder patients may present greater LASIK restrictions due to lens and other ocular age-related changes, patients ≥65 years that were candidates for conventional and presbyopic LASIK showed satisfactory and safe refractive and visual outcomes.
Access options
Buy single article
Instant access to the full article PDF.
US$ 39.95
Tax calculation will be finalised during checkout.
Subscribe to journal
Immediate online access to all issues from 2019. Subscription will auto renew annually.
US$ 79
Tax calculation will be finalised during checkout.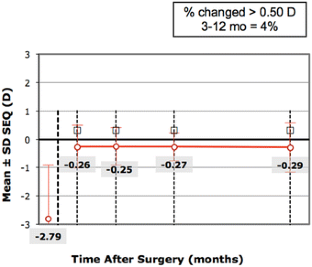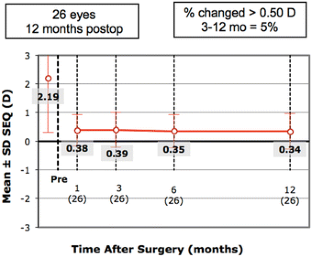 References
1.

Christensen K, Doblhammer G, Rau R, Vaupel J (2009) Ageing populations: the challenges ahead. Lancet 374(9696):1196–1208. doi:10.1016/s0140-6736(09)61460-4

2.

Cartel TL (1994) Age-related vision changes: a primary care guide. Geriatrics 49(9):37–42

3.

Loh KY, Ogle J (2004) Age related visual impairment in the elderly. Med J Malaysia 59(4):562–568

4.

Bengtsson B, Grodum K (1999) Refractive changes in the elderly. Acta Ophthalmol Scand 77(1):37–39. doi:10.1034/j.1600-0420.1999.770109.x

5.

Rosen E, Alió JL, Dick HB, Dell S, Slade S (2016) Efficacy and safety of multifocal intraocular lenses following cataract and refractive lens exchange: metaanalysis of peer-reviewed publications. J Cataract Refract Surg 42(2):310–328. doi:10.1016/j.jcrs.2016.01.014

6.

Jain S, Ou R, Azar DT (2001) Monovision outcomes in presbyopic individuals after refractive surgery. Ophthalmology 108:1430–1433. doi:10.1016/s0161-6420(01)00647-9

7.

Miranda D, Krueger RR (2004) Monovision laser in situ keratomileusis for pre-presbyopic and presbyopic patients. J Refract Surg 20(4):325–328

8.

Roudakova TE, Kourenkov VV, Polounine GS (2000) Planned undercorrection with laser in situ keratomileusis and photorefractive keratectomy for myopes over age 40. J Refract Surg 16(2 Suppl):S261–S263. doi:10.3928/1081-597X-20000302-14

9.

López-Montemayor P, Hernández-Camarena J, Valdez-García J (2015) Patient profile and postoperative follow up compliance in refractive surgery. Rev Mex Oftalmol 90(3):125–128. doi:10.1016/j.mexoft.2015.08.001

10.

Behrens A, Doyle JJ, Stern L, Chuck RS, McDonnell PJ, Azar DT et al (2006) Dysfunctional tear syndrome: a Delphi approach to treatment recommendations. Cornea 25(8):900–907

11.

Feltham MH, Wong R, Wolfe R, Stapleton F (2008) Variables affecting refractive outcome following LASIK for myopia. Eye 22(9):1117–1123. doi:10.1038/sj.eye.6702856

12.

Roth HL, Lora AN, Heilman KM (2002) Effects of monocular viewing and eye dominance on spatial attention. Brain 125(Pt 9):2023–2035. doi:10.1093/brain/awf210)

13.

Solomon KD, Fernández de Castro LE, Sandoval HP, Biber JM, Groat B, Neff KD, Ying MS et al (2009) LASIK world literature review: quality of life and patient satisfaction. Ophthalmology 116:691–701. doi:10.1016/j.ophtha.2008.12.037

14.

Levinger E, Levinger E, Trivizki O, Pokroy R, Levartovsky S, Sholohov G, Levinger S (2013) Monovision surgery in myopic presbyopes: visual function and satisfaction. Optom Vis Sci 90(10):1092–1097. doi:10.1097/OPX.0000000000000002

15.

Schallhorn SC, Venter JA, Teenan D, Hannan SJ, Hettinger KA, Pelouskova M, Schallhorn JM (2016) Patient-reported outcomes 5 years after laser in situ keratomileusis. J Cataract Refract Surg 42(6):879–889. doi:10.1016/j.jcrs.2016.03.032

16.

Ghanem R, de la Cruz J, Tobaigy F, Ang L, Azar D (2007) LASIK in the presbyopic age group—safety, efficacy, and predictability in 40- to 69-year-old patients. Ophthalmology 114(7):1303–1310. doi:10.1016/j.ophtha.2006.10.026

17.

Bragheeth MA, Fares U, Dua HS (2008) Re-treatment after laser in situ keratomileusis for correction of myopia and myopic astigmatism. Br J Ophthalmol 92:1506–1510. doi:10.1136/bjo.2008.143636

18.

Sutton G, Lawless M, Hodge C (2013) Laser in situ keratomileusis in 2012: a review. Clin Exp Optom 97(1):18–29. doi:10.1111/cxo.12075

19.

Kim P, Briganti EM, Sutton GL, Lawless MA, Rogers CM, Hodge C (2005) Laser in situ keratomileusis for refractive error after cataract surgery. J Cataract Refract Surg 31:979–986. doi:10.1016/j.jcrs.2004.08.054

20.

Fotedar R, Mitchell P, Burlutsky G, Wang JJ (2008) Relationship of 10-year change in refraction to nuclear cataract and axial length findings from an older population. Ophthalmology 115(8):1273–1278. doi:10.1016/j.ophtha.2007.11.003 (1278.e1)

21.

Hyman L (2007) Myopic and hyperopic refractive error in adults: an overview. Ophthalmic Epidemiol 14(4):192–197

22.

Lee KE, Klein BE, Klein R, Wong TY (2002) Changes in refraction over 10 years in an adult population: the Beaver Dam Eye study. Invest Ophthalmol Vis Sci 43(8):2566–2571

23.

Marcos S (2002) Are changes in ocular aberrations with age a significant problem for refractive surgery? J Refract Surg 18(5):S572–S578

24.

Xie W (2016) Recent advances in laser in situ keratomileusis-associated dry eye. Clin Exp Optom 99(2):107–112. doi:10.1111/cxo.12361

25.

Chao C, Golebiowski B, Stapleton F (2014) The role of corneal innervation in LASIK-induced neuropathic dry eye. Ocul Surf 12(1):32–45. doi:10.1016/j.jtos.2013.09.001

26.

Mashaghi A, Hong J, Chauhan SK, Dana R (2017) Ageing and ocular surface immunity. Br J Ophthalmol 101(1):1–5. doi:10.1136/bjophthalmol-2015-307848
Ethics declarations
Conflict of interest
The authors declare that they have no conflict of interest.
About this article
Cite this article
López-Montemayor, P., Valdez-García, J.E., Loya-García, D. et al. Safety, efficacy and refractive outcomes of LASIK surgery in patients aged 65 or older. Int Ophthalmol 38, 1515–1520 (2018). https://doi.org/10.1007/s10792-017-0614-3
Received:

Accepted:

Published:

Issue Date:
Keywords
Refractive surgery

Elder population

Presbyopia

Refractive outcome