Abstract
Purpose
NDP-related retinopathies are a group of X-linked disorders characterized by degenerative and proliferative changes of the neuroretina, occasionally accompanied with varying degrees of mental retardation and sensorineural hearing loss. NDP is the predominant gene associated with NDP-related retinopathies. The purpose of this study was to report the clinical and genetic findings in three unrelated patients diagnosed with NDP-related retinopathies.
Methods
The patients underwent complete ophthalmic examination followed by genetic analyses. NDP gene was screened by direct sequencing approach. Targeted resequencing of several other ocular genes was carried out in patient samples that either indicated NDP gene deletion or tested negative for NDP mutation. Gene quantitation analysis was performed using real-time PCR.
Results
The whole NDP gene was deleted in patient I, while a missense NDP mutation, c.205T>C, was identified in patient II, and both had classical Norrie disease ocular phenotype (with no other systemic defects). Patient III who was diagnosed with familial exudative vitreoretinopathy did not show any mutation in the known candidate genes as well as in other ocular genes tested.
Conclusions
The patient with whole NDP gene deletion did not exhibit any apparent extraocular defects (like mental retardation or sensorineural hearing loss) during his first decade of life, and this is considered to be a notable finding. Our study also provides evidence emphasizing the need for genetic testing which could eliminate ambiguities in clinical diagnosis and detect carrier status, thereby aiding the patient and family members during genetic counseling.
This is a preview of subscription content, log in to check access.
Access options
Buy single article
Instant access to the full article PDF.
US$ 39.95
Price includes VAT for USA
Subscribe to journal
Immediate online access to all issues from 2019. Subscription will auto renew annually.
US$ 99
This is the net price. Taxes to be calculated in checkout.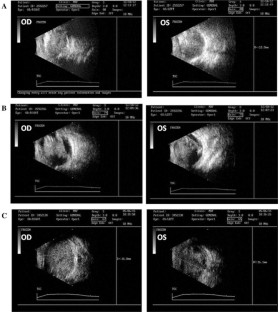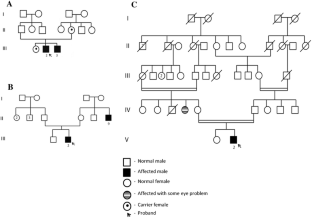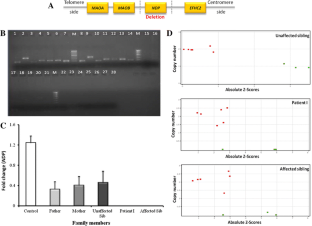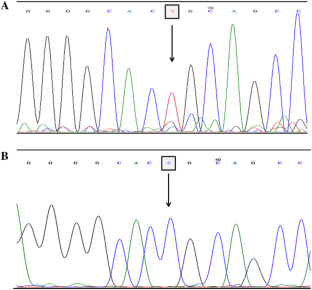 References
1.

Sims KB (1999) NDP-Related Retinopathies. In: Pagon RA, Adam MP, Ardinger HH et al (eds) GeneReviews®. University of Washington, Seattle, pp 1993–2016 Updated 2014

2.

Warburg M (1961) Norrie's disease: a new hereditary bilateral pseudotumor of the retina. Acta Ophthalmol 39:757–772

3.

Warburg M (1996) Norrie's disease. A congenital progressive oculoacoustico-cerebral degeneration. Acta Ophthalmol (Copenh) Suppl 89:1–47

4.

Parving A, Warburg M (1977) Audiological findings in Norrie's disease. Audiology 16:124–131

5.

Criswick VG, Schepens CL (1968) Familial exudative vitreoretinopathy. Am J Ophthalmol 68:578–594

6.

Black GC, Perveen R, Bonshek R et al (1999) Coat's disease of the retina (unilateral retinal telangiectasis) caused by somatic mutation in the NDP gene: a role for norrin in retinal angiogenesis. Hum Mol Genet 8:2031–2035

7.

Gibson DL, Sheps SB, Uh SH et al (1990) Retinopathy of prematurity-induced blindness: birth weight specific survival and the new epidemic. Pediatrics 86:405–412

8.

Shastry BS (2009) Persistent hyperplastic primary vitreous: congenital malformation of the eye. Clin Exp Ophthalmol 37:884–890

9.

Chen ZY, Battinelli EM, Fielder A et al (1993) A mutation in the Norrie disease gene (NDP) associated with X-linked familial exudative vitreoretinopathy. Nat Genet 5:180–183

10.

Shastry BS, Pendergast SD, Hartzer MK et al (1997) Identification of missense mutations in the Norrie disease gene associated with advanced retinopathy of prematurity. Arch Ophthalmol 115:651–655

11.

Aponte EP, Pulido JS, Ellison JW et al (2009) A novel NDP mutation in an infant with unilateral persistent fetal vasculature and retinal vasculopathy. Ophthalmic Genet 30(2):99–102

12.

Berger W, Meindl A, van de Pol TJR et al (1992) Isolation of a candidate gene for Norrie disease by positional cloning. Nature Genet 1:199–203

13.

Smith SE, Mullen TE, Graham D et al (2012) Norrie disease: extraocular clinical manifestations in 56 patients. Am J Med Genet A 158A:1909–1917

14.

Meindl A, Berger W, Meitinger T et al (1992) Norrie disease is caused by mutations in an extracellular protein resembling C-terminal globular domain of mucins. Nat Genet 2:139–143

15.

Ye X, Wang Y, Cahill H et al (2009) Norrin, frizzled-4, and Lrp5 signaling in endothelial cells controls a genetic program for retinal vascularization. Cell 139:285–298

16.

Hutcheson KA, Paluru PC, Bernstein SL et al (2005) Norrie disease gene sequence variants in an ethnically diverse population with retinopathy of prematurity. Mol Vis 11:501–508

17.

Dong B, Chen J, Zhang X et al (2013) Two novel PRPF31 premessenger ribonucleic acid processing factor 31 homolog mutations including a complex insertion-deletion identified in Chinese families with retinitis pigmentosa. Mol Vis 19:2426–2435

18.

D'haene B, Vandesompele J, Hellemans J (2010) Accurate and objective copy number profiling using real-time quantitative PCR. Methods 50(4):262–270

19.

Sudha D, Patric IRP, Ganapathy A et al (2016) Genetic studies in an X-linked retinoschisis patient coexisting with developmental delay and sensorineural hearing loss. Opthalmic Genet. doi:10.1080/13816810.2016.1214972

20.

Rodriguez-Revenga L, Madrigal I, Alkhalidi LS et al (2007) Contiguous deletion of the NDP, MAOA, MAOB, and EFHC2 genes in a patient with Norrie disease, severe psychomotor retardation and myoclonic epilepsy. Am J Med Genet A 143A(9):916–920

21.

Schuback DE, Chen ZY, Craig IW et al (1995) Mutations in the Norrie Disease Gene. Hum Mutat 5:285–292

22.

Okumura A, Arai E, Kitamura Y et al (2015) Epilepsy phenotypes in siblings with Norrie disease. Brain Dev 37(10):978–982

23.

Staropoli JF, Xin W, Sims KB (2010) Co-segregation of Norrie disease and idiopathic pulmonary hypertension in a family with a microdeletion of the NDP region at Xp11.3-p11.4. J Med Genet 47(11):786–790

24.

Whibley A, Urquhart J, Dore J et al (2010) Deletion of MAOA and MAOB in a male patient causes severe developmental delay, intermittent hypotonia and stereotypical hand movements. Eur J Hum Genet 18:1095–1099

25.

Gu W, Sander T, Heils A et al (2005) A new EF-hand containing gene EFHC2 on Xp11.4: tentative evidence for association with juvenile myoclonic epilepsy. Epilepsy Res 66(1–3):91–98

26.

Dreyer B, Brox V, Tranebjaerg L et al (2008) Spectrum of USH2A mutations in Scandinavian patients with Usher syndrome type II. Hum Mutat 29(3):451

27.

Oshima A, Jaijo T, Aller E et al (2008) Mutation profile of the CDH23 gene in 56 probands with Usher syndrome type I. Hum Mutat 29(6):E37–E46

28.

Marshall JD, Hinman EG, Collin GB et al (2007) Spectrum of ALMS1 variants and evaluation of genotype-phenotype correlations in Alström syndrome. Hum Mutat 28(11):1114–1123

29.

Gilmour DF (2015) Familial exudative vitreoretinopathy and related retinopathies. Eye 29:1–14
Acknowledgements
The authors thank the patients and family members for their cooperation and participation in the study. The authors would like to acknowledge Vision Research Foundation (Ref No. 202-2009-P) and the Department of Biotechnology, Government of India (RGYI scheme; BT/PR15111/GBD/27/322/2011) for funding the study and Mr. Manoj Prabhakar for his contribution toward PCR standardization.
Funding
This study was funded by Vision Research Foundation (Ref No. 202-2009-P) and the Department of Biotechnology, Government of India (RGYI scheme; BT/PR15111/GBD/27/322/2011).
Ethics declarations
Conflict of interest
The authors declare that they have no conflict of interest.
Ethical approval
All procedures performed in studies involving human participants were in accordance with the ethical standards of the institutional research committee (Vision Research Foundation (Ref No. 202-2009-P)) and with the 1964 Declaration of Helsinki and its later amendments or comparable ethical standards."
Informed consent
Informed consent was obtained from all the patients/family members who participated in the study.
Electronic supplementary material
Below is the link to the electronic supplementary material.
About this article
Cite this article
Sudha, D., Ganapathy, A., Mohan, P. et al. Clinical and genetic analysis of Indian patients with NDP-related retinopathies. Int Ophthalmol 38, 1251–1260 (2018). https://doi.org/10.1007/s10792-017-0589-0
Received:

Accepted:

Published:

Issue Date:
Keywords
NDP-related retinopathies

Norrie disease

FEVR

NDP gene

Mutation