Abstract
Purpose
Seasonal allergic conjunctivitis (SAC) is an inflammatory disease of the conjunctiva. Red cell distribution width (RDW) is a widely accepted inflammatory marker. We aimed to investigate whether RDW level is associated with the development of SAC in pediatric population.
Methods
The present study consisted of 90 subjects (45 children with SAC and 45 age- and sex-matched healthy children). The demographic findings, complete blood count parameters including RDW and laboratory parameters, were evaluated.
Results
The mean RDW levels were significantly higher in children with SAC compared to the control group (14.02 ± 0.82 vs. 13.26 ± 0.64%, respectively, p < 0.001). In receiver operating characteristic analysis, the area under the curve for RDW for predicting SAC was 0.786, and a RDW value of 13.45 or higher predicted SAC with a sensitivity of 75.6% and specificity of 65%.
Conclusion
Our study suggests that elevated RDW levels are significantly associated with SAC in pediatric population, which may imply a possible role of increased inflammatory status and oxidative stress in the pathogenesis of SAC.
Access options
Buy single article
Instant access to the full article PDF.
USD 39.95
Price excludes VAT (USA)
Tax calculation will be finalised during checkout.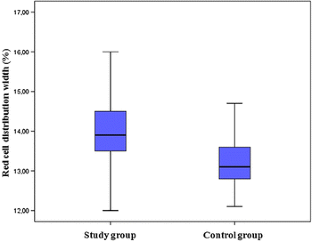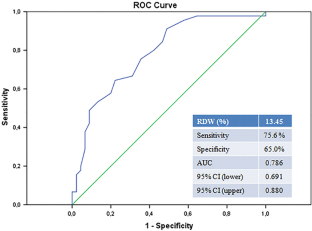 References
Galicia-Carreón J, Santacruz C, Ayala-Balboa J et al (2013) An imbalance between frequency of CD4+ CD25+ FOXP3+ regulatory T cells and CCR4+ and CCR9+ circulating helper T cells is associated with active perennial allergic conjunctivitis. Clin Dev Immunol 2013:919742

Dadaci Z, Oncel M, Oncel Acir N, Sahin E, Borazan M (2015) Oxidative stress parameters and serum magnesium levels in patients with seasonal allergic conjunctivitis. Cutan Ocul Toxicol 10:1–5

Ozcan F, Turak O, Durak A et al (2013) Red cell distribution width and inflammation in patients with non-dipper hypertension. Blood Press 22:80–85

Jimenez-Baez MV, Marquez-Gonzalez H, Barcenas-Contreras R, Morales Montoya C, Espinosa-Garcia LF (2015) Early diagnosis of diabetic retinopathy in primary care. Colomb Med (Cali) 46:14–18

Tsuboi S, Miyauchi K, Kasai T et al (2013) Impact of red blood cell distribution width on long-term mortality in diabetic patients after percutaneous coronary intervention. Circ J 77:456–461

Torkildsen G, Narvekar A, Bergmann M (2015) Efficacy and safety of olopatadine hydrochloride 0.77% in patients with allergic conjunctivitis using a conjunctival allergen-challenge model. Clin Ophthalmol 9:1703–1713

Aksoy ŞN, Savaş E, Sucu M, Kisacik B, Kul S, Zengin O (2015) Association between red blood cell distribution width and disease activity in patients with Behçet's disease. J Int Med Res 43:765–773

Kurtul BE, Ozer PA, Kabatas EU (2016) Elevated neutrophil-to-lymphocyte ratio in pseudoexfoliation syndrome. Eye (Lond) 30:1045–1048

Kurtul BE, Ozer PA (2016) The relationship between neutrophil-to-lymphocyte ratio and age-related macular degeneration. Korean J Ophthalmol 30:377–381

Lippi G, Buonocore R, Picanza A, Schirosa F, Cervellin G (2016) Red blood cell distribution width and haemoglobin are associated with hospital admission in patients with acute allergic reactions. Br J Biomed Sci 73:21–24

Ackerman S, Smith LM, Gomes PJ (2016) Ocular itch associated with allergic conjunctivitis: latest evidence and clinical management. Ther Adv Chronic Dis 7:52–67

Akil H, Celik F, Ulas F, Kara IS (2015) Dry eye syndrome and allergic conjunctivitis in the pediatric population. Middle East Afr J Ophthalmol 22:467–471

Dadaci Z, Borazan M, Kiyici A, Oncel Acir N (2014) Plasma vitamin D and serum total immunoglobulin E levels in patients with seasonal allergic conjunctivitis. Acta Ophthalmol 92:e443–446

Malu KN (2014) Allergic conjunctivitis in Jos-Nigeria. Niger Med J 55:166–170

Dartt DA, Masli S (2014) Conjunctival epithelial and goblet cell function in chronic inflammation and ocular allergic inflammation. Curr Opin Allergy Clin Immunol 14:464–470

Maziak W, Behrens T, Brasky TM et al (2003) Are asthma and allergies in children and adolescents increasing? Results from ISAAC phase I and phase III surveys in Münster, Germany. Allergy 58:572–579

Abelson MB, Leonardi A, Smith L (2002) The mechanisms, diagnosis and treatment of allergy. Rev Ophthalmol 9:74–84

Bielory L (2008) Ocular allergy overview. Immunol Allergy Clin North Am 28:1–23

Bacsi A, Dharajiya N, Choudhury BK, Sur S, Boldogh I (2005) Effect of pollen-mediated oxidative stress on immediate hypersensitivity reactions and late-phase inflammation in allergic conjunctivitis. J Allergy Clin Immunol 116:836–843

Kurtul A, Murat SN, Yarlioglues M et al (2015) The association of red cell distribution width with in-stent restenosis in patients with stable coronary artery disease. Platelets 26:48–52

Dogru M, Yesiltepe Mutlu RG (2016) The evaluation of neutrophil-lymphocyte ratio in children with asthma. Allergol Immunopathol (Madr) 44:292–296

Dogru M, Evcimik MF, Cirik AA (2016) Is neutrophil-lymphocyte ratio associated with the severity of allergic rhinitis in children. Eur Arch Otorhinolaryngol 273:3175–3178
Ethics declarations
Conflict of interest
All authors certify that they have no affiliations with or involvement in any organization or entity with any financial interest (such as honoraria; educational grants; participation in speakers' bureaus; membership, employment, consultancies, stock ownership, or other equity interest; and expert testimony or patent-licensing arrangements), or non-financial interest (such as personal or professional relationships, affiliations, knowledge, or beliefs) in the subject matter or materials discussed in this manuscript.
Ethical approval
All procedures performed in studies involving human participants were in accordance with the ethical standards of the institutional and/or national research committee and with the 1964 Declaration of Helsinki and its later amendments or comparable ethical standards.
Informed consent
Informed consent was obtained from all individual participants included in the study.
About this article
Cite this article
Kurtul, B.E., Kabatas, E.U., Boybeyi, S.D. et al. Increased red cell distribution width levels in children with seasonal allergic conjunctivitis. Int Ophthalmol 38, 1079–1084 (2018). https://doi.org/10.1007/s10792-017-0563-x
Received:

Accepted:

Published:

Issue Date:

DOI: https://doi.org/10.1007/s10792-017-0563-x
Keywords