Abstract
Purpose
To analyse the expansion of radial peripapillary capillary (RPC) network with optical coherence tomography angiography (OCT-A) in normal human eyes and correlate RPC density with retinal nerve fibre layer thickness (RNFLT) at various distances from the optic nerve head (ONH) edge.
Methods
Fifty eyes of 50 healthy subjects underwent imaging with RTVue XR-100 Avanti OCT. OCT-A scans of Angio disc (6 × 6 mm) and Angio retina (8 × 8 mm) were combined to create a wide-field montage image of the RPC network. RPC density and RNFLT was calculated at different circle diameter around the ONH, and their correlation was measured.
Results
In the arcuate region, RPC was detected as far as 8.5 mm from the ONH edge, but not around the perifoveal area within 0.025 ± 0.01 mm2. The mean RPC density (0.1556 ± 0.015) and RNFLT (245.96 ± 5.79) were highest at 1.5 mm from ONH margin, and there was a trend in its decline, in a distance-dependent manner, with the least density at 8.5 mm (all P < 0.0001). Highest RPC density was noted in the arcuate fibre region at all the distances. Overall mean RPC density correlated significantly (P < 0.0001) with the overall mean RNFLT.
Conclusions
Wide-field montage OCT-A angiograms can visualize expansion of the RPC network, which is useful in obtaining information about various retinal disorders. The results obtained support the hypothesis that the RPC network could be responsible for RNFL nourishment.
This is a preview of subscription content, log in to check access.
Access options
Buy single article
Instant access to the full article PDF.
US$ 39.95
Price includes VAT for USA
Subscribe to journal
Immediate online access to all issues from 2019. Subscription will auto renew annually.
US$ 99
This is the net price. Taxes to be calculated in checkout.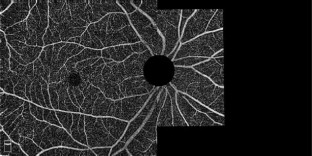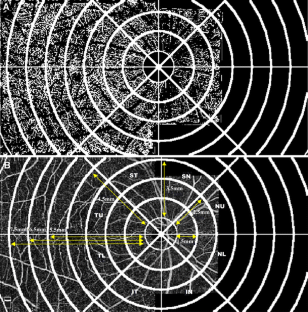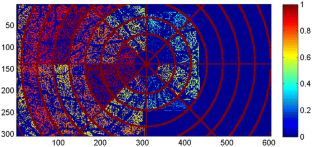 References
1.

Henkind P (1967) Radial peripapillary capillaries of the retina I. Anatomy: human and comparative. Br J Ophthalmol 51:115–123

2.

Chan G, Balaratnasingam C, Xu J, Mammo Z, Han S, Mackenzie P et al (2015) In vivo optical imaging of human retinal capillary networks using speckle variance optical coherence tomography with quantitative clinico-histological correlation. Microvasc Res 100:32–39

3.

Toussaint D, Kuwabara T, Cogan DG (1961) Retinal vascular patterns. II. Human retinal vessels studied in three dimensions. Arch Ophthalmol 65:575–581

4.

Scoles D, Gray DC, Hunter JJ, Wolfe R, Gee BP, Geng Y et al (2009) In-vivo imaging of retinal nerve fiber layer vasculature: imaging histology comparison. BMC Ophthalmol 9:9

5.

Spaide RF, Klancnik JM Jr, Cooney MJ (2015) Retinal vascular layersimaged by fluorescein angiography and optical coherencetomography angiography. JAMA Ophthalmol 133:45–50

6.

Yu PK, Balaratnasingam C, Xu J, Morgan WH, Mammo Z, Han S et al (2015) Label-free density measurements of radial peripapillary capillaries in the human retina. PLoS ONE 10:e0135151

7.

Yu PK, Cringle SJ, Yu DY (2014) Correlation between the radial peripapillary capillaries and the retinal nerve fibre layer in the normal human retina. Exp Eye Res 129:83–92

8.

Mase T, Ishibazawa A, Nagaoka T, Yokota H, Yoshida A (2016) Radial peripapillary capillary network visualized using wide-field montage optical coherence tomography angiography. Invest Ophthalmol Vis Sci 57:504–510

9.

Mansoori T, Sivaswamy J, Gamalapati JS, Agraharam SG, Balakrishna N (2017) Measurement of radial peripapillary capillary density in the normal human retina using optical coherence tomography angiography. J Glaucoma 26:241–246

10.

Kraus MF, Potsaid B, Mayer MA, Bock R, Baumann B, Liu JJ et al (2012) Motion correction in optical coherence tomography volumes on a per A-scan basis using orthogonal scan patterns. Biomed Opt Express 3:1182–1199

11.

Jia Y, Tan O, Tokayer J, Potsaid B, Wang Y, Liu JJ et al (2012) Split-spectrum amplitude decorrelation angiography with optical coherence tomography. Opt Express 20:4710–4725

12.

Chen J, Smith R, Tian J, Laine AF (2008) A novel registration method for retinal images based on local features. Conf Proc IEEE Eng Med Biol Soc. 2008:2242–2245

13.

Frangi AF, Niessen WJ, Vincken KL, Viergever MA (1998) Multiscale vessel enhancement filtering. Lecture Notes in Computer Science, vol 1496, pp 130–137

14.

De Carlo TE, Salz DA, Waheed NK, Baumal CR, Duker JS, Witkin AJ (2015) Visualization of the retinal vasculature using wide field montage optical coherence tomography angiography. Ophthalmic Surg Lasers Imaging Retina 46:611–616

15.

Alterman M, Henkind P (1968) Radial peripapillary capillaries of the retina II. Possible role in Bjerrum scotoma. Br J Ophthalmol 52:26–31
Ethics declarations
Conflict of interest
The authors declare that they have no conflict of interest.
About this article
Cite this article
Mansoori, T., Sivaswamy, J., Gamalapati, J.S. et al. Topography and correlation of radial peripapillary capillary density network with retinal nerve fibre layer thickness. Int Ophthalmol 38, 967–974 (2018). https://doi.org/10.1007/s10792-017-0544-0
Received:

Accepted:

Published:

Issue Date:
Keywords
Radial peripapillary capillary

Retinal nerve fibre layer thickness

Optical coherence tomography angiography

Montage image