Abstract
Purpose
To review our experience with crystalline lens extraction and iris claw Artisan IOL implantation in patients with lens subluxation secondary to Marfan syndrome.
Methods
A retrospective analysis of 12 eyes of 9 patients with lens subluxation due to Marfan syndrome who underwent crystalline lens removal and Artisan IOL (Ophtec, Groningen, Netherlands) implantation. A questionnaire of pre- and post-operative data, including demographics, pre- and postoperative comorbidities and complications was completed. Patients were evaluated for visual outcome and occurrence of complications. Uncorrected visual acuity (UCVA), best-corrected visual acuity (BCVA), and spherical equivalents (SE) were compared before and after lens extraction and IOL insertion.
Results
The mean age of the participants was 30.03 ± 15.02 years, and mean post-operative follow-up time was 44.5 ± 16.4 months. Mean BCVA also showed a significant improvement from 0.5 ± 0.3 at the baseline to 0.2 ± 0.2 post-operatively (P = 0.006). SE changed significantly from −11.38 ± 1.99 preoperatively to −0.45 ± 1.65 post-operatively (P = 0.003). All eyes had the IOL implanted at desired position. Post-operative complications were retinal detachment in one case and IOL dislocation in another patient. No other complication such as ocular hypertension, angle abnormalities, clinical cystoids macular edema, and corneal decompensation was observed during the follow-up period.
Conclusion
Artisan IOL implantation after lens extraction appears to be an attractive alternative for optical correction in cases of Marfan syndrome with ectopia lentis. It confers a significant improvement in visual acuity with reasonable risk profile.
Access options
Buy single article
Instant access to the full article PDF.
USD 39.95
Price excludes VAT (USA)
Tax calculation will be finalised during checkout.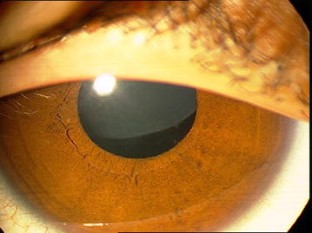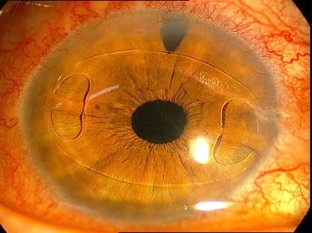 References
Hollister DW, Godfrey M, Sakai LY, Pyeritz RE (1990) Immunohistologic abnormalities of the microfibrillar-fiber system in the Marfan syndrome. N Engl J Med 323:152–159

Nemet AY, Assia EI, Apple DJ, Barequet IS (2006) Current concepts of ocular manifestations in Marfan syndrome. Surv Ophthalmol 51:561–575

Nelson LB, Maumenee IH (1986) Ectopia lentis. In: Renie WA (ed) Coldberg's genetic and metabolic eye disease, 2nd edn. Little, Brown and Co, Boston, pp 389–410

Paepe AD, Devereux RB, Dietz HC, Hennekam RCM, Pyeritz RE (1996) Revised diagnostic criteria for Marfan's syndrome. Am J Med Genet 62:417–426

Neely DE, Plager DA (2001) Management of ectopia lentis in children. Ophthalmol Clin North Am 14:493–499

Kazemi S, Wirostko WJ, Sinha S, Mieler WF, Koenig SB, Sheth BP (2000) Combined pars plana lensectomy-vitrectomy with open-loop flexible anterior chamber intraocular lens (ACIOL) implantation for subluxated lenses. Trans Am Ophthalmol Soc 98:247–253

Epley KD, Shainberg MJ, Lueder GT, Tychsen L (2001) Pediatric secondary lens implantation in the absence of capsular support. J AAPOS 5:301–306

Morrison D, Sternberg P, Donahue S (2005) Anterior chamber intraocular lens (ACIOL) placement after pars plana lensectomy in pediatric Marfan syndrome. J AAPOS 9:240–242

Aspiotis M, Asproudis L, Stefaniotou M, Gorezis S, Psilas K (2006) Artisan aphakic intraocular lens implantation in cases of subluxated crystalline lenses due to Marfan syndrome. J Refract Surg 22:99–101

Sminia ML, Odenthal MTP, Prick LJJM, Cobben JM, Mourits MP, Volker-Dieben HJ (2012) Long-term follow-up after bilateral Artisan aphakia intraocular lens implantation in two children with Marfan syndrome. J AAPOS 16:92–94

Forlini M, Gramajo AL, Rejdak R, Prokopiuk A, Levkina O et al (2013) Retropupillary iris-claw intraocular lens in ectopia lentis due to Marfan syndrome. J Genet Syndr Gene Ther 4:170

Por YM, Lavin MJ (2005) Techniques of intraocular lens suspension in the absence of capsular/zonular support. Surv Ophthalmol 50:429–462

Pyeritz RE (2000) The Marfan syndrome. Annu Rev Med 51:481–510

Ellerton CR, Rattigan SM, Chapman FM, Chitkara DK, Smerdon DL (1996) Secondary implantation of open-loop, flexible, anterior chamber intraocular lenses. J Cataract Refract Surg 22:951–954

Siganos DS, Siganos CS, Popescu CN, Margaritis VN (2000) Clear lens extraction and intraocular lens implantation in Marfan's syndrome. J Cataract Refract Surg 26:781–784

Lanzetta P, Bandello FM, Virgili G, Crovato S, Menchini U (1999) Is scleral fixation a safe procedure for intraocular lens implantation? Doc Ophthalmol 97:317–324

Asadi R, Kheirkhah A (2008) Long-term results of scleral fixation of posterior chamber intraocular lenses in children. Ophthalmology 115:67–72

Remulla JF, Tolentino FI (2001) Retinal detachment in Marfan's syndrome. Int Ophthalmol Clin 41:235

Loewenstein A, Barequet IS, De Juan E, Jr Maumenee IH (2000) Retinal detachment in Marfan syndrome. Retina 20:358–363

Singh V, Sharma YR, Sharma R (2007) Primary versus secondary intraocular lens placement after pars plana lensectomy in pediatric Marfan syndrome. J AAPOS 11:317–318

Budo C, Hessloehl JC, Izak M, Luyten GP, Menezo JL, Sener BA et al (2000) Multicenter study of the Artisan phakic intraocular lens. J Cataract Refract Surg 26:1163–1171

Saxena R, Boekhoorn SS, Mulder PG, Noordzij B, van Rij G, Luyten GP (2008) Long-term follow-up of endothelial cell change after artisan phakic intraocular lens implantation. Ophthalmology 115(4):608–613

Kodjikian L, Beby F, Spire M, Gambrelle J, Hubert I, Burillon C et al (2006) Combined pars plana phacofragmentation, vitrectomy, and Artisan lens implantation for traumatic subluxated cataracts. Retina 26(8):909–916

Silva RA, Jain A, Manche EE (2008) Prospective long-term evaluation of the efficacy, safety, and stability of the phakic intraocular lens for high myopia. Arch Ophthalmol 126(6):775–781

Maloney RK, Nguyen LH, John ME (2002) Artisan phakic intraocular lens for myopia: short-term results of a prospective, multicenter study. Ophthalmology 109(9):1631–1641
Ethics declarations
Conflict of interest
The authors have no financial or proprietary interests in any material discussed in this article.
Ethical approval
The study was conducted in accordance with the Declaration of Helsinki and was approved by the Ethics Committee of the Ophthalmic Research Center, Shahid Beheshti Medical University.
Informed consent
Written Informed consent was obtained from all individual participants included in the study.
About this article
Cite this article
Rabie, H.M., Malekifar, P., Javadi, M.A. et al. Visual outcomes after lensectomy and iris claw artisan intraocular lens implantation in patients with Marfan syndrome. Int Ophthalmol 37, 1025–1030 (2017). https://doi.org/10.1007/s10792-016-0366-5
Received:

Accepted:

Published:

Issue Date:

DOI: https://doi.org/10.1007/s10792-016-0366-5
Keywords
Marfan syndrome

Lens subluxation

Lensectomy

Artisan aphakic IOL