Abstract
Eye-related pathological conditions such as glaucoma, diabetic retinopathy, and age-related macular degeneration commonly lead to decreased peripheral/central field, decreased visual acuity, and increased functional disability. We sought to answer if relationships exist between measures of visual function and reported prosocial behaviors in an older adult population with eye-related diagnoses. The sample consisted of adults, aged ≥60 years old, at an academic hospital's eye institute. Vision ranged from normal to severe impairment. Medical charts determined the visual acuities, ocular disease, duration of disease (DD), and visual fields (VF). Measures of giving help were via validated questionnaires on giving formal support (GFS) and giving informal support; measures of help received were perceived support (PS) and informal support received (ISR). ISR had subscales: tangible support (ISR-T), emotional support (ISR-E), and composite (ISR-C). Visual acuities of the better and worse seeing eyes were converted to LogMAR values. VF information converted to a 4-point rating scale of binocular field loss severity. DD was in years. Among 96 participants (mean age 73.28; range 60–94), stepwise regression indicated a relationship of visual variables to GFS (p < 0.05; Multiple R 2 = 0.1679 with acuity-better eye, VF rating, and DD), PS (p < 0.05; Multiple R 2 = 0.2254 with acuity-better eye), ISR-C (p < 0.05; Multiple R 2 = 0.041 with acuity-better eye), and ISR-T (p < 0.05; Multiple R 2 = 0.1421 with acuity-better eye). The findings suggest eye-related conditions can impact levels and perceptions of support exchanges. Our data reinforces the importance of visual function as an influence on prosocial behavior in older adults.
This is a preview of subscription content,
to check access.
Access this article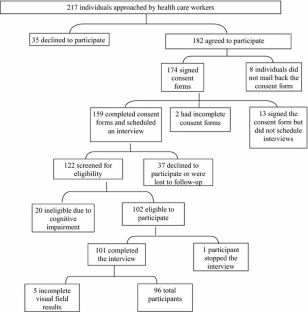 Similar content being viewed by others
References
World Health Organization (2013) Visual impairment and blindness Fact Sheet No. 282. Accessed 8 May 2014

Congdon N, O'Colmain B, Klaver CC, Klein R, Munoz B, Friedman DS, Kempen J, Taylor HR, Mitchell P, Eye Diseases Prevalence Research Group (2004) Causes and prevalence of visual impairment among adults in the United States. Arch Ophthalmol 122(4):477–485. doi:10.1001/archopht.122.4.477

Cohen S (1988) Psychosocial models of the role of social support in the etiology of physical disease. Health Psychol 7(3):269–297

Horowitz A, Reinhardt JP, Boerner K, Travis LA (2003) The influence of health, social support quality and rehabilitation on depression among disabled elders. Aging Mental Health 7(5):342–350. doi:10.1080/1360786031000150739

Brown SL, Nesse RM, Vinokur AD, Smith DM (2003) Providing social support may be more beneficial than receiving it: results from a prospective study of mortality. Psychol Sci 14(4):320–327

Okun MA, August KJ, Rook KS, Newsom JT (2010) Does volunteering moderate the relation between functional limitations and mortality? Soc Sci Med 71(9):1662–1668. doi:10.1016/j.socscimed.2010.07.034

Dyeson TB (2000) Burden self-image: a mediating variable of depressive symptoms among chronically ill care recipients. J Gerontol Soc Work 33(1):17–33. doi:10.1300/J083v33n01_03

Krause N (1995) Negative interaction and satisfaction with social support among older adults. J Gerontol Ser B Psychol Sci Soc Sci 50(2):P59–P73

Reinhardt JP (2001) Effects of positive and negative support received and provided on adaptation to chronic visual impairment. Appl Dev Sci 5(2):76–85. doi:10.1207/S1532480XADS0502_3

Li Y (2007) Recovering from spousal bereavement in later life: does volunteer participation play a role? J Gerontol Ser B Psychol Sci Soc Sci 62(4):S257–S266

Greenfield EA, Marks NF (2004) Formal volunteering as a protective factor for older adults' psychological well-being. J Gerontol Ser B Psychol Sci Soc Sci 59(5):S258–S264

Bornman J (2004) The World Health Organisation's terminology and classification: application to severe disability. Disabil Rehabil 26(3):182–188. doi:10.1080/09595230020029365

Verbrugge LM, Jette AM (1994) The disablement process. Soc Sci Med 38(1):1–14

Social Security Administration (2008) Disability Evaluation Under Social Security: 2.00 Special Senses and Speech. Social Security Administration

Campbell VA, Crews JE, Moriarty DG, Zack MM, Blackman DK (1999) Surveillance for sensory impairment, activity limitation, and health-related quality of life among older adults—United States, 1993-1997. MMWR CDC Surveill Summ 48(8):131–156

Rowe JL, Conwell Y, Schulberg HC, Bruce ML (2006) Social support and suicidal ideation in older adults using home healthcare services. Am J Geriatr Psychiatry 14(9):758–766. doi:10.1097/01.JGP.0000218324.78202.25

Berkman LF, Glass T, Brissette I, Seeman TE (2000) From social integration to health: Durkheim in the new millennium. Soc Sci Med 51(6):843–857

Oxman TE, Berkman LF (1990) Assessment of social relationships in elderly patients. Int J Psychiatry Med 20(1):65–84

Horowitz A, Brennan M, Reinhardt JP (2005) Prevalence and risk factors for self-reported visual impairment among middle-aged and older adults. Res Aging 27(3):307–326. doi:10.1177/0164027504274267

Berg AI, Hassing LB, McClearn GE, Johansson B (2006) What matters for life satisfaction in the oldest-old? Aging Mental Health 10(3):257–264. doi:10.1080/13607860500409435

Duberstein PR, Conwell Y, Conner KR, Eberly S, Evinger JS, Caine ED (2004) Poor social integration and suicide: fact or artifact? A case-control study. Psychol Med 34(7):1331–1337

Hsu HC (2012) Trajectories and covariates of life satisfaction among older adults in Taiwan. Arch Gerontol Geriatr 55(1):210–216. doi:10.1016/j.archger.2011.08.011

Newsom JT, Schulz R (1996) Social support as a mediator in the relation between functional status and quality of life in older adults. Psychol Aging 11(1):34–44

Krause N, Herzog AR, Baker E (1992) Providing support to others and well-being in later life. J Gerontol 47(5):P300–P311

Antonucci TC, Akiyama H (1987) Social networks in adult life and a preliminary examination of the convoy model. J Gerontol 42(5):519–527

Cohen S, Wills TA (1985) Stress, social support, and the buffering hypothesis. Psychol Bull 98(2):310–357

United States Bureau of Labor Statistics (2012) Volunteering in the United States-2011

Herzog AR, House JS (1991) Productive activities and aging well. Generations 15(1):49–54

Warr P, Butcher V, Robertson I (2004) Activity and psychological well-being in older people. Aging Mental Health 8(2):172–183. doi:10.1080/13607860410001649662

Williamson GM (1998) The central role of restricted normal activities in adjustment to illness and disability: a model of depressed affect. Rehabil Psychol 43(4):327–347. doi:10.1037/0090-5550.43.4.327

Wheeler JA, Gorey KM, Greenblatt B (1998) The beneficial effects of volunteering for older volunteers and the people they serve: a meta-analysis. Int J Aging Hum Dev 47(1):69–79

Areán PA, Ayalon L (2005) Assessment and treatment of depressed older adults in primary care. Clin Psychol 12(3):321–335. doi:10.1093/clipsy/bpi034

Van Willigen M (2000) Differential benefits of volunteering across the life course. J Gerontol Ser B Psychol Sci Soc Sci 55(5):S308–S318

Desrosiers J, Wanet-Defalque MC, Temisjian K, Gresset J, Dubois MF, Renaud J, Vincent C, Rousseau J, Carignan M, Overbury O (2009) Participation in daily activities and social roles of older adults with visual impairment. Disabil Rehabil 31(15):1227–1234

Hunter KI, Linn MW, Harris R (1981) Characteristics of high and low self-esteem in the elderly. Int J Aging Hum Dev 14(2):117–126

Yang Y (2006) How does functional disability affect depressive symptoms in late life? The role of perceived social support and psychological resources. J Health Soc Behav 47(4):355–372

Hunter KI, Linn MW (1980) Psychosocial differences between elderly volunteers and non-volunteers. Int J Aging Hum Dev 12(3):205–213

Wu AM, Tang CS, Yan EC (2005) Post-retirement voluntary work and psychological functioning among older Chinese in Hong Kong. J Cross Cult Gerontol 20(1):27–45. doi:10.1007/s10823-005-3796-5

Femia EE, Zarit SH, Johansson B (2001) The disablement process in very late life: a study of the oldest-old in Sweden. J Gerontol Ser B Psychol Sci Soc Sci 56(1):P12–P23

McPherson CJ, Wilson KG, Chyurlia L, Leclerc C (2010) The balance of give and take in caregiver-partner relationships: an examination of self-perceived burden, relationship equity, and quality of life from the perspective of care recipients following stroke. Rehabil Psychol 55(2):194–203. doi:10.1037/a0019359

Reinhardt JP (1996) The importance of friendship and family support in adaptation to chronic vision impairment. J Gerontol Ser B Psychol Sci Soc Sci 51(5):P268–P278

Bergeron CM, Wanet-Defalque M-C (2013) Psychological adaptation to visual impairment: the traditional grief process revised. Br J Vis Impair 31(1):20–31. doi:10.1177/0264619612469371

Brody BL, Gamst AC, Williams RA, Smith AR, Lau PW, Dolnak D, Rapaport MH, Kaplan RM, Brown SI (2001) Depression, visual acuity, comorbidity, and disability associated with age-related macular degeneration. Ophthalmology 108(10):1893–1900 discussion 1900–1891

Krause N (1990) Satisfaction with social support and changes in functional disability through time. In: Giles H, Coupland N, Wiemann JM (eds) Communication, health and the elderly. Manchester University Press, Manchester, pp 29–44

Krause N (1999) Assessing change in social support during late life. Res Aging 21(4):539–569. doi:10.1177/0164027599214002

Krause N, Markides K (1990) Measuring social support among older adults. Int J Aging Hum Dev 30(1):37–53

House J (1997) Americans' changing lives: Waves I and II, 1986 and 1989. ICPSR version edn

Holladay JT (1997) Proper method for calculating average visual acuity. J Refract Surg 13(4):388–391

Gatz M, Reynolds C, Nikolic J, Lowe B, Karel M, Pedersen N (1995) An empirical test of telephone screening to identify potential dementia cases. Int Psychogeriatr 7(3):429–438

Evans JR, Fletcher AE, Wormald RP (2007) Depression and anxiety in visually impaired older people. Ophthalmology 114(2):283–288. doi:10.1016/j.ophtha.2006.10.006

Waern M, Rubenowitz E, Runeson B, Skoog I, Wilhelmson K, Allebeck P (2002) Burden of illness and suicide in elderly people: case-control study. BMJ 324(7350):1355

Kelly JS (1993) Visual impairment among older people. Br J Nurs 2(2):110–116

Pinquart M, Pfeiffer JP (2011) Psychological well-being in visually impaired and unimpaired individuals: a meta-analysis. Br J Vis Impair 29(1):27–45. doi:10.1177/0264619610389572

Duberstein PR, Conwell Y, Conner KR, Eberly S, Caine ED (2004) Suicide at 50 years of age and older: perceived physical illness, family discord and financial strain. Psychol Med 34(1):137–146

Pirkis J, Burgess P, Dunt D (2000) Suicidal ideation and suicide attempts among Australian adults. Crisis 21(1):16–25

Zeiss AM, Lewinsohn PM, Rohde P, Seeley JR (1996) Relationship of physical disease and functional impairment to depression in older people. Psychol Aging 11(4):572–581

Brault MW (2012) Americans with disabilities: 2010. US Census Bureau P70-131:24, Washington, DC

Mangione CM, Lee PP, Gutierrez PR, Spritzer K, Berry S, Hays RD, National Eye Institute Visual Function Questionnaire Field Test I (2001) Development of the 25-item national eye institute visual function questionnaire. Arch Ophthalmol 119(7):1050–1058

Liu AQ, Besser T (2003) Social capital and participation in community improvement activities by elderly residents in small towns and rural communities. Rural Sociol 68:343–365. doi:10.1111/j.1549-0831.2003.tb00141.x

Musick MA, Wilson J (2003) Volunteering and depression: the role of psychological and social resources in different age groups. Soc Sci Med 56(2):259–269

Kahana E, Bhatta T, Lovegreen LD, Kahana B, Midlarsky E (2013) Altruism, helping, and volunteering: pathways to well-being in late life. J Aging Health 25(1):159–187. doi:10.1177/0898264312469665

Morrow-Howell N (2010) Volunteering in later life: research frontiers. J Gerontol Ser B Psychol Sci Soc Sci 65(4):461–469. doi:10.1093/geronb/gbq024
Acknowledgments
The source of the data on which this paper was based is the respective set originally gathered for and utilized by the doctorate dissertation of Merideth D. Smith, Ph.D.
About this article
Cite this article
Teoli, D.A., Smith, M.D., Leys, M.J. et al. Visual function affects prosocial behaviors in older adults. Int Ophthalmol 36, 45–54 (2016). https://doi.org/10.1007/s10792-015-0080-8
Received:

Accepted:

Published:

Issue Date:

DOI: https://doi.org/10.1007/s10792-015-0080-8
Keywords