Abstract
The purpose of this study was to determine whether α-lipoic acid and fisetin have protective effects against cataract in a streptozotocin-induced experimental cataract model. Twenty-eight male BALB/C mice were made diabetic by the intraperitoneal administration of streptozotocin (200 mg/kg). Three weeks after induction of diabetes, mice were divided randomly into 4 groups in which each group contained 7 mice; fisetin-treated group (group 1), α-lipoic acid-treated group (group 2), fisetin placebo group (group 3), α-lipoic acid placebo group (group 4). Fisetin and α-lipoic acid were administered intraperitoneally weekly for 5 weeks. Cataract development was assessed at the end of 8 weeks by slit lamp examination, and cataract formation was graded using a scale. All groups developed at least grade 1 cataract formation. In the fisetin-treated group, the cataract stages were significantly lower than in the placebo group (p = 0.02). In the α-lipoic acid-treated group, the cataract stages were lower than in the placebo group but it did not reach to a significant value. Both fisetin and α-lipoic acid had a protective effect on cataract development in a streptozotocin-induced experimental cataract model. The protective effect of fisetin appears as though more effective than α-lipoic acid.
This is a preview of subscription content,
to check access.
Access this article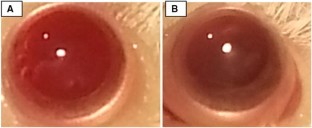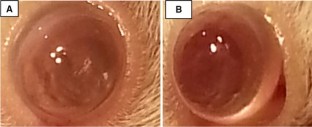 References
Obrosova IG, Chung SS, Kador PF (2010) Diabetic cataracts: mechanisms and management. Diabetes Metab Res Rev 26:172–180

Bron AJ, Sparrow J, Brown NA, Harding JJ, Blakytny R (1993) The lens in diabetes. Eye 7:260–275

Lee AY, Chung SS (1999) Contributions of polyol pathway to oxidative stress in diabetic cataract. FASEB J 13:23–30

Ahmed N (2005) Advanced glycation end products—role in pathology of diabetic complications. Diabetes Res Clin Pract 67:3–21

Hegde KR, Varma SD (2005) Combination of glycemic and oxidative stress in lens: implications in augmentation of cataract formation in diabetes. Free Radic Res 39:513–517

Scott BC, Aruoma OI, Evans PJ et al (1994) Lipoic acid and dihydrolipoic acid as antioxidants. A critical evaluation. Free Rad Res 20:119–133

Bors W, Heller W, Michel C, Saran M (1990) Flavonoids as antioxidants: determination of radical-scavenging efficiencies. Methods Enzymol 186:343–355

Majumdar S, Srirangam R (2010) Potential of the bioflavonoids in the prevention and treatment of ocular disorders. J Pharm Pharmaco 62:951–965

Kalt W, Hanneken A, Milbury P, Tremblay F (2010) Recent research on polyphenolics in vision and eye health. J Agric Food Chem 58:4001–4007

Hegde KR, Henein MG, Varma SD (2003) Establishment of the mouse as a model animal for the study of diabetic cataracts. Ophthalmic Res 35:12–18

Suryanarayana P, Krishnaswamy K, Reddy GB (2003) Effect of curcumin on galactose-induced cataractogenesis in rats. Mol Vis 9:223–230

Olofsson EM, Marklund SL, Behndig A (2009) Enhanced diabetes-induced cataract in copper−zinc superoxide dismutase-null mice. Invest Ophthalmol Vis Sci 50:2913–2918

Wolff SP, Dean RT (1987) Glucose autoxidation and protein modification. The potential role of autoxidative glycosylation in diabetes. Biochem J 245:243–250

Kyselová Z, Garcia SJ, Gajdosíková A, Gajdosík A, Stefek M (2005) Temporal relationship between lens protein oxidation and cataract development in streptozotocin-induced diabetic rats. Physiol Res 54:49–56

Suzuki YJ, Tsuchiya M, Packer L (1992) Lipoate prevents glucose-induced protein modifications. Free Rad Res Commun 17:211–217

Kojima M, Sun L, Hata I, Sakamoto Y, Sasaki H, Sasaki K (2007) Efficacy of alpha-lipoic acid against diabetic cataract. Jpn J Ophthalmol 51:10–13

Maitra I, Serbinova E, Tritschler H, Packer L (1995) Alpha-Lipoic acid prevents buthionine sulfoximine-induced cataract formation in newborns. Free Rad Biol Med 18:823–829

Ishige K, Schubert D, Sagara Y (2001) Flavonoids protect neuronal cells from oxidative stress by three distinct mechanisms. Free Radic Biol Med 30:433–446

Yao K, Zhang L, Zhang Y, Ye P, Zhu N (2008) The flavonoid, fisetin, inhibits UV radiation-induced oxidative stress and the activation of NF-кB and MAPK signaling in human lens epithelial cells. Mol Vis 14:1865–1871

Matsuda H, Wang T, Managi H, Yoshikawa M (2003) Structural requirements of flavonoids for inhibition of protein glycation and radical scavenging activities. Bioorg Med Chem 11:5317–5532

Matsuda H, Morikawa T, Toguchida I, Yoshikawa M (2002) Structural requirements of flavonoids and related compounds for aldose reductase inhibitory activity. Chem Pharm Bull 50:788–795

Van Heyningen R (1959) Formation of polyols by the lens of the with sugar cataracts. Nature 164:194–196

Varma SD, Kinoshita JH (1976) Inhibition of lens aldose reductase by flavonoids-their possible role in the prevention of diabetic cataract. Biochem Pharmacol 25:2505

El-Aguizy HK, Richards RD, Varma SD (1983) Sugar cataracts in mongolian gerbil (Meriones unguiculatus). Exp Eye Res 36:839–844
Conflict of interest
The authors have no conflict of interest.
About this article
Cite this article
Kan, E., Kiliçkan, E., Ayar, A. et al. Effects of two antioxidants; α-lipoic acid and fisetin against diabetic cataract in mice. Int Ophthalmol 35, 115–120 (2015). https://doi.org/10.1007/s10792-014-0029-3
Received:

Accepted:

Published:

Issue Date:

DOI: https://doi.org/10.1007/s10792-014-0029-3
Keywords