Abstract
Our aim is to demonstrate the benefits of using a computer model to support the clinical diagnosis of complex eye motility disorders. For diagnosis and differential diagnosis we compared the clinical data of a patient with suspected monocular elevation deficiency (MED) and the corresponding computer simulation with the simulations of rectus superior palsy, vertical Duane miswiring syndrome and two simulations of asymmetric gaze palsy. We used our biomechanical eye model SEE-KID for the computer simulations, which is partly based on ideas and concepts of the software system Orbit™ by Joel Miller. A young patient with the clinical characteristics of congenital MED, unilateral limitation of up-gaze above midline, with accompanying ptosis on the affected right side, mild head posture, chin-up position, partial binocular functions and Bell's phenomenon was examined. Pupillary situation, cover test, version and duction movements, saccadic test, Parks–Bielschowsky phenomenon and head tilt test, stereopsis test, Bagolini striated lens test and forced duction test were assessed. Up to the age of 5 years we used the prism cover test in the nine main gaze positions; later we switched to the Hess-Lancaster test for analyzing deviations. We also used our computer model for evaluating the diagnosis and for differential diagnosis of our patient. The simulation results from the SEE-KID model support the diagnosis of supranuclear MED, which can be achieved in the model by varying central innervations, contrary to the modification of muscle forces in the simulation of a rectus superior palsy. It is necessary to distinguish between supranuclear, nuclear, interstitial or peripheral lesions with regard to monocular elevation deficit. Simulations of patients with similar pathologies in a way that the simulations correspond to the patient-measured values support (beside the clinical signs) the diagnosis of supranuclear or infranuclear lesions.
Access options
Buy single article
Instant access to the full article PDF.
US$ 39.95
Tax calculation will be finalised during checkout.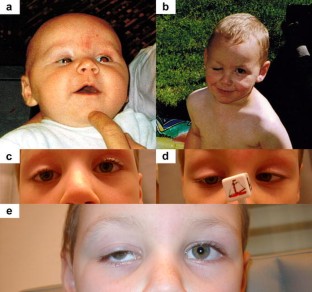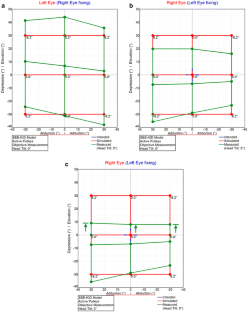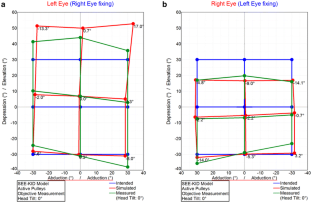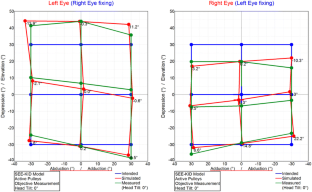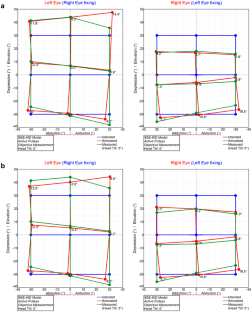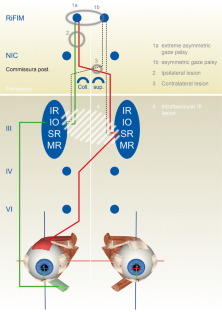 References
1.

White J (1942) Paralysis of the superior rectus and the inferior oblique muscle of the same eye. Arch Ophthalmol 2(27):366–371

2.

Jampel R, Fells P (1968) Monocular elevation paresis caused by a central nervous system lesion. Arch Ophthalmol 1(80):45–57

3.

Demer J, Oh S, Poukens V (2000) Evidence for active control of rectus extraocular muscle pulleys. Invest Ophthalmol Vis Sci 41:1280–1290

4.

Kommerell G, Mattheus S (1984) Reversed fixation test (RFT): a new tool for the diagnosis of dissociated vertical deviation (DVD) and dissociated horizontal deviation (DHD). In: Reinecke RD (ed) Strabismus II. Grune and Stratton, Orlando, pp 721–728

5.

Buchberger M (2008) Biomechanical modelling of the human eye. Vdm Verlag Dr. Müller, Saarbrücken

6.

Haslwanter T, Buchberger M, Kaltofen T, Hörantner R, Priglinger S (2005) SEE++ a biomechanical model of the oculomotor plant. Ann N Y Acad Sci 1039(1):9–14

7.

Priglinger S, Buchberger M (2004) Augenmotilitätsstörungen. Springer, Wien

8.

Buchberger M, Kaltofen T, Priglinger S, Hörantner R (2003) Construction and application of an object-oriented computer model for simulating ocular positioning defects. Spektrum Augenheilkd 17:151–157

9.

RISC Software GmbH, Buchberger M, Kaltofen T, Priglinger S (2003) SEE++ user manual. Research Unit Medical-Informatics, Hagenberg

10.

Miller J (1999) Orbit™ 1.8 gaze mechanics simulation—users manual. Eidactics, San Francisco

11.

Metz H (1979) Double elevator palsy. Arch Ophthalmol 97:901

12.

Thoemke F (2001) Augenbewegungsstörungen. Thieme Verlag, Germany

13.

Dunlap E (1952) Diagnosis and management of double elevator palsy. Trans Am Ophthalmol Soc 3:1554

14.

Dunlap EA (1971) Symposium on strabismus: transactions of the New Orleans Academy of Ophthalmology. Chap. 17. Vertical displacement of horizontal recti. CV Mosby, St. Louis, pp 307–329

15.

Knapp P (1969) The surgical treatment of double elevator palsy. Trans Am Ophthalmol Soc 67:304

16.

Von Norden G, Hansell R (1991) Clinical characteristics and treatment of isolated inferior rectus paralysis. Ophthalmology 98:253

17.

Cuttone J, Brazis P, Miller M (1979) Absence of the superior rectus muscle in Apert`s syndrome. J Pedriatr Ophthalmol Strabismus 16:349

18.

Buchberger M, Kaltofen T, Priglinger S, Mühlendyck H (2009) Computer simulation of brown syndrome, European strabismological association, 33rd meeting, Belgrade, Serbia, 2009

19.

Ziffer A, Rosenbaum A, Demer J (1992) Congenital double elevator palsy; Vertical saccadic velocity utilizing the sclera search coil technique. J Pediatr Ophthalmol Strabismus 29:142

20.

Thames P, Trobe J, Ballinger W (1984) Upgaze paralysis caused by lesion of the periaqueductal gray matter. Arch Neurol 41:437

21.

Steffen H (2006) Topodiagnostik supranukleärer Augenbewegungsstörungen. Der Ophthalmologe. 103:977–990

22.

Buttner–Ennever J, Buttner U, Cohen B (1982) Vertical glaze paralysis and the rostral interstitial nucleus of the medial longitudinal fasciculus. Brain 105:125–149

23.

Buttner–Ennever J, Acheson J, Buttner U (1989) Ptosis and supranuclear downgaze paralysis. Neurology 39:385

24.

Bender M (1980) Brain control of the structural and fuctional correlates. Brain 103:23

25.

Guyton D (2004) Dissociated vertical deviation: an acquired nystagmus blockage phenomenon. Am Orthoptic J 54(1):77–87

26.

Traboulsi E (2007) Congenital cranial dysinnervation disorders and more. J AAPOS 11(3):215–217

27.

Helveston E (1993) A logical scheme for the planning of strabismus surgery. In: Craven L (ed) Surgical management of strabismus: an atlas of strabismus surgery, 4th edn. Mosby Year Book, St. Louis, pp 355–389
Declaration of Interest
The SEE++ software system (www.see-kid.at) can be purchased from the Research Unit Medical-Informatics of the RISC Software GmbH, which employs one author of this paper. The RISC Software GmbH (www.risc-software.at) is a non-profit organization owned by the Johannes Kepler University of Linz and the Upper Austrian Research GmbH and any earnings are reinvested into further development of the SEE++ software system.
About this article
Cite this article
Priglinger, S., Rohleder, M., Reitböck, S. et al. Computer-assisted diagnosis of monocular elevation deficiency. Int Ophthalmol 34, 185–195 (2014). https://doi.org/10.1007/s10792-013-9809-4
Received:

Accepted:

Published:

Issue Date:
Keywords
Up-gaze deficiency

Supranuclear lesions

Infranuclear lesions

Computer-assisted differential diagnosis

Congenital cranial dysinnervation syndrome