Abstract
Uncorrected refractive error plays a significant role in poor vision and blindness, and its correction is the most cost-effective intervention in eye care. In this study, we report the status of the unmet refractive need and the role of economic inequality in determining the level of this need in Shahroud, Iran. This cross-sectional nested case–control study was performed on 5,190 individuals aged 40–64 years. Cases and controls were individuals with uncorrected visual acuity worse than 0.3 LogMAR in the better eye who showed at least 0.2 LogMAR improvement after correction. Cases were individuals whose presenting vision was worse than 0.3 in the better eye but improved by at least 0.2 LogMAR after correction. Controls were individuals in whom the difference between the presenting and corrected vision was less than 0.2 LogMAR. The prevalence of the unmet need was 5.7 % and it was more prevalent in women (6.5 %) than in men (4.6 %) (p = 0.003). There was a gap of 19.6 % between the two groups of high and low economic status. The Oaxaca–Blinder decomposition method revealed that differences in the education level of the two groups accounted for half of this gap. Spectacle usage is better in Iran than in some other developing countries; however, in this study, about 40 % of those who required spectacles did not have them.
Access options
Buy single article
Instant access to the full article PDF.
USD 39.95
Price excludes VAT (USA)
Tax calculation will be finalised during checkout.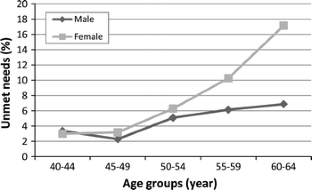 References
Resnikoff S, Pascolini D, Mariottia SP, Pokharela GP (2008) Global magnitude of visual impairment caused by uncorrected refractive errors in 2004. Bull World Health Organ 86:3–18

World Health Organization (2010) Prevention of blindness and visual impairment. http://www.who.int/blindness/causes/priority/en/index5.html. Accessed 24 December 2010

WHO Press Release (2006) Sight test and glasses could dramatically improve the lives of 150 million people with poor vision. WHO, Geneva

World Health Organization (2007) Global initiative for the elimination of avoidable blindness: action plan 2006–2011. WHO, Geneva

Fotouhi A, Hashemi H, Khabazkhoob M, Mohammad K (2007) The prevalence of refractive errors among schoolchildren in Dezful, Iran. Br J Ophthalmol 91:287–292

Ostadi Moghaddam H, KhabazKhoob M, Fotouhi A, Heravian J, Yekta A (2007) Uncorrected refractive errors and spectacle use rate in school children in Mashhad, 2006. Bina J Ophthalmol 13:3–9

Holden BA (2007) Uncorrected refractive error: the major and most easily avoidable cause of vision loss. Community Eye Health Journal 20(63):37–39

Fotouhi A, Hashemi H, Raissi B, Mohammad K (2006) Uncorrected refractive errors and spectacle utilisation rate in Tehran: the unmet need. Br J Ophthalmol 90:534–537

Munoz B, West SK, Rodriguez J et al (2002) Blindness, visual impairment and the problem of uncorrected refractive error in a Mexican-American population: proyecto VER. Invest Ophthalmol Vis Sci 43:608–614

Bourne RRA (2007) Uncorrected refractive error and presbyopia: accommodating the unmet need. Br J Ophthalmol 91:848–850

Evans BJ, Rowlands G (2004) Correctable visual impairment in older people: a major unmet need. Ophthalmic Physiol Opt 24:161–180

Dandona L, Dandona R, Naduvilath TJ et al (1999) Burden of moderate visual impairment in an urban population in southern India. Ophthalmology 106:497–504

Ramke J, du Toit R, Palagyi A, Brian G, Naduvilath T (2007) Correction of refractive error and presbyopia in Timor-Leste. Br J Ophthalmol 91:860–866

Rosman M, Wong TY, Tay WT, Tong L, Saw SM (2009) Prevalence and risk factors of undercorrected refractive errors among Singaporean Malay adults: the Singapore Malay eye study. Invest Ophthalmol Vis Sci 50:3621–3628

Dandona R, Dandona L, Kovai V, Giridhar P, Prasad MN, Srinivas M (2002) Population-based study of spectacles use in Southern India. Indian J Ophthalmol 50:145–155

Varma R, Wang MY, Ying-Lai M, Donofrio J, Azen SP, Los Angeles Latino Eye Study Group (2008) The Prevalence and risk indicators of uncorrected refractive error and unmet refractive need in Latinos: the Los Angeles Latino eye study. Invest Ophthalmol Vis Sci 49:5264–5273

Bourne RR, Dineen BP, Huq DM, Ali SM, Johnson GJ (2004) Correction of refractive error in the adult population of Bangladesh: meeting the unmet need. Invest Ophthalmol Vis Sci 45:410–417

Saw SM, Foster PJ, Gazzard G, Friedman D, Hee J, Seah S (2004) Undercorrected refractive error in Singaporean Chinese adults: the Tanjong Pagar Survey. Ophthalmology 111:2168–2174

Shah SP, Jadoon MZ, Dineen B et al (2008) Refractive errors in the adult Pakistani population: the national blindness and visual impairment survey. Ophthalmic Epidemiol 15:183–190

Marmamula S, Keeffe JE, Rao GN (2009) Uncorrected refractive errors, presbyopia and spectacle coverage: results from a rapid assessment of refractive error survey. Ophthalmic Epidemiol 16:269–274

Kuang TM, Tsai SY, Hsu WM, Cheng CY, Liu JH, Chou P (2007) Correctable visual impairment in an elderly Chinese population in Taiwan: the Shihpai Eye Study. Invest Ophthalmol Vis Sci 48:1032–1037

Prema R, George R, Sathyamangalam Ve R et al (2008) Comparison of refractive errors and factors associated with spectacle use in a rural and urban South Indian population. Indian J Ophthalmol 56:139–144

Gilbert CE, Shah SP, Jadoon MZ et al (2008) Poverty and blindness in Pakistan: results from the Pakistan national blindness and visual impairment survey. BMJ 336:29–32

O'Donnell O, van Doorslaer E, Wagstaff A et al (2008) Analyzing health equity using household survey data. A guide to techniques and their implementation. The World Bank, Washington, DC

Blinder AS (1973) Wage discrimination: reduced forms and structural estimates. J Hum Resour 8:436–455

Oaxaca R (1973) Male–Female wage differentials in urban labor market. Int Econ Rev 14:693–709

Jann B (2008) A Stata implementation of the Blinder–Oaxaca decomposition. Stata J 8:453–479

Xu L, Wang YX, Jonas JB (2010) Level of education associated with ophthalmic diseases. The Beijing Eye Study. Graefes Arch Clin Exp Ophthalmol 248:49–57
Acknowledgments
This project was supported by Noor Ophthalmology Research Center and Shahroud University of Medical Sciences. The present study was supported by Tehran University of Medical Sciences as a PhD thesis.
About this article
Cite this article
Emamian, M.H., Zeraati, H., Majdzadeh, R. et al. Unmet refractive need and its determinants in Shahroud, Iran. Int Ophthalmol 32, 329–336 (2012). https://doi.org/10.1007/s10792-012-9567-8
Received:

Accepted:

Published:

Issue Date:

DOI: https://doi.org/10.1007/s10792-012-9567-8
Keywords
Eyeglasses

Health status disparities

Refractive errors

Visual acuity