Abstract
To report laser pointer induced damage to retina and choroid and briefly review literature. A case report of a 13-year old Caucasian boy developed blurry central vision and central scotoma in right eye (OD). He was exposed for one minute to class IIIA green laser pointer of 650 nm wavelength and 5 mW power. Clinical examination showed a grayish lesion in foveal region. Ancillary testing revealed disruption of the retinal pigment epithelial (RPE) layer in foveal region and indocyanine green angiography demonstrated evidence of choroidal hypofluorescence suggestive of choroidal infarction in OD. Visual acuity improved from 20/100 to 20/60 in one day and he was treated with tapering doses of oral prednisolone (40 mg) for 3 weeks. Laser pointer with a power of >5 mW caused damage to RPE in the macula. Children should not be given laser pointers as toys especially those with label of danger instructions.
Access options
Buy single article
Instant access to the full article PDF.
USD 39.95
Price excludes VAT (USA)
Tax calculation will be finalised during checkout.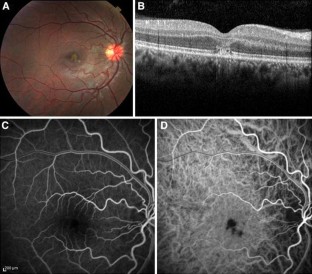 References
http://www.fda.gov/MedicalDevices/Safety/AlertsandNotices/ucm237129.htm FDA safety notification: risk of eye and skin injuries from high-powered, hand-held lasers used for pointing or entertainment, US Food and Drug Administration

Houston S (2011) Aircrew exposure to handheld laser pointers: the potential for retinal damage. Aviat Space Environ Med 82:921–922

Mainster MA, Stuck BE, Brown J Jr (2004) Assessment of alleged retinal laser injuries. Arch Ophthalmol 122:1210–1217

Marshall J (1998) The safety of laser pointers: myths and realities. Br J Ophthalmol 82:1335–1338

Barkana Y, Belkin M (2000) Laser eye injuries. Surv Ophthalmol 44:459–478

Boosten K, Van Ginderdeuren R, Spileers W, Stalmans I, Wirix M, Van Calster J, Stalmans P (2011) Laser-induced retinal injury following a recreational laser show: two case reports and a clinicopathological study. Bull Soc Belge Ophthalmol 317:11–16

Wyrsch S, Baenninger PB, Schmid MK (2010) Retinal injuries from a handheld laser pointer. N Engl J Med 363:1089–1091

Ziahosseini K, Doris JP, Turner GS (2010) Laser eye injuries. Maculopathy from handheld green diode laser pointer. Br Med J 340:c2982

Sell CH, Bryan JS (1999) Maculopathy from handheld diode laser pointer. Arch Ophthalmol 117:1557–1558

Sethi CS, Grey RH, Hart CD (1999) Laser pointers revisited: a survey of 14 patients attending casualty at the Bristol Eye Hospital. Br J Ophthalmol 83:1164–1167

Ueda T, Kurihara I, Koide R (2011) A case of retinal light damage by green laser pointer (Class IIIB). Jpn J Ophthalmol 55:428–430

Zamir E, Kaiserman I, Chowers I (1999) Laser pointer maculopathy. Am J Ophthalmol 127:728–729

Fujinami K, Yokoi T, Hiraoka M, Nishina S, Azuma N (2010) Choroidal neovascularization in a child following laser pointer-induced macular injury. Jpn J Ophthalmol 54:631–633

Wong R, Sim D, Rajendram R, Menon G (2007) Class IIIA laser pointer-induced retinal damage captured on optical coherence tomography. Acta Ophthalmol Scand 85:227–228

Robertson DM, McLaren JW, Salomao DR, Link TP (2005) Retinopathy from a green laser pointer: a clinicopathologic study. Arch Ophthalmol 123:629–633

Israeli D, Hod Y, Geyer O (2001) Retinal injury induced by laser pointers. Harefuah 140(28–9):86

Robertson DM, Lim TH, Salomao DR, Link TP, Rowe RL, McLaren JW (2000) Laser pointers and the human eye: a clinicopathologic study. Arch Ophthalmol 118:1686–1691

Luttrull JK, Hallisey J (1999) Laser pointer-induced macular injury. Am J Ophthalmol 127:95–96

Almegbel YI (1999) Laser pointer retinopathy. Abstract presented at American Academy of Ophthalmology poster 167

Moseley H, Tulley FM, McGhee CN (2003) The potential hazard of laser pointers. Lasers Med Sci 18:63–67

American National Standards Institute (2007) American national standard for safe use of lasers. Orlando: ANSI® Z136.1-2007, Revision of ANSI Z136.1-2000

Zuclich JA, Stolarski DJ (2001) Retinal damage induced by red diode laser. Health Phys 81:8–14
Conflict of interest
Authors have no conflicts of interest with the devices or medication in the paper.
About this article
Cite this article
Turaka, K., Bryan, J.S., Gordon, A.J. et al. Laser pointer induced macular damage: case report and mini review. Int Ophthalmol 32, 293–297 (2012). https://doi.org/10.1007/s10792-012-9555-z
Received:

Accepted:

Published:

Issue Date:

DOI: https://doi.org/10.1007/s10792-012-9555-z
Keywords
Laser pointer

Macular damage

Optical coherence tomography

Indocyanine green angiography