Abstract
The purpose of this study is to evaluate the effect of a single preoperative injection of intravitreal bevacizumab (IVB) on visual outcome in patients undergoing pars plana vitrectomy (PPV) for proliferative diabetic retinopathy (PDR). Retrospective chart review of patients who underwent PPV for PDR and followed for at least 6 months after surgery. Patients who received a single IVB injection (1.25 mg in 0.05 ml) preoperatively were assigned to group A. Those who did not receive IVB were assigned to group B. The primary outcome measure was visual outcome at 6-month follow-up. The secondary outcomes were postoperative complications. At 6 months, visual acuity improved by at least 0.3 logMAR units in 70 (74.5 %) of the 94 eyes in group A versus 46 (52.9 %) of the 87 eyes in group B (p = 0.002). Postoperative vitreous hemorrhage occurred significantly less frequently in group A (6 eyes, 6.4 %) than in group B (14 eyes, 16.1 %; p = 0.037). The incidence of other postoperative complications did not differ significantly between the two groups. Preoperative use of bevacizumab improved the 6-month visual outcome in patients undergoing PPV for PDR and significantly reduced the occurrence of postoperative vitreous hemorrhage.
Access options
Buy single article
Instant access to the full article PDF.
US$ 39.95
Tax calculation will be finalised during checkout.
Subscribe to journal
Immediate online access to all issues from 2019. Subscription will auto renew annually.
US$ 79
Tax calculation will be finalised during checkout.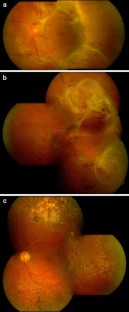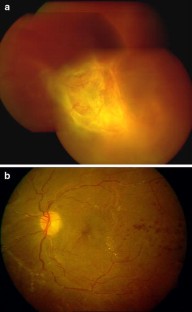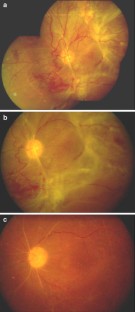 References
1.

Aiello LP, Gardner TW, King GL, Blankenship G, Cavallerano JD, Ferris FL 3rd et al (1998) Diabetic retinopathy. Diabetes Care 21:143–156

2.

Flynn HW Jr, Chew EY, Simons BD, Barton FB, Remaley NA, Ferris FL 3rd (1992) Pars plana vitrectomy in the early treatment diabetic retinopathy study. ETDRS report number 17. Ophthalmology 99:1351–1357

3.

The Diabetic Retinopathy Vitrectomy Study Research Group (1990) Early vitrectomy for severe vitreous hemorrhage in diabetic retinopathy: four-year results of a randomized trial. Diabetic retinopathy vitrectomy study report number 5. Arch Ophthalmol 108: 958–964

4.

The Diabetic Retinopathy Vitrectomy Study Research Group (1988) Early vitrectomy for severe proliferative diabetic retinopathy in eyes with useful vision. Clinical application of results of a randomized trial. DRVS report 4. Ophthalmology 95:1321–1334

5.

Oyakawa RT, Schachat AP, Michels RG, Rice TA (1983) Complications of vitreous surgery for diabetic retinopathy. I. Intraoperative complications. Ophthalmology 90:517–521

6.

Aiello LP, Avery RL, Arrigg PG, Keyt BA, Jampel HD, Shah ST et al (1994) Vascular endothelial growth factor in ocular fluid of patients with diabetic retinopathy and other retinal disorders. N Engl J Med 331:1480–1487

7.

Kramer I, Lipp HP (2007) Bevacizumab, a humanized antiangiogenic monoclonal antibody for the treatment of colorectal cancer. J Clin Pharm Ther 32:1–14

8.

Chen E, Park CH (2006) Use of intravitreal bevacizumab as a preoperative adjunct for tractional retinal detachment repair in severe proliferative diabetic retinopathy. Retina 26:699–700

9.

Avery RL (2006) Regression of retinal and iris neovascularization after intravitreal bevacizumab (Avastin) treatment. Retina 26:352–354

10.

Spaide RF, Fisher YL (2006) Intravitreal bevacizumab (Avastin) treatment of proliferative diabetic retinopathy complicated by vitreous hemorrhage. Retina 26:275–278

11.

Mason JO 3rd, Albert MA Jr, Mays A, Vail R (2006) Regression of neovascular iris vessels by intravitreal injection of bevacizumab. Retina 26:839–841

12.

Jorge R, Costa RA, Calucci D, Cintra LP, Scott IU (2006) Intravitreal bevacizumab (Avastin) for persistent new vessels in diabetic retinopathy (IBEPE study). Retina 26:1006–1013

13.

Goff MJ, Johnson RN, McDonald HR, Ai E, Jumper JM, Fu A (2007) Intravitreal bevacizumab for previously treated choroidal neovasculariztion from age-related macular degeneration. Retina 27:432–438

14.

Lo WR, Kim SJ, Aaberg TM Sr, Bergstrom C, Srivastava SK, Yan J et al (2009) Visual outcomes and incidence of recurrent vitreous hemorrhage after vitrectomy in diabetic eyes pretreated with bevacizumab (Avastin). Retina 29:926–931

15.

Yeoh J, Williams C, Allen P, Buttery R, Chiu D, Clark B et al (2008) Avastin as an adjunct to vitrectomy in the management of severe proliferative diabetic retinopathy: a prospective case series. Clin Exp Ophthalmol 36:449–454

16.

El-Batarny AF (2008) Intravitreal bevacizumab as an adjunctive therapy before diabetic vitrectomy. Clin Ophthalmol 2:709–716

17.

Rizzo S, Genovesi-Ebert F, Di Bartolo E, Vento A, Miniaci S, Williams G (2008) Injection of intravitreal bevacizumab (Avastin) as a preoperative adjunct before vitrectomy surgery in the treatment of severe proliferative diabetic retinopathy (PDR). Graefes Arch Clin Exp Ophthalmol 246:837–842

18.

Ahn J, Woo SJ, Chung H, Park KH (2011) The effect of adjunctive intravitreal bevacizumab for preventing postvitrectomy hemorrhage in proliferative diabetic retinopathy. Ophthalmology 118:2218–2226

19.

Farahvash MS, Majidi AR, Roohipoor R, Ghassemi F (2011) Preoperative injection of intravitreal bevacizumab in dense diabetic vitreous hemorrhage. Retina 31:1254–1260

20.

Pokroy R, Desai UR, Du E, Li Y, Edwards P (2011) Bevacizumab prior to vitrectomy for diabetic tractional retinal detachment. Eye 25:989–997

21.

Zhao LQ, Zhu H, Zhao PQ, Hu YQ (2011) A systematic review and meta-analysis of clinical outcomes of vitrectomy with or without intravitreal bevacizumab pretreatment for severe diabetic retinopathy. Br J Ophthalmol 95:1216–1222

22.

Holladay JT (1997) Proper method for calculating average visual acuity. J Refract Surg 13:388–391

23.

Blankenship GW (1981) Stability of pars plana vitrectomy results for diabetic retinopathy complications: a comparison of 5 year and 6 month postvitrectomy findings. Arch Ophthalmol 99:1009–1012

24.

Oshima Y, Sakaguchi H, Gomi F, Tano Y (2006) Regression of iris neovascularization after intravitreal injection of bevacizumab in patients with proliferative diabetic retinopathy. Am J Ophthalmol 142:155–158

25.

Isaacs T, Barry C (2006) Rapid resolution of severe disc new vessels in proliferative diabetic retinopathy following a single intravitreal injection of bevacizumab. Clin Exp Ophthalmol 34:802–805

26.

Meredith TA (1994) Current indications for diabetic vitrectomy. In: Lewis H, Ryan SJ (eds) Medical and surgical retina: advances, controversies and management. Mosby, St. Louis, pp 290–303

27.

[DRVS] Diabetic Retinopathy Vitrectomy Study Research Group (1988) Early vitrectomy for severe proliferative diabetic retinopathy in eyes with useful vision. Results of a randomized trial, diabetic vitrectomy study report 3. Ophthalmology 95:1307–1320

28.

Thompson JT, Auer CL, de Bustros S, Michels RG, Rice TA, Glaser BM (1986) Prognostic indicators of success and failure in vitrectomy for diabetic retinopathy. Ophthalmology 93:290–295

29.

Ahmadieh H, Shoeibi N, Entezari M, Monshizadeh R (2009) Intravitreal bevacizumab for prevention of early postvitrectomy hemorrhage in diabetic patients: a randomized clinical trial. Ophthalmology 116:1943–1948

30.

Schachat AP, Oyakawa RT, Michels RG, Rice TA (1983) Complications of vitreous surgery for diabetic retinopathy. II. Postoperative complications. Ophthalmology 90:522–530

31.

Novak M, Rice T, Michels R (1984) Vitreous hemorrhage after vitrectomy for diabetic retinopathy. Ophthalmology 91:1485–1489

32.

Blankenship GW (1986) Management of vitreous cavity hemorrhage following pars plana vitrectomy for diabetic retinopathy. Ophthalmology 93:39–44

33.

Tolentino FI, Cajita VN, Gancayco T, Skates S (1989) Vitreous hemorrhage after closed vitrectomy for proliferative diabetic retinopathy. Ophthalmology 96:1495–1500

34.

Liggett PE, Lean JS, Barlow WE, Ryan SJ (1987) Intraoperative argon endophotocoagulation for recurrent vitreous hemorrhage after vitrectomy for diabetic retinopathy. Am J Ophthalmol 103:146–149

35.

Lee MS, Abrams GW (2001) Membrane dissection in proliferative diabetic retinopathy. In: Peyman GA, Ameffert S, Conway MD et al (eds) Vitreoretinal surgical techniques. Martin Dunitz Ltd., London, pp 251–266

36.

Oshima Y, Shima C, Wakabayashi T, Kusaka S, Shiraga F, Ohji M et al (2009) Microincision vitrectomy surgery and intravitreal bevacizumab as a surgical adjunct to treat diabetic traction retinal detachment. Ophthalmology 116:927–938

37.

Romano MR, Gibran SK, Marticorena J, Wong D, Heimann H (2009) Can a preoperative bevacizumab injection prevent recurrent postvitrectomy diabetic vitreous hemorrhage? Eye 23:1698–1701

38.

Beer PM, Wong S, Hammad AM, Falk NS, O'Malley MR et al (2006) Vitreous levels of unbound bevacizumab and unbound vascular endothelial growth factor in two patients. Retina 26:871–876

39.

Arevalo JF, Maia M, Flynn HW Jr, Saravia M, Avery RL, Wu L et al (2008) Tractional retinal detachment following intravitreal bevacizumab (Avastin) in patients with severe proliferative diabetic retinopathy. Br J Ophthalmol 92:213–216

40.

Helbig H, Kellner U, Bornfeld N, Foerster MH (1998) Rubeosis iridis after vitrectomy for diabetic retinopathy. Graefes Arch Clin Exp Ophthalmol 236:730–733

41.

Kadonosono K, Matsumoto S, Uchio E, Sugita M, Akura J, Ohno S (2001) Iris neovascularization after vitrectomy combined with phacoemulsification and intraocular lens implantation for proliferative diabetic retinopathy. Ophthalmic Surg Lasers 32:19–24

42.

Torres-Soriano ME, Reyna-Castelán E, Hernández-Rojas M (2009) Tractional retinal detachment after intravitreal injection of bevacizumab in proliferative diabetic retinopathy. Retin Cases Brief Rep 3:70–73

43.

Scholda C, Rainer G, Kriechbaum K (2007) Preoperative intravitreal injection of bevacizumab in advanced proliferative diabetic retinopathy (abstract). Joint Congress of SOE/AAO June 9–12, 2007, Vienna, Austria, p 79

44.

El-Sabagh HA, Abdelghaffar W, Labib AM, Mateo C, Hashem TM, Al-Tamimi DM, Selim AA (2011) Preoperative intravitreal bevacizuamb use as an adjuvant to diabetic vitrectomy: histopathologic findings and clinical implications. Ophthalmology 118:636–641

45.

Ishikawa K, Honda S, Tsukahara Y, Negi A (2009) Preferable use of intravitreal bevacizumab as a pretreatment for severe proliferative diabetic retinopathy. Eye 23:108–111
About this article
Cite this article
Gupta, A., Bansal, R., Gupta, V. et al. Six-month visual outcome after pars plana vitrectomy in proliferative diabetic retinopathy with or without a single preoperative injection of intravitreal bevacizumab. Int Ophthalmol 32, 135–144 (2012). https://doi.org/10.1007/s10792-012-9541-5
Received:

Accepted:

Published:

Issue Date:
Keywords
Intravitreal bevacizumab

Pars plana vitrectomy

Proliferative diabetic retinopathy

Traction retinal detachment

Visual outcome

Vitreous hemorrhage