Abstract
To analyze the characteristics and treatment outcomes of pediatric orbital dermoid cysts. Chart review of consecutive pediatric biopsy-proven dermoid cysts surgically removed at the Department of Ophthalmology, Maggiore Hospital, between 2000 and 2007. We excised dermoid cysts from 30 children (30 eyes) whose mean age at the time of surgery was 24 months (range 6−84). The most common presentation of the cyst was a palpable or partially palpable mass (100%), followed by a superior lid ptosis (10%). Twenty patients (67%) had superficial cysts with margins well-definable by palpation, and 10 patients (33%) had deep cysts that extended beyond the orbital rim with an incomplete palpation of margins requiring imaging studies. The most frequent localization of the cysts was the superior temporal zygomatico-frontal suture (86.6%), followed by the superior nasal frontal suture (10%). Complete removal of the cysts was achieved and confirmed histopathologically, and there were no recurrences among the patients at a mean follow-up of 28 months (range 6−73). One child, however, developed a temporary orbital hematoma. The superficial cysts had an anatomic mean diameter of 10 mm (range 2.5−15), and the mean age of the patients at surgery was 19 months (range 6−31). The deep cysts had a larger diameter with a mean of 14 mm (range 10−30) (P = 0.008), and the children were older at presentation with a mean age of 34 months (range 15−84) (P = 0.03). There was a statistically significant difference (P < 0.05) between the two groups (superficial and deep) when comparing age and diameter. Cysts with palpably distinct margins (superficial) can be easily and completely excised with no recurrence. Cysts with indistinct margins need detailed computed tomography or magnetic resonance imaging investigation because they may require deep orbital dissection. Complete excision of the cyst's capsule may be difficult as a result. In our review we have not found cysts with intracranial extension.
Access options
Buy single article
Instant access to the full article PDF.
USD 39.95
Price excludes VAT (USA)
Tax calculation will be finalised during checkout.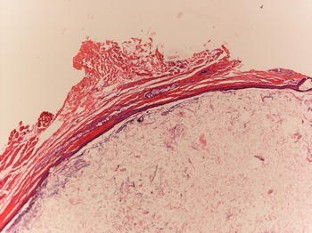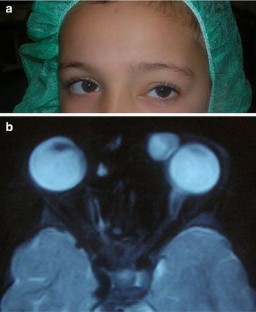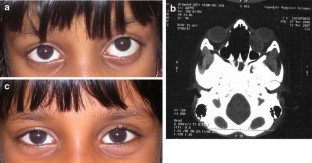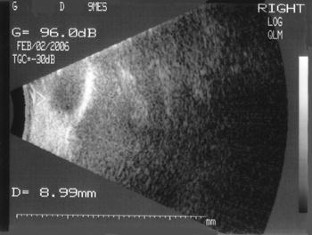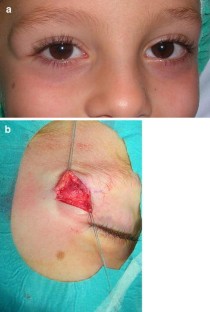 References
Shepherd GP, Lewis JE, Weaver AL, Orvidas LJ (2005) Pediatric dermoid cysts of the head and neck. Otolaryngol Head Neck Surg 132:938–942

Shields JA, Kaden IH, Eagle RC Jr, Shields CL (1997) Orbital dermoid cysts: clinicopathologic correlations, classification, and management. The 1997 Josephine E Schueler Lecture. Ophthal Plast Reconstr Surg 13:265–276

Shields JA, Shields CL (2004) Orbital cysts in childhood. Classification, clinical features and management. Surv Ophthalmol 49:281–299

Bartlett SP, Lin KY, Grossman R, Katowitz J (1993) The surgical management of orbitofacial dermoids in the pediatric patient. Plast Reconstr Surg 91:1208–1215

Sherman RP, Rootman J, Lapointe JS (1984) Orbital dermoids: clinical presentation and management. Br J Ophthalmol 68:642–652

Garrity JA, Henderson JW (2007) Cysts and celes. In: Garrity JA, Henderson JW, Cameron JD (eds) Henderson's orbital tumors, 4th edn. Lippincott Williams and Wilkins, Philadelphia, pp 33–61

Seregard S, All-Ericsson C (2007) Cancer pathology and angiogenesis. In: Singh AD (ed) Clinical ophthalmic oncology. Saunders Elsevier, Philadelphia, pp 11–15

Shields JA, Shields CL, Scartozzi R (2004) Survey of 1264 patients with orbital tumors and simulating lesions. The 2002 Montgomery Lecture, Part 1. Ophthalmology 11:997–1008

Bonavolontà G, Tranfa F, de Concilis C et al (1995) Dermoid cysts: 16-year survey. Ophthal Plast Reconstr Surg 11:187–192

De Potter P (2007) Imaging techniques. In: Singh AD (ed) Clinical ophthalmic oncology. Saunders Elsevier, Philadelphia, pp 507–516

Leonardo D, Shields CL, Shields JA, Nelson LB (1994) Recurrent giant orbital dermoid of infancy. J Pediatr Ophthalmol Strabismus 31:50–52
About this article
Cite this article
Cavazza, S., Laffi, G.L., Lodi, L. et al. Orbital dermoid cyst of childhood: clinical pathologic findings, classification and management. Int Ophthalmol 31, 93–97 (2011). https://doi.org/10.1007/s10792-011-9419-y
Received:

Accepted:

Published:

Issue Date:

DOI: https://doi.org/10.1007/s10792-011-9419-y
Keywords
Dermoid cyst

Palpable mass

Orbit

Benign neoplasm