Abstract
Necrotising fasciitis (NF) is an extremely rare skin and soft tissue infection with extensive necrosis of the subcutaneous tissue and underlying fascia, which usually affects the limbs and trunk. It rarely affects the head and neck region because of the excellent blood supply in this region. We report a case of NF initially misdiagnosed as a traumatic pre-septal cellulitis following self-puncture of a hordeolum externum (stye) and its resistance to aggressive antibiotic therapy resulting in the loss of the lower eyelid.
Access options
Buy single article
Instant access to the full article PDF.
USD 39.95
Price excludes VAT (USA)
Tax calculation will be finalised during checkout.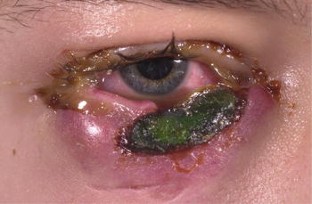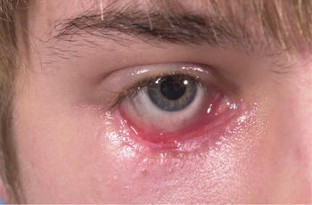 Abbreviations
NF:

Necrotising fasciitis

IV:

Intravenous

CT:

Computerised Axial Tomography
References
Balaggan KS, Sacha I (2006) Goolamali Periorbital necrotising fasciitis after minor trauma Graefe's. Arch Clin Exp Ophthalmol 244:268–270

Shindo ML, Nalbone VP, Dougherty WR (1997) Necrotising fasciitis of the face. Laryngoscope 107:1071–1079

Rose GE, Howard DJ, Watts MR (1991) Periorbital necrotising fasciitis. Eye 5:736–740

Jordan DR, Mawn L, Marshall DH (1998) Necrotising fasciitis caused by group A streptococcus infection after laser blepharoplasty. Am J Ophthalmol 125:265–266

Henrich DE, Smith TL, Shockley WW (1995) Fatal craniocervical necrotizing fasciitis in an immunocompetent patient: a case report and literature review. Head Neck 17:351–357

Kronish JW, McLeish WM (1991) Eyelid necrosis and periorbital necrotising fasciitis. Report of a case and review of the literature. Ophthalmology 98:92–98

Doorenbos-Bot AC, Hooymans JM, Blanksma LJ (1990) Periorbital necrotising fasciitis due to Cryptococcus neoformans in a healthy young man. Doc Ophthalmol 75:315–320

Luksich JA, Holds JB, Harstein ME (2002) Conservative management of necrotizing fasciitis of the eyelids. Ophthalmology 109:2118–2122
Acknowledgements
We would like to thank Mr. Brian Leatherbarrow , Mr. Saj Ataullah and Mrs. A.Cook, Consultant Ophthalmologists at Manchester Royal Eye Hospital for their expert management of this patient and photographs.
About this article
Cite this article
Raja, V., Job, R., Hubbard, A. et al. Periorbital necrotising fasciitis: delay in diagnosis results in loss of lower eyelid. Int Ophthalmol 28, 67–69 (2008). https://doi.org/10.1007/s10792-007-9108-z
Received:

Accepted:

Published:

Issue Date:

DOI: https://doi.org/10.1007/s10792-007-9108-z
Keywords
Necrotising fasciitis

Orbit

Trauma