Abstract
Raccoon eyes are easily recognized and generally believed to be a common symptom of basal skull fractures. However, it may be a sign of some health threatening situations such as amyloidosis, Kaposi's sarcoma, multiple myeloma, and neuroblastoma. In this case, we present an infant with the final diagnosis of neuroblastoma who presented with raccoon eyes and was initially suspected of being a victim of child abuse. The exact diagnosis of this condition is sometimes delayed because of the workup for child abuse or trauma as occurred in the present case. Consequently, in order to avoid this conflict and possible delay of diagnosis and treatment, raccoon eyes should be considered meticulously and one should not be prejudiced until he / she reaches the exact diagnosis. We are presenting this well-known but interesting case in order to attract attention in this important issue once again.
Access options
Buy single article
Instant access to the full article PDF.
USD 39.95
Price excludes VAT (USA)
Tax calculation will be finalised during checkout.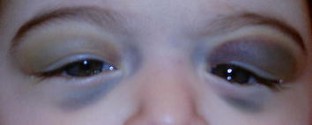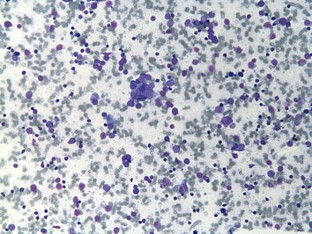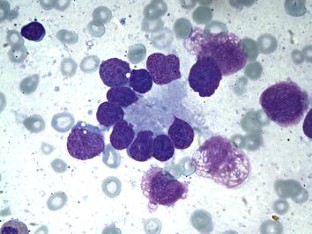 References
Herbella FA, Mudo M, Delmonti C, et al (2001) 'Raccoon Eyes' (periorbital haematoma) as a sign of skull base fracture. Injury 32:745–747

van Woerkom JM, van Toom DW (2000) A domestic fight or something else? Nephrol Dial Transplant 15:1253–1254

Schwartz RA, Spicer MS, Thomas I, et al (1995) Ecchymotic Kaposi's sarcoma. Cutis 56:104–106

Loo H, Forman WB, Levine MR, et al (1982) Periorbital ecchymoses as the initial sign in multiple myeloma. Ann Ophthalmol 14:1066–1068

Timmerman R (2003) Images in clinical medicine. Raccoon eyes and neuroblastoma. N Engl J Med 349(4):e4

Haase GM, Perez C, Atkinson JB (1999) Current aspects of biology, risk assessment and treatment of neuroblastoma. Semin Surg Oncol 16:91–104

Brodeur GM, Maris JM (2001) Neuroblastoma. In: Pizzo PA, Poplack DG (eds) Principles and practice of pediatric oncology, 4th edn. Lippincott-Raven, Philadelphia, pp 895–937

Weinstein JL, Katzenstein HM, Cohn SL (2003) Advances in the diagnosis and treatment of neuroblastoma. Oncologist 8:278–292. Review

Musarella MA, Chan HS, DeBoer G, Gallie BL (1984) Ocular involvement in neuroblastoma: prognostic implications. Ophthalmology 91:936–940

Matthay KK, Blaes F, Hero B, et al (2005) Opsoclonus myoclonus syndrome in neuroblastoma a report from a workshop on the dancing eyes syndrome at the advances in neuroblastoma meeting in Genoa, Italy, 2004. Cancer Lett 228(1–2):275–282. Review

Deakin CD (1995) Bilateral periorbital hematoma (raccoon eyes) following thoracic crush injuries: case reports. J Trauma 38:816–817

Falk RH, Comenzo RL, Skinner M (1997) The systemic amyloidosis. N Engl J Med 337:898–909
Acknowledgement
I want to thank Aytemiz Gurgey, MD, professor of pediatric hematology (Hacettepe University, Faculty of Medicine, Ankara, Turkey), for her help in bone marrow examination.
About this article
Cite this article
Gumus, K. A child with raccoon eyes masquerading as trauma. Int Ophthalmol 27, 379–381 (2007). https://doi.org/10.1007/s10792-007-9089-y
Received:

Accepted:

Published:

Issue Date:

DOI: https://doi.org/10.1007/s10792-007-9089-y
Keywords
Multiple Myeloma

Neuroblastoma

Child Abuse

Amyloidosis

Periorbital Edema