Abstract
The present paper sought to investigate the in vitro and in vivo anti-inflammatory effects of the methanolic extract (ME), hexane–ethyl acetate fraction E (FE) found in Chrysophyllum cainito fruits (CCF), as well the lupeol acetate (LA) obtained from FE on lipopolysaccharide (LPS)-stimulated mouse peritoneal macrophages. The macrophages were treated with ME, FE or LA at various concentrations and the viability of cells was determined using the 3-(4,5-dimethylthiazol-2-yl)-2,5-diphenyl tetrazolium bromide method. Production of pro-inflammatory (IL-1β, IL-6, and TNF-α) and anti-inflammatory (IL-10) cytokines, as well as the nitric oxide (NO) and hydrogen peroxide (H2O2) levels was determined using macrophages treated with ME, FE or LA at various concentrations and stimulated with LPS as an in vitro model. Afterwards, we evaluated the anti-inflammatory effects in vivo using the TPA-induced ear edema and carrageenan-induced paw edema tests in mice and production of inflammatory mediators was estimated in serum samples. The results showed that the ME, FE and LA from fruits, FE and LA were able to trigger an inhibition in NO and H2O2 levels, as well as IL-1β, IL-6, and TNF-α released by macrophages in a concentration-dependent manner. LA from C. cainito fruits was found to significantly attenuate carrageenan-induced paw edema and TPA-induced ear edema. Therefore, the results suggest ME, FE and LA isolated from C. cainito fruits have anti-inflammatory effects on macrophages without affecting cell viability.
Access options
Buy single article
Instant access to the full article PDF.
USD 39.95
Price includes VAT (USA)
Tax calculation will be finalised during checkout.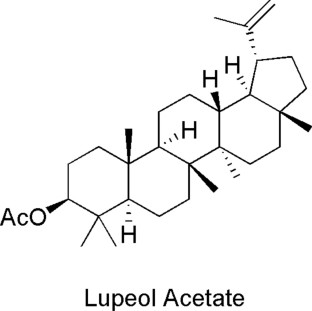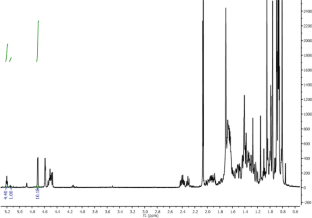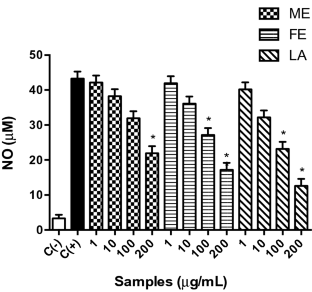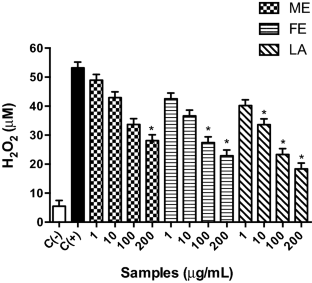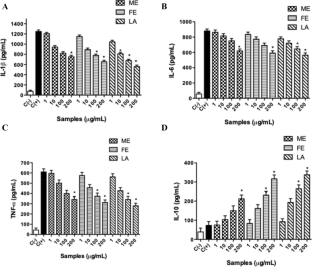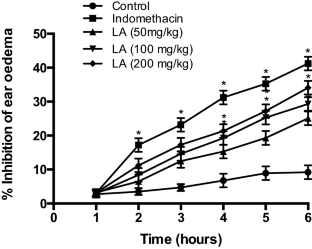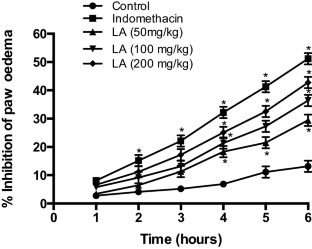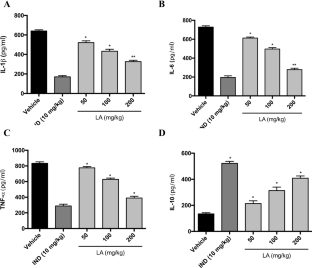 References
Alves RE, Brito EA, Rufino MSM, Sampaio CG (2008) Antioxidant activity measurement in tropical fruits: a case study with acerola. Acta Hort 773:299–305

Anzanelo-Meira N, Rocha LW, da Silva GF, Martin-Quintal Z, Delle-Monache F, Cechinel-Filho V, Meira-Quintão NL (2016) Chrysophyllum cainito leaves are effective against pre-clinical chronic pain models: analysis of crude extract, fraction and isolated compounds in mice. J Ethnopharmacol 184:30–41

Arana-Argáez VE, Chan-Zapata I, Canul-Canche J, Fernández-Martín K, Martín-Quintal Z, Torres-Romero JC, Ramírez-Camacho MA (2017) Immunosuppresive effects of the methanolic extract of Chrysophyllum cainito leaves on macrophage functions. Afr J Tradit Complement Altern Med 14(1):179–186

Ashalatha K, Venkateswarlu Y, Moushumi Priya A, Lalitha P, Krishnaveni M, Jayachandran S (2010) Anti-inflammatory potential of Decalepis hamiltonii (Wight and Arn) as evidenced by downregulation of pro inflammatory cytokines—TNF-α and IL-2. J Ethnopharmacol 130:167–170

Blain EJ, Ali AY, Duance VC (2010) Boswellia frereana (frankincense) suppresses cytokine-induced matrix metalloproteinase expression and production of pro-inflammatory molecules in articular cartilage. Phytother Res 24:905–912

Borish LC, Steinke JW (2003) Cytokines and chemokines. J Allergy Clin Immunol 111:460–475

Calhoun W, Chang J, Carlson RP (1987) Effect of selected antiinflammatory agents and other drugs on zymosan, arachidonic acid, PAF and carrageenan induced paw edema in the mouse. Agents Actions 21(3–4):306–309

Chen YF, Ching C, Wu TS, Wu CR, Hsieh WT, Tsai HY (2012) Balanophora spicata and lupeol acetate possess antinociceptive and anti-inflammatory activities in vivo and in vitro. Evid Based Complement Alternat Med 2012:1–10

Chun KS, Cha HH, Shin JW, Na HK, Park KK, Chung WY, Surh YJ (2004) Nitric oxide induces expression of cyclooxygenase-2 in mouse skin through activation of NF-kappa β. Carcinogenesis 25(3):445–454

Das A, Bin Nordin DB, Bhaumik A (2010) A brief review on Chrysophyllum cainito. J Pharmacogn Herb Formul 1:1–7

Dinarello CA (2010) Anti-inflammatory agents: present and future. Cell 140(6):935–950

Duarte Moreira RR, Zeppone Carlos I, Vilegas W (2001) Release of intermediate reactive hydrogen peroxide by macrophage cells activated by natural products. Biol Pharm Bull 24(2):201–204

Dupuy OAL, Bonilla JAV, Murillo R, Taylor P, Abad MJ, González L, Juliao JA (2013) Efecto in vitro de los terpenos lupeol y casearina G sobre células sanguíneas y tumorales. Rev Med Chile 141:1150–1157

Duque GA, Descoteaux A (2014) Macrophage cytokines: involvement in immunity and infectious diseases. Front Immunol 5(491):1–12

Fernández MA, De Las HB, García MA, Sáenz MT, Villar A (2001) New insights into the mechanism of action of the anti-inflammatory triterpene lupeol. J Pharm Pharmacol 53:1533–1539

Flannagan RS, Cosío G, Grinstein S (2009) Antimicrobial mechanisms of phagocytes and bacterial evasion strategies. Nat Rev Microbiol 7:355–366

Fujiwara N, Kobayashi K (2005) Macrophages in inflammation. Curr Drug Targets Inflamm Allergy 4:281–286

Gautam R, Jachak SM (2009) Recent developments in anti-inflammatory natural products. Med Res Rev 29(5):767–820

Gómez M, Gil JF (2011) Topical anti-inflammatory activity of Calea prunifolia HBK (Asteraceae) in the TPA model of mouse ear inflammation. J Brazil Chem Soc 22(12):2391–2395

Gonzalez-Chavez MM, Alonso-Castro AJ, Zapata-Morales JR, Arana-Argaez VE, Torres-Romero JC, Medina-Rivera YE, Sanchez Mendoza E, Perez-Gutierrez S (2018) Anti-inflammatory and antinociceptive effects of tilifodiolide, isolated from Salvia tiliifolia Vahl (Lamiaceae). Drug Dev Res 79:165–172

Kinjyo I, Hanada T, Inagaki-Ohara K, Mori H, Aki D, Ohishi M, Yoshimura A (2002) SOCS1/JAB is a negative regulator of LPS-induced macrophage activation. Immunity 17:583–591

Lakshmi V, Mahdi AA, Ahmad MK, Agarwal SK, Srivastava AK (2014) Antidiabetic activity of lupeol and lupeol esteres in streptozotocin-induced diabetic rats. Bangladesh J Pharmacol 17(2):138–146

Lawrence T, Fong C (2010) The resolution of inflammation: anti-inflammatory roles for NF-κB. Int J Biochem Cell Biol 42(4):519–523

Li AP, Xie BX, Wang S, Zhong QP (2008) Comparative antioxidant activities of Manilkara zapodilla, Chrysophyllum cainto and Pouteria sapota. Acta Horticulturae Sinica 35(2):175–180

Li-Mei M, Xue-Wen Q, Ji-Heng H, Hai-Feng L, Qing-Hua X, Pei-Li B (2015) In vitro, ex vivo and in vivo anti-hypertensive activity of Chrysophyllum cainito L. extract. Int J Clin Exp Med 8(10):17912–17921

Lucetti DL, Lucetti ECP, Bandeira MAM, Veras HNH, Silva AH, Leal LKAM, Viana GB (2010) Anti-inflammatory effects and possible mechanism of action of lupeol acetate isolated from Himatanthus drasticus (Mart.) Plumel. J Inflamm 7(60):1–11

Luo XD, Basile MJ, Kennelly EJ (2002) Polyphenolic antioxidants from the fruits of Chrysophyllum cainito L. (star apple). J Agr Food Chem 50:1379–1382

Meira NA, Klein LC Jr, Rocha LW, Martin Quintal Z, Delle Monache F, Cechinel Filho V, Meira Quintão NL (2014) Anti-inflammatory and anti-hypersensitive effects of the crude extract, fractions and triterpenes obtained from Chrysophyllum cainito leaves in mice. J Ethnopharmacol 151:975–983

Moo-Huchin VM, Estrada-Mota I, Estrada-León R, Cuevas-Glory L, Ortiz-Vázquez E, Vargas y Vargas ML, Betancur-Ancona D, Sauri-Duch E (2014) Determination of some physicochemical characteristics, bioactive compounds and antioxidant activity of tropical fruits from Yucatan, Mexico. Food Chem 152:508–515

Mossman T (1983) Rapid colorimetric assay for cellular growth and survival: application to proliferation and cytotoxicity assays. J Immunol Methods 65:55–63

N'guessan K, Amoikon Kouakou E, Tiébré MS, Kadja B, Zirihi Guédé N (2009) Effect of aqueous extract of Chrysophyllum cainito leaves on the glycaemia of diabetic rabbits. Afr J Pharm Pharmacol 3(10):501–506

Nagy G, Clark JM, Buzas EI, Gorman CL, Cope AP (2007) Nitric oxide, chronic inflammation and autoimmunity. Immunol Lett 111(1):1–5

Omote K, Hazama K, Kawamata T, Kawamata M, Nakayaka Y, Toriyabe M, Namiki A (2001) Peripheral nitric oxide in carrageenan-induced inflammation. Brain Res 912:171–175

Orwa C, Mutua A, Kindt R, Jamnadass R, Simons A (2009) Agroforestry Database: a Tree Reference and Selection Guide Version 4.0. http://www.worldagroforestry.org/treedb2/speciesprofile.php?Spid=524

Rahal A, Kumar A, Singh V, Yadav B, Tiwari R, Chakraborty S, Dhama K (2014) Oxidative stress, prooxidants, and antioxidants: the interplay. Biomed Res Int 2014:1–19

Sabry OMM, Ismail M, El Sayed AM (2016) Bioactive cytotoxic agents and chemokine production inhibitors in LPS-induced RAW264.7 macrophage cell line from flowers of Crepis senecioides. J Nat Sci Res 6(14):9–21

Salvemini D, Wang ZQ, Wyatt PS, Bourdon DM, Marino MH, Manning PT, Currie MG (1996) Nitric oxide: A key mediator in the early and late phase of carrageenan-induced rat paw inflammation. Br J Pharmacol 118:829–838

Shailajan S, Gurjar D (2014) Pharmacognostic and phytochemical evaluation of Chrysophyllum cainito Linn. leaves. Int J Pharm Sci Rev Res 26(1):106–111

Su YD, Su TR, Wen ZH, Hwang TL, Fang LS, Chen JJ, Wu YC, Sheu JH, Sung PJ (2015) Briarenolides K and L, new anti-inflammatory briarane diterpenoids from an octocoral Briareum sp. (Briareidae). Mar Drugs 13:1037–1050

Suleria HAR, Addepalli R, Masci P, Gobe G, Osborne SA (2017) In vitro anti-inflammatory activities of blacklip abalone (Haliotis rubra) in RAW 2647 macrophages. Food Agr Immunol 28(4):711–724

Takeuchi O, Akira S (2010) Pattern recognition receptors and inflammation. Cell 140(6):805–820

Toffoli-Kadri MC, Carollo CA, Días Lourenço L, Felipe JL, Brandini Néspoli JH, Campos Wollf LG, de Siqueira JM (2014) In vivo and in vitro anti-inflammatory properties of Achyrocline alata (Kunth) DC. J Ethnopharmacol 153(2):461–468

Toriyabe M, Omote K, Kawamata T, Namiki A (2004) Contribution of interaction between nitric oxide and cyclooxygenases to the production of prostaglandins in carrageenan-induced inflammation. Anesthesiology 101:983–990

Wynn TA, Chawla A, Pollard JW (2013) Macrophage biology in development, homeostasis and disease. Nature 496:445–455
Acknowledgements
This work was supported by the "Consejo Nacional de Ciencia y Tecnologia" (CONACYT): "Fondo Sectorial de Investigación para la Educación" (CB-2013-01/221886).
Ethics declarations
Conflict of interest
No potential conflict of interest was reported by the authors.
Ethical approval
The present study was carried out in accordance with the principles and guidelines of the World Medical Association Statement on Animal Use in Biomedical Research and the Mexican Official Standard for Animal Care and Handing (NOM-062-ZOO-1999) and was approved by the ethics committee of the Agricultural and Biological Sciences Campus (CB-CCBA-M-2016-005) at the Autonomous University of Yucatán, Mexico.
Additional information
Publisher's Note
Springer Nature remains neutral with regard to jurisdictional claims in published maps and institutional affiliations.
About this article
Cite this article
Arana-Argáez, V.E., Mena-Rejón, G.J., Torres-Romero, J.C. et al. Anti-inflammatory effects of Chrysophyllum cainito fruit extract in lipopolysaccharide-stimulated mouse peritoneal macrophages. Inflammopharmacol 29, 513–524 (2021). https://doi.org/10.1007/s10787-021-00795-x
Received:

Accepted:

Published:

Issue Date:
Keywords
Anti-inflammatory

Chrysophyllum cainito

Macrophages

Lipopolysaccharide

Lupeol acetate