Abstract
Rationale
Depression has the topmost prevalence of all psychiatric diseases. It is characterized by a high recurrence rate, disability, and numerous and mostly unclear pathogenic mechanisms. Besides the monoamine or the neurotrophic hypothesis of depression, the inflammatory mechanism has begun to be supported by more and more evidence. At the same time, the current knowledge about the standard treatment of choice, the selective serotonin reuptake inhibitors (SSRIs) and serotonin and noradrenaline reuptake inhibitors (SNRIs), is expanding rapidly, adding more features to the initial ones.
Objectives
This review summarizes the in vivo anti-inflammatory effects of SSRIs and SNRIs in the treatment of depression and outlines the particular mechanisms of these effects for each drug separately. In addition, we provide an overview of the inflammation-related theory of depression and the underlying mechanisms.
Results
SSRIs and SNRIs decrease the neuroinflammation through multiple mechanisms including the reduction of blood or tissue cytokines or regulating complex inflammatory pathways: nuclear factor kappa-light-chain-enhancer of activated B cells (NF-κB), inflammasomes, Toll-like receptor 4 (TLR4), peroxisome proliferator-activated receptor gamma (PPARγ). Also, SSRIs and SNRIs show these effects in association with an antidepressant action.
Conclusions
SSRIs and SNRIs have an anti-neuroinflammatory role which might contribute the antidepressant effect.
Access options
Buy single article
Instant access to the full article PDF.
USD 39.95
Price excludes VAT (USA)
Tax calculation will be finalised during checkout.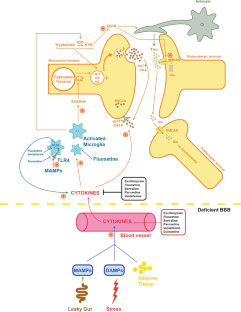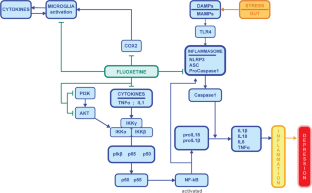 Data availability
All data relevant to the study are included in the article.
References
Alcocer-Gómez E, Casas-Barquero N, Williams M, Romero-Guillena S, Cañadas-Lozano D, Bullón P, Sánchez-Alcazar J, Navarro-Pando J, Cordero M (2017) Antidepressants induce autophagy dependent-NLRP3-inflammasome inhibition in major depressive disorder. Pharmacol Res 121:114–121

Ambrósio G, Kaufmann F, Manosso L, Platt N, Ghisleni G, Rodrigues A, Rieger D, Kaster M (2018) Depression and peripheral inflammatory profile of patients with obesity. Psychoneuroendocrinology 91:132–141

Andersen J, Stuhr-Hansen N, Zachariassen L, Koldsø H, Schiøtt B, Strømgaard K, Kristensen A (2014) Molecular basis for selective serotonin reuptake inhibition by the antidepressant agent fluoxetine (Prozac). Mol Pharmacol 85:703–714

Arteaga-Henríquez G, Simon M, Burger B, Weidinger E, Wijkhuijs A, Arolt V et al (2019) Low-grade inflammation as a predictor of antidepressant and anti-inflammatory therapy response in MDD patients: a systematic review of the literature in combination with an analysis of experimental data collected in the EU-MOODINFLAME Consortium. Front Psychiatry 10:458

Bah T, Benderdour M, Kaloustian S, Karam R, Rousseau G, Godbout R (2011) Escitalopram reduces circulating pro-inflammatory cytokines and improves depressive behavior without affecting sleep in a rat model of post-cardiac infarct depression. Behav Brain Res 225:243–251

Bai S, Guo W, Feng Y, Deng H, Li G, Nie H et al (2019) Efficacy and safety of anti-inflammatory agents for the treatment of major depressive disorder: a systematic review and meta-analysis of randomised controlled trials. J Neurol Neurosurg Psychiatry 91:21–32

Basterzi A, Aydemir Ç, Kisa C, Aksaray S, Tuzer V, Yazici K, Göka E (2005) IL-6 levels decrease with ssri treatment in patients with major depression. Hum Psychopharmacol 20:473–476

Bauer M, Pfennig A, Severus E, Whybrow P, Angst J, Möller H (2013) World Federation of Societies of Biological Psychiatry (WFSBP) guidelines for biological treatment of unipolar depressive disorders, part 1: update 2013 on the acute and continuation treatment of unipolar depressive disorders. World J Biol Psychiatry 14:334–385

Benatti C, Alboni S, Blom J, Mendlewicz J, Tascedda F, Brunello N (2018) Molecular changes associated with escitalopram response in a stress-based model of depression. Psychoneuroendocrinology 87:74–82

Blair JA, Barford PA, Morar C, Pheasant AE, Hamon CG, Whitburn SB, Leeming RJ, Reynolds GP, Coppen A (1984) Tetrahydrobiopterin metabolism in depression. Lancet 2:163

Bondy B (2002) Pathophysiology of depression and mechanisms of treatment. Dialogues Clin Neurosci 4:7–20

Carboni L, McCarthy D, Delafont B, Filosi M, Ivanchenko E, Ratti E, Learned S, Alexander R, Domenici E (2019) Biomarkers for response in major depression: comparing paroxetine and venlafaxine from two randomised placebo-controlled clinical studies. Transl Psychiatry 9:182

Cassano P, Fava M (2002) Depression and public health: an overview. J Psychosom Res 53:849–857

Chen C, Yeh Y, Kuo S, Liang C, Ho P, Huang C, Yen C, Shyu J, Lu R, Huang S (2018) Differences in immunomodulatory properties between venlafaxine and paroxetine in patients with major depressive disorder. Psychoneuroendocrinology 87:108–118

Cowie A, Dittel B, Stucky C (2019) A novel sex-dependent target for the treatment of postoperative pain: the NLRP3 inflammasome. Front Neurol 10:662

Dai J, Pan JY, Liao N, Shi J, Zeng Q, Huang L, Chen LP (2020) Influence of miR-155 on behaviors of depression mice through regulating Wnt/β-catenin signaling pathway. Eur Rev Med Pharmacol Sci 24:1398–1407

Dallé E, Daniels W, Mabandla M (2017) Fluvoxamine maleate normalizes striatal neuronal inflammatory cytokine activity in a parkinsonian rat model associated with depression. Behav Brain Res 316:189–196

Dantzer R, O'Connor J, Freund G, Johnson R, Kelley K (2008) From inflammation to sickness and depression: when the immune system subjugates the brain. Nat Rev Neurosci 9:46–56

DiSabato D, Quan N, Godbout J (2016) Neuroinflammation: the devil is in the details. J Neurochem 139:136–153

D'Mello C, Swain MG (2017) Immune-to-brain communication pathways in inflammation-associated sickness and depression. Curr Top Behav Neurosci 31:73–94

Dong C, Zhang J, Yao W, Ren Q, Yang C, Ma M, Han M, Saito R, Hashimoto K (2016) Effects of escitalopram, R-citalopram, and reboxetine on serum levels of tumor necrosis factor-α, interleukin-10, and depression-like behavior in mice after lipopolysaccharide administration. Pharmacol Biochem Behav 144:7–12

Duda W, Kubera M, Kreiner G, Curzytek K, Detka J, Głombik K, Ślusarczyk J, Basta-Kaim A, Budziszewska B, Lasoń W, Regulska M, Leśkiewicz M, Roman A, Zelek-Molik A, Nalepa I (2017) Suppression of pro-inflammatory cytokine expression and lack of anti-depressant-like effect of fluoxetine in lipopolysaccharide-treated old female mice. Int Immunopharmacol 48:35–42

Dunn A, Swiergiel A, Beaurepaire R (2005) Cytokines as mediators of depression: what can we learn from animal studies? Neurosci Biobehav Rev 29:891–909

Dwivedi Y (2009) Brain-derived neurotrophic factor: role in depression and suicide. Neuropsych Dis Treat 5:433–449

Eller T, Vasar V, Shlik J, Maron E (2008) Pro-inflammatory cytokines and treatment response to escitalopram in major depressive disorder. Prog Neuropsychopharmac Biol Psychiatry 32:445–450

Felger J, Lotrich F (2013) Inflammatory cytokines in depression: neurobiological mechanisms and therapeutic implications. Neuroscience 246:199–229

Fernandes J, Gupta G (2019) N-Acetylcysteine attenuates neuroinflammation associated depressive behavior induced by chronic unpredictable mild stress in rat. Behav Brain Res 364:356–365

Ferrari A, Somerville A, Baxter A, Norman R, Patten S, Vos T, Whiteford H (2012) Global variation in the prevalence and incidence of major depressive disorder: a systematic review of the epidemiological literature. Psychol Med 43:471–481

Fornaro M, Martino M, Battaglia F, Colicchio S, Perugi G (2011) Increase in IL-6 levels among major depressive disorder patients after a 6-week treatment with duloxetine 60 mg/day: a preliminary observation. Neuropsych Dis Treat 7:51–56

GBD 2017 Disease and Injury Incidence and Prevalence Collaborators (2018) Global, regional, and national incidence, prevalence, and years lived with disability for 354 diseases and injuries for 195 countries and territories, 1990–2017: a systematic analysis for the global burden of disease study 2017. Lancet 392:1789–1858

Ghosh S, Choudhury S, Chowdhury O, Mukherjee S, Das A, Sain A, Gupta P, Adhikary A, Chattopadhyay S (2020) Inflammation-induced behavioral changes is driven by alterations in Nrf2-dependent apoptosis and autophagy in mouse hippocampus: role of fluoxetine. Cell Signal 68:109521

Gunasekara N, Noble S, Benfield P (1998) Paroxetine. Drugs 55:85–120

Gupta K, Gupta R, Bhatia M, Tripathi A, Gupta L (2017) Effect of agomelatine and fluoxetine on HAM-D score, serum brain-derived neurotrophic factor, and tumor necrosis factor-αlevel in patients with major depressive disorder with severe depression. J Clin Pharmacol 57:1519–1526

Hahn D, Stokes C, Kaiser R, Meyer M, Lammert F, Gruenhage F (2018) Antidepressant effects of direct-acting antivirals against hepatitis C virus—results from a pilot study. Eur J Clin Invest 48(12):e13024

Halaris A, Myint A, Savant V, Meresh E, Lim E, Guillemin G, Hoppensteadt D, Fareed J, Sinacore J (2015) Does escitalopram reduce neurotoxicity in major depression? J Psychiatr Res 66–67:118–126

Hao WZ, Li X, Zhang P, Chen J (2020) A review of antibiotics, depression, and the gut microbiome. Psychiatry Res 284:112691

Haroon E, Woolwine B, Chen X, Pace T, Parekh S, Spivey J et al (2014) IFN-alpha-induced cortical and subcortical glutamate changes assessed by magnetic resonance spectroscopy. Neuropsychopharmacology 39:1777–1785

Hashimoto R, Nagatsu T, Ohta T, Mizutani M, Omura I (2004) Changes in the concentrations of tetrahydrobiopterin, the cofactor of tyrosine hydroxylase, in blood under physical stress and in depression. Ann N Y Acad Sci 1018:378–386

Ho P, Yeh Y, Huang S, Liang C (2015) A shift toward T helper 2 responses and an increase in modulators of innate immunity in depressed patients treated with escitalopram. Psychoneuroendocrinology 53:246–255

Holliday S, Benfield P (1995) Venlafaxine. Drugs 49:280–294

Hsueh W, Wyne K (2011) Renin-angiotensin-aldosterone system in diabetes and hypertension. J Clin Hypertens 13:224–237

Jha M, Minhajuddin A, Gadad B, Greer T, Grannemann B, Soyombo A et al (2017) Can C-reactive protein inform antidepressant medication selection in depressed outpatients? Findings from the CO-MED trial. Psychoneuroendocrinology 78:105–113

Kapadia R, Yi JH, Vemuganti R (2008) Mechanisms of anti-inflammatory and neuroprotective actions of PPAR-gamma agonists. Front Biosci 13:1813

Karpa K, Cavanaugh J, Lakoski J (2006) Duloxetine pharmacology: profile of a dual monoamine modulator. CNS Drug Rev 8:361–376

Kelley N, Jeltema D, Duan Y, He Y (2019) The NLRP3 inflammasome: an overview of mechanisms of activation and regulation. Int J Mol Sci 20:3328

Kelly J, Kennedy P, Cryan J, Dinan T, Clarke G, Hyland N (2015) Breaking down the barriers: the gut microbiome, intestinal permeability and stress-related psychiatric disorders. Front Cell Neurosci 9:392

Kennedy S, Lam R, McIntyre R, Tourjman S, Bhat V, Blier P, Hasnain M, Jollant F, Levitt A, MacQueen G, McInerney S, McIntosh D, Milev R, Müller D, Parikh S, Pearson N, Ravindran A, Uher R (2016) Canadian Network for Mood and Anxiety Treatments (CANMAT) 2016 clinical guidelines for the management of adults with major depressive disorder. Can J Psychiatry 61:540–560

Köhler C, Freitas T, Stubbs B, Maes M, Solmi M, Veronese N, de Andrade N, Morris G, Fernandes B, Brunoni A, Herrmann N, Raison C, Miller B, Lanctôt K, Carvalho A (2018) Peripheral alterations in cytokine and chemokine levels after antidepressant drug treatment for major depressive disorder: systematic review and meta-analysis. Mol Neurobiol 55:4195–4206

Köhler-Forsberg ON, Lydholm C, Hjorthøj C, Nordentoft M, Mors O, Benros M (2019) Efficacy of anti-inflammatory treatment on major depressive disorder or depressive symptoms: meta-analysis of clinical trials. Acta Psychiatr Scand 139:404–419

Konsman J, Parnet P, Dantzer R (2002) Cytokine-induced sickness behaviour: mechanisms and implications. Trends Neurosci 25:154–159

Lee B, Kim Y (2010) The roles of BDNF in the pathophysiology of major depression and in antidepressant treatment. Psychiatry Investig 7:231

Lee Y, Yang Y, Huang P, Li W, Huang M, Kao C, Chen Y, Chen M (2015) Exercise suppresses COX-2 pro-inflammatory pathway in vestibular migraine. Brain Res Bull 116:98–105

Levine J, Barak Y, Chengappa K, Rapoport A, Rebey M, Barak V (1999) Cerebrospinal cytokine levels in patients with acute depression. Neuropsychobiology 40:171–176

Li Z, Qi D, Chen J, Zhang C, Yi Z, Yuan C, Wang Z, Hong W, Yu S, Cui D, Fang Y (2013) Venlafaxine inhibits the upregulation of plasma tumor necrosis factor-alpha (TNF-α) in the chinese patients with major depressive disorder: a prospective longitudinal study. Psychoneuroendocrinology 38:107–114

Li H, Lin S, Qin T, Li H, Ma Z, Ma S (2017) Senegenin exerts anti-depression effect in mice induced by chronic un-predictable mild stress via inhibition of NF-κB regulating NLRP3 signal pathway. Int Immunopharmacol 53:24–32

Lima Giacobbo B, Doorduin J, Klein H, Dierckx R, Bromberg E, de Vries E (2018) Brain-derived neurotrophic factor in brain disorders: focus on neuroinflammation. Mol Neurobiol 56:3295–3312

Liu B, Xu C, Wu X, Liu F, Du Y, Sun J, Tao J, Dong J (2015) Icariin exerts an antidepressant effect in an unpredictable chronic mild stress model of depression in rats and is associated with the regulation of hippocampal neuroinflammation. Neuroscience 294:193–205

Liu Y, Shen J, Xu L, Li H, Li Y, Yi L (2017) Ferulic acid inhibits neuro-inflammation in mice exposed to chronic unpredictable mild stress. Int Immunopharmacol 45:128–134

Loftis J, Huckans M, Morasco B (2010) Neuroimmune mechanisms of cytokine-induced depression: current theories and novel treatment strategies. Neurobiol Dis 37:519–533

Lu M, Yang J, Geng F, Ding J, Hu G (2014) Iptakalim confers an antidepressant effect in a chronic mild stress model of depression through regulating neuro-inflammation and neurogenesis. Int J Neuropsychopharmacol 17:1501–1510

Lu Y, Ho C, Liu X, Chua A, Wang W, McIntyre R, Ho R (2017) Chronic administration of fluoxetine and pro-inflammatory cytokine change in a rat model of depression. PLoS One 12:e0186700

Lu Y, Xu X, Jiang T, Jin L, Zhao X, Cheng J, Jin X, Ma J, Piao H, Piao L (2019) Sertraline ameliorates inflammation in cums mice and inhibits TNF-α-induced inflammation in microglia cells. Int Immunopharmacol 67:119–128

Maes M, Lambrechts J, Bosmans E, Jacobs J, Suy E, Vandervorst C, De Jonckheere C, Minner B, Raus J (1992) Evidence for a systemic immune activation during depression: results of leukocyte enumeration by flow cytometry in conjunction with monoclonal antibody staining. Psychol Med 22:45–53

Maes M, Meltzer H, Bosmans E, Bergmans R, Vandoolaeghe E, Ranjan R, Desnyder R (1995) Increased plasma concentrations of interleukin-6, soluble interleukin-6, soluble interleukin-2 and transferrin receptor in major depression. J Affect Disord 34:301–309

Martinez J, Garakani A, Yehuda R, Gorman J (2011) Proinflammatory and "resiliency" proteins in the CSF of patients with major depression. Depress Anxiety 29:32–38

Martín-Hernández D, Bris Á, MacDowell K, García-Bueno B, Madrigal J, Leza J, Caso J (2016) Modulation of the antioxidant nuclear factor (erythroid 2-derived)-like 2 pathway by antidepressants in rats. Neuropharmacology 103:79–91

Miller A, Raison C (2015) The role of inflammation in depression: from evolutionary imperative to modern treatment target. Nat Rev Immunol 16:22–34

Miller A, Haroon E, Raison C, Felger J (2013) Cytokine targets in the brain: impact on neurotransmitters and neurocircuits. Depress Anxiety 30:297–306

Morón J, Zakharova I, Ferrer J, Merrill G, Hope B, Lafer E et al (2003) Mitogen-activated protein kinase regulates dopamine transporter surface expression and dopamine transport capacity. J Neurosci 23:8480–8488

Mueller TI, Leon AC, Keller MB, Solomon DA, Endicott J, Coryell W, Warshaw M, Maser JD (1999) Recurrence after recovery from major depressive disorder during 15 years of observational follow-up. Am J Psychiatry 156:1000–1006

Müller N, Myint A, Schwarz M (2010) Inflammatory biomarkers and depression. Neurotox Res 19:308–318

Mutlu O, Gumuslu E, Ulak G, Celikyurt I, Kokturk S, Kır H, Akar F, Erden F (2012) Effects of fluoxetine, tianeptine and olanzapine on unpredictable chronic mild stress-induced depression-like behavior in mice. Life Sci 91:1252–1262

O'Brien S, Scott L, Dinan T (2006) Antidepressant therapy and C-reactive protein levels. Br J Psychiatry 188:449–452

Ohgi Y, Futamura T, Kikuchi T, Hashimoto K (2013) Effects of antidepressants on alternations in serum cytokines and depressive-like behavior in mice after lipopolysaccharide administration. Pharmacol Biochem Behav 103:853–859

Pälvimäki E, Kuoppamäki M, Syvälahti E, Hietala J (1999) Differential effects of fluoxetine and citalopram treatments on serotonin 5-HT2C receptor occupancy in rat brain. Int J Neuropsychopharmacol 2:95–99

Pan Y, Zhang W, Xia X, Kong L (2006) Effects of icariin on hypothalamic-pituitary-adrenal axis action and cytokine levels in stressed Sprague-Dawley rats. Biol Pharm Bull 29:2399–2403

Park E, Lee J, Jeong D, Han S, Jeon Y (2015) Natural killer cell activity in patients with major depressive disorder treated with escitalopram. Int Immunopharmacol 28:409–413

Perić I, Stanisavljević A, Gass P, Filipović D (2017) Fluoxetine reverses behavior changes in socially isolated rats: role of the hippocampal gsh-dependent defense system and proinflammatory cytokines. Eur Arch Psychiatry Clin Neurosci 267:737–749

Perry V, Cunningham C, Holmes C (2007) Systemic infections and inflammation affect chronic neurodegeneration. Nat Rev Immunol 7:161–167

Piletz J, Halaris A, Iqbal O, Hoppensteadt D, Fareed J, Zhu H, Sinacore J, DeVane C (2009) Pro-inflammatory biomakers in depression: treatment with venlafaxine. World J Biol Psychiatry 10:313–323

Ranjbar E, Shams J, Sabetkasaei M, M-Shirazi M, Rashidkhani B, Mostafavi A, Bornak E, Nasrollahzadeh J (2013) Effects of zinc supplementation on efficacy of antidepressant therapy, inflammatory cytokines, and brain-derived neurotrophic factor in patients with major depression. Nutr Neurosci 17:65–71

Rawdin B, Mellon S, Dhabhar F, Epel E, Puterman E, Su Y, Burke H, Reus V, Rosser R, Hamilton S, Nelson J, Wolkowitz O (2013) Dysregulated relationship of inflammation and oxidative stress in major depression. Brain Behav Immun 31:143–152

Remus J, Dantzer R (2016) Inflammation models of depression in rodents: relevance to psychotropic drug discovery. Int J Neuropsychopharmacol 19:1–13

Rosenblat J, McIntyre R (2018) Efficacy and tolerability of minocycline for depression: a systematic review and meta-analysis of clinical trials. J Affect Disord 227:219–225

Saad M, El-Sahar A, Sayed R, Elbaz E, Helmy H, Senousy M (2018) Venlafaxine mitigates depressive-like behavior in ovariectomized rats by activating the EPO/EPOR/JAK2 signaling pathway and increasing the serum estradiol level. Neurotherapeutics 16:404–415

Samuvel D, Jayanthi LD, Bhat NR, Ramamoorthy S (2005) A role for p38 mitogen-activated protein kinase in the regulation of the serotonin transporter: evidence for distinct cellular mechanisms involved in transporter surface expression. J Neurosci 25:29–41

Sanchez C, Reines E, Montgomery S (2014) A comparative review of escitalopram, paroxetine, and sertraline. Int Clin Psychopharmacol 29:185–196

Sangkuhl K, Klein T, Altman R (2009) Selective serotonin reuptake inhibitors pathway. Pharmacogenet Genom 19:907–909

Sankowski R, Mader S, Valdes-Ferrer S (2015) Systemic inflammation and the brain: novel roles of genetic, molecular, and environmental cues as drivers of neurodegeneration. Front Cell Neurosci 9:28

Silva-García O, Valdez-Alarcón J, Baizabal-Aguirre V (2014) The Wnt/β-catenin signaling pathway controls the inflammatory response in infections caused by pathogenic bacteria. Mediators Inflamm 2014:1–7

Silver H (2006) Fluvoxamine as an adjunctive agent in schizophrenia. CNS Drug Rev 7:283–304

Simon N, McNamara K, Chow C, Maser R, Papakostas G, Pollack M, Nierenberg A, Fava M, Wong K (2008) A detailed examination of cytokine abnormalities in major depressive disorder. Eur Neuropsychopharmacol 18:230–233

Sluzewska A (1999) Indicators of immune activation in depressed patients. In: Dantzer R, Wollman E, Yirmiya R (eds) Cytokines, stress and depression. Advances in experimental medicine and biology, vol 461. New York, Springer, pp 59–73

Sluzewska A, Rybakowski J, Laciak M, Mackiewicz A, Sobieska M, Wiktorowicv K (2006) Interleukin-6 serum levels in depressed patients before and after treatment with fluoxetine. Ann N Y Acad Sci 762:474–476

Sorrells S, Sapolsky R (2007) An inflammatory review of glucocorticoid actions in the CNS. Brain Behav Immun 21:259–272

Souza L, Filho C, de Gomes FLM, Goes A, Jesse C (2013) Depressive-like behaviour induced by an intracerebroventricular injection of streptozotocin in mice. Behav Pharmacol 24:79–86

Steiner J, Walter M, Gos T, Guillemin G, Bernstein H, Sarnyai Z et al (2011) Severe depression is associated with increased microglial quinolinic acid in subregions of the anterior cingulate gyrus: evidence for an immune-modulated glutamatergic neurotransmission? J Neuroinflamm 8:94

Suarez E, Krishnan R, Lewis J (2003) The relation of severity of depressive symptoms to monocyte-associated proinflammatory cytokines and chemokines in apparently healthy men. Psychosom Med 65:362–368

Sundberg I, Lannergård A, Ramklint M, Cunningham J (2018) Direct-acting antiviral treatment in real world patients with hepatitis C not associated with psychiatric side effects: a prospective observational study. BMC Psychiatry 18:157

Sutcigil L, Oktenli C, Musabak U, Bozkurt A, Cansever A, Uzun O, Sanisoglu S, Yesilova Z, Ozmenler N, Ozsahin A, Sengul A (2007) Pro- and anti-inflammatory cytokine balance in major depression: effect of sertraline therapy. Clin Dev Immunol 2007:1–6

Taniguti E, Ferreira Y, Stupp I, Fraga-Junior E, Doneda D, Lopes L, Rios-Santos F, Lima E, Buss Z, Viola G, Vandresen-Filho S (2019) Atorvastatin prevents lipopolysaccharide-induced depressive-like behaviour in mice. Brain Res Bull 146:279–286

Thameem Dheen S, Kaur C, Ling E (2007) Microglial activation and its implications in the brain diseases. Curr Med Chem 14:1189–1197

Thomas J, Khanam R, Vohora D (2016) Augmentation of antidepressant effects of venlafaxine by agomelatine in mice are independent of kynurenine pathway. Neurochem Int 99:103–109

Thomas J, Khanam R, Vohora D (2017) Activation of indoleamine 2,3-dioxygenase pathway by olanzapine augments antidepressant effects of venlafaxine in mice. Psychiatry Res 258:444–448

Todorović N, Filipović D (2017a) Prefrontal cortical glutathione-dependent defense and proinflammatory mediators in chronically isolated rats: modulation by fluoxetine or clozapine. Neuroscience 355:49–60

Todorović N, Filipović D (2017b) The antidepressant- and anxiolytic-like effects of fluoxetine and clozapine in chronically isolated rats involve inhibition of hippocampal TNF-α. Pharmacol Biochem Behav 163:57–65

Tomaz V, Chaves Filho A, Cordeiro R, Jucá P, Soares M, Barroso P, Cristino L, Jiang W, Teixeira A, de Lucena D, Macedo D (2020) Antidepressants of different classes cause distinct behavioral and brain pro- and anti-inflammatory changes in mice submitted to an inflammatory model of depression. J Affect Disord 268:188–200

Trojan E, Chamera K, Bryniarska N, Kotarska K, Leśkiewicz M, Regulska M, Basta-Kaim A (2019) Role of chronic administration of antidepressant drugs in the prenatal stress-evoked inflammatory response in the brain of adult offspring rats: involvement of the NLRP3 inflammasome-related pathway. Mol Neurobiol 56:5365–5380

Tuglu C, Kara S, Caliyurt O, Vardar E, Abay E (2003) Increased serum tumor necrosis factor-alpha levels and treatment response in major depressive disorder. Psychopharmacology 170:429–433

Vancassel S, Capuron L, Castanon N (2018) Brain kynurenine and BH4 pathways: relevance to the pathophysiology and treatment of inflammation-driven depressive symptoms. Front Neurosci 12:499

Vogelzangs N, Duivis H, Beekman A, Kluft C, Neuteboom J, Hoogendijk W, de Jongem SJP, Penninx B (2012) Association of depressive disorders, depression characteristics and antidepressant medication with inflammation. Transl Psychiatry 2:e79

Wang Q, Dong X, Wang Y, Liu M, Sun A, Li N, Lin Y, Geng Z, Jin Y, Li X (2017) Adolescent escitalopram prevents the effects of maternal separation on depression- and anxiety-like behaviours and regulates the levels of inflammatory cytokines in adult male mice. Int J Devl Neurosci 62:37–45

Wang Q, Dong X, Li N, Wang Y, Guan X, Lin Y, Kang J, Zhang X, Zhang Y, Li X, Xu T (2018) JSH-23 prevents depressive-like behaviors in mice subjected to chronic mild stress: effects on inflammation and antioxidant defense in the hippocampus. Pharmacol Biochem Behav 169:59–66

Wong D, Perry K, Bymaster F (2005) The discovery of fluoxetine hydrochloride (Prozac). Nat Rev Drug Discov 4:764–774

Xue J, Li H, Deng X, Ma Z, Fu Q, Ma S (2015) l-Menthone confers antidepressant-like effects in an unpredictable chronic mild stress mouse model via nlrp3 inflammasome-mediated inflammatory cytokines and central neurotransmitters. Pharmacol Biochem Behav 134:42–48

Yao L, Kan E, Lu J, Hao A, Dheen S, Kaur C, Ling E (2013) Toll-like receptor 4 mediates microglial activation and production of inflammatory mediators in neonatal rat brain following hypoxia: role of TLR4 in hypoxic microglia. J Neuroinflammation 10:23

Yoshimura R, Hori H, Ikenouchi-Sugita A, Umene-Nakano W, Ueda N, Nakamura J (2009) Higher plasma interleukin-6 (IL-6) level is associated with SSRI- or SNRI-refractory depression. Prog Neuropsychopharmacol Biol Psychiatry 33:722–726

Yoshimura R, Hori H, Ikenouchi-Sugita A, Umene-Nakano W, Katsuki A, Atake K, Nakamura J (2013) Plasma levels of interleukin-6 and selective serotonin reuptake inhibitor response in patients with major depressive disorder. Hum Psychopharmacol 28:466–470

Young J, Bruno D, Pomara N (2014) A review of the relationship between proinflammatory cytokines and major depressive disorder. J Affect Disord 169:15–20

Zareifopoulos N, Lagadinou M, Karela A, Kyriakopoulou O, Velissaris D (2020) Neuropsychiatric effects of antiviral drugs. Cureus 12(8):e9536

Zavvari F, Nahavandi A, Goudarzi M (2020) Fluoxetine attenuates stress-induced depressive-like behavior through modulation of hippocampal GAP43 and neurogenesis in male rats. J Chem Neuroanat 103:101711

Zhang J, Yao W, Hashimoto K (2016) Brain-derived neurotrophic factor (BDNF)-TrkB signaling in inflammation-related depression and potential therapeutic targets. Curr Neuropharmacol 14:721–731

Zhang X, Wang Q, Wang Y, Hu J, Jiang H, Cheng W, Ma Y, Liu M, Sun A, Zhang X, Li X (2016) Duloxetine prevents the effects of prenatal stress on depressive-like and anxiety-like behavior and hippocampal expression of pro-inflammatory cytokines in adult male offspring rats. Int J Dev Neurosci 55:41–48

Zhang K, Lin W, Zhang J, Zhao Y, Wang X, Zhao M (2020) Effect of Toll-like receptor 4 on depressive-like behaviors induced by chronic social defeat stress. Brain Behav 10(3):e01525

Zhao Y, Pan Y, Tang M, Lin W (2018) Blocking p38 signaling reduces the activation of pro-inflammatory cytokines and the phosphorylation of p38 in the habenula and reverses depressive-like behaviors induced by neuroinflammation. Front Pharmacol 9:511

Zhu C, Blakely R, Hewlett W (2006) The proinflammatory cytokines interleukin-1beta and tumor necrosis factor-alpha activate serotonin transporters. Neuropsychopharmacology 31:2121–2131

Zou W, Feng R, Yang Y (2018) Changes in the serum levels of inflammatory cytokines in antidepressant drug-naïve patients with major depression. PLoS One 13:e0197267
Acknowledgements
We thank Mrs. Ioana Robu for the professional English language assistance.
Funding
The authors received no financial support for the research, authorship and/or publication of this article.
Ethics declarations
Conflict of interest
The authors declare that they have no conflict of interest.
Additional information
Publisher's Note
Springer Nature remains neutral with regard to jurisdictional claims in published maps and institutional affiliations.
About this article
Cite this article
Dionisie, V., Filip, G.A., Manea, M.C. et al. The anti-inflammatory role of SSRI and SNRI in the treatment of depression: a review of human and rodent research studies. Inflammopharmacol 29, 75–90 (2021). https://doi.org/10.1007/s10787-020-00777-5
Received:

Accepted:

Published:

Issue Date:

DOI: https://doi.org/10.1007/s10787-020-00777-5
Keywords