Abstract
Background
Many injuries cause pain and inflammation, which are one of the major challenges for physicians. In this study, the analgesic and the anti-inflammatory effects of milnacipran were investigated on carrageenan-induced nociception and inflammation in male rats.
Methods
Pain and inflammation were induced by injection of λ-carrageenan (1% v/v) into the hind paw. Indomethacin (10 mg/kg: ip) or milnacipran (10, 20 and 40 mg/kg: ip) were administered 30 min before carrageenan. Analgesia and inflammation were measured by hot plate and plethysmometer. Finally, lipid peroxidation, tumor necrosis factor alpha (TNF-α), Interleukin 1 beta (IL-1β), Interleukin 6 (IL-6), myeloperoxidase (MPO) activity, nitric oxide (NO) and total antioxidant capacity (TAC) status evaluated in the hind paw tissue.
Results
The results showed that carrageenan caused hyperalgesia and inflammation in the hind paw tissue. Milnacipran (20 and 40 mg/kg) significantly and dose-dependently attenuated (65 ± 3.2%; p ≤0.01 and 42 ± 6.2%; p ≤ 0.001, respectively) carrageenan-induced inflammation and significantly increased (p ≤ 0.001) nociception threshold. Also, milnacipran (20 and 40 mg/kg) significantly suppressed levels of malondialdehyde (MDA), NO (p ≤ 0.05), MPO activity, TNF-α, IL-1β and IL-6 (p ≤ 0.001) following carrageenan injection. Additionally, milnacipran (10, 20 and 40 mg/kg) significantly augmented (p ≤ 0.05) TAC status following carrageenan in the hind paw tissue.
Conclusion
In the present study, milnacipran showed anti-nociceptive and anti-inflammatory effects on carrageenan-induced hyperalgesia and inflammation in a dose-dependent manner. Milnacipran reduced inflammatory edema and increased the paw withdrawal threshold probably through suppression of MDA, NO, TNF-α, IL-1β, IL-6 and MPO activity, and increase of TAC status in the hind paw tissue. Therefore, milnacipran holds important potential as an anti-inflammatory and anti-nociceptive drug. Although, further clinical trials to confirm this issue, is required.
Access options
Buy single article
Instant access to the full article PDF.
US$ 39.95
Tax calculation will be finalised during checkout.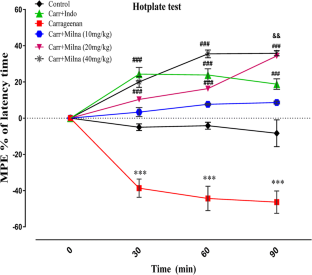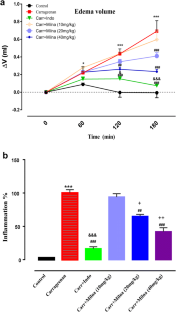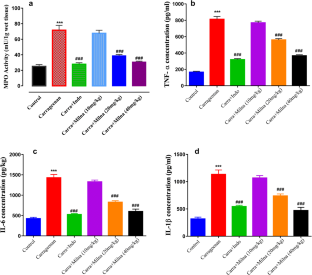 References
Bach-Rojecky L, Lackovic Z (2005) Antinociceptive effect of botulinum toxin type a in rat model of carrageenan and capsaicin induced pain. Croat Med J 46:201–208

Bavill J (1997) Mechanisms of action of opioid and non-steroidal antiœinflammatory drug. Eur J Anesthesiol 14:9

Berrocoso E, Mico J-A, Vitton O, Ladure P, Newman-Tancredi A, Depoortère R, Bardin L (2011) Evaluation of milnacipran, in comparison with amitriptyline, on cold and mechanical allodynia in a rat model of neuropathic pain. Euro J Pharmacol 655:46–51

Bilici D, Akpinar E, Kiziltunc A (2002) Protective effect of melatonin in carrageenan-induced acute local inflammation. Pharmacolog Res 46:133–139

Brune K, Patrignani P (2015) New insights into the use of currently available non-steroidal anti-inflammatory drugs. J Pain Res 8:105

Buritova J, Honoré P, Besson J-M (1995) Indomethacin reduces both Krox-24 expression in the rat lumbar spinal cord and inflammatory signs following intraplantar carrageenan. Brain Res 674:211–220

Derry S, Gill D, Phillips T, Moore RA (2012) Milnacipran for neuropathic pain and fibromyalgia in adults. Cochrane Database Syst Rev 3(3):CD008244

Dharmshaktu P, Tayal V, Kalra BS (2012) Efficacy of antidepressants as analgesics: a review. J Clin Pharmacol 52:6–17

Fröde TS, Medeiros Y (2001) Myeloperoxidase and adenosine-deaminase levels in the pleural fluid leakage induced by carrageenan in the mouse model of pleurisy. Mediators Inflamm 10:223–227

Guay J, Bateman K, Gordon R, Mancini J, Riendeau D (2004) Carrageenan-induced paw edema in rat elicits a predominant prostaglandin E2 (PGE2) response in the central nervous system associated with the induction of microsomal PGE2 synthase-1. J Biol Chem 279:24866–24872

Haddadi R, Nayebi AM, Brooshghalan SE (2018a) Silymarin prevents apoptosis through inhibiting the bax/caspase-3 expression and suppresses toll like receptor-4 pathway in the SNc of 6-OHDA intoxicated rats. Biomed Pharmacother 104:127–136

Haddadi R, Poursina M, Zeraati F, Nadi F (2018b) Gastrodin microinjection suppresses 6-OHDA-induced motor impairments in parkinsonian rats: insights into oxidative balance and microglial activation in SNc Inflammopharmacology. Inflammopharmacology 26(5):1305–1316

Hammody LE, Matloub SY, Shihab SS (2015) Pregabalin versus amitriptyline in the treatment of fibromyalgia patients (a double blind comparative study). Iraqi Acad Sci J 14:38–44

Handy RL, Moore PK (1998) Effects of selective inhibitors of neuronal nitric oxide synthase on carrageenan-induced mechanical and thermal hyperalgesia. Neuropharmacology 37:37–43

Hosseini A, Abdollahi M (2013) Diabetic neuropathy and oxidative stress: therapeutic perspectives oxidative medicine and cellular longevity 2013:168039

Hwang H-J, Lee H-J, Kim C-J, Shim I, Hahm D-H (2008) Inhibitory effect of amygdalin on lipopolysaccharide-inducible TNF-alpha and IL-1beta mRNA expression and carrageenan-induced rat arthritis. J Microbiol Biotechnol 18:1641–1647

Kadetoff D, Lampa J, Westman M, Andersson M, Kosek E (2012) Evidence of central inflammation in fibromyalgia—increased cerebrospinal fluid interleukin-8 levels. J Neuroimmunol 242:33–38

Khattab MM (2006) TEMPOL, a membrane-permeable radical scavenger, attenuates peroxynitrite-and superoxide anion-enhanced carrageenan-induced paw edema and hyperalgesia: a key role for superoxide anion. Euro J Pharmacol 548:167–173

Kheradmand A, Mohajjel Nayebi A, Jorjani M, Haddadi R (2016a) Effect of WR-1065 on 6-hydroxydopamine-induced catalepsy and IL-6 level in rats. Iran J Basic Med Sci 19:490–496

Kheradmand A, Nayebi AM, Jorjani M, Khalifeh S, Haddadi R (2016b) Effects of WR1065 on 6-hydroxydopamine-induced motor imbalance: possible involvement of oxidative stress and inflammatory cytokines. Neurosci Lett 627:7–12. https://doi.org/10.1016/j.neulet.2016.05.040

King T, Rao S, Vanderah T, Chen Q, Vardanyan A, Porreca F (2006) Differential blockade of nerve injury-induced shift in weight bearing and thermal and tactile hypersensitivity by milnacipran. J Pain 7:513–520

Littlejohn G, Guymer E (2018) Neurogenic inflammation in fibromyalgia. Seminars in immunopathology, vol 3. Springer, Berlin, pp 291–300

Luedde T, Schwabe RF (2011) NF-κB in the liver—linking injury, fibrosis and hepatocellular carcinoma. Nat Rev Gastroenterol Hepatol 8:108

Menendez L, Lastra A, Hidalgo A, Baamonde A (2002) Unilateral hot plate test: a simple and sensitive method for detecting central and peripheral hyperalgesia in mice. J Neurosci Methods 113:91–97

Mico JA, Berrocoso E, Vitton O, Ladure P, Newman-Tancredi A, Bardin L, Depoortère R (2011) Effects of milnacipran, duloxetine and indomethacin, in polyarthritic rats using the Randall–Selitto model. Behav Pharmacol 22:599–606

Mizokami SS et al (2016) Pimaradienoic acid inhibits carrageenan-induced inflammatory leukocyte recruitment and edema in mice: inhibition of oxidative stress, nitric oxide and cytokine production. PLoS ONE 11:e0149656

Morris CJ (2003) Carrageenan-induced paw edema in the rat and mouse. Inflammation protocols. Springer, Berlin, pp 115–121

Namgyal D, Sarwat M (2020) Saffron as a neuroprotective agent. Saffron. Elsevier, Netherlands, pp 93–102

Neeb L, Hellen P, Boehnke C, Hoffmann J, Schuh-Hofer S, Dirnagl U, Reuter U (2011) IL-1β stimulates COX-2 dependent PGE2 synthesis and CGRP release in rat trigeminal ganglia cells. PLoS ONE 6(3):e17360

Rafiee L, Hajhashemi V, Javanmard SH (2017) In vitro and in vivo modulation of LPS and carrageenan-induced expression of inflammatory genes by amitriptyline. J Pharm Pharmacog Res 5:144–155

Rao P, Knaus EE (2008) Evolution of nonsteroidal anti-inflammatory drugs (NSAIDs): cyclooxygenase (COX) inhibition and beyond. J Pharm Pharmaceut Sci 11:81–110

Rodriguez-Pintó I, Agmon-Levin N, Howard A, Shoenfeld Y (2014) Fibromyalgia and cytokines. Immunol Lett 161:200–203

Ruiz-Miyazawa KW, Zarpelon AC, Pinho-Ribeiro FA, Pavão-de-Souza GF, Casagrande R, Verri WA Jr (2015) Vinpocetine reduces carrageenan-induced inflammatory hyperalgesia in mice by inhibiting oxidative stress, cytokine production and NF-κB activation in the paw and spinal cord. PLoS ONE 10:e0118942

Sammons MJ, Raval P, Davey PT, Rogers D, Parsons AA, Bingham S (2000) Carrageenan-induced thermal hyperalgesia in the mouse: role of nerve growth factor and the mitogen-activated protein kinase pathway. Brain Res 876:48–54

Sayyah M, Mandgary A, Kamalinejad M (2002) Evaluation of the anticonvulsant activity of the seed acetone extract of Ferula gummosa Boiss. against seizures induced by pentylenetetrazole and electroconvulsive shock in mice. J Ethnopharmacol 82:105–109

Schug SA, Zech D, Grond S (1992) Adverse effects of systemic opioid analgesics. Drug Saf 7:200–213

Sharma B, Kumar H, Kaushik P, Mirza R, Awasthi R, Kulkarni G (2020) Therapeutic benefits of saffron in brain diseases: new lights on possible pharmacological mechanisms. Saffron. Elsevier, Netherlands, pp 117–130

Stejskal V, Öckert K, Bjørklund G (2013) Metal-induced inflammation triggers fibromyalgia in metal-allergic patients. Neuroendocrinol Lett 34:559–565

Suarez-Roca H, Quintero L, Arcaya JL, Maixner W, Rao SG (2006) Stress-induced muscle and cutaneous hyperalgesia: differential effect of milnacipran. Physiol Behav 88:82–87

Surh Y-J, Chun K-S, Cha H-H, Han SS, Keum Y-S, Park K-K, Lee SS (2001) Molecular mechanisms underlying chemopreventive activities of anti-inflammatory phytochemicals: down-regulation of COX-2 and iNOS through suppression of NF-κB activation. Mutat Res Fundament Mol Mech Mutagene 480:243–268

Taler M et al (2007) Immunomodulatory effect of selective serotonin reuptake inhibitors (SSRIs) on human T lymphocyte function and gene expression. Eur Neuropsychopharmacol 17:774–780

Tsuruoka M, Arai Y-CP, Nomura H, Matsutani K, Willis WD (2003) Unilateral hindpaw inflammation induces bilateral activation of the locus coeruleus and the nucleus subcoeruleus in the rat. Brain Res Bull 61:117–123

Tynan RJ, Weidenhofer J, Hinwood M, Cairns MJ, Day TA, Walker FR (2012) A comparative examination of the anti-inflammatory effects of SSRI and SNRI antidepressants on LPS stimulated microglia. Brain Behav Immun 26:469–479

Varghese AK, Verdú EF, Bercik P, Khan WI, Blennerhassett PA, Szechtman H, Collins SM (2006) Antidepressants attenuate increased susceptibility to colitis in a murine model of depression. Gastroenterology 130:1743–1753

Yaksh TL (1981) The antinociceptive effects of intrathecally administered levonantradol and desacetyllevonantradol in the rat. J Clin Pharmacol 21(S1):334S–340S

Yang N, Zhang W, Shi XM (2008) Glucocorticoid-induced leucine zipper (GILZ) mediates glucocorticoid action and inhibits inflammatory cytokine-induced COX-2 expression. J Cell Biochem 103:1760–1771

Yaron I, Shirazi I, Judovich R, Levartovsky D, Caspi D, Yaron M (1999) Fluoxetine and amitriptyline inhibit nitric oxide, prostaglandin E2, and hyaluronic acid production in human synovial cells and synovial tissue cultures. Arthritis Rheum Off J Am Coll Rheumatol 42:2561–2568
Acknowledgements
These data were adopted from the Pharm D. thesis of Dr. Rojin Rashtiani. The authors would like to thank Research and Technology Vice-Chancellor of Hamadan University of Medical Sciences (Hamadan, Iran) for supporting this study.
Funding
This work was supported by a grant from Research and Technology Vice-Chancellor of Hamadan University of Medical Sciences, Hamadan, Iran (code: 9605103034).
Ethics declarations
Conflict of interests
The authors declare that they have no conflict of interest.
Additional information
Publisher's Note
Springer Nature remains neutral with regard to jurisdictional claims in published maps and institutional affiliations.
About this article
Cite this article
Haddadi, R., Rashtiani, R. Anti-inflammatory and anti-hyperalgesic effects of milnacipran in inflamed rats: involvement of myeloperoxidase activity, cytokines and oxidative/nitrosative stress. Inflammopharmacol 28, 903–913 (2020). https://doi.org/10.1007/s10787-020-00726-2
Received:

Accepted:

Published:

Issue Date:
Keywords
Carrageenan

Milnacipran

Plethysmometer

Pain and analgesia

Inflammatory cytokines

Myeloperoxidase

Malondialdehyde

Rat