Abstract
Alzheimer's disease (AD) is prevalent in old age people and is one of the most common brain diseases. Brain insulin resistance, neuroinflammation, oxidative stress, and mitochondrial and cholinergic dysfunction are key features of the disease. In our study, streptozotocin (STZ) in a dose of 3 mg/kg was injected in male Wistar rats bilaterally through the intracerebroventricular (ICV) route on stereotaxic apparatus. Chromium picolinate (CrPic) was tested at doses of 1 mg/kg, 2 mg/kg, and 4 mg/kg, while rivastigmine (2 mg/kg) was used as reference standard drug. Cognitive dysfunction induced by STZ was assessed by behavioral tests like Morris water maze and novel object recognition test. Treatment with CrPic revealed attenuation of cognitive deficit. This was confirmed by behavioral tests, biochemical estimations of antioxidant enzymes, oxidative stress, nitrosative stress, and cholinergic and mitochondrial activity. CrPic did not change AchE activity significantly. STZ-induced neuroinflammation evident by increased TNF-α, IL-6, and CRP levels was also significantly decreased by CrPic. Dysfunctional insulin signaling after ICV-STZ was demonstrated by reduced IRS-1, PI3K, AKT, BDNF gene expression, and increased GSK-3β, NF-κB gene expression with the help of qRT-PCR. CrPic treatment produced an improvement in insulin signaling revealed by increased gene expression of IRS-1, PI3-K, AKT, BDNF, and decreased gene expression of GSK-3β and NF-κB. It was concluded that CrPic reversed AD pathology revealed by improved memory, reduced oxidative stress, neuroinflammation, mitochondrial dysfunction, and upregulated insulin signaling.
Access options
Buy single article
Instant access to the full article PDF.
US$ 39.95
Tax calculation will be finalised during checkout.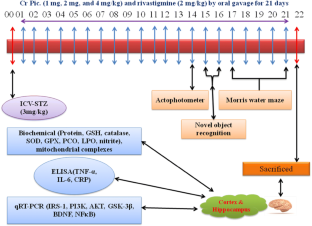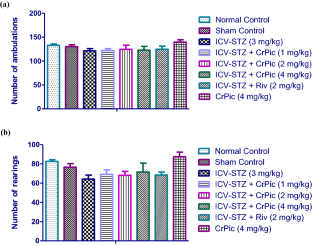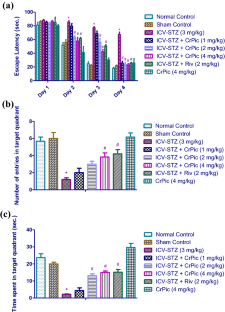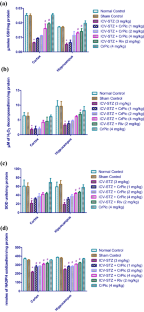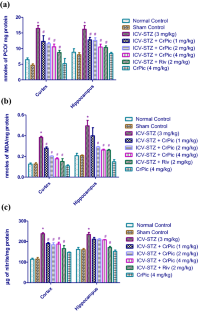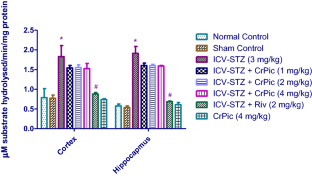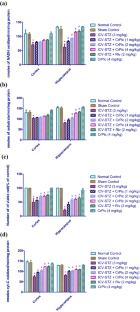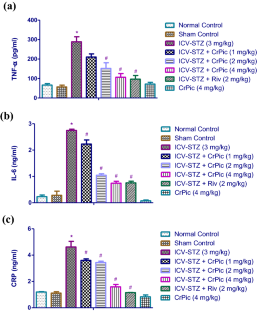 References
Anderson RA, Bryden NA, Polansky MM, Gautschi K (1996) Dietary chromium effects on tissue chromium concentrations and chromium absorption in rats. J Trace Elem Exp Med 9:11–25

Anderson RA, Roussel A-M, Zouari N, Mahjoub S, Matheau J-M, Kerkeni A (2001) Potential antioxidant effects of zinc and chromium supplementation in people with type 2 diabetes mellitus. J Am Coll Nutr 20:212–218

Antunes M, Biala G (2012) The novel object recognition memory: neurobiology, test procedure, and its modifications. Cogn Process 13:93–110

Baki L, Shioi J, Wen P, Shao Z, Schwarzman A, Gama-Sosa M, Neve R, Robakis NK (2004) PS1 activates PI3K thus inhibiting GSK-3 activity and tau overphosphorylation: effects of FAD mutations. EMBO J 23:2586–2596

Berman SB, Hastings TG (1999) Dopamine oxidation alters mitochondrial respiration and induces permeability transition in brain mitochondria: implications for Parkinson's disease. J Neurochem 73:1127–1137

Biasibetti R, Tramontina AC, Costa AP, Dutra MF, Quincozes-Santos A, Nardin P, Bernardi CL, Wartchow KM, Lunardi PS, Gonçalves C-A (2013) Green tea (−) epigallocatechin-3-gallate reverses oxidative stress and reduces acetylcholinesterase activity in a streptozotocin-induced model of dementia. Behav Brain Res 236:186–193

Bitner RS, Bunnelle WH, Anderson DJ, Briggs CA, Buccafusco J, Curzon P, Decker MW, Frost JM, Gronlien JH, Gubbins E (2007) Broad-spectrum efficacy across cognitive domains by α7 nicotinic acetylcholine receptor agonism correlates with activation of ERK1/2 and CREB phosphorylation pathways. J Neurosci 27:10578–10587

Claiborne A (1985) Handbook of methods for oxygen radical research. CRC Press, Boca Raton

Colombo G, Clerici M, Garavaglia ME, Giustarini D, Rossi R, Milzani A, Dalle-Donne I (2016) A step-by-step protocol for assaying protein carbonylation in biological samples. J Chromatogr B 1019:178–190

de la Monte SM (2012) Brain insulin resistance and deficiency as therapeutic targets in Alzheimer's disease. Curr Alzheimer Res 9:35–66

Del Pino J, Zeballos G, Anadón MJ, Moyano P, Díaz MJ, García JM, Frejo MT (2016) Cadmium-induced cell death of basal forebrain cholinergic neurons mediated by muscarinic M1 receptor blockade, increase in GSK-3β enzyme, β-amyloid and tau protein levels. Arch Toxicol 90:1081–1092

Deng Y, Li B, Liu Y, Iqbal K, Grundke-Iqbal I, Gong C-X (2009) Dysregulation of insulin signaling, glucose transporters, O-GlcNAcylation, and phosphorylation of tau and neurofilaments in the brain: Implication for Alzheimer's disease. Am J Pathol 175:2089–2098

Desbois-Mouthon C, Cadoret A, Blivet-Van Eggelpoel M-J, Bertrand F, Cherqui G, Perret C, Capeau J (2001) Insulin and IGF-1 stimulate the β-catenin pathway through two signalling cascades involving GSK-3β inhibition and Ras activation. Oncogene 20:252

Dubey VK, Ansari F, Vohora D, Khanam R (2015) Possible involvement of corticosterone and serotonin in antidepressant and antianxiety effects of chromium picolinate in chronic unpredictable mild stress induced depression and anxiety in rats. J Trace Elem Med Biol 29:222–226

Ellman GL, Courtney KD, Andres V Jr, Featherstone RM (1961) A new and rapid colorimetric determination of acetylcholinesterase activity. Biochem Pharmacol 7:88–95

Espinosa J, Rocha A, Nunes F, Costa MS, Schein V, Kazlauckas V, Kalinine E, Souza DO, Cunha RA, Porciúncula LO (2013) Caffeine consumption prevents memory impairment, neuronal damage, and adenosine A 2A receptors upregulation in the hippocampus of a rat model of sporadic dementia. J Alzheimer's Dis 34:509–518

Franklin M, Odontiadis J (2003) Effects of treatment with chromium picolinate on peripheral amino acid availability and brain monoamine function in the rat. Pharmacopsychiatry 36:176–180

Frölich L, Blum-Degen D, Riederer P, Hoyer S (1999) A disturbance in the neuronal insulin receptor signal transduction in sporadic Alzheimer's disease. Ann N Y Acad Sci 893:290–293

Fukui K, Omoi NO, Hayasaka T, Shinnkai T, Suzuki S, Abe K, Urano S (2002) Cognitive impairment of rats caused by oxidative stress and aging, and its prevention by vitamin E. Ann N Y Acad Sci 959:275–284

Gornall AG, Bardawill CJ, David MM (1949) Determination of serum proteins by means of the biuret reaction. J Biol Chem 177:751–766

Green LC, Wagner DA, Glogowski J, Skipper PL, Wishnok JS, Tannenbaum SR (1982) Analysis of nitrate, nitrite, and [15N] nitrate in biological fluids. Anal Biochem 126:131–138

Grieb P (2016) Intracerebroventricular streptozotocin injections as a model of Alzheimer's disease: in search of a relevant mechanism. Mol Neurobiol 53:1741–1752

Guerrero L, Castillo J, Quiñones M, Garcia-Vallvé S, Arola L, Pujadas G, Muguerza B (2012) Inhibition of angiotensin-converting enzyme activity by flavonoids: structure-activity relationship studies. PLoS ONE 7:e49493

Hua Y, Clark S, Ren J, Sreejayan N (2012) Molecular mechanisms of chromium in alleviating insulin resistance. J Nutr Biochem 23:313–319

Ishrat T, Parveen K, Khan MM, Khuwaja G, Khan MB, Yousuf S, Ahmad A, Shrivastav P, Islam F (2009) Selenium prevents cognitive decline and oxidative damage in rat model of streptozotocin-induced experimental dementia of Alzheimer's type. Brain Res 1281:117–127

Jain SK, Rains JL, Croad JL (2007) Effect of chromium niacinate and chromium picolinate supplementation on lipid peroxidation, TNF-α, IL-6, CRP, glycated hemoglobin, triglycerides, and cholesterol levels in blood of streptozotocin-treated diabetic rats. Free Radical Biol Med 43:1124–1131

Jollow D, Mitchell J, Zampaglione NA, Gillette J (1974) Bromobenzene-induced liver necrosis. Protective role of glutathione and evidence for 3,4-bromobenzene oxide as the hepatotoxic metabolite. Pharmacology 11:151–169

Kamat PK (2015) Streptozotocin induced Alzheimer's disease like changes and the underlying neural degeneration and regeneration mechanism. Neural Regen Res 10:1050

Karam A, Nadia A, Abd E, Nemat A, Siham M (2014) Protective effect of ginger (Zingiber officinale) on Alzheimer's disease induced in rats. J Neuroinfect Dis 5:2

King TE (1967) Preparation of succinate dehydrogenase and reconstitution of succinate oxidase, methods in enzymology. Elsevier, Amsterdam, pp 322–331

King TE, Howard RL (1967) Preparations and properties of soluble NADH dehydrogenases from cardiac muscle, methods in enzymology. Elsevier, Amsterdam, pp 275–294

Kono Y (1978) Generation of superoxide radical during autoxidation of hydroxylamine and an assay for superoxide dismutase. Arch Biochem Biophys 186:189–195

Labak M, Foniok T, Kirk D, Rushforth D, Tomanek B, Jasiński A, Grieb P (2010) Metabolic changes in rat brain following intracerebroventricular injections of streptozotocin: a model of sporadic Alzheimer's disease, Brain Edema XIV. Springer, New York, pp 177–181

Lawrence RA, Burk RF (1976) Glutathione peroxidase activity in selenium-deficient rat liver. Biochem Biophys Res Commun 71:952–958

Liu M, Liao K, Yu C, Li X, Liu S, Yang S (2014) Puerarin alleviates neuropathic pain by inhibiting neuroinflammation in spinal cord. Mediat Inflamm 2014:1–9

Martin J, Wang ZQ, Zhang XH, Wachtel D, Volaufova J, Matthews DE, Cefalu WT (2006) Chromium picolinate supplementation attenuates body weight gain and increases insulin sensitivity in subjects with type 2 diabetes. Diabetes Care 29:1826–1832

Morris R (1984) Developments of a water-maze procedure for studying spatial learning in the rat. J Neurosci Methods 11:47–60

Morris RG, Garrud P, Rawlins JA, O'Keefe J (1982) Place navigation impaired in rats with hippocampal lesions. Nature 297:681

Morris B, Kouta S, Robinson R, MacNeil S, Heller S (2000) Chromium supplementation improves insulin resistance in patients with type 2 diabetes mellitus. Diabet Med 17:684–685

Mosmann T (1983) Rapid colorimetric assay for cellular growth and survival: application to proliferation and cytotoxicity assays. J Immunol Methods 65:55–63

Mozaffari MS, Patel C, Ballas C, Schaffer SW (2005) Effects of chronic chromium picolinate treatment in uninephrectomized rat. Metabolism 54:1243–1249

Naghizadeh B, Mansouri M, Ghorbanzadeh B, Farbood Y, Sarkaki A (2013) Protective effects of oral crocin against intracerebroventricular streptozotocin-induced spatial memory deficit and oxidative stress in rats. Phytomedicine 20:537–542

Nair AB, Jacob S (2016) A simple practice guide for dose conversion between animals and human. J Basic Clin Pharm 7:27

Omri AE, Han J, Kawada K, Abdrabbah MB, Isoda H (2012) Luteolin enhances cholinergic activities in PC12 cells through ERK1/2 and PI3K/Akt pathways. Brain Res 1437:16–25

Onor M, Trevisiol M, Negro C, Aguglia E (2006) Different perception of cognitive impairment, behavioral disturbances, and functional disabilities between persons with mild cognitive impairment and mild Alzheimer's disease and their caregivers. Am J Alzheimer's Dis Other Dement 21:333–338

Rai S, Kamat PK, Nath C, Shukla R (2013) A study on neuroinflammation and NMDA receptor function in STZ (ICV) induced memory impaired rats. J Neuroimmunol 254:1–9

Rai S, Kamat PK, Nath C, Shukla R (2014) Glial activation and post-synaptic neurotoxicity: the key events in Streptozotocin (ICV) induced memory impairment in rats. Pharmacol Biochem Behav 117:104–117

Rajasekar N, Nath C, Hanif K, Shukla R (2017a) Intranasal insulin administration ameliorates streptozotocin (ICV)-induced insulin receptor dysfunction, neuroinflammation, amyloidogenesis, and memory impairment in rats. Mol Neurobiol 54:6507–6522

Rajasekar N, Nath C, Hanif K, Shukla R (2017b) Intranasal insulin improves cerebral blood flow, Nrf-2 expression and BDNF in STZ (ICV)-induced memory impaired rats. Life Sci 173:1–10

Sachdeva AK, Kuhad A, Chopra K (2014) Naringin ameliorates memory deficits in experimental paradigm of Alzheimer's disease by attenuating mitochondrial dysfunction. Pharmacol Biochem Behav 127:101–110

Sahin K, Tuzcu M, Orhan C, Gencoglu H, Ulas M, Atalay M, Sahin N, Hayirli A, Komorowski JR (2012) The effects of chromium picolinate and chromium histidinate administration on NF-κB and Nrf2/HO-1 pathway in the brain of diabetic rats. Biol Trace Elem Res 150:291–296

Salkovic-Petrisic M, Tribl F, Schmidt M, Hoyer S, Riederer P (2006) Alzheimer-like changes in protein kinase B and glycogen synthase kinase-3 in rat frontal cortex and hippocampus after damage to the insulin signalling pathway. J Neurochem 96:1005–1015

Sargent L, Brown R (2017) Assessing the current state of cognitive frailty: measurement properties. J Nutr Health Aging 21:152–160

Saxena G, Patro IK, Nath C (2011) ICV STZ induced impairment in memory and neuronal mitochondrial function: a protective role of nicotinic receptor. Behav Brain Res 224:50–57

Selcuk MY, Aygen B, Dogukan A, Tuzcu Z, Akdemir F, Komorowski JR, Atalay M, Sahin K (2012) Chromium picolinate and chromium histidinate protects against renal dysfunction by modulation of NF-κB pathway in high-fat diet fed and Streptozotocin-induced diabetic rats. Nutr Metab 9:30

Sharma M, Gupta Y (2002) Chronic treatment with trans resveratrol prevents intracerebroventricular streptozotocin induced cognitive impairment and oxidative stress in rats. Life Sci 71:2489–2498

Sharma M, Gupta Y (2003) Effect of alpha lipoic acid on intracerebroventricular streptozotocin model of cognitive impairment in rats. Eur Neuropsychopharmacol 13:241–247

Shifrin H, Nadler-Milbauer M, Shoham S, Weinstock M (2013) Rivastigmine alleviates experimentally induced colitis in mice and rats by acting at central and peripheral sites to modulate immune responses. PLoS ONE 8:e57668

Sottocasa GL, Kuylenstierna B, Ernster L, Bergstrand A (1967) An electron-transport system associated with the outer membrane of liver mitochondria: a biochemical and morphological study. J Cell Biol 32:415–438

Steen E, Terry BM, Rivera JE, Cannon JL, Neely TR, Tavares R, Xu XJ, Wands JR, de la Monte SM (2005) Impaired insulin and insulin-like growth factor expression and signaling mechanisms in Alzheimer's disease–is this type 3 diabetes? J Alzheimer's Dis 7:63–80

Sundaram B, Aggarwal A, Sandhir R (2013) Chromium picolinate attenuates hyperglycemia-induced oxidative stress in streptozotocin-induced diabetic rats. J Trace Elem Med Biol 27:117–121

Surin A, Sharipov R, Krasil'nikova I, Boyarkin D, Lisina OY, Gorbacheva L, Avetisyan A, Pinelis V (2017) Disruption of functional activity of mitochondria during MTT assay of viability of cultured neurons. Biochemistry (Moscow) 82:737–749

Talbot K, Wang H-Y, Kazi H, Han L-Y, Bakshi KP, Stucky A, Fuino RL, Kawaguchi KR, Samoyedny AJ, Wilson RS (2012) Demonstrated brain insulin resistance in Alzheimer's disease patients is associated with IGF-1 resistance, IRS-1 dysregulation, and cognitive decline. J Clin Investig 122:1316–1338

Wang T, Fu F, Han B, Zhang L, Zhang X (2012) Danshensu ameliorates the cognitive decline in streptozotocin-induced diabetic mice by attenuating advanced glycation end product-mediated neuroinflammation. J Neuroimmunol 245:79–86

Wills E (1966) Mechanisms of lipid peroxide formation in animal tissues. Biochem J 99:667

Xiang Y, Liu C, Han L (2019) Apelin-13 suppresses neuroinflammation against cognitive deficit in a streptozotocin-induced rat model of Alzheimer's disease through activation of BDNF-TrkB signaling pathway. Front Pharmacol 10:395

Yassin N, El-Shenawy S, Mahdy KA, Gouda N, Marrie A, Farrag A, Ibrahim BM (2013) Effect of Boswellia serrata on Alzheimer's disease induced in rats. J Arab Soc Med Res 8:1–11
Acknowledgements
University Grants Commission, New Delhi is acknowledged for granting the funds for the conduct of the research work. The letter–number for providing funds is F1-17.1/2015-16/MANF-2015-17-BIH-72699.
Ethics declarations
Conflict of interest
The authors declare that there were no conflicts of interest.
Additional information
Publisher's Note
Springer Nature remains neutral with regard to jurisdictional claims in published maps and institutional affiliations.
About this article
Cite this article
Akhtar, A., Dhaliwal, J., Saroj, P. et al. Chromium picolinate attenuates cognitive deficit in ICV-STZ rat paradigm of sporadic Alzheimer's-like dementia via targeting neuroinflammatory and IRS-1/PI3K/AKT/GSK-3β pathway. Inflammopharmacol 28, 385–400 (2020). https://doi.org/10.1007/s10787-019-00681-7
Received:

Accepted:

Published:

Issue Date:
Keywords
ICV-STZ

Chromium picolinate

Oxidative stress

Neuroinflammation

Insulin resistance

Alzheimer's disease