Abstract
The blood–brain barrier (BBB) is formed by tightly connected cerebrovascular endothelial cells. Injury of human brain endothelial cells can cause disruption of the BBB and severe injury to brain tissue. Signals mediated cysteinyl leukotrienes (cysLTs) and their receptors are involved in a variety of pathological conditions. In the current study, our results show that oxygen glucose-deprivation/reoxygenation (OGD/R) induced the expression of leukotriene receptor type 1 (cysLT1R) in brain endothelial cells. Blockage of cysLT1R by its specific antagonist montelukast suppressed OGD/R-induced altered permeability of the human brain endothelial cell (EC) monolayer. Mechanistically, montelukast treatment reversed OGD/R-induced reduction of the tight junction proteins occludin and zonula occludens-1 (ZO-1). Montelukast also ameliorated OGD/R-induced reduction of inhibitors of matrix metalloproteinases (TIMPs), such as TIMP-1 and TIMP-2. On the other hand, montelukast suppressed the expression and production of matrix metalloproteinases (MMPs) and cytokines including MMP-2, MMP-9, interleukin 1β (IL-1β), tumor necrosis factor-α (TNF-α), and interleukin 6 (IL-6). Using a murine middle cerebral artery occlusion brain injury model, we demonstrated that the administration of montelukast improved the surgery-induced brain injury and protected against disruption of brain endothelial junction proteins such as occludin and ZO-1. Collectively, our data suggest that montelukast might confer protective roles against injury in brain endothelial cells.
Access options
Buy single article
Instant access to the full article PDF.
USD 39.95
Price excludes VAT (USA)
Tax calculation will be finalised during checkout.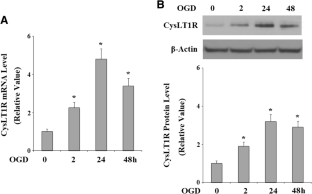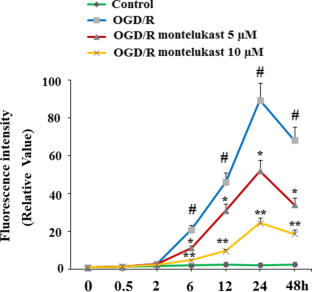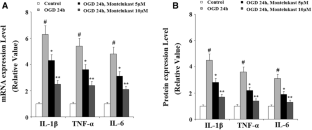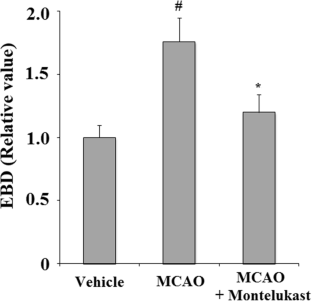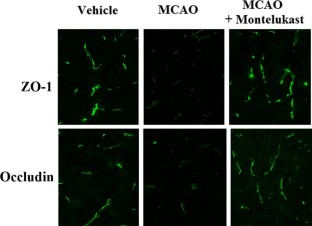 References
Bäck M (2007) The leukotriene receptor antagonist montelukast and its possible role in the cardiovascular field. Sci World J 7:1422–1439

Bäck M (2009) Leukotriene signaling in atherosclerosis and ischemia. Cardiovasc Drugs Ther 23(1):41–48

Biber N, Toklu HZ, Solakoglu S, Gultomruk M, Hakan T, Berkman Z, Dulger FG (2009) Cysteinyl-leukotriene receptor antagonist montelukast decreases blood–brain barrier permeability but does not prevent oedema formation in traumatic brain injury. Brain Inj 23(6):577–584

Camós S, Mallolas J (2010) Experimental models for assaying microvascular endothelial cell pathophysiology in stroke. Molecules 15(12):9104–9134

Colazzo F, Gelosa P, Tremoli E, Sironi L, Castiglioni L (2017) Role of the cysteinyl leukotrienes in the pathogenesis and progression of cardiovascular diseases. Mediat Inflamm 2017:2432958

Di X, Tang X, Di X (2017) Montelukast inhibits oxidized low-density lipoproteins (ox-LDL) induced vascular endothelial attachment: an implication for the treatment of atherosclerosis. Biochem Biophys Res Commun 486(1):58–62

Gelosa P, Colazzo F, Tremoli E, Sironi L, Castiglioni L (2017) Cysteinyl leukotrienes as potential pharmacological targets for cerebral diseases. Mediat Inflamm 2017:3454212

Gronert K, Martinsson-Niskanen T, Ravasi S, Chiang N, Serhan CN (2001) Selectivity of recombinant human leukotriene D4, leukotriene B4, and lipoxin A4 receptors with aspirin-triggered 15-epi-LXA4 and regulation of vascular and inflammatory responses. Am J Pathol 158:3–9

Hoxha M, Capra V, Malaj V, Sala A, Rovati G (2017) The role of montelukast in cardiovascular events. Atherosclerosis 06:478

Iadecola C, Anrather J (2011) The immunology of stroke: from mechanisms to translation. Nat Med 17(7):796–808

Ingelsson E, Yin L, Bäck M (2012) Nationwide cohort study of the leukotriene receptor antagonist montelukast and incident or recurrent cardiovascular disease. J Allergy Clin Immunol 129(3):702–707

Lampl Y, Boaz M, Gilad R, Lorberboym M, Dabby R, Rapoport A (2007) Minocycline treatment in acute stroke: an open-label, evaluator-blinded study. Neurology 69(14):1404–1410

Lee KS, Kim SR, Park HS, Jin GY, Lee YC (2004) Cysteinyl leukotriene receptor antagonist regulates vascular permeability by reducing vascular endothelial growth factor expression. J Allergy Clin Immunol 114:1093–1099

Longa EZ, Weinstein PR, Carlson S, Cummins R (1989) Reversible middle cerebral artery occlusion without craniectomy in rats. Stroke 20(1):84–91

Maekawa A, Austen KF, Kanaoka Y (2002) Targeted gene disruption reveals the role of cysteinyl leukotriene 1 receptor in the enhanced vascular permeability of mice undergoing acute inflammatory responses. J Biol Chem 277(23):20820–20824

Mergenthaler P, Lindauer U, Dienel GA, Meisel A (2013) Sugar for the brain: the role of glucose in physiological and pathological brain function. Trends Neurosci 36(10):587–597

Peters-Golden M, Gleasonw MM, Togias A (2006) Cysteinyl leukotrienes: multi-functional mediators in allergic rhinitis. Clin Exp Allergy 36(6):689–703

Pologe LG, Cramer EB, Pawlowski NA, Abraham E, Cohn ZA, Scott WA (1984) Stimulation of human endothelial cell prostacyclin synthesis by select leukotrienes. J Exp Med 160:1043–1053

Riccioni G, Bäck M (2012) Leukotrienes as modifiers of preclinical atherosclerosis? Sci World J 2012:490968

Ronaldson PT, Davis TP (2015) Targeting transporters: promoting blood–brain barrier repair in response to oxidative stress injury. Brain Res 1623:39–52

Shi H, Sheng B, Zhang F, Wu C, Zhang R, Zhu J, Xu K, Kuang Y, Jameson SC, Lin Z, Wang Y, Chen J, Jain MK, Atkins GB (2013) Kruppel-like factor 2 protects against ischemic stroke by regulating endothelial blood brain barrier function. Am J Physiol Heart Circ Physiol 304:H796–H805

Virchow JC, Faehndrich S, Nassenstein C, Bock S, Matthys H, Luttmann W (2001) Effect of a specific cysteinyl leukotriene-receptor 1-antagonist (montelukast) on the transmigration of eosinophils across human umbilical vein endothelial cells. Clin Exp Allergy 31(6):836–844

Yu GL, Wei EQ, Zhang SH, Xu HM, Chu LS, Zhang WP, Zhang Q, Chen Z, Mei RH, Zhao MH (2005) Montelukast, a cysteinyl leukotriene receptor-1 antagonist, dose- and time-dependently protects against focal cerebral ischemia in mice. Pharmacology 73(1):31–40

Zhang YY, Walker JL, Huang A, Keaney JF, Clish CB, Serhan CN, Loscalzo J (2002) Expression of 5-lipoxygenase in pulmonary artery endothelial cells. Biochem J 361:267–276

Zhang W, Hu H, Zhang L, Chen Z, Wei E (2004) Expression of cysteinyl leukotriene receptor 1 in human traumatic brain injury and brain tumors. Neurosci Lett 363(3):247–251

Zhao R, Shi WZ, Zhang YM, Fang SH, Wei EQ (2011) Montelukast, a cysteinyl leukotriene receptor-1 antagonist, attenuates chronic brain injury after focal cerebral ischaemia in mice and rats. J Pharm Pharmacol 63(4):550–557
Acknowledgements
We thank the research fund from Weifang People's Hospital.
Additional information
Publisher's Note
Springer Nature remains neutral with regard to jurisdictional claims in published maps and institutional affiliations.
About this article
Cite this article
Zhou, L., Sun, X., Shi, Y. et al. Cysteinyl leukotriene receptor type 1 antagonist montelukast protects against injury of blood–brain barrier. Inflammopharmacol 27, 933–940 (2019). https://doi.org/10.1007/s10787-019-00611-7
Received:

Accepted:

Published:

Issue Date:

DOI: https://doi.org/10.1007/s10787-019-00611-7
Keywords