Abstract
Magnesium deficiency (MgD) can cause inflammation in human body. The known mechanisms of inflammation caused by MgD include activation of phagocytic cells, opening of calcium channels, activation of the N-methyl-d-aspartate (NMDA) receptor, and activation of nuclear factor (NF)-κB. In addition, MgD causes systemic stress response through neuroendocrinological pathways. The inflammation caused by MgD can result in pro-atherogenic changes in the metabolism of lipoproteins, endothelial dysfunction, and high blood pressure. Studies suggest that magnesium may play an important role in the pathophysiology of some inflammatory diseases. Several clinical trials and laboratory studies have been done on the functional role of magnesium. In this study, we review some inflammatory diseases, in which the magnesium has a role in their pathophysiology. Among these diseases, diabetes, asthma, preeclampsia, atherosclerosis, heart damage, and rheumatoid arthritis have been highlighted.
Access options
Buy single article
Instant access to the full article PDF.
US$ 39.95
Tax calculation will be finalised during checkout.
Subscribe to journal
Immediate online access to all issues from 2019. Subscription will auto renew annually.
US$ 79
Tax calculation will be finalised during checkout.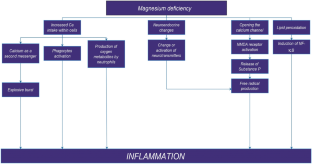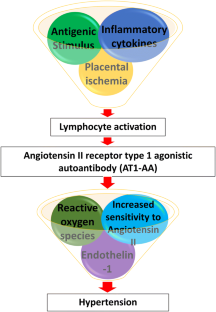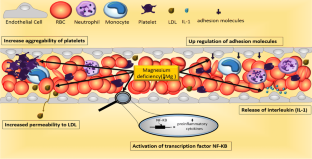 References
Abbott RD et al (2003) Dietary magnesium intake and the future risk of coronary heart disease (the Honolulu Heart Program). Am J Cardiol 92:665–669

Aggarwal P, Sharad S, Handa R, Dwiwedi SN, Irshad M (2006) Comparison of nebulised magnesium sulphate and salbutamol combined with salbutamol alone in the treatment of acute bronchial asthma: a randomised study. Emerg Med J EMJ 23:358–362. https://doi.org/10.1136/emj.2005.026203

al-Ghamdi SM, Cameron EC, Sutton RA (1994) Magnesium deficiency: pathophysiologic and clinical overview. Am J Kidney Dis 24:737–752

Ali S, Mann DA (2004) Signal transduction via the NF-κB pathway: a targeted treatment modality for infection, inflammation and repair. Cell Biochem Funct 22:67–79

Almoznino-Sarafian D et al (2007) Magnesium and C-reactive protein in heart failure: an anti-inflammatory effect of magnesium administration? Eur J Nutr 46:230–237. https://doi.org/10.1007/s00394-007-0655-x

Altura BM, Altura BT (1974) Magnesium and contraction of arterial smooth muscle. Microvasc Res 7:145–155

Altura BT, Brust M, Bloom S, Barbour RL, Stempak JG, Altura BM (1990) Magnesium dietary intake modulates blood lipid levels and atherogenesis. Proc Natl Acad Sci 87:1840–1844

Altura BM, Gebrewold A, Zhang A, Altura BT (2003) Low extracellular magnesium ions induce lipid peroxidation and activation of nuclear factor-kappa B in canine cerebral vascular smooth muscle: possible relation to traumatic brain injury and strokes. Neurosci Lett 341:189–192

Amagase K, Ochi A, Sugihara T, Kato S, Takeuchi K (2010) Protective effect of lafutidine, a histamine H2 receptor antagonist, against loxoprofen-induced small intestinal lesions in rats. J Gastroenterol Hepatol 25:S111–S118

Amash A, Holcberg G, Sheiner E, Huleihel M (2010) Magnesium sulfate normalizes placental interleukin-6 secretion in preeclampsia. J Interferon Cytokine Res 30:683–690. https://doi.org/10.1089/jir.2010.0011

Anderson TJ et al (1995) Systemic nature of endothelial dysfunction in atherosclerosis. Am J Cardiol 75:71B–74B

Aoyagi K, Takeshige K, Sumimoto H, Nunoi H, Minakami S (1992) Role of Mg2+ in activation of NADPH oxidase of human neutrophils: evidence that Mg2+ acts through G-protein. Biochem Biophys Res Commun 186:391–397

Arendt-Nielsen L et al (2014) Association between experimental pain biomarkers and serologic markers in patients with different degrees of painful knee osteoarthritis. Arthritis Rheumatol 66:3317–3326

Askari A et al (2016) Increased serum levels of IL-17A and IL-23 are associated with decreased vitamin D3 and increased pain in osteoarthritis. PLoS One 11:e0164757

Atabek ME, Kurtoglu S, Pirgon O, Baykara M (2006) Serum magnesium concentrations in type 1 diabetic patients: relation to early atherosclerosis. Diabetes Res Clin Pract 72:42–47. https://doi.org/10.1016/j.diabres.2005.09.002

Barbagallo M, Belvedere M, Dominguez LJ (2009) Magnesium homeostasis and aging. Magnes Res 22:235–246. https://doi.org/10.1684/mrh.2009.0187

Begon S, Pickering G, Eschalier A, Dubray C (2000) Magnesium and MK-801 have a similar effect in two experimental models of neuropathic pain. Brain Res 887:436–439. https://doi.org/10.1016/s0006-8993(00)03028-6

Bendtsen KMB et al (2012) Gut microbiota composition is correlated to grid floor induced stress and behavior in the BALB/c mouse. PLoS One 7:e46231

Beranek JT (1997) Terminal complement-complex in myocardial reperfusion injury. Cardiovasc Res 33:495–496

Beranek JT (1998) C-reactive protein in postinfarction heart rupture. Am Heart J 136:563–564

Bernardini D, Nasulewic A, Mazur A, Maier J (2004) Magnesium and microvascular endothelial cells: a role in inflammation and angiogenesis. Front Biosci J Virtual Libr 10:1177–1182

Bichara MD, Goldman RD (2009) Magnesium for treatment of asthma in children. Can Fam Phys 55:887–889

Biemond P, Swaak AJ, Koster JF (1984) Protective factors against oxygen free radicals and hydrogen peroxide in rheumatoid arthritis synovial fluid. Arthritis Rheum 27:760–765

Blaine J, Chonchol M, Levi M (2015) Renal control of calcium, phosphate, and magnesium homeostasis. Clin J Am Soc Nephrol CJASN 10:1257–1272. https://doi.org/10.2215/cjn.09750913

Bois P (1963) Effect of magnesium deficiency on mast cells and urinary histamine in rats. Br J Exp Pathol 44:151–155

Bonnet CS, Walsh DA (2005) Osteoarthritis, angiogenesis and inflammation. Rheumatology 44:7–16. https://doi.org/10.1093/rheumatology/keh344

Cairns CB, Kraft M (1996) Magnesium attenuates the neutrophil respiratory burst in adult asthmatic patients. Acad Emerg Med 3:1093–1097

Cao Y, Wang C, Guan K, Xu Y, Y-x Su, Y-m Chen (2015) Association of magnesium in serum and urine with carotid intima-media thickness and serum lipids in middle-aged and elderly Chinese: a community-based cross-sectional study. Eur J Nutr 55(1):219–226

Cencetti A, De Martino M, Graziani E, Bongi SM, Palermo C, Pavari E, Zoppi M (1990) Superoxide anion production by circulating polymorphonuclear leucocytes in rheumatoid arthritis. Clin Rheumatol 9:51–55

Chavan VU, Ramavataram D, Patel PA, Rupani MP (2015) Evaluation of serum magnesium, lipid profile and various biochemical parameters as risk factors of cardiovascular diseases in patients with rheumatoid arthritis. J Clin Diagn Res JCDR 9:BC01

Chen D, Shen J, Zhao W, Wang T, Han L, Hamilton JL, Im H-J (2017) Osteoarthritis: toward a comprehensive understanding of pathological mechanism. Bone Res 5:16044

Chiuve SE et al (2013) Dietary and plasma magnesium and risk of coronary heart disease among women. J Am Heart Assoc 2:e000114

Cho EH, Lee SG, Seok JH, Park BYN, Lee EH (2009) Evaluation of two commercial HLA-B27 real-time PCR kits. Korean J Lab Med 29:589–593

Collins SM, Kassam Z, Bercik P (2013) The adoptive transfer of behavioral phenotype via the intestinal microbiota: experimental evidence and clinical implications. Curr Opin Microbiol 16:240–245

Conrad KP, Benyo DF (1997) Placental cytokines and the pathogenesis of preeclampsia. Am J Reprod Immunol 37:240–249

Cryan JF, O'mahony S (2011) The microbiome-gut-brain axis: from bowel to behavior. Neurogastroenterol Motil 23:187–192

Cryan JF, Dinan TG (2012) Mind-altering microorganisms: the impact of the gut microbiota on brain and behaviour. Nat Rev Neurosci 13:701

Dechend R et al (2006) Agonistic antibodies directed at the angiotensin II, AT1 receptor in preeclampsia. J Soc Gynecol Investig 13:79–86

Duarte CG (1968) Effects of ethacrynic acid and furosemide on urinary calcium, phosphate and magnesium. Metab Clin Exp 17:867–876

Duley L, Gülmezoglu AM, Henderson-Smart DJ (2003) Magnesium sulphate and other anticonvulsants for women with pre-eclampsia. Cochrane Database Syst Rev. https://doi.org/10.1002/14651858.CD000025.pub2

Duley L, Henderson-Smart DJ, Chou D (2010a) Magnesium sulphate versus phenytoin for eclampsia. Cochrane Database Syst Rev. https://doi.org/10.1002/14651858.CD000128.pub2

Duley L, Henderson-Smart DJ, Walker GJ, Chou D (2010b) Magnesium sulphate versus diazepam for eclampsia. Cochrane Database Syst Rev. https://doi.org/10.1002/14651858.CD000127.pub2

Ephraim RK, Osakunor DN, Denkyira SW, Eshun H, Amoah S, Anto EO (2014) Serum calcium and magnesium levels in women presenting with pre-eclampsia and pregnancy-induced hypertension: a case-control study in the Cape Coast metropolis. Ghana BMC Pregnancy Childbirth 14:390. https://doi.org/10.1186/s12884-014-0390-2

Euser AG, Cipolla MJ (2009) Magnesium sulfate for the treatment of eclampsia: a brief review. Stroke J Cereb Circ 40:1169–1175. https://doi.org/10.1161/strokeaha.108.527788

Ekpenyong CE (2017) Essential trace element and mineral deficiencies and cardiovascular diseases: facts and controversies. Int J Nutr Food Sci 6:53–64

Fang X, Liang C, Li M, Montgomery S, Fall K, Aaseth J, Cao Y (2016) Dose-response relationship between dietary magnesium intake and cardiovascular mortality: a systematic review and dose-based meta-regression analysis of prospective studies. J Trace Elem Med Biol 38:64–73

Ferre S, Baldoli E, Leidi M, Maier JA (2010) Magnesium deficiency promotes a pro-atherogenic phenotype in cultured human endothelial cells via activation of NFkB. Biochem Biophys Acta 1802:952–958. https://doi.org/10.1016/j.bbadis.2010.06.016

Fine KD, Santa Ana CA, Porter JL, Fordtran JS (1991) Intestinal absorption of magnesium from food and supplements. J Clin Investig 88:396–402

Freeman DJ et al (2004) Short- and long-term changes in plasma inflammatory markers associated with preeclampsia. Hypertension 44:708–714. https://doi.org/10.1161/01.HYP.0000143849.67254.ca

Girardi G, Yarilin D, Thurman JM, Holers VM, Salmon JE (2006) Complement activation induces dysregulation of angiogenic factors and causes fetal rejection and growth restriction. J Exp Med 203:2165–2175. https://doi.org/10.1084/jem.20061022

Gisterå A, Hansson GK (2017) The immunology of atherosclerosis. Nat Rev Nephrol 13:368

Gontijo-Amaral C, Ribeiro MA, Gontijo LS, Condino-Neto A, Ribeiro JD (2007) Oral magnesium supplementation in asthmatic children: a double-blind randomized placebo-controlled trial. Eur J Clin Nutr 61:54–60. https://doi.org/10.1038/sj.ejcn.1602475

Guasch-Ferré M et al (2013) Dietary magnesium intake is inversely associated with mortality in adults at high cardiovascular disease risk. J Nutr 144:55–60

Hajar R (2016) Framingham contribution to cardiovascular disease. Heart Views 17:78

Halliwell B, Gutteridge JM (1990) [1] Role of free radicals and catalytic metal ions in human disease: an overview. In: Packer L, Glazer AN (eds) Methods in enzymology, vol 186. Elsevier, Amsterdam, pp 1–85

Hejazi J, Mohtadinia J, Kolahi S, Bakhtiyari M, Delpisheh A (2011) Nutritional status of Iranian women with rheumatoid arthritis: an assessment of dietary intake and disease activity. Women's Health 7:599–605

Hellerstein E, Vitale J, White P, Hegsted D, Zamcheck N, Nakamura M (1957) Influence of dietary magnesium on cardiac and renal lesions of young rats fed an atherogenic diet. J Exp Med 106:767

Heyworth PG, Knaus UG, Xu X, Uhlinger DJ, Conroy L, Bokoch GM, Curnutte JT (1993) Requirement for posttranslational processing of Rac GTP-binding proteins for activation of human neutrophil NADPH oxidase. Mol Biol Cell 4:261–269

Holcberg G et al (2006) Different effects of magnesium sulfate and angiotensin II on the capacity of the fetal and maternal compartments of normal human placenta to secrete TNF-alpha and IL-6. J Reprod Immunol 69:115–125. https://doi.org/10.1016/j.jri.2005.09.005

Hughes R, Goldkorn A, Masoli M, Weatherall M, Burgess C, Beasley R (2003) Use of isotonic nebulised magnesium sulphate as an adjuvant to salbutamol in treatment of severe asthma in adults: randomised placebo-controlled trial. Lancet 361:2114–2117. https://doi.org/10.1016/S0140-6736(03)13721-X

Hunter DJ, Hart D, Snieder H, Bettica P, Swaminathan R, Spector TD (2003) Evidence of altered bone turnover, vitamin D and calcium regulation with knee osteoarthritis in female twins. Rheumatology 42:1311–1316. https://doi.org/10.1093/rheumatology/keg373

Ighodaro O, Akinloye O (2017) First line defence antioxidants-superoxide dismutase (SOD), catalase (CAT) and glutathione peroxidase (GPX): their fundamental role in the entire antioxidant defence grid. Alex J Med 54:287–293

Jahnen-Dechent W, Ketteler M (2012) Magnesium basics. Clin Kidney J 5:i3–i14. https://doi.org/10.1093/ndtplus/sfr163

Jüttner R, Ebel H (1998) Characterization of Mg2+ transport in brush border membrane vesicles of rabbit ileum studied with mag-fura-2. Biochim Biophys Acta (BBA) Biomembr 1370:51–63

Kato S (2001) Changes in ulcerogenic response to non-steroidal anti-inflammatory drugs (NSAIDs) in adjuvant arthritic rats. Yakugaku Zasshi J Pharm Soc Jpn 121:743–751

Kato S, Tanaka A, Kunikata T, Nishijima M, Takeuchi K (1999) Changes in gastric mucosal ulcerogenic responses in rats with adjuvant arthritis: role of nitric oxide. Aliment Pharmacol Ther 13:833–840

Kempe S, Kestler H, Lasar A, Wirth T (2005) NF-κB controls the global pro-inflammatory response in endothelial cells: evidence for the regulation of a pro-atherogenic program. Nucleic Acids Res 33:5308–5319

Kharb S, Goel K, Bhardwaj J, Nanda S (2018) Role of magnesium in preeclampsia. Biomed Biotechnol Res J (BBRJ) 2:178–180. https://doi.org/10.4103/bbrj.bbrj_70_18

Kokturk N, Turktas H, Kara P, Mullaoglu S, Yilmaz F, Karamercan A (2005) A randomized clinical trial of magnesium sulphate as a vehicle for nebulized salbutamol in the treatment of moderate to severe asthma attacks. Pulm Pharmacol Ther 18:416–421. https://doi.org/10.1016/j.pupt.2005.03.003

Kramer JH et al (2009) Neurogenic inflammation and cardiac dysfunction due to hypomagnesemia. Am J Med Sci 338:22–27

Kremer J, Bigaouette J (1996) Nutrient intake of patients with rheumatoid arthritis is deficient in pyridoxine, zinc, copper, and magnesium. J Rheumatol 23:990–994

Lagrand WK et al (1997) C-reactive protein colocalizes with complement in human hearts during acute myocardial infarction. Circulation 95:97–103

LaMarca B (2010) Progress toward identifying potential markers for preeclampsia: role of agonistic autoantibody to the angiotensin II type I receptor. Hypertension 55:236–237. https://doi.org/10.1161/HYPERTENSIONAHA.109.141465

Larsson SC, Orsini N, Wolk A (2011) Dietary magnesium intake and risk of stroke: a meta-analysis of prospective studies. Am J Clin Nutr 95:362–366

Li F-Y et al (2011) Second messenger role for Mg2+ revealed by human T-cell immunodeficiency. Nature 475:471

Libako P, Nowacki W, Rock E, Rayssiguier Y, Mazur A (2010) Phagocyte priming by low magnesium status: input to the enhanced inflammatory and oxidative stress responses. Magnes Res 23:1–4. https://doi.org/10.1684/mrh.2009.0201

Lowenstein CJ, Snyder SH (1992) Nitric oxide, a novel biologic messenger. Cell 70:705–707

Ma J et al (1995) Associations of serum and dietary magnesium with cardiovascular disease, hypertension, diabetes, insulin, and carotid arterial wall thickness: the ARIC study. Atherosclerosis Risk in Communities Study. J Clin Epidemiol 48:927–940

Maier JA (2003) Low magnesium and atherosclerosis: an evidence-based link. Mol Aspects Med 24:137–146

Maier JA, Malpuech-Brugere C, Zimowska W, Rayssiguier Y, Mazur A (2004) Low magnesium promotes endothelial cell dysfunction: implications for atherosclerosis, inflammation and thrombosis. Biochim Biophys Acta 1689:13–21. https://doi.org/10.1016/j.bbadis.2004.01.002

Malpuech-Brugère C et al (2000) Inflammatory response following acute magnesium deficiency in the rat. Biochim Biophys Acta (BBA) Mol Basis Dis 1501:91–98

Martel-Pelletier J et al (2016) Osteoarthritis. Nat Rev Dis Primers 2:16072. https://doi.org/10.1038/nrdp.2016.72

Mazur A, Maier JA, Rock E, Gueux E, Nowacki W, Rayssiguier Y (2007) Magnesium and the inflammatory response: potential physiopathological implications. Arch Biochem Biophys 458:48–56. https://doi.org/10.1016/j.abb.2006.03.031

McMaster MT, Zhou Y, Fisher SJ (2004) Abnormal placentation and the syndrome of preeclampsia. In: Davison JM, Lindheimer MD (eds) Seminars in nephrology, vol 6. Elsevier, Amsterdam, pp 540–547

Milla P, Aggett P, Wolff O, Harries J (1979) Studies in primary hypomagnesaemia: evidence for defective carrier-mediated small intestinal transport of magnesium. Gut 20:1028–1033

Morjaria JB, Chauhan AJ, Babu KS, Polosa R, Davies DE, Holgate ST (2008) The role of a soluble TNFα receptor fusion protein (etanercept) in corticosteroid refractory asthma: a double blind, randomised, placebo controlled trial. Thorax 63:584–591

Mortazavi Moghaddam GhRZA (2005) The role of intravenous magnesium sulfate as an adjunct in asthma attack management. J Birjand Univ Med Sci 12:9–15

Moslehi N, Vafa M, Rahimi-Foroushani A, Golestan B (2012) Effects of oral magnesium supplementation on inflammatory markers in middle-aged overweight women. J Res Med Sci 17:607–614

Mutlu M, Argun M, Kilic E, Saraymen R, Yazar S (2007) Magnesium, zinc and copper status in osteoporotic, osteopenic and normal post-menopausal women. J Int Med Res 35:692–695

Nagai N, Fukuhata T, Ito Y, Tai H, Hataguchi Y, Nakagawa K (2007) Preventive effect of water containing magnesium ion on paw edema in adjuvant-induced arthritis rat. Biol Pharm Bull 30:1934–1937

Nagai N, Fukuhata T, Ito Y, Usui S, Hirano K (2009) Preventive effect of co-administration of water containing magnesium ion on indomethacin induced lesions of gastric mucosa in adjuvant-induced arthritis rat. Biol Pharm Bull 32:116–120

Nagai N, Takeda A, Itanami Y, Ito Y (2012) Co-administration of water containing magnesium ion prevents loxoprofen-induced lesions in gastric mucosa of adjuvant-induced arthritis rat. Biol Pharm Bull 35:2230–2237

Nagai N, Ueno A, Tanino T, Oka M, Ito Y (2017) Co-administration of magnesium ion prevents indomethacin-induced intestinal ulcerogenic lesions in adjuvant-induced arthritis rats. Biol Pharm Bull 40:910–915

Nannini LJ, Pendino JC, Corna RA, Mannarino S, Quispe R (2000) Magnesium sulfate as a vehicle for nebulized salbutamol in acute asthma. Am J Med 108:193–197. https://doi.org/10.1016/S0002-9343(99)00463-5

Nieuwdorp M, Stroes ES, Meijers JC, Buller H (2005) Hypercoagulability in the metabolic syndrome. Curr Opin Pharmacol 5:155–159. https://doi.org/10.1016/j.coph.2004.10.003

Pachikian BD et al (2010) Changes in intestinal bifidobacteria levels are associated with the inflammatory response in magnesium-deficient mice. J Nutr 140:509–514

Petkau A (1986) Scientific basis for the clinical use of superoxide dismutase. Cancer Treat Rev 13:17–44

Pietila KO, Harmoinen AP, Jokiniitty J, Pasternack AI (1996) Serum C-reactive protein concentration in acute myocardial infarction and its relationship to mortality during 24 months of follow-up in patients under thrombolytic treatment. Eur Heart J 17:1345–1349

Poston L (2006) Endothelial dysfunction in pre-eclampsia. Pharmacol Rep PR 58(Suppl):69–74

Quamme GA (2008) Recent developments in intestinal magnesium absorption. Curr Opin Gastroenterol 24:230–235

Rafieian-Kopaei M, Setorki M, Doudi M, Baradaran A, Nasri H (2014) Atherosclerosis: process, indicators, risk factors and new hopes. Int J Prev Med 5:927

Randall RE Jr, Cohen MD, Spray CC Jr, Rossmeisl EC (1964) Hypermagnesemia in renal failure. Etiology and toxic manifestations. Ann Intern Med 61:73–88

Ravn HB, Korsholm TL, Falk E (2001) Oral magnesium supplementation induces favorable antiatherogenic changes in ApoE-deficient mice. Arterioscler Thromb Vasc Biol 21:858–862

Rayssiguier Y, Gueux E, Nowacki W, Rock E, Mazur A (2006) High fructose consumption combined with low dietary magnesium intake may increase the incidence of the metabolic syndrome by inducing inflammation. Magnes Res 19:237–243

Rosello H, Pla J (1936) Sulfato de magnesio en la crisis de asma. Prensa Med Argent 23:1677–1680

Rowe BH, Bretzlaff JA, Bourdon C, Bota GW, Camargo CA Jr (2000) Magnesium sulfate for treating exacerbations of acute asthma in the emergency department. Cochrane Database Syst Rev. https://doi.org/10.1002/14651858.cd001490

Rutella S (2007) Granulocyte colony-stimulating factor for the induction of T-cell tolerance. Transplantation 84:S26–S30

Ryazanova LV et al (2010) TRPM7 is essential for Mg2+ homeostasis in mammals. Nat Commun 1:109

Sahebari M et al (2016) Serum trace element concentrations in rheumatoid arthritis. Biol Trace Elem Res 171:237–245

Santner-Nanan B, Peek MJ, Khanam R, Richarts L, Zhu E, de St Groth BF, Nanan R (2009) Systemic increase in the ratio between Foxp3+ and IL-17-producing CD4+ T cells in healthy pregnancy but not in preeclampsia. J Immunol 183:7023–7030

Satoh M, Nakamura M, Akatsu T, Shimoda Y, Segawa I, Hiramori K (2005) C-reactive protein co-expresses with tumor necrosis factor-α in the myocardium in human dilated cardiomyopathy. Eur J Heart Fail 7:748–754

Schlingmann KP et al (2002) Hypomagnesemia with secondary hypocalcemia is caused by mutations in TRPM6, a new member of the TRPM gene family. Nat Genet 31:166

Schroeder HA, Nason AP, Tipton IH (1969) Essential metals in man: magnesium. J Chronic Dis 21:815–841

Shaikh MN, Malapati BR, Gokani R, Patel B, Chatriwala M (2016) Serum magnesium and vitamin D levels as indicators of asthma severity. Pulm Med 2016:1643717. https://doi.org/10.1155/2016/1643717

Sharma A, Satyam A, Sharma JB (2007) Leptin, IL-10 and inflammatory markers (TNF-alpha, IL-6 and IL-8) in pre-eclamptic, normotensive pregnant and healthy non-pregnant women. Am J Reprod Immunol 58:21–30. https://doi.org/10.1111/j.1600-0897.2007.00486.x

Silverman RA et al (2002) IV magnesium sulfate in the treatment of acute severe asthma: a multicenter randomized controlled trial. Chest 122:489–497

Simchowitz L, Foy MA, Cragoe EJ Jr (1990) A role for Na+/Ca2+ exchange in the generation of superoxide radicals by human neutrophils. J Biol Chem 265:13449–13456

Spivey WH, Skobeloff EM, Levin RM (1990) Effect of magnesium chloride on rabbit bronchial smooth muscle. Ann Emerg Med 19:1107–1112

Stone J, Doube A, Dudson D, Wallace J (1997) Inadequate calcium, folic acid, vitamin E, zinc, and selenium intake in rheumatoid arthritis patients: results of a dietary survey. Semin Arthritis Rheum 3:180–185

Suzuki T, Nakamura Y, Kato H (2018) Determination of serum bone-related minerals during denosumab treatment in osteoporosis patients with rheumatoid arthritis: Mineral change by denosumab in osteoporosis with rheumatoid arthritis. Clin Nutr ESPEN 26:53–56

Tam M, Gomez S, Gonzalez-Gross M, Marcos A (2003) Possible roles of magnesium on the immune system. Eur J Clin Nutr 57:1193–1197

Tam HBT, Dowling O, Xue XY, Lewis D, Rochelson B, Metz CN (2011) Magnesium sulfate ameliorates maternal and fetal inflammation in a rat model of maternal infection. Am J Obstet Gynecol 204:364.e361–364.e368. https://doi.org/10.1016/j.ajog.2010.11.006

Tanaka A, Kunikata T, Mizoguchi H, Kato S, Takeuchi K (1999) Dual action of nitric oxide in pathogenesis of indomethacin-induced small intestinal ulceration in rats. J Physiol Pharmacol 50:405–417

Tavana Z, Hosseinmirzaei S (2013) Comparison of maternal serum magnesium level in pre-eclampsia and normal pregnant women. Iran Red Crescent Med J 15(12):e10394. https://doi.org/10.5812/ircmj.10394

Tejero-Taldo MI, Chmielinska JJ, Gonzalez G, Mak IT, Weglicki WB (2004) N-methyl-d-aspartate receptor blockade inhibits cardiac inflammation in the Mg2+-deficient rat. J Pharmacol Exp Ther 311:8–13. https://doi.org/10.1124/jpet.104.070003

Topf JM, Murray PT (2003) Hypomagnesemia and hypermagnesemia. Rev Endocr Metab Disord 4:195–206

Trendelenburg P (1912) Physiologische und pharmakologische Untersuchungen an der isolierten Bronchialmuskulatur. Naunyn-Schmiedeberg's Arch Pharmacol 69(2):79–107

Tuncer S, Kamanli A, AkÇil E, özelÇi Kavas G, SeÇkin B, Atay MB (1999) Trace element and magnesium levels and superoxide dismutase activity in rheumatoid arthritis. Biol Trace Elem Res 68:137–142

Walder RY et al (2002) Mutation of TRPM6 causes familial hypomagnesemia with secondary hypocalcemia. Nat Genet 31:171

Weglicki WB, Phillips TM, Freedman AM, Cassidy MM, Dickens BF (1992) Magnesium-deficiency elevates circulating levels of inflammatory cytokines and endothelin. Mol Cell Biochem 110:169–173

Weglicki WB, Phillips TM, Mak IT, Cassidy MM, Dickens BF, Stafford R, Kramer JH (1994) Cytokines, neuropeptides, and reperfusion injury during magnesium deficiency. Ann N Y Acad Sci 723:246–257

Wilkins IA, Lynch L, Mehalek KE, Berkowitz GS, Berkowitz RL (1988) Efficacy and side effects of magnesium sulfate and ritodrine as tocolytic agents. Am J Obstet Gynecol 159:685–689

Winther G et al (2015) Dietary magnesium deficiency alters gut microbiota and leads to depressive-like behaviour. Acta Neuropsychiatr 27:168–176

Wu N, Veillette A (2011) Immunology: magnesium in a signalling role. Nature 475:462–463

Xu T, Sun Y, Xu T, Zhang Y (2013) Magnesium intake and cardiovascular disease mortality: a meta-analysis of prospective cohort studies. Int J Cardiol 167:3044–3047

Yamaguchi T, Kaneda M, Kakinuma K (1983) Essential requirement of magnesium ion for optimal activity of the NADPH oxidase of guinea pig polymorphonuclear leukocytes. Biochem Biophys Res Commun 115:261–267

Yokoyama T, Oono H, Miyamoto A, Ishiguro S, Nishio A (2003) Magnesium-deficient medium enhances NO production in alveolar macrophages isolated from rats. Life Sci 72:1247–1257

Zeng C et al (2015) Relationship between serum magnesium concentration and radiographic knee osteoarthritis. J Rheumatol 42:1231–1236. https://doi.org/10.3899/jrheum.141414

Zhang W, Iso H, Ohira T, Date C, Tamakoshi A, Group JS (2012) Associations of dietary magnesium intake with mortality from cardiovascular disease: the JACC study. Atherosclerosis 221:587–595
Ethics declarations
Conflict of interest
The authors report no conflicts of interest.
Additional information
Publisher's Note
Springer Nature remains neutral with regard to jurisdictional claims in published maps and institutional affiliations.
About this article
Cite this article
Shahi, A., Aslani, S., Ataollahi, M. et al. The role of magnesium in different inflammatory diseases. Inflammopharmacol 27, 649–661 (2019). https://doi.org/10.1007/s10787-019-00603-7
Received:

Accepted:

Published:

Issue Date:
Keywords
Magnesium

Magnesium deficiency

Inflammation

Asthma

Autoimmunity