Abstract
Ischemic heart disease is a leading cause of death on a global scale, placing major socio-economic burdens on health systems worldwide. Myocardial ischaemia and reperfusion (I/R)-induced tissue injury is associated with alteration in activity of inflammatory system and nitric oxide pathway. Sumatriptan, which is mainly used to relieve migraine headache, has recently been shown to exert anti-inflammatory properties. In this study, we aimed to assess the possible cardioprotective effect of sumatriptan in a rat model of I/R injury. Male Wistar rats were subjected to 30-min ligation of left anterior descending coronary artery and 120-min reperfusion. Animals were randomly divided into five groups: (1) Sham (2) I/R (3) I/R treated with sumatriptan (0.3 mg/kg i.p.) 20 min after induction of I/R rats, (4) GR127935 (a selective antagonist of 5-HT1B/D serotonin receptors; 0.3 mg/kg) 20 min after induction of I/R, and (5) GR127935 (0.3 mg/kg) 15 min before administration of sumatriptan. Post-infarct treatment with sumatriptan increased left ventricular function, which was damaged in I/R animal's heart. Sumatriptan (0.3 mg/kg) decreased lipid peroxidation, CK-MB and lactate dehydrogenase levels; tumor necrosis factor concentration; and Nf-ҡB' protein production. Treatment with sumatriptan significantly increased the endothelial nitric oxide synthase (eNOS) expression consequences nitric oxide metabolites' level in I/R rats. Also, injection of sumatriptan remarkably decreased myocardial tissue injury assessed by histopathological study. These findings suggest that sumatriptan may attenuate I/R injury via modulating the inflammatory responses and endothelial NOS activity. But therapeutic index of sumatriptan is narrow according to the result of this study.
This is a preview of subscription content, log in to check access.
Access options
Buy single article
Instant access to the full article PDF.
US$ 39.95
Price includes VAT for USA
Subscribe to journal
Immediate online access to all issues from 2019. Subscription will auto renew annually.
US$ 99
This is the net price. Taxes to be calculated in checkout.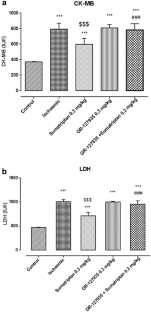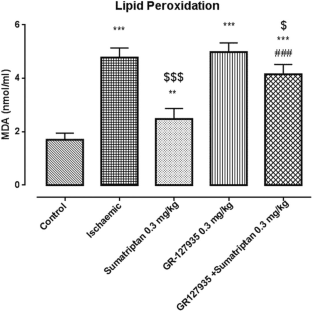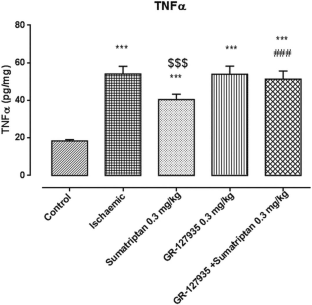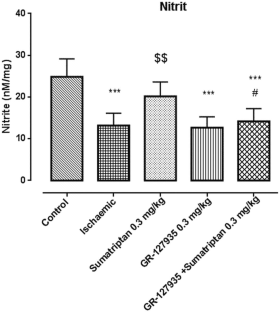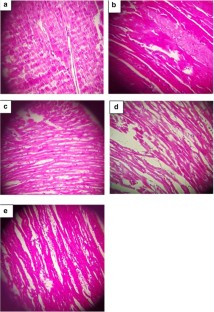 References
Ambrose JA, Singh M (2015) Pathophysiology of coronary artery disease leading to acute coronary syndromes. F1000Prime Rep 7:08

Araldi D, Ferrari LF, Levine JD (2016) Gi-protein coupled 5-HT1B/D receptor agonist sumatriptan induces type I hyperalgesic priming. Pain 157(8):1773

Azizi Y, Faghihi M, Imani A et al (2013) Post-infarct treatment with [Pyr1]-apelin-13 reduces myocardial damage through reduction of oxidative injury and nitric oxide enhancement in the rat model of myocardial infarction. Peptides 46:76–82

Barnes NM, Neumaier JF (2011) Neuronal 5-HT receptors and SERT. Tocris Biosci Sci Rev Ser 34:1–16

Brahadeesh M, Suresha RN (2016) Screening of the drug amiodarone for its antiinflammatory potential in albino rats. IJPLS:7(5):5042–5046

Buja LM (2005) Myocardial ischaemia and re perfusion injury. Cardiovasc Pathol 14(4):170–175

De Felice M, Ossipov MH, Wang R et al (2010) Triptan-induced enhancement of neuronal nitric oxide synthase in trigeminal ganglion dural afferents underlies increased responsiveness to potential migraine triggers. Brain 133(8):2475–2488

Dhalla NS, Golfman L, Takeda S et al (1999) Evidence for the role of oxidative stress in acute ischaemic heart disease: a brief review. Can J Cardiol 15(5):587–593

Dobutović B, Smiljanić K, Soskić S et al (2011) Nitric oxide and its role in cardiovascular diseases. Open Nitric Oxide J 3(3):65–71

Förstermann U (2010) Nitric oxide and oxidative stress in vascular disease. Pflugers Arch 459(6):923–939

Frangogiannis NG, Smith CW, Entman ML (2002) The inflammatory response in myocardial infarction. Cardiovascular res 53(1):31–47

Grønholdt M, Dalager-Pedersen S, Falk E (1998) Coronary atherosclerosis: determinants of plaque rupture. Eur Heart J 19:C24–C29

Haddadi NS, Foroutan A, Shakiba S et al (2018) Attenuation of serotonin-induced itch by sumatriptan: possible involvement of endogenous opioids. Arch Dermatol Res 310(2):165–172

Humphrey P, Goadsby P (1994) The mode of action of sumatriptan is vascular? A debate. Cephalalgia 14(6):401–410

Ibáñez B, Heusch G, Ovize M et al (2015) Evolving therapies for myocardial ischaemia/re perfusion injury. J Am Coll Cardiol 65(14):1454–1471

Ikeda Y, Jimbo H, Shimazu M et al (2002) Sumatriptan scavenges superoxide, hydroxyl, and nitric oxide radicals: in vitro electron spin resonance study. Headache 42(9):888–892

Oyama J-i, Blais C, Liu X et al (2004) Reduced myocardial ischaemia–re perfusion injury in toll-like receptor 4-deficient mice. Circulation 109(6):784–789

Kaminski KA, Bonda TA, Korecki J et al (2002) Oxidative stress and neutrophil activation—the two keystones of ischaemia /re perfusion injury. Int J Cardiol 86(1):41–59

Khalilzadeh M, Panahi G, Rashidian A et al (2018) The protective effects of sumatriptan on vincristine-induced peripheral neuropathy in a rat model. Neurotoxicology 67:279–286

Mohammad-Zadeh L, Moses L, Gwaltney-Brant S (2008) Serotonin: a review. J Vet Pharmacol Ther 31(3):187–199

Murphy E, Steenbergen C (2008) Mechanisms underlying acute protection from cardiac ischaemia -re perfusion injury. Physiol Rev 88(2):581–609

Nazari A, Sadr SS, Faghihi M, Azizi Y et al (1999) Evidence for the role of oxidative stress in acute ischaemic heart disease: a brief review. Can J Cardiol 15(5):587–593

Nikai T, Basbaum AI, Ahn AH (2008) Profound reduction of somatic and visceral pain in mice by intrathecal administration of the anti-migraine drug, sumatriptan. Pain 139(3):533–540

Rawlins J, Wilkinson J, Curzen N (2014) Evidence for benefit of percutaneous coronary intervention for chronically occluded coronary arteries (CTO)–clinical and health economic outcomes. Interv Cardiol 9(3):190

Roberts C, Price GW, Middlemiss DN (2001) Ligands for the investigation of 5-HT autoreceptor function. Brain Res Bull 56(5):463–469

Rutz S, Riegert C, Rothmaier AK et al (2006) Presynaptic serotonergic modulation of 5-HT and acetylcholine release in the hippocampus and the cortex of 5-HT1B-receptor knockout mice. Brain Res Bull 70(1):81–93

Schulz R, Kelm M, Heusch G (2004) Nitric oxide in myocardial ischaemia /re perfusion injury. Send to Cardiovasc Res 61(3):402–413

Siegfried MR, Erhardt J, Rider T et al (1992) Cardioprotection and attenuation of endothelial dysfunction by organic nitric oxide donors in myocardial ischaemia-re perfusion. J Pharmacol Exp Ther 260(2):668–675

Skingle M, Beattie DT, Scopes DI et al (1995) GR127935: a potent and selective 5-HT1D receptor antagonist. Behav Brain Res 73(1–2):157–161

Turer AT, Hill JA (2010) Pathogenesis of myocardial ischaemia-re perfusion injury and rationale for therapy. Am J Cardiol 106(3):360–368

Vanhoutte PM (1987) Serotonin and the vascular wall. Int J Cardiol 14(2):189–203

Vera-Portocarrero LP, Ossipov MH, King T et al (2008) Reversal of inflammatory and noninflammatory visceral pain by central or peripheral actions of sumatriptan. Gastroenterology 135(4):1369–1378

Wang J, Huang W, Xu R et al (2012) MicroRNA-24 regulates cardiac fibrosis after myocardial infarction. J Cell Mol Med 16(9):2150–2160

Yang J, Jiang H, Yang J et al (2009) Valsartan preconditioning protects against myocardial ischaemia-re perfusion injury through TLR4/NF-κB signalling pathway. Mol Cell Biochem 330(1–2):39

Yeh C-H, Chen T-P, Wu Y-C et al (2002) The inflammatory response in myocardial infarction. Cardiovascular Res 53(1):31–47

Yin Y, Guan Y, Duan J et al (2013) Cardioprotective effect of Danshensu against myocardial ischaemia/re perfusion injury and inhibits apoptosis of H9c2 cardiomyocytes via Akt and ERK1/2 phosphorylation. Eur J Pharmacol 699(1–3):219–226

Zhao Z-Q, Corvera JS, Halkos ME et al (2003) Inhibition of myocardial injury by ischaemic postconditioning during re perfusion: comparison with ischaemic preconditioning. Am J Physiol Heart Circ Physiol 285(2):H579–H588
Acknowledgements
This study was funded by Experimental Medicine Research Center, Tehran University of Medical Sciences, Tehran, Iran; grant no. 97-01-158-37318, and by a grant (96002757) from Iran National Science Foundation (INSF).
Ethics declarations
Conflict of interest
The authors declare that they have no conflict of interest.
Additional information
Publisher's Note
Springer Nature remains neutral with regard to jurisdictional claims in published maps and institutional affiliations.
About this article
Cite this article
Sheibani, M., Faghir-Ghanesefat, H., Dehpour, S. et al. Sumatriptan protects against myocardial ischaemia–reperfusion injury by inhibition of inflammation in rat model. Inflammopharmacol 27, 1071–1080 (2019). https://doi.org/10.1007/s10787-019-00586-5
Received:

Accepted:

Published:

Issue Date:
Keywords
Sumatriptan

ischaemia/reperfusion

Cardioprotective

Inflammation