Abstract
Background
The aim of the study was to assess the safety, tolerability and efficacy of palmitoylethanolamide (PEA) when dosed at 300 mg and 600 mg per day on symptoms of knee osteoarthritis.
Methods
This was a single site, comparative, double-blind placebo controlled study in adults with mild to moderate knee osteoarthritis with 111 participants randomized to receive 300 mg PEA, 600 mg PEA or placebo each day, in divided doses b.i.d, for 8 weeks. The primary outcome was the Western Ontario and McMaster Universities Osteoarthritis Index (WOMAC). The secondary outcomes were the Numerical Rating Scales (NRS) for pain, the Depression Anxiety Stress Scale (DASS), the Perceived Stress Scale (PSS), the Pittsburg Sleep Quality Index (PSQI), the Short Form Health Survey (SF-36), the use of rescue pain medication and clinical safety assessment.
Results
There was a significant reduction in the total WOMAC score in the 300 mg PEA (p = 0.0372) and the 600 mg PEA (p = 0.0012) groups, the WOMAC pain score (300 mg PEA, p = 0.0074; 600 mg PEA, p =  < 0.001), the WOMAC stiffness score (PEA 300 mg, p < 0.0490; 600 mg PEA, p = 0.001) and in the WOMAC function score in the 600 mg PEA group (p = 0.033) compared to placebo. The NRS pain evaluations for "worst pain" and "least pain" were significantly reduced in the 300 mg PEA group (p < 0.001, p = 0.005) and the 600 mg PEA group (p < 0.001, p < 0.001) compared to placebo. There was a significant reduction in anxiety (DASS) in both active treatment groups (300 mg PEA, p = 0.042; 600 mg PEA group (p = 0.043) compared to placebo. There were no changes in the clinical markers and the product was well tolerated.
Conclusions
The study demonstrated that palmitoylethanolamide may be a novel treatment for attenuating pain and reducing other associated symptoms of knee osteoarthritis. Further studies on the pharmacological basis of this anti-inflammatory effect are now required.
This is a preview of subscription content, log in to check access.
Access options
Buy single article
Instant access to the full article PDF.
US$ 39.95
Tax calculation will be finalised during checkout.
Subscribe to journal
Immediate online access to all issues from 2019. Subscription will auto renew annually.
US$ 99
Tax calculation will be finalised during checkout.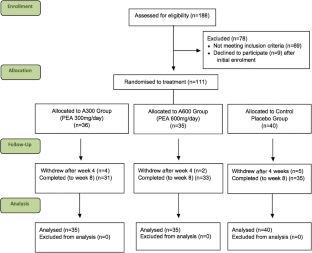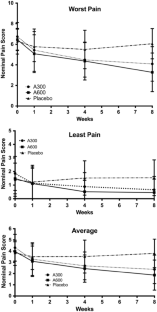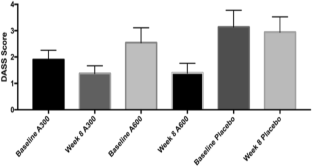 References
Alhouayek M, Muccioli GG (2014) Harnessing the anti-inflammatory potential of palmitoylethanolamide. Drug Discov Today. 19:1632–1639

Alshami A (2014) Knee osteoarthritis related pain: a narrative review of diagnosis and treatment. Int J Health Sci. 8:85–104

Assini A, Laricchia D, Pizzo R, Pandolfini L, Belletti M, Colucci M et al (2010) P1577: The carpal tunnel syndrome in diabetes: clinical and electrophysiological improvement after treatment with palmitoylethanolamide. Eur J Neurol. 17(S3):295

Bacci C, Cassetta G, Emanuele B, Berengo M (2011) Randomized split-mouth study on postoperative effects of palmitoylethanolamide for impacted lower third molar surgery. ISRN surgery 2011:917350. https://doi.org/10.5402/2011/917350

Bellamy N, Buchanan WW, Goldsmith CH, Campbell J, Stitt LW (1988) Validation study of WOMAC: a health status instrument for measuring clinically important patient relevant outcomes to antirheumatic drug therapy in patients with osteoarthritis of the hip or knee. J Rheumatol. 15:1833–1840

Bettoni I, Comeli F, Colombo A, Bonfanti P, Costa B (2013) Non-neuronal cell modulation relieves neuropathic pain: efficacy of the endogenous lipid palmitoylethanolamide. CNS Neurol Disord Drug Targets 12:34–44

Bijordal JM, Klovnig A, Ljunggren AE, Slordal L (2007) Short-term efficacy of pharmacotherapeutic interventions in osteoarthritis knee pain: a meta-analysis of randomized placebo-controlled trials. Eur. J. Pain. 11:125–138

Brotini S, Schievano C, Guidi L (2017) Ultra-micronized palmitoylethanolamide: an efficacious adjuvant therapy for Parkinson's disease. CNS Neurol Disord Drug Targets 16:705–713

Buysse DJ, Reynolds CF 3rd, Monk TH, Berman SR, Kupfer DJ (1989) The pittsburgh sleep quality index: a new instrument for psychiatric practice and research. Psychiatry Res. 2:193–213

Calabro RS, Bramanti P (2017) Occipital neuralgia responding to palmitoylethanolamide. Headache. 57:E23–E24

Calignano A, La Rana G, Giuffrida A, Piomelli D (1998) Control of pain initiation by endogenous cannabinoids. Nature 394:277–281

Canteri L, Petrosino S, Guida G (2010) Reduction in consumption of anti-inflammatory and analgesic medication in the treatment of chronic neuropathic pain in patients affected by compression lumbosciatic pain, due to treatment with Normast 300 mg. Dolor 25:227–234

Chen D, Shen J, Zhao W, Wang T, Han L, Hamilton J et al (2017) Osteoarthritis: toward a comprehensive understanding of pathological mechanism. Bone Res. 5:16044

Chirchiglia D, Chirchiglia P, Signorelli F (2018) Nonsurgical lumbar radiculopathies treated with ultramicronized palmitoylethanolamide (umPEA): a series of 100 cases. Neurol Neurochir Pol. 52:44–47

Cobellis L, Castaldi MA, Giordano V, Trabucco E, De Franciscis P, Torella M et al (2011) Effectiveness of the association micronized N-Palmitoylethanolamine (PEA)-transpolydatin in the treatment of chronic pelvic pain related to endometriosis after laparoscopic assessment: a pilot study. Eur J Obstet Gynecol Reprod Biol. 158:82–86

Conigliaro R, Drago V, Foster PS, Schievano C, Di Marzo V (2011) Use of palmitoylethanolamide in the entrapment neuropathy of the median in the wrist. Minerva Med. 102:141–147

Costa B, Comelli F, Bettoni I, Colleoni M,Giagnoni G (2008) The endogenous fatty acid amide, palmitoylethanolamide, has anti-allodynic and anti-hyperalgesic effects in a murine model of neuropathic pain: involvement of CB1, TRPV1 and PPARγ receptors and neurotrophic factors. Pain. 139 541–550.

Desio P (2011) Combination of oxycodone and palmitoylethanolamide for low back pain treatment. AMC. 1:62–71

Dominguez MC, Martin AD, Ferrer FG, Puertas ML, Muro AL, Gonzalez JM et al (2012) N -palmitoylethanolamide in the treatment of the neuropathic pain associated with lumbosciatica. Pain Manag. 2:119–124

Esposito E, Cuzzocrea S (2013) Palmitoylethanolamide is a new possible pharmacological treatment for the inflammation associated with trauma. Mini Rev Med Chem. 13:237–255

Evangelista M, Cilli V, De Vitis RE, Militerno A, Fanfani F (2018) Ultramicronized palmitoylethanolamide effects on sleep-wake rhythm and neuropathic pain phenotypes in patients with carpal tunnel syndrome: an open-label, randomized controlled study. CNS Neurol DIsord Drug Targets. 17:291–298

Gatti A, Lazzari M, Gianfelice V, Di Paolo A, Sabato E, Sabato AF (2012) Palmitoylethanolamide in the treatment of chronic pain caused by different etiopathogenesis. Pain Med. 13:1121–1130

Ghazizadeh-Hashem M, Ghajar A, Shalbafan MR, Ghazizadeh-Hashemi,F., Afarideh, M., Malekpour F., et al. (2018) Palmitoylethanolamide as adjunctive therapy in major depressive disorder: A double-blind, randomized and placebo-controlled trial. J. Affect. Disord. 232:127-133.

Giugliano E, Cagnazzo E, Soave I, Lo Monte G, Wenger JM, Marci R (2013) The adjuvant use of N-palmitoylethanolamine and transpolydatin in the treatment of endometriotic pain. Eur. J. Obstet. Gynecol Reprod Biol. 168:209–213

Guida F, Luongo L, Boccella S, Giordano ME, Romano R, Bellini G et al (2017) Palmitoylethanolamide induces microglia changes associated with increased migration and phagocytic activity: involvement of the CB2 receptor. Sci Rep. 7:375

Hawker GA, Mian S, Kendzerska T, Fench M (2011) Measures of adult pain: visual analog scale for pain (VAS Pain), numeric rating scale for pain (NRS pain), McGill pain questionnaire (MPQ), short-form McGill pain questionnaire (SF-MPQ), chronic pain grade scale (CPGS), short form-36 bodily pain scale (SF-36 BPS), and measure of intermittent and constant osteoarthritis pain (ICOAP). Arthritis Care Res. 63:S240–S252 (UP1 11).

Hesselink K, Kopsky DJ (2015) Palmitoylethanolamide, a neutraceutical, in nerve compression syndromes: efficacy and safety in sciatic pain and carpal tunnel syndrome. J. Pain Res. 8:729–734

Ho W, Barrett D, Randall M (2008) 'Entourage' effects of N-palmitoylethanolamide andN-oleoylethanolamide on vasorelaxation to anandamide occur through TRPV1 receptors. Brit J Pharmacol. 155:837–846

Hochman JR, French MF, Bermingham SL, Hawker GA (2010) The nerve of osteoarthritis pain. Arthritis Care Res. 62:1019–1023

Indraccolo U, Barbieri F (2010) Effect of palmitoylethanolamide‐polydatin combination on chronic pelvic pain associated with endometriosis: preliminary observations. Eur J Obstet Gynecol Reprod Biol 150:76–79

Keppel Hesselink JM, Hekker TAM (2012) Therapeutic utility of palmitoylethanolamide in the treatment of neuropathic pain associated with various pathological conditions: a case series. J Pain Res. 5:437–442

Lambert DM, Vandevoorde S, Diependaele G, Govaerts SJ, Robert AR (2001) Anticonvulsant activity of N-palmitoylethanolamide, a putative endocannabinoid, in mice. Epilepsia. 42:321–327

Langley PC, Van Litsenburg C, Cappelleri JC, Carroll D (2013) The burden associated with neuropathic pain in Western Europe. J Med Econ. 16:85–95

Levenstein S, Prantera C, Varvo V, Scribano ML, Berto E, Luzi C, Andreoli A (1993) Development of the perceived stress questionnaire: a new tool for psychosomatic research. J Psychosom Res. 37:19–32

Loeser R, Goldring S, Scanzello C, Goldring M (2012) osteoarthritis: a disease of the joint as an organ. Arthritis Rheum. 64:1697–1707

Man GS, Mologhianu G (2014) Osteoarthritis pathogenesis - a complex process that involves the entire joint. J Med Life. 7:37–41

Marini I, Bartolucci ML, Bortolotti F, Gatto MR, Bonetti GA (2012) Palmitoylethanolamide versus a nonsteroidal anti-inflammatory drug in the treatment of temporomandibular joint inflammatory pain. J Orofac Pain. 26:99–104

Mazzari S, Canella R, Petrelli L, Marcolongo G, Leon A (1996) N-(2 hydroxyethyl)-hexadecanamide is orally active in reducing edema formation and inflammatory hyperalgesia by down-modulating mast cell activation. Eur J Pharmacol. 300:227–236

Mora J, Przkora R, Cruz-Almeida Y (2018) Knee osteoarthritis: pathophysiology and current treatment modalities. J Pain Res. 11:2189–2196

Neogi T (2013) The epidemiology and impact of pain in osteoarthritis. Osteoarthritis Cartilage 21:1145–1153

Ng F, Trauer T, Dodd S, Callaly T, Campbell S, Berk M (2007) The validity of the 21–item version of the depression anxiety stress scales as a routine clinical outcome measure. Acta Neuropsychiatrica. 19:304–310

Paladini A, Fusco M, Cenacchi T, Schlevano C, Piroll A, Varrassi G (2016) Palmitoylethanolamide, a special food for medical purposes, in the treatment of chronic pain: a pooled data meta-analysis. Pain Physician. 19:11–24

Paladini A, Fusco M, Cenacchi T, Schievano C, Piroli A, Varrassi G (2016) Palmitoylethanolamide, a special food for medical purposes, in the treatment of chronic pain: a pooled data meta-analysis. Pain Physician. 19:11–24

Park JW, Clark GT, Kim YK, Chung JW (2010) Analysis of thermal pain sensitivity and psychological profiles in different subgroups of TMD patients. Int J Oral Maxillofac Surg. 39:968–974

Petrosino S, Di Marzo V (2017) The pharmacology of palmitoylethanolamide and first data on the therapeutic efficacy of some of its new formulations. Br J Pharmacol. 174:1349–1365

Sagar DR, Kendall DA, Chapman V (2008) Inhibition of fatty acid amide hydrolase produces PPAR-a-mediated analgesia in a rat model of inflammatory pain. Br J Pharmacol. 155:1297–1306

Schifilliti C, Cucinotta L, Fedele V, Ingegnosi C, Luca S, Leotta C (2014) Micronized palmitoylethanolamide reduces the symptoms of neuropathic pain in diabetic patients. Pain Res Treat. 2014:849623

Skaper SD, Facci L, Fusco M, della Valle MF, Zusso M, Costa B, et al (2014) Palmitoylethanolamide, a naturally-occurring disease modifying agent in neuropathic pain. Inflammopharmacology 22:79–94

Smaga I, Bystrowska B, Gawliński D, Pomierny B, Stankowicz P, Filip M (2014) Antidepressants and changes in concentration of endocannabinoids and N-Acylethanolamines in rat brain structures. Neurotox Res. 2:190–206

Stensson N, Ghafouri N, Emberg M, Mannerkorpi K, Kosek E, Gerdie B et al (2018) The relationship of endocannabinoidome lipid mediators with pain and psychological stress in women with fibromyalgia: a case-control study. J. Pain. S1526–5900(18):30197–30204

Truini A, Biasiotta A, Di Stefano G, La Cesa S, Leone C, Cartoni C et al (2011) Palmitoylethanolamide restores myelinated-fibre function in patients with chemotherapy-induced painful neuropathy. CNS Neurol Disord Drug Targets. 10:916–920

Ware JE, Sherbourne CD (1992) The MOS 36-item short-form health status survey (SF-36). 1. Conceptual framework and item selection. Med Care. 30:473–483

Wise LE, Cannavacciulo R, Cravatt BF, Muran BF, Lichtman AH (2008) Evaluation of fatty acid amines in the carrageenan-induced paw odema model. Neuropharmacology 54:181–188

Woodhams SG, Sagar DR, Burston JJ, Chapman V (2015) The role of the endocannabinoid system in pain. Handb Exp Pharmacol. 227:119–143

Zhang W, Moskowitz RW, Nuki G, Abramson S, Altman RD, Arden N et al (2008) OARSI recommendations for the management of hip and knee osteoarthritis, part II: OARSI evidence-based, expert consensus guidelines. Osteoarthritis Cartilage 16:137–162

Zhang Y, Ouyang H, Dass CR, Xu J (2016) Current research on pharmacologic and regenerative therapies for osteoarthritis. Bone Res 4:15040
Ethics declarations
Conflict of interest
Luis Vitetta has received National Institute of Complementary Medicine and National Health and Medical Research Council of Australia competitive funding and Industry support for research into nutraceuticals and herbal medicines. This research project was industry funded. None of the authors have a commercial interest in the investigative product. None of the authors have declared any conflict of interest.
Additional information
Publisher's Note
Springer Nature remains neutral with regard to jurisdictional claims in published maps and institutional affiliations.
About this article
Cite this article
Steels, E., Venkatesh, R., Steels, E. et al. A double-blind randomized placebo controlled study assessing safety, tolerability and efficacy of palmitoylethanolamide for symptoms of knee osteoarthritis. Inflammopharmacol 27, 475–485 (2019). https://doi.org/10.1007/s10787-019-00582-9
Received:

Accepted:

Published:

Issue Date:
Keywords
Inflammation

Osteoarthritis

Pain

Palmitoylethanolamide

N-acylethanolamines