Abstract
Pathogenesis of the inflammatory bowel disease (IBD) involves the combination of immunological and inflammatory factors. IBD is associated with several extra-intestinal manifestations. The exact underlying bridge between the probable cardiac diseases in IBD patients is undetermined. Trigonelline is an alkaloid with several therapeutic potential properties. In this study, we aimed to assess the probable underlying mechanisms of this comorbidity as well as protective effect of trigonelline focusing inflammatory response and oxidative state in mouse model of colitis. Dextran sodium sulfate (DSS) was used for induction of colitis in mice. Trigonelline (10, 50 and 100 mg/kg) was administrated via intraperitoneal rout (i.p.) for 14 continuous days. Heart, intestine and serum samples were taken for assessment of total antioxidant capacity, malondialdehyde (MDA), gene expressions of inflammatory markers including tumor necrosis factor alpha (Tnf-α), interleukin 1-beta (Il/1β), toll- like receptor 4 (Tlr4) as well as for evaluation of histopathological alterations. Results demonstrated that trigonelline effectively attenuated the cellular/molecular and histopathological adverse effects of colitis in the intestine and heart tissues. In this regards, we found that trigonelline decreased the MDA level, attenuated the expression of Tnf-α, Il/1β and, Tlr4 as well as modulated the histopathological alterations in the intestine. Furthermore, trigonelline increased the antioxidant capacity in the related experimental groups. We concluded that IBD (colitis) is associated with comorbid cellular/molecular modifications in the heart and for the first time, we found that trigonelline has potential therapeutic effects (at least partially) to attenuate the cardiac manifestations of the colitis.
This is a preview of subscription content, log in to check access.
Access options
Buy single article
Instant access to the full article PDF.
US$ 39.95
Price includes VAT for USA
Subscribe to journal
Immediate online access to all issues from 2019. Subscription will auto renew annually.
US$ 99
This is the net price. Taxes to be calculated in checkout.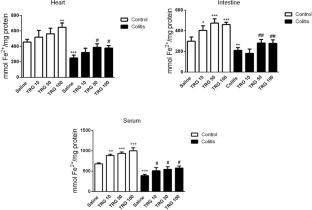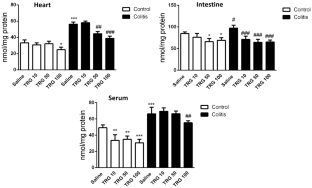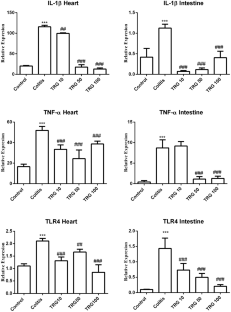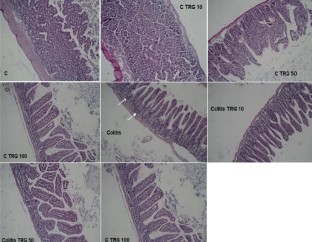 References
Al-Sadi RM, Ma TY (2007) IL-1β causes an increase in intestinal epithelial tight junction permeability. J Immunol 178:4641–4649

Amini-Khoei H, Momeny M, Abdollahi A, Dehpour AR, Amiri S, Haj-Mirzaian A, Tavangar SM, Ghaffari SH, Rahimian R, Mehr SE (2016) Tropisetron suppresses colitis-associated cancer in a mouse model in the remission stage. Int Immunopharmacol 36:9–16

Amini-Khoei H, Haghani-Samani E, Beigi M, Soltani A, Mobini GR, Balali-Dehkordi S, Haj-Mirzaian A, Rafieian-Kopaei M, Alizadeh A, Hojjati MR (2019) On the role of corticosterone in behavioral disorders, microbiota composition alteration and neuroimmune response in adult male mice subjected to maternal separation stress. Int Immunopharmacol 66:242–250

Antoni L, Nuding S, Wehkamp J, Stange EF (2014) Intestinal barrier in inflammatory bowel disease. World J Gastroenterol 20:1165

Antonisamy P, Arasu MV, Dhanasekaran M, Choi KC, Aravinthan A, Kim NS, Kang C-W, Kim J-H (2016) Protective effects of trigonelline against indomethacin-induced gastric ulcer in rats and potential underlying mechanisms. Food Funct 7:398–408

Arlt A, Sebens S, Krebs S, Geismann C, Grossmann M, Kruse M, Schreiber S, Schäfer H (2013) Inhibition of the Nrf2 transcription factor by the alkaloid trigonelline renders pancreatic cancer cells more susceptible to apoptosis through decreased proteasomal gene expression and proteasome activity. Oncogene 32:4825

Blumberg RS, Strober W (2001) Prospects for research in inflammatory bowel disease. JAMA 285:643–647

Bouma G, Strober W (2003) The immunological and genetic basis of inflammatory bowel disease. Nat Rev Immunol 3:521

Cardozo LF, Pedruzzi LM, Stenvinkel P, Stockler-Pinto MB, Daleprane JB, Leite M Jr., Mafra D (2013) Nutritional strategies to modulate inflammation and oxidative stress pathways via activation of the master antioxidant switch Nrf2. Biochimie 95:1525–1533

Danese S, Semeraro S, Papa A, Roberto I, Scaldaferri F, Fedeli G, Gasbarrini G, Gasbarrini A (2005) Extraintestinal manifestations in inflammatory bowel disease. World J Gastroenterol 11:7227

Dutta M, Ghosh AK, Mohan V, Mishra P, Rangari V, Chattopadhyay A, Das T, Bhowmick D, Bandyopadhyay D (2014) Antioxidant mechanism (s) of protective effects of Fenugreek 4-hydroxyisoleucine and trigonelline enriched fraction [TF4H (28%)] Sugaheal® against copper-ascorbate induced injury to goat cardiac mitochondria in vitro. J Pharm Res 8:798–811

Gabriels K, Hoving S, Seemann I, Visser NL, Gijbels MJ, Pol JF, Daemen MJ, Stewart FA, Heeneman S (2012) Local heart irradiation of ApoE−/− mice induces microvascular and endocardial damage and accelerates coronary atherosclerosis. Radiother Oncol 105:358–364

Gaur V, Bodhankar SL, Mohan V, Thakurdesai PA (2013) Neurobehavioral assessment of hydroalcoholic extract of Trigonella foenum-graecum seeds in rodent models of Parkinson's disease. Pharm Biol 51:550–557

Haj-Mirzaian A, Amiri S, Amini-Khoei H, Hosseini M-J, Haj-Mirzaian A, Momeny M, Rahimi-Balaei M, Dehpour AR (2017) Anxiety-and depressive-like behaviors are associated with altered hippocampal energy and inflammatory status in a mouse model of Crohn's disease. Neuroscience 366:124–137

Kojouharoff G, Hans W, Obermeier F, Männel D, Andus T, Schölmerich J, Gross V, Falk W (1997) Neutralization of tumour necrosis factor (TNF) but not of IL-1 reduces inflammation in chronic dextran sulphate sodium-induced colitis in mice. Clin Exp Immunol 107:353–358

Kristensen SL, Ahlehoff O, Lindhardsen J, Erichsen R, Lamberts M, Khalid U, Nielsen OH, Torp-Pedersen C, Gislason GH, Hansen PR (2014) Inflammatory bowel disease is associated with an increased risk of hospitalization for heart failure: a Danish Nationwide Cohort Study. Circ Heart Fail 7:717–722

Laird MH, Rhee SH, Perkins DJ, Medvedev AE, Piao W, Fenton MJ, Vogel SN (2009) TLR4/MyD88/PI3K interactions regulate TLR4 signaling. J Leukoc Biol 85:966–977

Liu L, Miao M, Chen Y, Wang Z, Sun B, Liu X (2018) Altered function and expression of abc transporters at the blood-brain barrier and increased brain distribution of phenobarbital in acute liver failure mice. Front Pharmacol 9:190

Luque-Sierra A, Alvarez-Amor L, Kleemann R, Martín F, Varela LM (2018) Extra-virgin olive oil with natural phenolic content exerts an anti-inflammatory effect in adipose tissue and attenuates the severity of atherosclerotic lesions in ldlr–/–.Leiden Mice. Mol Nutr Food Res 62:1800295

McKenzie S, Baker M, Buffinton G, Doe W (1996) Evidence of oxidant-induced injury to epithelial cells during inflammatory bowel disease. J Clin Investig 98:136–141

Menconi A, Hernandez-Velasco X, Vicuna E, Kuttappan V, Faulkner O, Tellez G, Hargis B, Bielke L (2015) Histopathological and morphometric changes induced by a dextran sodium sulfate (DSS) model in broilers. Poult Sci 94:906–911

Mirzaie M, Khalili M, Kiasalari Z, Roghani M (2016) Neuroprotective and antiapoptotic potential of trigonelline in a striatal 6-hydroxydopamine rat model of Parkinson's disease. Neurophysiology 48:176–183

Nyska A, Murphy E, Foley JF, Collins BJ, Petranka J, Howden R, Hanlon P, Dunnick JK (2004) Acute hemorrhagic myocardial necrosis and sudden death of rats exposed to a combination of ephedrine and caffeine. Toxicol Sci 83:388–396

Pavli P, Cavanaugh J, Grimm M (1996) Inflammatory bowel disease: germs or genes? Lancet 347:1198

Popivanova BK, Kitamura K, Wu Y, Kondo T, Kagaya T, Kaneko S, Oshima M, Fujii C, Mukaida N (2008) Blocking TNF-α in mice reduces colorectal carcinogenesis associated with chronic colitis. J Clin Investig 118:560–570

Rahnama S, Rabiei Z, Alibabaei Z, Mokhtari S, Rafieian-Kopaei M, Deris F (2015) Anti-amnesic activity of Citrus aurantium flowers extract against scopolamine-induced memory impairments in rats. Neurol Sci 36:553–560

Roifman I, Beck PL, Anderson TJ, Eisenberg MJ, Genest J (2011) Chronic inflammatory diseases and cardiovascular risk: a systematic review. Can J Cardiol 27:174–182

Schicho R, Marsche G, Storr M (2015) Cardiovascular complications in inflammatory bowel disease. Curr Drug Targets 16:181–188

Swidsinski A, Loening-Baucke V, Lochs H, Hale LP (2005) Spatial organization of bacterial flora in normal and inflamed intestine: a fluorescence in situ hybridization study in mice. World J Gastroenterol 11:1131

Thapa SD, Hadid H, Imam W, Schairer J, Jafri S-M (2015) Effect of inflammatory bowel disease-related characteristics and treatment interventions on cardiovascular disease incidence. Am J Med Sci 350:175–180

Tohda C, Kuboyama T, Komatsu K (2005) Search for natural products related to regeneration of the neuronal network. Neurosignals 14:34–45

Vicente SJ, Ishimoto EY, Torres EA (2013) Coffee modulates transcription factor Nrf2 and highly increases the activity of antioxidant enzymes in rats. J Agric Food Chem 62:116–122

Wong S, Knight J, Hopfer S, Zaharia O, Leach CN, Sunderman F (1987) Lipoperoxides in plasma as measured by liquid-chromatographic separation of malondialdehyde-thiobarbituric acid adduct. Clin Chem 33:214–220

Xavier R, Podolsky D (2007) Unravelling the pathogenesis of inflammatory bowel disease. Nature 448:427

Yazbeck R, Howarth GS, Butler RN, Geier MS, Abbott CA (2011) Biochemical and histological changes in the small intestine of mice with dextran sulfate sodium colitis. J Cell Physiol 226:3219–3224

Yoshinari O, Takenake A, Igarashi K (2013) Trigonelline ameliorates oxidative stress in type 2 diabetic Goto-Kakizaki rats. J Med Food 16:34–41

Zhang H, Wang H-Y, Bassel-Duby R, Maass DL, Johnston WE, Horton JW, Tao W (2007) Role of interleukin-6 in cardiac inflammation and dysfunction after burn complicated by sepsis. Am J Physiol Heart Circ Physiol 292:H2408–H2416

Zhou J, Chan L, Zhou S (2012) Trigonelline: a plant alkaloid with therapeutic potential for diabetes and central nervous system disease. Curr Med Chem 19:3523–3531

Zhou J-Y, Du X-H, Zhang Z, Qian G-S (2017) Trigonelline inhibits inflammation and protects β cells to prevent fetal growth restriction during pregnancy in a mouse model of diabetes. Pharmacology 100:209–217

Zou L, Wang W, Liu S, Zhao X, Lyv Y, Du C, Su X, Geng B, Xu G (2016) Spontaneous hypertension occurs with adipose tissue dysfunction in perilipin-1 null mice. Biochim Biophys Acta (BBA) Mol Basis Dis 1862:182–191
Acknowledgements
This work was supported by a grant from Shahrekord University of Medical Sciences (SKUMS) with grant number of "2363". The authors would like to thank Dr. Mahmoud Rafieian kopaei, Dr. Gholam Reza Mobini, Dr. Elham Saghaei and Mrs. Elham Bijad for their collaboration on this study.
Additional information
Publisher's Note
Springer Nature remains neutral with regard to jurisdictional claims in published maps and institutional affiliations.
About this article
Cite this article
Omidi-Ardali, H., Lorigooini, Z., Soltani, A. et al. Inflammatory responses bridge comorbid cardiac disorder in experimental model of IBD induced by DSS: protective effect of the trigonelline. Inflammopharmacol 27, 1265–1273 (2019). https://doi.org/10.1007/s10787-019-00581-w
Received:

Accepted:

Published:

Issue Date:
Keywords
Inflammatory bowel disease

Cardiac complications

Comorbidity

Trigonelline

Mice