Abstract
Stress is a reflex response, both psychological and physiological, of the body to a difficult situation that requires adaptation. Stress is at the intersection of the objective event and the subjective event. The physiological mechanisms involved in chronic stress are numerous and can contribute to a wide variety of disorders, in all systems including the immune system. Stress modifies the Th1/Th2 balance via the HPA axis and a set of immune mediators. This will make the body more vulnerable to external infections in a scientific way while others claim the opposite, stress could be considered immune stimulatory. The development of synthetic LXR ligands such as T0901317 and GW3965 as well as an understanding of the direct involvement of these receptors in the regulation of proopiomelanocortin (POMC) gene expression and indirectly by producing a variety of cytokines in a stressor response, will open in the near future new therapeutic methods against the undesirable effects of stress on the behavior of the immune system.
Access options
Buy single article
Instant access to the full article PDF.
US$ 39.95
Tax calculation will be finalised during checkout.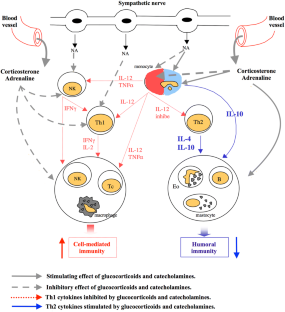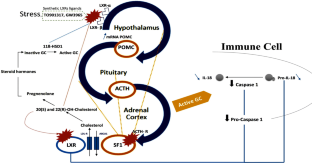 References
Aghaie B, Rejeh N, Heravi-Karimooi M, Ebadi A, Moradian ST, Vaismoradi M, Jasper M (2014) Effect of nature-based sound therapy on agitation and anxiety in coronary artery bypass graft patients during the weaning of mechanical ventilation: a randomised clinical trial. Int J Nurs Stud 51:526–538

Albers M et al (2005) A novel principle for partial agonism of LXR ligands: competitive recruitment of activators and repressors. J Biol Chem 281:4920–4930

Andersson G, Yardley L (2000) Time-series Analysis of the Relationship between dizziness and stress Scand J Psychol 41:49–54

Anderson DR, Collins PA, Schmitt KL, Jacobvitz RS (1996) Stressful life events and television viewing. Commun Res 23:243–260

Bachmann M, Paulukat J, Pfeilschifter J, Mühl H (2009) Molecular mechanisms of IL-18BP regulation in DLD-1 cells: pivotal direct action of the STAT1/GAS axis on the promoter level. J Cell Mol Med 13:1987–1994

Ban E, Haour F, Lenstra R (1992) Brain interleukin 1 gene expression induced by peripheral lipopolysaccharide administration. Cytokine 4:48–54

Barish GD, Evans RM (2004) A nuclear strike against Listeria—the evolving life of LXR. Cell 119:149–151

Bartzokis G (2011) Neuroglialpharmacology: white matter pathophysiologies and psychiatric treatments. Front Biosci (Landmark Ed) 16:2695–2733

Black S, Kushner I, Samols D (2004) C-reactive protein. J Biol Chem 279:48487–48490

Beijersbergen MD, Bakermans-Kranenburg MJ, Van IJzendoorn MH, Juffer F (2008) Stress regulation in adolescents: physiological reactivity during the adult attachment interview and conflict interaction. Child Dev 79:1707–1720

Björling EA (2009) The momentary relationship between stress and headaches in adolescent girls. Headache 49:1186–1197

Bodenmann G, Atkins DC, Schär M, Poffet V (2010) The association between daily stress and sexual activity. J Fam Psychol 24:271

Boscarino JA, Forsberg CW, Goldberg J (2010) A twin study of the association between PTSD symptoms and rheumatoid arthritis. Psychosom Med 72:481–486

Bryant J, Zillmann D (1984) Using television to alleviate boredom and stress: Selective exposure as a function of induced excitational states. J Broadcast Electron Media 28:1–20

Buckley TM, Schatzberg AF (2005) On the interactions of the hypothalamic-pituitary-adrenal (HPA) axis and sleep: normal HPA axis activity and circadian rhythm, exemplary sleep disorders. J Clin Endocrinol Metab 90:3106–3114

Buéno L, Collins S, Junien J-L (1989) Influence of different stressors on gastric. In: Stress and digestive motility. John Libbey & Co Ltd, pp 133–135

Bullock-Yowell E, Peterson GW, Reardon RC, Leierer SJ, Reed CA (2011) Relationships among career and life stress, negative career thoughts, and career decision state: a cognitive information processing perspective. Career Dev Q 59:302–314

Buttini M, Boddeke H (1995) Peripheral lipopolysaccharide stimulation induces interleukin-1β messenger RNA in rat brain microglial cells. Neuroscience 65:523–530

Camini FC, da Silva Caetano CC, Almeida LT, de Brito Magalhães CL (2017) Implications of oxidative stress on viral pathogenesis. Adv Virol 162:907–917

Carnevali L, Koenig J, Sgoifo A, Ottaviani C (2018) Autonomic and brain morphological predictors of stress resilience. Front Neurosci 12:228. https://doi.org/10.3389/fnins.2018.00228

Chawla A et al (2001) A PPARγ-LXR-ABCA1 pathway in macrophages is involved in cholesterol efflux and atherogenesis. Mol Cell 7:161–171

Chen M, Li W, Wang N, Zhu Y, Wang X (2007) ROS and NF-κB but not LXR mediate IL-1β signaling for the downregulation of ATP-binding cassette transporter A1. Am J Physiol Cell Physiol 292:C1493–C1501

Choi J, James Ou J-H (2006) Mechanisms of liver injury. III. Oxidative stress in the pathogenesis of hepatitis C virus. Am J Physiol Gastrointest Liver Physiol 290:G847–G851

Cummins C, Mangelsdorf D (2006) Liver X receptors and cholesterol homoeostasis: spotlight on the adrenal gland. Portland Press Limited, London

Dakic A, Metcalf D, Di Rago L, Mifsud S, Wu L, Nutt SL (2005) PU. 1 regulates the commitment of adult hematopoietic progenitors and restricts granulopoiesis. J Exp Med 201:1487–1502

Dan L (2010) In vitro study of Api6 expression in lipid loading and inflammatory macrophages. J Chongqing Med Univ 4:005

Dhabhar FS (2014) Effects of stress on immune function: the good, the bad, and the beautiful. Immunol Res 58:193–210

Dinarello CA, Netea MG (2014) The interleukin-1 family. In: Yoshimoto T, Yoshimoto T (eds) Cytokine frontiers. Springer, Tokyo, pp 3–51

Dunn NJ et al (2004) Personality disorders in veterans with posttraumatic stress disorder and depression. J Trauma Stress 17:75–82

Elenkov IJ, Chrousos GP (1999) Stress hormones, Th1/Th2 patterns, pro/anti-inflammatory cytokines and susceptibility to disease. Trends Endocrinol Metab 10:359–368

Ericsson A, Liu C, Hart R, Sawchenko P (1995) Type 1 interleukin-1 receptor in the rat brain: distribution, regulation, and relationship to sites of IL-1-induced cellular activation. J Comp Neurol 361:681–698

Evers AW et al (2014) Does stress affect the joints? Daily stressors, stress vulnerability, immune and HPA axis activity, and short-term disease and symptom fluctuations in rheumatoid arthritis. Ann Rheum Dis 73:1683–1688. https://doi.org/10.1136/annrheumdis-2012-203143

Ferris GR, Frink DD, Galang MC, Zhou J, Kacmar KM, Howard JL (1996) Perceptions of organizational politics: prediction, stress-related implications, and outcomes. Hum Relat 49:233–266

Fowler AJ et al (2003) Liver X receptor activators display anti-inflammatory activity in irritant and allergic contact dermatitis models: liver-X-receptor-specific inhibition of inflammation and primary cytokine production. J Investig Dermatol 120:246–255

Frih H, Bensaci L, Djenidi R, Rachedi BA, Tahraoui A, Fisson S (2013) Freund's complete adjuvant (FCA) could reverse the depressive-like symptoms induced by chronic mild stress (CMS) in mice. J Neurol Neurophysiol 4:22–25

Gates DM, Gillespie GL, Succop P (2011) Violence against nurses and its impact on stress and productivity. Nurs Econ 29:59

Ge Y, Qu W, Jiang C, Du F, Sun X, Zhang K (2014) The effect of stress and personality on dangerous driving behavior among Chinese drivers. Accid Anal Prev 73:34–40

Giebelen IA, van Westerloo DJ, LaRosa GJ, de Vos AF, van der Poll T (2007) Local stimulation of α7 cholinergic receptors inhibits LPS-induced TNF-α release in the mouse lung. Shock 28:700–703

Giraldi FP, Cassarino F, Pagliardini L, Asnaghi V, Cavagnini F (2011) The human POMC gene promoter: where do we stand? J Endocrinol Investig 34:454–460

Glaser R, Kiecolt-Glaser JK (1997) Chronic stress modulates the virus-specific immune response to latent herpes simplex virus type 1. Ann Behav Med 19:78–82

Glaser R, Kiecolt-Glaser JK (2005) Stress-induced immune dysfunction: implications for health. Nat Rev Immunol 5:243

Glaser R, Kiecolt-Glaser JK (2014) Handbook of human stress and immunity. Academic Press, Cambridge

Glass DC, Carver CS (2013) Environmental stress and the type A response. In: Advances in environmental psychology. Applications of personal control. vol 2, 1 edn. Psychology Press. Taylor & Francis, New York, pp 59–60. ISBN:9781134916580

Grahn P, Stigsdotter UA (2003) Landscape planning and stress. Urban For Urban Greening 2:1–18

Greenbaum PE, Cook III EW, Melamed BG, Abeles LA, Bush JP (1988) Sequential patterns of medical stress: maternal agitation and child distress. Child Fam Behav Ther 10:9–18

Gunnar MR, Brodersen L, Nachmias M, Buss K, Rigatuso J (1996) Stress reactivity and attachment security. Dev Psychobiol 29:191–204

Haddad JJ, Saadé NE, Safieh-Garabedian B (2002) Cytokines and neuro-immune-endocrine interactions: a role for the hypothalamic–pituitary–adrenal revolving axis. J Neuroimmunol 133:1–19

Hall M, Buysse DJ, Nowell PD, Nofzinger EA, Houck P, Reynolds III CF, Kupfer DJ (2000) Symptoms of stress and depression as correlates of sleep in primary insomnia. Psychosom Med 62:227–230

Han KS, Kim L, Shim I (2012) Stress and sleep disorder. Exp Neurobiol 21:141–150

Hammen C (2005) Stress and depression. Annu Rev Clin Psychol 1:293–319

Harling M, Strehmel P, Schablon A, Nienhaus A (2009) Psychosocial stress, demoralization and the consumption of tobacco, alcohol and medical drugs by veterinarians. J Occup Med Toxicol 4:4

Hashimoto K et al (2011) Liver X receptor-α/β expression ratio is increased in ACTH-secreting pituitary adenomas. Neurosci Lett 494:34–37

Henry JP, Stephens PM (2013) Stress, health, and the social environment: a sociobiologic approach to medicine. Springer, Berlin

Herman JP, Maroun M, Richter-Levin G (2015) Good stress, bad stress and very bad stress. Stress (Amst Neth) 18:267–268. https://doi.org/10.3109/10253890.2015.1087091

Jacobs MA, Spilken AZ, Norman MM, Anderson LS (1970) Life stress and respiratory illness. Psychosom Med 32:233–242

Jacobsen HB et al (2014) The role of stress in absenteeism: cortisol responsiveness among patients on long-term sick leave. PloS one 9:e96048

Jia-Jia S, Zhi-Yong S, Zhong-Lai Q, Hui-Lin Y, Xiao-Yu Z (2018) Tuberculous spondylitis after vertebral augmentation: a case report with a literature review. J Int Med Res 46:916–924. https://doi.org/10.1177/0300060517728008

Johnsen R (2008) Melancholy and the somatic subject of stress management. Ephemera Theory Polit Organ 8:26–40

Jones C, Page S (1986) Locus of control, assertiveness, and anxiety as personality variables in stress- related headaches. Headache 26:369–374

Joseph SB, Tontonoz P (2003) LXRs: new therapeutic targets in atherosclerosis? Curr Opin Pharmacol 3:192–197

Joseph SB et al (2004) LXR-dependent gene expression is important for macrophage survival and the innate immune response. Cell 119:299–309

Keyes KM, Hatzenbuehler ML, Hasin DS (2011) Stressful life experiences, alcohol consumption, and alcohol use disorders: the epidemiologic evidence for four main types of stressors. Psychopharmacology 218:1–17

Kidani Y, Bensinger SJ (2012) Liver X receptor and peroxisome proliferator-activated receptor as integrators of lipid homeostasis and immunity. Immunol Rev 249:72–83

Kidd P (2003) Th1/Th2 balance: the hypothesis, its limitations, and implications for health and disease. Altern Med Rev 8:223–246

Klaus HD (2014) Frontiers in the bioarchaeology of stress and disease: Cross-disciplinary perspectives from pathophysiology, human biology, and epidemiology. Am J Phys Anthropol 155:294–308

Kunz E (2014) Henri Laborit and the inhibition of action. Dialogues Clin Neurosci 16:113–117

Kupriyanov R, Zhdanov R (2014) The eustress concept: problems and outlooks. World J Med Sci 11:179–185

Lagraauw HM, Kuiper J, Bot I (2015) Acute and chronic psychological stress as risk factors for cardiovascular disease: Insights gained from epidemiological, clinical and experimental studies. Brain Behav Immun 50:18–30

Layé S, Parnet P, Goujon E, Dantzer R (1994) Peripheral administration of lipopolysaccharide induces the expression of cytokine transcripts in the brain and pituitary of mice. Mol Brain Res 27:157–162

Lee S-J et al (2013) Immunostimulatory activity of polysaccharides from Cheonggukjang. Food Chem Toxicol 59:476–484

Lehmann JM et al (1997) Activation of the nuclear receptor LXR by oxysterols defines a new hormone response pathway. J Biol Chem 272:3137–3140

Levi L (2016) Sympathoadrenomullary responses to pleasant and unpleasanCoupert stimuli. In: Stress and distress in response to psychosocial stimuli: laboratory and real-life studies on sympatho-adrenomedullary and related reactions. Pergamon. Elsevier, pp 55–71

Lundberg U et al (1999) Psychophysiological stress responses, muscle tension, and neck and shoulder pain among supermarket cashiers. J Occup Health Psychol 4:245–255

Martin LB (2009) Stress and immunity in wild vertebrates: timing is everything. Gen Comp Endocrinol 163:70–76

Marzec ML, Scibelli A, Edington D (2015) Impact of changes in medical condition burden index and stress on absenteeism among employees of a US utility company. Int J Workplace Health Manag 8:15–33

Matalonga J et al (2017) The nuclear receptor LXR limits bacterial infection of host macrophages through a mechanism that impacts cellular NAD metabolism. Cell Rep 18:1241–1255

Matthews G (2016) Distress. In: Fink G (eds) Stress: concepts, cognition, emotion, and behavior. Academic Press, Elsevier, Amsterdam, pp 219–226

Matthews G, Campbell SE (1998) Task-induced stress and individual differences in coping. In: Proceedings of the human factors and ergonomics society annual meeting, vol 11. SAGE Publications Sage CA, Los Angeles, CA, pp 821–825

McEwen BS, Bowles NP, Gray JD, Hill MN, Hunter RG, Karatsoreos IN, Nasca C (2015) Mechanisms of stress in the brain. Nat Neurosci 18:1353

Merlot E, Moze E, Dantzer R, Neveu PJ (2003) Importance of fighting in the immune effects of social defeat. Physiol Behav 80:351–357

Miller DB, O'Callaghan JP (2002) Neuroendocrine aspects of the response to stress. Metabolism 51:5–10

Miller GE, Chen E, Zhou ES (2007) If it goes up, must it come down? Chronic stress and the hypothalamic-pituitary-adrenocortical axis in humans. Psychol Bull 133:25

Mitro N et al (2007) The nuclear receptor LXR is a glucose sensor. Nature 445:219

Mosmann TR, Sad S (1996) The expanding universe of T-cell subsets: Th1, Th2 and more. Immunol Today 17:138–146

Neveu P, Crestani F, Moal ML (1987) Conditioned immunosuppression. A new methodological approach. Ann N Y Acad Sci 496:595–601

Niederberger E, Geisslinger G (2010) Analysis of NF-κB signaling pathways by proteomic approaches. Exp Rev Proteom 7:189–203

Noschang CG et al (2009) Sex-specific differences on caffeine consumption and chronic stress-induced anxiety-like behavior and DNA breaks in the hippocampus. Pharmacol Biochem Behav 94:63–69

O'Donovan A, Cohen BE, Seal KH, Bertenthal D, Margaretten M, Nishimi K, Neylan TC (2015) Elevated risk for autoimmune disorders in Iraq and Afghanistan veterans with posttraumatic stress disorder. Biol Psychiat 77:365–374

Orth U, Robins RW, Meier LL (2009) Disentangling the effects of low self-esteem and stressful events on depression: findings from three longitudinal studies. J Pers Soc Psychol 97:307

Padgett DA, Glaser R (2003) How stress influences the immune response. Trends Immunol 24:444–448

Palomo J, Dietrich D, Martin P, Palmer G, Gabay C (2015) The interleukin (IL)-1 cytokine family—balance between agonists and antagonists in inflammatory diseases. Cytokine 76:25–37

Pascual-García M, Valledor AF (2012) Biological roles of liver X receptors in immune cells. Archivum immunologiae et therapiae experimentalis 60:235–249

Penney LM, Spector PE (2005) Job stress, incivility, and counterproductive work behavior (CWB): the moderating role of negative affectivity. J Organ Behav 26:777–796

Perrewe PL, Ganster DC (1989) The impact of job demands and behavioral control on experienced job stress. J Organ Behav 10:213–229

Pieterse AL, Carter RT, Ray KV (2013) Racism-related stress, general life stress, and psychological functioning among Black American women. J Multicultural Couns Dev 41:36–46

Pourcet B et al (2011) LXRα regulates macrophage arginase 1 through PU.1 and interferon regulatory factor 8. Circ Res 109:492–501

Powell N, Tarr A, Sheridan JF (2013) Psychosocial stress and inflammation in cancer. Brain Behav Immun 30:S41–S47

Pruessner JC, Hellhammer DH, Kirschbaum C (1999) Low self-esteem, induced failure and the adrenocortical stress response. Pers Individ Differ 27:477–489

Rahnama N, Namazizadeh M, Etemadifar M, Bambaeichi E, Arbabzadeh S, Sadeghipour HR (2011) Effects of yoga on depression in women with multiple sclerosis. J Isfahan Med School 29:1–8

Riggs DS, Byrne CA, Weathers FW, Litz BT (1998) The quality of the intimate relationships of male Vietnam veterans: Problems associated with posttraumatic stress disorder. J Trauma Stress 11:87–101

Romagnani S (1997) The th1/th2 paradigm. Immunol Today 18:263–266

Rothwell NJ, Luheshi GN (2000) Interleukin 1 in the brain: biology, pathology and therapeutic target. Trends Neurosci 23:618–625

Sahasrabuddhe A (2017) Endocrine-immune cross talk. Endocrinol Res Metab 1:1

Saito-Hakoda A et al (2015) Effects of RXR agonists on cell proliferation/apoptosis and ACTH Secretion/Pomc expression. PLoS ONE 10:e0141960

Sassaroli S, Ruggiero GM (2005) The role of stress in the association between low self-esteem, perfectionism, and worry, and eating disorders. Int J Eat Disord 37:135–141

Science AAftAo (2004) Liver X receptors in bacterial clearance. Sci Signal 2004:tw381

Shin LM, Liberzon I (2010) The neurocircuitry of fear, stress, and anxiety disorders. Neuropsychopharmacology 35:169

Siegert R, Abernethy D (2005) Depression in multiple sclerosis: a review. J Neurol Neurosurg Psychiatry 76:469–475

Snyder M, Egan EC, Burns KR (1995) Efficacy of hand massage in decreasing agitation behaviors associated with care activities in persons with dementia: a simple, easily instituted method of relaxation may decrease agitation and disruptive behaviors. Geriatr Nurs 16:60–63

Spann NJ, Glass CK (2013) Sterols and oxysterols in immune cell function. Nat Immunol 14:893

Spielberger CD, Reheiser EC, Sydeman SJ (2014) Measuring the experience, expression, and control of anger. In: Anger disorders: definition, diagnosis, and treatment. Taylor and Francis, pp 49–65

Srikandakumar A, Johnson E, Mahgoub O (2003) Effect of heat stress on respiratory rate, rectal temperature and blood chemistry in Omani and Australian Merino sheep. Small Ruminant Res 49:193–198

Steffensen KR, Gustafsson JA (2004) Putative metabolic effects of the liver X receptor (LXR). Diabetes 53(Suppl 1):S36–S42

Stevens NR, Gerhart J, Goldsmith RE, Heath NM, Chesney SA, Hobfoll SE (2013) Emotion regulation difficulties, low social support, and interpersonal violence mediate the link between childhood abuse and posttraumatic stress symptoms. Behav Ther 44:152–161

Stoliker BE, Lafreniere KD (2015) The influence of perceived stress, loneliness, and learning burnout on university students' educational experience. Coll Student J 49:146–160

Stolte EH, Nabuurs SB, Bury NR, Sturm A, Flik G, Savelkoul HF, Verburg-van Kemenade BL (2008) Stress and innate immunity in carp: corticosteroid receptors and pro-inflammatory cytokines. Mol Immunol 46:70–79

Surkin PN, Brenhouse H, Deak T, Liberman AC, Lasaga M (2018) Stress, alcohol and infection during early development: a brief review of common outcomes and mechanisms. J Neuroendocrinol 30:e12602. https://doi.org/10.1111/jne.12602

Szabo S (2016) Stress is 80 years old: distress vs. eustress. In: Summer School on Stress (June 13–17, 2016 Osijek, Croatia) 40, Faculty of Medcine Osijek, NY

Takahashi A, Flanigan ME, McEwen BS, Russo SJ (2018) Aggression, Social Stress, and the Immune System in Humans and Animal Models. Front Behav Neurosci 12:56. https://doi.org/10.3389/fnbeh.2018.00056

Takao T, Tracey DE, Mitchell WM, De EBS (1990) Interleukin-1 receptors in mouse brain: characterization and neuronal localization. Endocrinology 127:3070–3078

Torres OV, O'dell LE (2016) Stress is a principal factor that promotes tobacco use in females. Prog Neuropsychopharmacol Biol Psychiatry 65:260–268

Trembinski D (2011) Comparing premodern melancholy/mania and modern trauma: an argument in favor of historical experiences of trauma. Hist Psychol 14:80–99

Trevarthen C, Aitken KJ, Vandekerckhove M, Delafield-Butt J, Nagy E (2015) Collaborative regulations of vitality in early childhood: stress in intimate relationships and postnatal psychopathology. Dev Neurosci 2:65–126

Valledor AF, Hsu L-C, Ogawa S, Sawka-Verhelle D, Karin M, Glass CK (2004) Activation of liver X receptors and retinoid X receptors prevents bacterial-induced macrophage apoptosis. Proc Natl Acad Sci 101:17813–17818

van Dam AM, Poole S, Schultzberg M, Zavala F, Tilders FJ (1998) Effects of peripheral administration of LPS on the expression of immunoreactive interleukin-1α, β, and receptor antagonist in rat brain. Ann N Y Acad Sci 840:128–138

Vandermersch B (2014) L'inhibition est-elle un concept psychanalytique? La clinique lacanienne 26:101–114

Vedhara K et al (1999) Chronic stress in elderly carers of dementia patients and antibody response to influenza vaccination. The Lancet 353:627–631

Wang D et al (2011) Synthetic LXR agonist T0901317 attenuates lipopolysaccharide-induced acute lung injury in rats. Int Immunopharmacol 11:2098–2103

Zellner DA, Loaiza S, Gonzalez Z, Pita J, Morales J, Pecora D, Wolf A (2006) Food selection changes under stress. Physiol Behav 87:789–793

Zhang S, Liu Q, Wang J, Harnish DC (2009) Suppression of interleukin-6-induced C-reactive protein expression by FXR agonists. Biochem Biophys Res Commun 379:476–479

Zhao C, Dahlman-Wright K (2010) Liver X receptor in cholesterol metabolism. J Endocrinol 204:233–240

Zheng BB, Zhang Y, Sun NN, Huang WH, Meng Y (2018) Role and mechanism of lipopolysaccharide induced exosome in the pathogenesis of acute lung injury. Zhonghua yi xue za zhi 98:1780–1785. https://doi.org/10.3760/cma.j.issn.0376-2491.2018.22.011

Zhou JY, Zhong HJ, Yang C, Yan J, Wang HY, Jiang JX (2010) Corticosterone exerts immunostimulatory effects on macrophages via endoplasmic reticulum stress. Br J Surg 97:281–293

Zlomke KR, Jeter KM (2014) Stress and worry: examining intolerance of uncertainty's moderating effect. Anxiety Stress Coping 27:202–215
Acknowledgements
A special thanks to Boudoumi Fatiha Djeradi Chaima, Nessaibia Hiba and Mohamed without them this work would never be done.
About this article
Cite this article
Nessaibia, I., Fouache, A., Lobaccaro, JM.A. et al. Stress as an immunomodulator: liver X receptors maybe the answer. Inflammopharmacol 27, 15–25 (2019). https://doi.org/10.1007/s10787-018-0546-1
Received:

Accepted:

Published:

Issue Date:
Keywords
Stress

Th1/Th2 balance

Liver X receptors

Infectious diseases

Hypothalamus pituitary adrenal (HPA)