Abstract
Multiple sclerosis (MS) is an autoimmune disease leading to the destruction of myelin with consequent axonal degeneration and severe physical debilitation. The disease can be treated with immunosuppressive drugs that alleviate the symptoms and retard disease aggravation. One such drug in clinical use is glatiramer acetate (Copaxone). The non-psychotropic immunosuppressive cannabinoid compound cannabidiol (CBD) has recently been shown to have beneficial effects on experimental autoimmune encephalomyelitis (EAE). The aim of our study was to compare the efficacy of CBD and standardized extracts from a CBD-rich, ∆9-THClowCannabis indica subspecies (Avidekel) with that of Copaxone. Our data show that CBD and purified Avidekel extracts are as efficient as Copaxone to alleviate the symptoms of proteolipid protein (PLP)-induced EAE in SJL/J mice. No synergistic effect was observed by combining CBD or Avidekel extracts with Copaxone. Our data support the use of Avidekel extracts in the treatment of MS symptoms.
This is a preview of subscription content, log in to check access.
Access options
Buy single article
Instant access to the full article PDF.
US$ 39.95
Price includes VAT for USA
Subscribe to journal
Immediate online access to all issues from 2019. Subscription will auto renew annually.
US$ 99
This is the net price. Taxes to be calculated in checkout.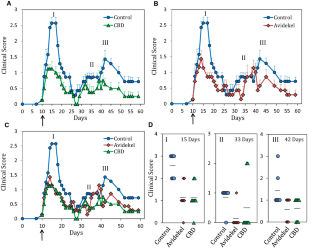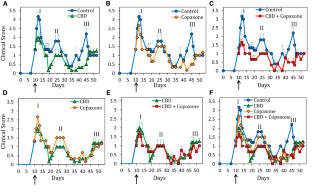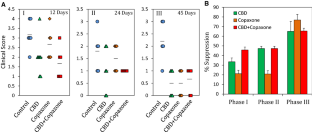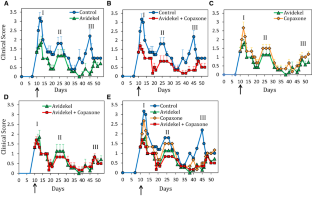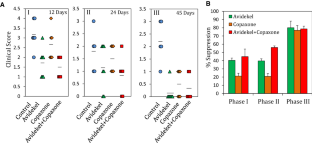 Abbreviations
CBD:

Cannabidiol

CNS:

Central nervous system

EAE:

Experimental autoimmune encephalomyelitis

MS:

Multiple sclerosis

PLP:

Proteolipid protein
References
Arnon R (1996) The development of Cop 1 (Copaxone), an innovative drug for the treatment of multiple sclerosis: personal reflections. Immunol Lett 50:1–15

Burstein S (2015) Cannabidiol (CBD) and its analogs: a review of their effects on inflammation. Bioorg Med Chem 23:1377–1385

Gallily R, Yekhtin Z, Hanuš L (2015) Overcoming the bell-shaped dose-response of cannabidiol by using cannabis extract enriched in cannabidiol. Pharmacol Pharmacy 6:75–85

Giacoppo S, Bramanti P, Mazzon E (2017) Sativex in the management of multiple sclerosis-related spasticity: an overview of the last decade of clinical evaluation. Mult Scler Relat Disord 17:22–31

Hemmer B, Kerschensteiner M, Korn T (2015) Role of the innate and adaptive immune responses in the course of multiple sclerosis. Lancet Neurol 14:406–419

Holm S (1979) A simple sequentially rejective multiple test procedure. Scand J Stat 6:65–70

Malfait AM, Gallily R, Sumariwalla PF, Malik AS, Andreakos E, Mechoulam R, Feldmann M (2000) The nonpsychoactive cannabis constituent cannabidiol is an oral anti-arthritic therapeutic in murine collagen-induced arthritis. Proc Natl Acad Sci U S A 97:9561–9566

McCarthy DP, Richards MH, Miller SD (2012) Mouse models of multiple sclerosis: experimental autoimmune encephalomyelitis and Theiler's virus-induced demyelinating disease. Methods Mol Biol 900:381–401

Rahimi A, Faizi M, Talebi F, Noorbakhsh F, Kahrizi F, Naderi N (2015) Interaction between the protective effects of cannabidiol and palmitoylethanolamide in experimental model of multiple sclerosis in C57BL/6 mice. Neuroscience 290:279–287

Reich DS, Lucchinetti CF, Calabresi PA (2018) Multiple Sclerosis N Engl J Med 378:169–180

Teitelbaum D, Meshorer A, Hirshfeld T, Arnon R, Sela M (1971) Suppression of experimental allergic encephalomyelitis by a synthetic polypeptide. Eur J Immunol 1:242–248

Weiss L, Zeira M, Reich S, Slavin S, Raz I, Mechoulam R, Gallily R (2008) Cannabidiol arrests onset of autoimmune diabetes in NOD mice. Neuropharmacology 54:244–249
Acknowledgement
The authors would like to thank Dr. Ronit Sionov for her valuable editorial assistance.
About this article
Cite this article
Gallily, R., Yekhtin, Z. Avidekel Cannabis extracts and cannabidiol are as efficient as Copaxone in suppressing EAE in SJL/J mice. Inflammopharmacol 27, 167–173 (2019). https://doi.org/10.1007/s10787-018-0536-3
Received:

Accepted:

Published:

Issue Date:
Keywords
Avidekel extracts

Cannabidiol (CBD)

Cannabis

Experimental autoimmune encephalomyelitis (EAE)

Immunosuppression