Abstract
In this study, we evaluated the preventive and curative effects of ethanolic extract of Propolis (EEP) during α-Tropomyosin-induced uveitis in an experimental model using Wistar rats, through the regulation of inducible nitric oxide synthase (NOS2) and arginase-1. In this context, rats received daily injection of EEP (100 mg/kg) for 5 days prior to immunization or for 9 days commencing 5 days post immunization with α-Tropomyosin extract, then were sacrificed at day 14. Histological examination, NOS2, arginase-1, and nuclear factor-κB (NF-κB) expression were evaluated in the retinas. Plasmatic production of nitric oxide (NO), urea, IL-4, and TNF-α was assessed. We have found that treatment with EEP substantially reduced the retinal histological damages induced by α-Tropomyosin. In the same context, a significant decrease of NO and TNF-α levels was noticed. Interestingly, EEP down-modulated NOS2 and NF-κB expression in retina. Also, an increase in urea and IL-4 levels was concomitant to an up-modulation of arginase-1 expression. Hence, it appears that EEP attenuated retinal damages through the induction of Th2 response and the inhibition of NF-κB/NOS2 pathway.
Access options
Buy single article
Instant access to the full article PDF.
US$ 39.95
Tax calculation will be finalised during checkout.
Subscribe to journal
Immediate online access to all issues from 2019. Subscription will auto renew annually.
US$ 79
Tax calculation will be finalised during checkout.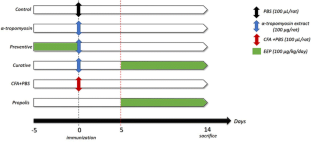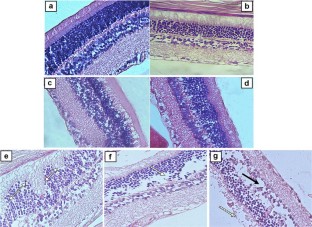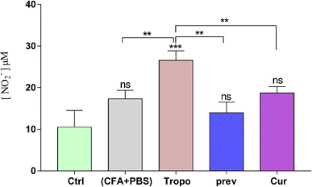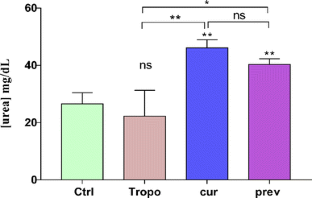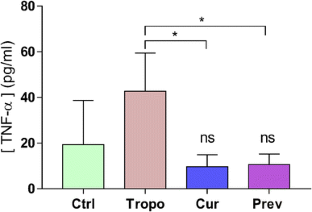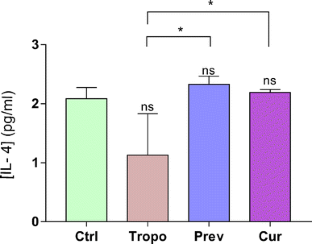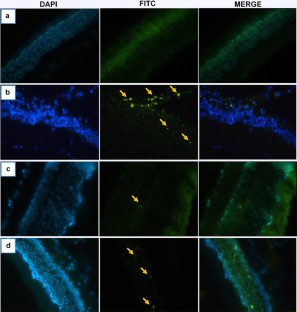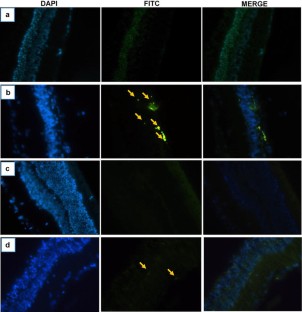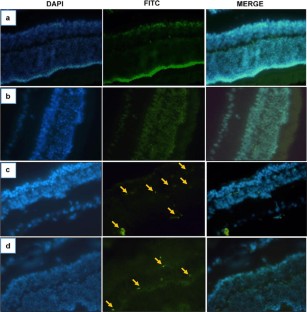 References
Arroul-Lammali A, Djeraba Z, Belkhelfa M et al (2012) Early involvement of nitric oxide in mechanisms of pathogenesis of experimental autoimmune uveitis induced by interphotoreceptor retinoid-binding protein (IRBP). J Fr Ophtalmol 35:251–259

Baharav E, Weinberger A, Mor F (2006) Experimental models of Behçet's disease. Drug Discov Today 3:11–14

Bankova V, de Castro SL (2000) Propolis: recent advances in chemistry and plant origin. Apidologie 31:3–15

Banskota AH, Yasuhiro Tezuka Y, Kadota S (2001) Recent progress in pharmacological research of Propolis. Phytother Res 15:561–571

Barroso MV, Cattani-Cavalieri I, Brito-Gitirana L et al (2017) Propolis reversed cigarette smoke-induced emphysema through macrophage alternative activation independent of Nrf2. Bio Med Chem 25:5557–5568

Belguendouz H, Lahmar-Belguendouz K, Messaoudene D et al (2015) Cytokines modulate the immune-metabolism interactions during Behçet disease: effect on arginine metabolism. Int J Inflamm 2015:1–9

Blonska M, Bronikowska J, Pietsz G et al (2004) Effects of ethanol extract of Propolis (EEP) and its flavones on inducible gene expression in J774A.1 macrophages. J Ethnopharmacol 91:25–30

Búfalo MC, Ferreira I, Costa G et al (2013) Propolis and its constituent caffeic acid suppress LPS-stimulated pro-inflammatory response by blocking NF-κB and MAPK activation in macrophages. J Ethnopharmacol 149:84–92

Caspi RR, Chan C, Wiggert B et al (1990) The mouse as a model of experimental autoimmune uveoretinitis (EAU). Curr Eye Res 9:169–174

Choi JH, Roh KH, Oh H et al (2015) Caffeic acid phenethyl ester lessens disease symptoms in an experimental autoimmune uveoretinitis mouse model. Exp Eye Res 134:53–62

Corraliza IM, Soler G, Eichmann K et al (1995) Arginase induction by suppressors nitric oxide synthesis (IL-4, IL-10 and PGE2) in murine bone-marrow-derived macrophages. Bioch Biophy Res Commun 206:667–673

Djeraba Z, Arroul-Lammali A, Medjeber O et al (2010) Nitric oxide, biomarker of experimental autoimmune uveitis induced by S antigen. J Fr Ophtalmol 33:693–700

Emre S, Yılmaz Z, Öztürk F et al (2009) Propolis prevents the effects of chronic alcohol intake on ocular tissues. Ophthalmic Res 42:147–151

Ertürküner SP, Saraç EY, Göçmez SS et al (2016) Anti-inflammatory and ultrastructural effects of Turkish Propolis in a rat model of endotoxin-induced uveitis. Folia histo cyto 54:49–57

Grange M, Davey RW (1990) Antibacterial properties of Propolis (bee glue). J R Soc Med 83:159–160

Hirose S, Kuwabara T, Nussenblatt RB et al (1985) Uveitis induced in primates by interphotoreceptor retinoid-binding protein. Arch Ophthalmol 104:1698–1702

Inokuchi Y, Shimazawa M, Nakajima Y et al (2006) Brazilian green propolis protects against retinal damage in vitro and in vivo. Evid Based Complement Altern Med 3(1):71–77

Kitamura H, Naoe Y, Kimura S et al (2013) Beneficial effects of Brazilian Propolis on type 2 diabetes in ob/ob mice. Adipocyte 4:227–236

Koga T, Koshiyama Y, Gotoh T et al (2002) Coinduction of nitric oxide synthase and arginine metabolic enzymes in endotoxin-induced uveitis rats. Exp Eye Res 75:659–667

Lahmar-Belguendouz K, Belguendouz H, Hartani D et al (2013) Effects of peroxynitrite derived from nitric oxide on cultured bovine ocular explants. J Fr Ophtalmol 36(1):41–49

Lin JJC, Helfman DM, Hughes SH et al (1985) Tropomyosin isoforms in chicken embryo fibroblasts: purification, characterization, and changes in Rous sarcoma virus-transformed cells. J Cell Biol 100:692–703

Liversidge J, Dick A, Gordon S (2002) Nitric oxide mediates apoptosis through formation of peroxynitrite and fas/fas-ligand interactions in experimental autoimmune uveitis. Am J Path 160:1–3

Mahesh SP, Li Z, Buggage R et al (2005) Alpha tropomyosin as a self-antigen in patients with Behçet's disease. Clin Exp Immunol 140:368–375

Márquez N, Sancho R, Macho A et al (2004) Caffeic acid phenethyl ester inhibits t-cell activation by targeting both nuclear factor of activated t-cells and NF-B transcription factors. J Pharmacol Exp Ther 308(3):993–1001

Medjeber O, Touri K, Rafa H, et al. (2018) Ex vivo immunomodulatory effect of ethanolic extract of Propolis during Celiac disease: involvement of nitric oxide pathway. Inflammopharmacology (Epub ahead of print)

Miguel MG, Nunes S, Dandlen SA et al (2012) Phenols, flavonoids and antioxidant activity of aqueous and methanolic extracts of Propolis (Apis mellifera L.) from Algarve, South Portugal. Food Sci Technol 34:16–23

Mor F, Weinberger A, Cohen IR (2002) Identification of alpha-tropomyosin as a target self-antigen in Behçet's syndrome. Eur J Immunol 32:356–365

Mori M (2007) Regulation of nitric oxide synthesis and apoptosis by arginase and arginine recycling. J Nutr 137:1616–1620

Orsi RO, Funari SRC, Soares AMVC et al (2000) Immunomodulatory action of Propolis on macrophage activation. J Venom Anim Toxins 6:1–9

Öztürk F, Kurt E, Emiroǧlu L, Sobaci G et al (1999) Effect of Propolis on endotoxin-induced uveitis in rabbits. Jpn J Ophthalmol 43:285–289

Pineton de Chambrun M, Wechsler B, Geri G et al (2012) New insights into the pathogenesis of Behçet's disease. Autoimmun Rev 11:687–698

Rath M, Müller I, Kropf P et al (2014) Metabolism via arginase or nitric oxide synthase: two competing arginine pathways in macrophages. Front Immunol 5:1–10

Sforcin JM (2007) Propolis and the immune system: a review. J Ethnopharmacol 113:1–14

Togashi H, Sasaki M, Frohman E et al (1997) Neuronal (type I) nitric oxide synthase regulates nuclear factor kappaB activity and immunologic (type II) nitric oxide synthase expression. Proc Natl Acad Sci 94:2676–2680

Toreti VC, Sato HS, Pastore GM et al (2013) Recent progress of propolis for its biological and chemical compositions and its botanical origin. Evid Based Complement Altern Med 2013:1–13

Touil-Boukoffa C, Bauvois B, Sanceau J et al (1998) Production of nitric oxide (NO) in human hydatidosis. Relationship between nitrite production and interferon gamma levels. Biochimie 80:739–744

Tϋrsen U (2012) Pathophysiology of the Behçet's disease. Pathol Res Int 2012:1–11

Wang K, Hu L, Jin XL et al (2013) Molecular mechanisms underlying the in vitro anti-inflammatory effects of flavonoid rich ethanol extract from Chinese Propolis. Evid Based Complement Altern Med. 2013:1–11

Wang K, Hu L, Jin XL et al (2015) Polyphenol-rich propolis extracts from China and Brazil exert anti-inflammatory effects by modulating ubiquitination of TRAF6 during the activation of NF-κB. J Func Foods 19:464–478

Wink DA, Hanbauer I, Grisham MB et al (1996) Chemical biology of nitric oxide: regulation and protective and toxic mechanisms. Curr Top Cell Regul 34:159–187

Wu GS, Zhang J, Rao NA (1997) Peroxynitrite and oxidative damage in experimental autoimmune uveitis. Investig Ophthalmol Vis Sci 38:1333–1339

Xie QW, Kashiwabara Y, Nathan C (1994) Role of transcription factor NF-kappa B/Rel in induction of nitric oxide synthase. J Biol Chem 269:4705–4708

Yamamoto JH, Minami M, Inaba G et al (1993) Cellular autoimmunity to retinal specific antigens in patients with Behçet's disease. Br J Ophthalmol 77:584–589

Yang CH, Fang IM, Lin CP et al (2005) Effects of the NF-kB inhibitor pyrrolidine dithiocarbamate on experimentally induced autoimmune anterior uveitis. Investig Ophthalmol Vis Sci 46:1339–1347

Yehuda SB, Luger D, Ochaion A et al (2011) Inhibition of experimental auto-immune uveitis by the A3 adenosine receptor agonist CF101. Int J Mol Med 753:1–5

Yildirim O (2012) Animal models in Behçet's disease. Pathol Res Int 2012:1–8

Zeghidia H, Saadoun D, Bodaghia B (2014) Ocular manifestations in Behçet's disease. Rev Med Int 35:97–102

Zhang J, Wu LY, Wu GS et al (1999) Differential expression of nitric oxide synthase in experimental uveoretinitis. Invest Ophthalmol Vis Sci 40:1899–1905
Acknowledgements
The authors would like to thank the beekeeper Mohamed Kacioui for the generous gift of crude Propolis. Also, Fayçal Medjeber and Dalila Laid (Spectrol Lab. Algeria) for their technical assistance.
Ethics declarations
Conflict of interest
The authors report no declarations of interest.
About this article
Cite this article
Touri, K., Belguendouz, H., Medjeber, O. et al. Propolis modulates NOS2/arginase-1 pathway in tropomyosin-induced experimental autoimmune uveitis. Inflammopharmacol 26, 1293–1303 (2018). https://doi.org/10.1007/s10787-018-0487-8
Received:

Accepted:

Published:

Issue Date:
Keywords
Propolis

α-Tropomyosin

Uveitis

NOS2

Arginase-1

Immuno modulation