Abstract
Objective
To compare the potential protective effects of conventional and colon-targeted lycopene (TLC) and linalool (TLN) on acetic acid (AA)-induced ulcerative colitis (UC) in rats.
Methods
Conventional and colon-targeted LC (10 mg/kg) and LN (200 mg/kg) were administered in vivo orally for 7 days and sulfasalazine (100 mg/kg) was also used as reference drug. Then, 4% AA was administered intrarectally to induce UC. Subsequently, the colon tissues were taken as samples for biochemical and histopathological analysis.
Results
Malondialdehyde (MDA), interleukin 1β (IL-1β), IL-6, cyclooxygenase-2 (COX-2) and nuclear factor kappa B (NF-κB) levels were decreased (p < 0.05) in the targeted groups compared to the AA group, whereas nuclear factor-erythroid 2-related factor 2 (Nrf-2) level was increased (p < 0.05). Tumor necrosis factor α (TNF-α) level was also decreased (p < 0.05) and catalase activity (CAT) was increased (p < 0.05) in the TLC group compared to the AA group. IL-1β and IL-6 levels were lower in the TLC group compared to the conventional LC and sulfasalazine groups (p < 0.05). COX-2 and NF-κB levels were lower, while the Nrf-2 level was higher in the targeted groups compared to the conventional groups (p < 0.05). Furthermore, COX-2 level was lower and Nrf-2 level was higher in the targeted groups compared to the sulfasalazine group (p < 0.05).
Conclusion
As expected, sulfasalazine was effective on all parameters analyzed, but the colon-targeted pretreatments were more effective from sulfasalazine on some parameters. Therefore, colon-targeted plant-derived therapies might be alternative approaches to provide protection against UC, which deserves to be investigated further.
Access options
Buy single article
Instant access to the full article PDF.
US$ 39.95
Tax calculation will be finalised during checkout.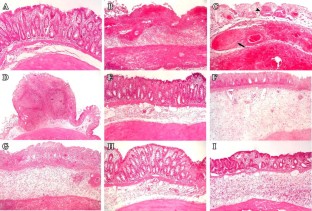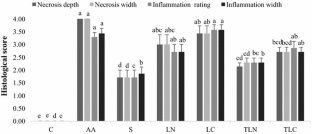 References
Ackerman Z, Karmeli F, Cohen P, Rachmilewitz D (2003) Experimental colitis in rats with portal hypertension and liver disease. Inflamm Bowel Dis 9:18–24

Aebi H (1984) Catalase in vitro assay methods. Methods Enzymol 105:121–126

Ali H, Weigmann B, Neurath MF, Collnot EM, Windbergs M, Lehr CM (2014) Budesonide loaded nanoparticles with pH-sensitive coating for improved mucosal targeting in mouse models of inflammatory bowel diseases. J Control Release 183:167–177

Almeer RS, Mahmoud SM, Amin HK, Abdel Moneim AE (2018) Ziziphus spina–christi fruit extract suppresses oxidative stress and p38 MAPK expression in ulcerative colitis in rats via induction of Nrf2 and HO-1 expression. Food Chem Toxicol. https://doi.org/10.1016/j.fct.2018.03.002

Al-Rejaie SS, Abuohashish HM, Al-Enazi MM, Al-Assaf AH, Parmar MY, Ahmed MM (2013) Protective effect of naringenin on acetic acid-induced ulcerative colitis in rats. World J Gastroenterol 9(34):5633–5644

Amirshahrokhi K, Bohlooli S, Chinifroush MM (2011) The effect of methylsulfonylmethane on the experimental colitis in the rat. Toxicol Appl Pharmacol 253(3):197–202

Ananthakrishnan AN (2015) Epidemiology and risk factors for IBD. Nat Rev Gastroenterol Hepatol 12(4):205–217

Andrews C, McLean MH, Durum SK (2016) Interleukin-27 as a novel therapy for inflammatory bowel disease: a critical review of the literature. Inflamm Bowel Dis 22(9):2255–2264

Atessahin A, Ceribası AO, Yılmaz S (2007) Lycopene, a carotenoid, attenuates cyclosporine-induced renal dysfunction and oxidative stress in rats. Basic Clin Pharmacol Toxicol 100(6):372–376

Balmus IM, Ciobica A, Trifan A, Stanciu C (2016) The implications of oxidative stress and antioxidant therapies in inflammatory bowel disease: clinical aspects and animal models. Saudi J Gastroenterol 22(1):3–17

Baumgart DC, Carding SR (2007) Inflammatory bowel disease: cause and immunobiology. Lancet 369(9573):1627–1640

Beutler E (1975) Red cell metabolism: a manual of biochemical methods. Grune Stratton, New York, pp 67–69

Cha JH, Kim WK, Ha AW, Kim MH, Chang MJ (2017) Anti-inflammatory effect of lycopene in SW480 human colorectal cancer cells. Nutr Res Pract 11(2):90–96

Cho EJ, Shin JS, Noh YS, Cho YW, Hong SJ, Park JH, Lee JY, Lee JY, Lee KT (2011) Anti-inflammatory effects of methanol extract of Patrinia scabiosaefolia in mice with ulcerative colitis. J Ethnopharmacol 136(3):428–435

Contran RS, Kumar V, Collins T (2005) Robbins's pathological basis of disease, 7th edn. Saunders, Philadelphia, p 815

D'Argenio G, Mazzone G, Tuccillo C, Ribecco MT, Graziani G, Gravina AG, Caserta S, Guido S, Fogliano V, Caporaso N, Romano M (2012) Apple polyphenols extract (APE) improves colon damage in a rat model of colitis. Dig Liver Dis 44(7):555–562

De Kumar A, Datta S, Mukherjee A (2013) Application of an amine functionalized biopolymer in the colonic delivery of glycyrrhizin: a design and in vivo efficacy study. Sci Pharm 81(4):1101–1122

Debnath T, Kim DH, Lim BO (2013) Natural products as a source of anti-inflammatory agents associated with inflammatory bowel disease. Molecules 18(6):7253–7270

El-Ashmawy NE, Khedr NF, El-Bahrawy HA, El-Adawy SA (2017) Downregulation of iNOS and elevation of cAMP mediate the anti-inflammatory effect of glabridin in rats with ulcerative colitis. Inflammopharmacology. https://doi.org/10.1007/s10787-017-0373-9

Ellman G (1959) Tissue sulphydryl groups. Arch Biochem Biophys 82:70–77

Feng D, Ling WH, Duan RD (2010) Lycopene suppresses LPS-induced NO and IL-6 production by inhibiting the activation of ERK, p38MAPK, and NF-kappaB in macrophages. Inflamm Res 59(2):115–121

Ferrari D, Speciale A, Cristani M, Fratantonio D, Molonia MS, Ranaldi G, Saija A, Cimino F (2016) Cyanidin-3-O-glucoside inhibits NF-kB signalling in intestinal epithelial cells exposed to TNF-α and exerts protective effects via Nrf2 pathway activation. Toxicol Lett 264:51–58

Gugulothu D, Kulkarni A, Patravale V, Dandekar P (2014) pH-sensitive nanoparticles of curcumin–celecoxib combination: evaluating drug synergy in ulcerative colitis model. J Pharm Sci 103(2):687–696

Han CW, Kwun MJ, Kim KH, Choi JY, Oh SR, Ahn KS, Lee JH, Joo M (2013) Ethanol extract of Alismatis Rhizoma reduces acute lung inflammation by suppressing NF-κB and activating Nrf2. J Ethnopharmacol 146(1):402–410

He Q, Zhou W, Xiong C, Tan G, Chen M (2015) Lycopene attenuates inflammation and apoptosis in post-myocardial infarction remodeling by inhibiting the nuclear factor-κB signaling pathway. Mol Med Rep 11(1):374–378

Hegazy SK, El-Bedewy MM (2010) Effect of probiotics on pro-inflammatory cytokines and NF-kappaB activation in ulcerative colitis. World J Gastroenterol 16(33):4145–4151

Hua S, Marks E, Schneider JJ, Keely S (2015) Advances in oral nano-delivery systems for colon-targeted drug delivery in inflammatory bowel disease: selective targeting to diseased versus healthy tissue. Nanomedicine 11(5):1117–1132

Huo M, Cui X, Xue J, Chi G, Gao R, Deng X, Guan S, Wei J, Soromou LW, Feng H, Wang D (2013) Anti-inflammatory effects of linalool in RAW 264.7 macrophages and lipopolysaccharide-induced lung injury model. J Surg Res 180(1):47–54

Iwasaki K, Zheng YW, Murata S, Ito H, Nakayama K, Kurokawa T, Sano N, Nowatari T, Villareal MO, Nagano YN, Isoda H, Matsui H, Ohkohchi N (2016) Anticancer effect of linalool via cancer-specific hydroxyl radical generation in human colon cancer. World J Gastroenterol 22(44):9765–9774

Jana S, Patra K, Sarkar S, Jana J, Mukherjee G, Bhattacharjee S, Mandal DP (2014) Antitumorigenic potential of linalool is accompanied by modulation of oxidative stress: an in vivo study in sarcoma-180 solid tumor model. Nutr Cancer 66(5):835–848

Jobin C, Sartor RB (2000) NF-kappaB signaling proteins as therapeutic targets for inflammatory bowel diseases. Inflamm Bowel Dis 6(3):206–213

Jung Y, Kim YM (2010) What should be considered on design of a colon-specific prodrug? Expert Opin Drug Deliv 7(2):245–258

Kaplan GG (2015) The global burden of IBD: from 2015 to 2025. Nat Rev Gastroenterol Hepatol 12:720–727

Kaplan GG, Ng SC (2017) Understanding and preventing the global increase of inflammatory bowel disease. Gastroenterology 152(2):313–321

Khan MN, Lane ME, McCarron PA, Tambuwala MM (2017) Caffeic acid phenethyl ester is protective in experimental ulcerative colitis via reduction in levels of pro-inflammatory mediators and enhancement of epithelial barrier function. Inflammopharmacology. https://doi.org/10.1007/s10787-017-0364-x

Khor TO, Huang MT, Kwon KH, Chan JY, Reddy BS, Kong AN (2006) Nrf2-deficient mice have an increased susceptibility to dextran sulfate sodium-induced colitis. Cancer Res 66(24):11580–11584

Lee Y, Kim W, Hong S, Park H, Yum S, Yoon JH, Jung Y (2014) Colon-targeted celecoxib ameliorates TNBS-induced rat colitis: a potential pharmacologic mechanism and therapeutic advantages. Eur J Pharmacol 726:49–56

Li J, Zhang X, Huang H (2014) Protective effect of linalool against lipopolysaccharide/D-galactosamine-induced liver injury in mice. Int Immunopharmacol 23(2):523–529

Li Q, Zhai W, Jiang Q, Huang R, Liu L, Dai J, Gong W, Du S, Wu Q (2015) Curcumin–piperine mixtures in self-microemulsifying drug delivery system for ulcerative colitis therapy. Int J Pharm 490(1–2):22–31

Liu GH, Qu J, Shen X (2008) NF-kappaB/p65 antagonizes Nrf2-ARE pathway by depriving CBP from Nrf2 and facilitating recruitment of HDAC3 to MafK. Biochim Biophys Acta 1783(5):713–727

Loguercio C, D'Argenio G, Delle Cave M, Cosenza V, Della Valle N, Mazzacca G, del Vecchio Blanco C (1996) Direct evidence of oxidative damage in acute and chronic phases of experimental colitis in rats. Dig Dis Sci 41(6):1204–1211

Lopetuso LR, Scaldaferri F, Bruno G, Petito V, Franceschi F, Gasbarrini A (2015) The therapeutic management of gut barrier leaking: the emerging role for mucosal barrier protectors. Eur Rev Med Pharmacol Sci 19(6):1068–1076

Lowry OH, Rosebrough NJ, Farr AL, Randall RJ (1951) Protein measurement with pholin phenol reagent. J Biol Chem 193:265–275

Luna LG (1968) Manuel of histologic staining methods of armed forces institute of pathology. McGraw-Hill, New York

Mura C, Manconi M, Valenti D, Manca ML, Diez-Sales O, Loy G, Fadda AM (2011a) In vitro study of N-succinyl chitosan for targeted delivery of 5-aminosalicylic acid to colon. Carbonhydr Polym 85(3):578–583

Mura C, Nácher A, Merino V, Merino-Sanjuan M, Carda C, Ruiz A, Manconi M, Loy G, Fadda AM, Diez-Sales O (2011b) N-Succinyl-chitosan systems for 5-aminosalicylic acid colon delivery: in vivo study with TNBS-induced colitis model in rats. Int J Pharm 416(1):145–154

Ohkawa H, Ohishi N, Yagi K (1979) Assay for lipid peroxides in animal tissues by thiobarbituric acid reaction. Anal Biochem 95(2):351–358

Pandurangan AK, Ismail S, Saadatdoust Z, Esa NM (2015) Allicin alleviates dextran sodium sulfate- (DSS-) induced ulcerative colitis in BALB/c mice. Oxid Med Cell Longev 2015:605208. https://doi.org/10.1155/2015/605208

Park DD, Yum HW, Zhong X, Kim SH, Kim SH, Kim DH, Kim SJ, Na HK, Sato A, Miura T, Surh YJ (2017) Perilla frutescens extracts protects against dextran sulfate sodium-induced murine colitis: NF-κB, STAT3, and Nrf2 as putative targets. Front Pharmacol 8:482

Popov SV, Markov PA, Nikitina IR, Petrishev S, Smirnov V, Ovodov YS (2006) Preventive effect of a pectic polysaccharide of the common cranberry Vaccinium oxycoccos L. on acetic acid-induced colitis in mice. World J Gastroenterol 12(41):6646–6651

Rezayat SM, Dehpour AR, Motamed SM, Yazdanparast M, Chamanara M, Sahebgharani M, Rashidian A (2017) Foeniculum vulgare essential oil ameliorates acetic acid-induced colitis in rats through the inhibition of NF-kB pathway. Inflammopharmacology. https://doi.org/10.1007/s10787-017-0409-1

Roberts PJ, Morgan K, Miller R, Hunter JO, Middleton SJ (2001) Neuronal COX-2 expression in human myenteric plexus in active inflammatory bowel disease. Gut 48(4):468–472

Sahin K, Tuzcu M, Sahin N, Ali S, Kucuk O (2010) Nrf2/HO-1 signaling pathway may be the prime target for chemoprevention of cisplatin-induced nephrotoxicity by lycopene. Food Chem Toxicol 48(10):2670–2674

Sánchez-Fidalgo S, Cárdeno A, Villegas I, Talero E, de la Lastra CA (2010) Dietary supplementation of resveratrol attenuates chronic colonic inflammation in mice. Eur J Pharmacol 633(1–3):78–84

Sánchez-Fidalgo S, Villegas I, Rosillo MÁ, Aparicio-Soto M, de la Lastra CA (2015) Dietary squalene supplementation improves DSS-induced acute colitis by downregulating p38 MAPK and NFkB signaling pathways. Mol Nutr Food Res 59(2):284–292

Schreiber S, Nikolaus S, Hampe J (1998) Activation of nuclear factor kappa B inflammatory bowel disease. Gut 42(4):477–484

Tahan G, Aytac E, Aytekin H, Gunduz F, Dogusoy G, Aydin S, Tahan V, Uzun H (2011) Vitamin E has a dual effect of anti-inflammatory and antioxidant activities in acetic acid-induced ulcerative colitis in rats. Can J Surg 54(5):333–338

Thippeswamy BS, Mahendran S, Biradar MI, Raj P, Srivastava K, Badami S, Veerapur VP (2011) Protective effect of embelin against acetic acid induced ulcerative colitis in rats. Eur J Pharmacol 654(1):100–105

Tuzcu M, Aslan A, Tuzcu Z, Yabas M, Bahcecioglu IH, Ozercan IH, Kucuk O, Sahin K (2012) Tomato powder impedes the development of azoxymethane-induced colorectal cancer in rats through suppression of COX-2 expression via NF-κB and regulating Nrf2/HO-1 pathway. Mol Nutr Food Res 56(9):1477–1481

Wang KP, Zhang C, Zhang SG et al (2015) 3-(3-pyridylmethylidene)-2-indolinone reduces the severity of colonic injury in a murine model of experimental colitis. Oxid Med Cell Longev 2015:959253. https://doi.org/10.1155/2015/959253

Xiao B, Si X, Zhang M, Merlin D (2015) Oral administration of pH-sensitive curcumin-loaded microparticles for ulcerative colitis therapy. Colloids Surf B Biointerfaces 135:379–385

Yan H, Wang H, Zhang X, Li X, Yu J (2015) Ascorbic acid ameliorates oxidative stress and inflammation in dextran sulfate sodium-induced ulcerative colitis in mice. Int J Clin Exp Med 8(11):20245–20253

Zhang H, Deng A, Zhang Z, Yu Z, Liu Y, Peng S, Wu L, Qin H, Wang W (2016) The protective effect of epicatechin on experimental ulcerative colitis in mice is mediated by increasing antioxidation and by the inhibition of NF-κB pathway. Pharmacol Rep 68(3):514–520

Zhu H, Li YR (2012) Oxidative stress and redox signaling mechanisms of inflammatory bowel disease: updated experimental and clinical evidence. Exp Biol Med (Maywood) 237(5):474–480
Acknowledgements
This work was financially supported by Scientific Research Projects Coordination of Mustafa Kemal University (project number: 14025).
Ethics declarations
Conflict of interest
The authors declare that they have no conflicts of interest.
About this article
Cite this article
Tekeli, İ.O., Ateşşahin, A., Sakin, F. et al. Protective effects of conventional and colon-targeted lycopene and linalool on ulcerative colitis induced by acetic acid in rats. Inflammopharmacol 27, 313–322 (2019). https://doi.org/10.1007/s10787-018-0485-x
Received:

Accepted:

Published:

Issue Date:
Keywords
Ulcerative colitis

Colon targeting

Lycopene

Linalool

Rat