Abstract
The effect of Orthosiphon stamineus aqueous (OSA) extract against osteoarthritis (OA) was investigated in explant cartilage culture and in postmenopausal OA rat model. Female rats were bilaterally ovariectomized (OVX). Osteoarthritis was induced after surgical recovery, by intra-articular injection of monosodium iodoacetate (MIA) into the right knee. Rats were grouped (n = 8) into: healthy sham control; non-treated OA; OA + diclofenac (positive control 5 mg/kg); and two doses OSA (150–300 mg/kg). After 4 weeks' treatment, rats were evaluated for OA-related parameters and biomarkers. The OSA reduced proteoglycan and ROS release from the cartilage explants under inflammatory (IL-1b) conditions. In the OA-induced rats' cartilages, the OSA downregulated the mRNA expressions for IL-1β, IL-6, IL-10, TNF-α, NF-κβ, NOS2, PTGS2, PTGER2, ACAN, COL2A1, MMP1, MMP13, ADAMTS4, ADAMTS5 and TIMP1, mostly dose-dependently. The OSA reduced the OA rats' serum levels for PGE2, CTX-II, TNF-α, MMP1, MMP13, PIINP, OPG, RANKL, OC and BALP, but not dose-dependently. The OSA contained polyphenols and flavonoids (tetramethoxyflavone). The OSA alleviated articular cartilage degradation, inflammation, collagenase/aggrecanase activities, to improve joint and subchondral bone structure. O. stamineus mitigated osteoarthritis by downregulating inflammation, peptidases and aggrecanases, at a dose equivalent to about 30 mg/kg for humans.
This is a preview of subscription content,
to check access.
Access this article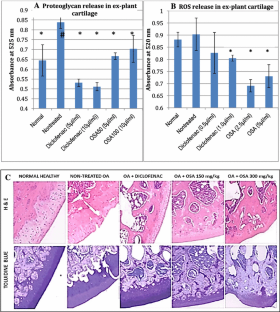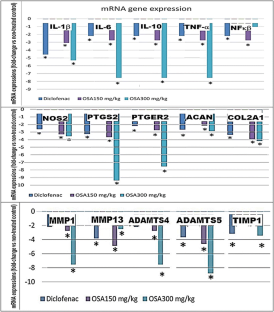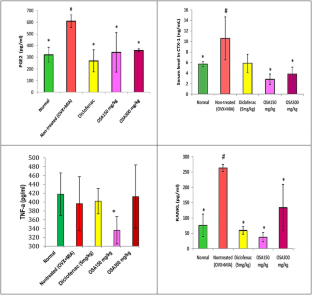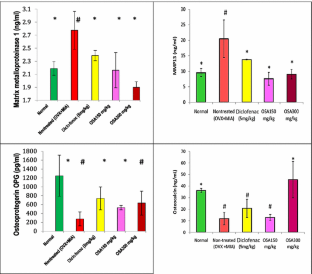 Similar content being viewed by others
References
Abramson SB (2008) Osteoarthritis and nitric oxide. Osteoarthr Cartil OARS, Osteoarthr Res Soc 16(Suppl 2):S15–S20

Adnyana IK, Setiawan F, Insanu M (2013) A Comprehensive review of Orthosiphon stamineus benth: from ethnopharmacology to clinical study. Int J Pharm Pharm Sci 5(3):66–73

Akowuah G, Zhari I, Norhayati I, Sadikun AK (2004) Sinensetin, eupatorin, 3′-hydroxy-5, 6, 7, 4′-tetramethoxyflavone and rosmarinic acid contents and antioxidative effect of Orthosiphon stamineus from Malaysia. Food Chem 87(4):559–566. http://www.scopus.com/inward/record.url?eid=2-s2.0-2942574953&partnerID=tZOtx3y1. Accessed 6 Mar 2014

Almatar M, Ekal H, Rahmat Z (2014) A glance on medical applications of Orthosiphon stamineus and some of its oxidative compounds. Int J Pharm Sci Rev Res 24(2):83–88

Bokhari RA, Lau SF, Mohamed S (2017) Orthosiphon stamineus (Misai Kucing) ameliorated postmenopausal osteoporosis in rat model. Menopause 25(2):1

Botter SM, Glasson SS, Hopkins B et al (2009) ADAMTS5−/− mice have less subchondral bone changes after induction of osteoarthritis through surgical instability: implications for a link between cartilage and subchondral bone changes. Osteoarthr Cartil 17:636–645

Chan FK, Hung LC, Suen BY, Wu JC, Lee KC, Leung VK, Hui AJ, To KF, Leung WK, Wong VW, Chung SS, Sung J (2002) Celecoxib versus diclofenac and omeprazole in reducing the risk of recurrent ulcer bleeding in patients with arthritis. N Engl J Med 347(26):30–32

Chevalier X, Conrozier T, Gehrmann M, Claudepierre P, Mathieu P, Unger S, Vignon E (2001) Tissue inhibitor of metalloprotease-1 (TIMP-1) serum level may predict progression of hip osteoarthritis. Osteoarthr Cartil 9(4):300–307

Cibere J, Zhang H, Garnero P, Poole AR, Lobanok T, Saxne T, Kraus VB, Way A, Thorne A, Wong H, Singer J, Kopec J, Guermazi A, Peterfy C, Nicolaou S, Munk PL, Esdaile JM (2009) Association of biomarkers with pre-radiographically defined and radiographically defined knee osteoarthritis in a population-based study. Arthritis Rheum 60(5):1372–1380

FDA Center for Drug Evaluation and Research (2005) Guidance for industry: estimating the maximum safe starting dose in initial clinical trials for therapeutics in adult healthy volunteers. US Department of Health and Human Services, (July), pp. 1–27. http://www.fda.gov/downloads/Drugs/Guidance/UCM078932.pdf. Accessed Nov 2017

Guzman RE, Evans MG, Bove S, Morenko B, Kilgore K (2003) Mono-iodoacetate-induced histologic changes in subchondral bone and articular cartilage of rat femorotibial joints: an animal model of osteoarthritis. Toxicol Pathol 31(6):619–624

Hasani A, Soljakova M, Jakupi M, Ustalar-Ozgen S (2011) Preemptive analgesic effects of midazolam and diclofenac in rat model. Bosn J Basic Med Sci (Assoc Basic Med Sci Fed Bosn Herzeg) 11(2):113–118

Høegh-Andersen P, Tankó LB, Andersen TL, Lundberg CV, Mo JA, Heegaard A-M, Delaissé J-M, Christgau S (2004) Ovariectomized rats as a model of postmenopausal osteoarthritis: validation and application. Arthritis Res Ther 6(2):R169–R180

Horigome S, Yoshida I, Tsuda A, Harada T, Yamaguchi A, Yamazaki K, Inohana S, Isagawa S, Kibune N, Satoyama T, Katsuda S, Suzuki S, Watai M, Hirose N, Mitsue T, Shirakawa H, Komai M (2014) Identification and evaluation of anti-inflammatory compounds from Kaempferia parviflora. Biosci Biotechnol Biochem 78(5):851–860. https://doi.org/10.1080/09168451.2014.905177

Kapoor M, Martel-Pelletier J, Lajeunesse D, Pelletier J-P, Fahmi H (2011) 'Role of proinflammatory cytokines in the pathophysiology of osteoarthritis. Nat Rev Rheumatol 7(1):33–42 (Nature Publishing Group)

Lappas M (2002) Nuclear factor kappa B regulation of proinflammatory cytokines in human gestational tissues in vitro. Biol Reprod 67(2):668–673

Li X, Ellman M, Muddasani P, Wang JHC, Cs-Szabo G, Van Wijnen AJ, Im HJ (2009) Prostaglandin E2 and its cognate EP receptors control human adult articular cartilage homeostasis and are linked to the pathophysiology of osteoarthritis. Arthritis Rheum 60(2):513–523

Malemud CJ, Islam N, Haqqi TM (2003) Pathophysiological mechanisms in osteoarthritis lead to novel therapeutic strategies. Cells Tissues Organs 174(1–2):34–48

Martel-pelletier J, Boileau C, Roughley PJ (2008) Cartilage in normal and osteoarthritis conditions. Best Pract Res Clin Rheumatol 22(2):351–384

Martín-Millán M, Castã Neda S (2013) Estrogens, osteoarthritis and inflammation. Jt Bone Spine 80:368–373

Mobasheri A, Matta C, Zákány R, Musumeci G (2015) Chondrosenescence: definition, hallmarks and potential role in the pathogenesis of osteoarthritis. Maturitas 80:237–244

Mueller MB, Tuan RS (2011) Anabolic/Catabolic balance in pathogenesis of osteoarthritis: identifying molecular targets. PM R J Inj Funct Rehabilit 3(6 Suppl 1):S3–S11

Nagase H, Visse R, Murphy G (2006) Structure and function of matrix metalloproteinases and TIMPs. Cardiovasc Res 69:562–573

Naito K, Watari T, Furuhata A, Yomogida S, Sakamoto K, Kurosawa H, Kaneko K, Nagaoka I (2010) Evaluation of the effect of glucosamine on an experimental rat osteoarthritis model. Life Sci 86(13–14):538–543

Nakamura T, Fujihara S, Katsura T, Yamamoto K, Inubushi T, Tanimoto K, Tanaka E (2010) Effects of low-intensity pulsed ultrasound on the expression and activity of hyaluronan synthase and hyaluronidase in IL-1β-stimulated synovial cells. Ann Biomed Eng 38(11):3363–3370

Neogi T (2012) Clinical significance of bone changes in osteoarthritis. Ther Adv Musculoskeletal Disease 4(4):259–267

Pritzker KPH, Gay S, Jimenez SA, Ostergaard K, Pelletier J-P, Revell PA, Salter D, van den Berg WB (2006) Osteoarthritis cartilage histopathology: grading and staging. Osteoarthr Cartil 14(1):13–29

Przekora A, Ginalska G (2015) Enhanced differentiation of osteoblastic cells on novel chitosan/β-1,3-glucan/bioceramic scaffolds for bone tissue regeneration. Biomed Mater (Bristol, England) 10(1):15009 IOP Publishing

Ramesh K, Manohar S, Rajeshkumar S (2014) Nephroprotective activity of ethanolic extract of Orthosiphon stamineus leaves on ethylene glycol induced urolithiasis in albino rats. Int J Pharm Tech Res 6(1):403–408

Rigoglou S, Papavassiliou AG (2013) 'The NFkB signalling pathway in osteoarthritis. Int J Biochem Cell Biol 45(11):2580–2584 (Elsevier Ltd)

Sellam J, Berenbaum F (2010) The role of synovitis in pathophysiology and clinical symptoms of osteoarthritis. Nat Rev Rheumatol 6(11):625–635 (Nature Publishing Group)

Wang XD, Kou XX, He DQ, Zeng MM, Meng Z, Bi RY, Liu Y, Zhang JN, Gan YH, Zhou YH (2012) Progression of cartilage degradation, bone resorption and pain in rat temporomandibular joint osteoarthritis induced by injection of iodoacetate. PLoS ONE 7(9):e45036

Wei G-J, Hwang LS, Tsai C-L (2014) Absolute bioavailability, pharmacokinetics and excretion of 5,7,3′,4′-tetramethoxyflavone in rats. J Funct Foods 7:136–141. https://doi.org/10.1016/j.jff.2013.10.006

World Health Organization (2016) Chronic rheumatic conditions. http://www.who.int/chp/topics/rheumatic/en/. Accessed 20 Nov 2017

Wu H, Du J, Zheng Q (2008) Expression of MMP-1 in cartilage and synovium of experimentally induced rabbit ACLT traumatic osteoarthritis: immunohistochemical study. Rheumatol Int 29(1):31–36
Acknowledgements
We thank the Ministry of Agriculture, Herbal development Division for the research Grant, Universiti Putra Malaysia for the facilities and Comparative Medicine and Technology (CoMeT) Unit, Institute of Bioscience, Universiti Putra Malaysia for the assistance in performing all animal-related procedures.
Ethics declarations
Financial support
This work was supported by the Herbal Development Division, Ministry of Agriculture, Malaysia (Grant no. NH1014D052).
Conflict of interests
The authors declare that they have no conflict of interest.
Human and animal rights statement
Institutional Animal Care and Use Committee (IACUC), Universiti Putra Malaysia approval (UPM/IACUC/AUP-R083/2014).
Electronic supplementary material
Below is the link to the electronic supplementary material.
About this article
Cite this article
Bokhari, R.A., Tantowi, N.A.C.A., Lau, S.F. et al. Java Tea (Orthosiphon stamineus) protected against osteoarthritis by mitigating inflammation and cartilage degradation: a preclinical study. Inflammopharmacol 26, 939–949 (2018). https://doi.org/10.1007/s10787-017-0432-2
Received:

Accepted:

Published:

Issue Date:

DOI: https://doi.org/10.1007/s10787-017-0432-2
Keywords