Abstract
Inflammatory bowel diseases (IBDs) affect millions of people worldwide and their frequencies in developed countries have increased since the twentieth century. In this context, there is an intensive search for therapies that modulate inflammation and provide tissue regeneration in IBDs. Recently, the immunomodulatory activity of adipose tissue-derived mesenchymal stromal cells (ADMSCs) has been demonstrated to play an important role on several immune cells in different conditions of inflammatory and autoimmune diseases. In this study, we explored the immunomodulatory potential of ADMSC in a classical model of DSS-induced colitis. First, we found that treatment of mice with ADMSC ameliorated the severity of DSS-induced colitis, reducing colitis pathological score and preventing colon shortening. Moreover, a prominent reduction of pro-inflammatory cytokines levels (i.e., IFN-γ, TNF-α, IL-6 and MCP-1) was observed in the colon of animals treated with ADMSC. We also observed a significant reduction in the frequencies of macrophages (F4/80+CD11b+) and dendritic cells (CD11c+CD103+) in the intestinal lamina propria of ADMSC-treated mice. Finally, we detected the up-regulation of immunoregulatory-associated molecules in intestine of mice treated with ADMSCs (i.e., elevated arginase-1 and IL-10). Thus, this present study demonstrated that ADMSC modulates the overall gut inflammation (cell activation and recruitment) in experimental colitis, providing support to the further development of new strategies in the treatment of intestinal diseases.
Access options
Buy single article
Instant access to the full article PDF.
USD 39.95
Price excludes VAT (USA)
Tax calculation will be finalised during checkout.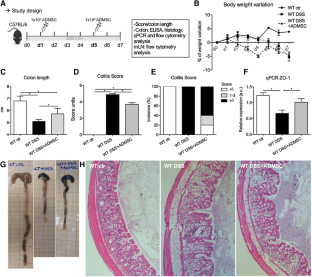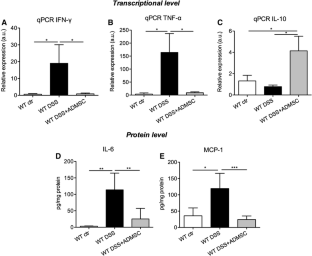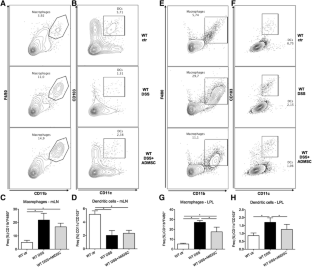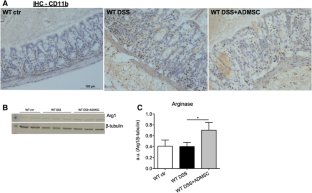 References
Abdallah BM, Kassem M (2008) Human mesenchymal stem cells: from basic biology to clinical applications. Gene Ther 15:109–116

Abdi R, Fiorina P, Adra CN, Atkinson M, Sayegh MH (2008) Immunomodulation by mesenchymal stem cells: a potential therapeutic strategy for type 1 diabetes. Diabetes 57:1759–1767

Atreya R et al (2000) Blockade of interleukin 6 trans signaling suppresses T-cell resistance against apoptosis in chronic intestinal inflammation: evidence in crohn disease and experimental colitis in vivo. Nat Med 6:583–588. doi:10.1038/75068

Bain CC et al (2013) Resident and pro-inflammatory macrophages in the colon represent alternative context-dependent fates of the same Ly6Chi monocyte precursors. Mucosal Immunol 6:498–510. doi:10.1038/mi.2012.89

Bartholomew A et al (2002) Mesenchymal stem cells suppress lymphocyte proliferation in vitro and prolong skin graft survival in vivo. Exp Hematol 30:42–48

Bassi EJ et al (2012) Immune regulatory properties of allogeneic adipose-derived mesenchymal stem cells in the treatment of experimental autoimmune diabetes. Diabetes 61:2534–2545. doi:10.2337/db11-0844

Beyth S et al (2005) Human mesenchymal stem cells alter antigen-presenting cell maturation and induce T-cell unresponsiveness. Blood 105:2214–2219

Bouma G, Strober W (2003) The immunological and genetic basis of inflammatory bowel disease. Nat Rev Immunol 3:521–533. doi:10.1038/nri1132 (nri1132 [pii])

da Silva Meirelles L, Chagastelles PC, Nardi NB (2006) Mesenchymal stem cells reside in virtually all post-natal organs and tissues. J Cell Sci 119:2204–2213

Danese S (2016) Results of ANDANTE, a randomised clinical study with an anti-IL6 antibody (PF-04236921) in subjects with Crohn's disease who are anti-tumor necrosis factor inadequate responders. J Crohns Colitis 10:S12–S13

Danese S, Fiocchi C (2011) Ulcerative colitis. N Engl J Med 365:1713–1725. doi:10.1056/NEJMra1102942

de Almeida DC, Donizetti-Oliveira C, Barbosa-Costa P, Origassa CS, Camara NO (2013) In search of mechanisms associated with mesenchymal stem cell-based therapies for acute kidney injury. Clin Biochem Rev 34:131–144

de Almeida DC et al (2016) A regulatory miRNA-mRNA network is associated with tissue repair induced by mesenchymal stromal cells in acute kidney injury. Front Immunol 7:645. doi:10.3389/fimmu.2016.00645

Dignass A et al (2010) The second European evidence-based Consensus on the diagnosis and management of Crohn's disease: Current management. J Crohns Colitis 4:28–62. doi:10.1016/j.crohns.2009.12.002

Ding S, Schultz PG (2004) A role for chemistry in stem cell biology. Nat Biotechnol 22:833–840

Gonzalez MA, Gonzalez-Rey E, Rico L, Buscher D, Delgado M (2009) Adipose-derived mesenchymal stem cells alleviate experimental colitis by inhibiting inflammatory and autoimmune responses. Gastroenterology 136:978–989. doi:10.1053/j.gastro.2008.11.041

Gonzalez-Rey E, Anderson P, Gonzalez MA, Rico L, Buscher D, Delgado M (2009) Human adult stem cells derived from adipose tissue protect against experimental colitis and sepsis Gut 58:929–939. doi:10.1136/gut.2008.168534

Hoentjen F, van Bodegraven AA (2009) Safety of anti-tumor necrosis factor therapy in inflammatory bowel disease. World J Gastroenterol 15:2067–2073

Ito H et al (2004) A pilot randomized trial of a human anti-interleukin-6 receptor monoclonal antibody in active Crohn's disease. Gastroenterology 126:989–996 (discussion 947)

Jones BJ, McTaggart SJ (2008) Immunosuppression by mesenchymal stromal cells: from culture to clinic. Exp Hematol 36:733–741

Kumar S, Chanda D, Ponnazhagan S (2008) Therapeutic potential of genetically modified mesenchymal stem cells. Gene Ther 15:711–715

Livak KJ, Schmittgen TD (2001) Analysis of relative gene expression data using real-time quantitative PCR and the 2(-Delta Delta C(T)) method. Methods 25:402–408. doi:10.1006/meth.2001.1262

Maxwell JR, Brown WA, Smith CL, Byrne FR, Viney JL (2009) Methods of inducing inflammatory bowel disease in mice. Curr Protoc Pharmacol Chapter 5(Unit5):58. doi:10.1002/0471141755.ph0558s47

Mowat C et al (2011) Guidelines for the management of inflammatory bowel disease in adults. Gut 60:571–607. doi:10.1136/gut.2010.224154

Nauta AJ, Kruisselbrink AB, Lurvink E, Willemze R, Fibbe WE (2006) Mesenchymal stem cells inhibit generation and function of both CD34+-derived and monocyte-derived dendritic cells. J Immunol 177:2080–2087

Philippe D et al (2011) Bifidobacterium lactis attenuates onset of inflammation in a murine model of colitis. World J Gastroenterol: WJG 17:459–469. doi:10.3748/wjg.v17.i4.459

Smythies LE et al (2006) Mucosal IL-8 and TGF-beta recruit blood monocytes: evidence for cross-talk between the lamina propria stroma and myeloid cells. J Leukoc Biol 80:492–499. doi:10.1189/jlb.1005566

Strober W, Fuss IJ, Blumberg RS (2002) The immunology of mucosal models of inflammation. Annu Rev Immunol 20:495–549. doi:10.1146/annurev.immunol.20.100301.064816

Takada Y et al (2010) Monocyte chemoattractant protein-1 contributes to gut homeostasis and intestinal inflammation by composition of IL-10-producing regulatory macrophage subset. J Immunol 184:2671–2676. doi:10.4049/jimmunol.0804012

Targan SR et al (1997) A short-term study of chimeric monoclonal antibody cA2 to tumor necrosis factor alpha for Crohn's disease. Crohn's Disease cA2 Study Group. N Engl J Med 337:1029–1035. doi:10.1056/NEJM199710093371502

Xie M, He X, Zhu J, He Z, He X, Lan P, Lian L (2015) [Experimental study of adipose-derived mesenchymal stem cells in the treatment of Crohn's disease]. Zhonghua wei chang wai ke za zhi = Chin J Gastrointest Surg 18:58–64

Ylostalo JH, Bartosh TJ, Coble K, Prockop DJ (2012) Human mesenchymal stem/stromal cells cultured as spheroids are self-activated to produce prostaglandin E2 that directs stimulated macrophages into an anti-inflammatory phenotype. Stem Cells 30:2283–2296. doi:10.1002/stem.1191

Zhang W et al (2004) Effects of mesenchymal stem cells on differentiation, maturation, and function of human monocyte-derived dendritic cells. Stem Cells Dev 13:263–271

Zigmond E et al (2012) Ly6C hi monocytes in the inflamed colon give rise to proinflammatory effector cells and migratory antigen-presenting cells. Immunity 37:1076–1090. doi:10.1016/j.immuni.2012.08.026
Acknowledgements
We would like to thank Paulo Albe for histological assistance, Meire Hiyane and Cláudia Silva Cunha for technical support and the members of Câmara's laboratory for their comments and suggestions. This study was supported by grants from the following funding agencies: Fundação de Amparo à Pesquisa do Estado de São Paulo - FAPESP (Grant numbers: 2012/02270-2, 2012/16794-3 and 2013/25327-2), Coordenação de Aperfeiçoamento de Pessoal de Nível Superior (CAPES) and Conselho Nacional de Desenvolvimento Científico e Tecnológico (CNPq).
Ethics declarations
Ethical approval
All applicable national and institutional guidelines (Brazilian Federal law 6638) for the care and use of animals were followed. All procedures performed in this study involving animals were in accordance with the ethical standards of the institution and after approval by the Animal Care Committee of University of São Paulo-Register number: 122/2012.
Conflict of interest
The authors declare that they have no competing interests.
Funding
This study was supported by grants from the following funding agencies: FAPESP (Grant numbers: 2012/02270-2, 2012/16794-3 and 2013/25327-2), CAPES and CNPq.
Electronic supplementary material
Below is the link to the electronic supplementary material.
About this article
Cite this article
de Aguiar, C.F., Castoldi, A., Andrade-Oliveira, V. et al. Mesenchymal stromal cells modulate gut inflammation in experimental colitis. Inflammopharmacol 26, 251–260 (2018). https://doi.org/10.1007/s10787-017-0404-6
Received:

Accepted:

Published:

Issue Date:

DOI: https://doi.org/10.1007/s10787-017-0404-6
Keywords