Abstract
The root of Withania somnifera, commonly known as ashwagandha, is a traditional herb in the Indian Ayurvedic system of medicine and is used as a tonic. Here, we investigated whether W. somnifera root extract exhibits analgesic effects in plantar incision (PI) and spared nerve injury (SNI) rat models. Mechanical withdrawal threshold (MWT) was measured by von Frey filaments, and pain-related behavior was determined after operation by ultrasonic vocalization (USV) measurements. Indeed, we examined interferon-γ (IFN-γ) and interleukin-10 (IL-10) levels in the isolated dorsal root ganglia (DRG) following SNI in rats using an ELISA cytokine assay. MWT significantly increased 6 and 24 h after PI in rats receiving W. somnifera root extracts (100 and 300 mg/kg). Furthermore, the number of 22–27-kHz USV, which are a distress response, was significantly reduced at 6 and 24 h after PI in W. somnifera-treated rats (100 and 300 mg/kg). SNI-induced hyperalgesia and cytokine levels were significantly alleviated after treating with W. somnifera root extracts (100 and 300 mg/kg) for 15 continuous days. The main active compound, withaferin A, from the W. somnifera root extract has shown the CC chemokine family Receptor 2 (CCR2) antagonistic effects on monocyte chemoattractant protein-1 (MCP-1)-induced Ca2+ response in CCR2 stable cell line. These results indicate that W. somnifera root extract has a potential analgesic effect in rat models for both postoperative and neuropathic pain and shows potential as a drug or supplement for the treatment of pain.
Access options
Buy single article
Instant access to the full article PDF.
USD 39.95
Price excludes VAT (USA)
Tax calculation will be finalised during checkout.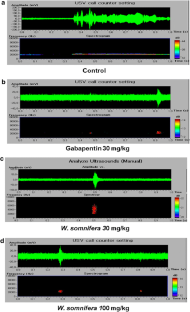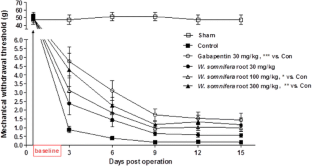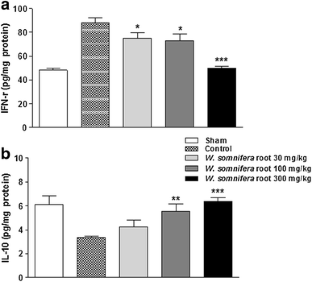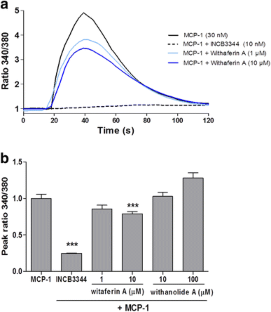 References
Abbadie C et al (2003) Impaired neuropathic pain responses in mice lacking the chemokine receptor CCR2. Proc Natl Acad Sci USA 100:7947–7952. doi:10.1073/pnas.1331358100

Ahmad M, Saleem S, Ahmad AS, Ansari MA, Yousuf S, Hoda MN, Islam F (2005) Neuroprotective effects of Withania somnifera on 6-hydroxydopamine induced Parkinsonism in rats. Hum Exp Toxicol 24:137–147

Bourquin AF et al (2006) Assessment and analysis of mechanical allodynia-like behavior induced by spared nerve injury (SNI) in the mouse. Pain 122:14 e11–e14. doi:10.1016/j.pain.2005.10.036

Back SK, Won SY, Hong SK, Na HS (2004) Gabapentin relieves mechanical, warm and cold allodynia in a rat model of peripheral neuropathy. Neurosci Lett 368:341–344. doi:10.1016/j.neulet.2004.07.091

Backonja MM (1999) Gabapentin monotherapy for the symptomatic treatment of painful neuropathy: a multicenter, double-blind, placebo-controlled trial in patients with diabetes mellitus Epilepsia 40(Suppl 6):S57–S59 (discussion S73–S54)

Balasubramani SP, Venkatasubramanian P, Kukkupuni SK, Patwardhan B (2011) Plant-based Rasayana drugs from Ayurveda. Chin J Integr Med 17:88–94. doi:10.1007/s11655-011-0659-5

Bhattacharya SK, Satyan KS, Chakrabarti A (1997a) Effect of Trasina, an Ayurvedic herbal formulation, on pancreatic islet superoxide dismutase activity in hyperglycaemic rats. Indian J Exp Biol 35:297–299

Bhattacharya SK, Satyan KS, Ghosal S (1997b) Antioxidant activity of glycowithanolides from Withania somnifera. Indian J Exp Biol 35:236–239

Bhattacharya SK, Bhattacharya A, Sairam K, Ghosal S (2000) Anxiolytic-antidepressant activity of Withania somnifera glycowithanolides: an experimental study. Phytomedicine 7:463–469. doi:10.1016/S0944-7113(00)80030-6

Bove G (2006) Mechanical sensory threshold testing using nylon monofilaments: the pain field's "tin standard". Pain 124:13–17. doi:10.1016/j.pain.2006.06.020

Brennan TJ, Vandermeulen EP, Gebhart GF (1996) Characterization of a rat model of incisional pain. Pain 64:493–501

Brodmerkel CM et al (2005) Discovery and pharmacological characterization of a novel rodent-active CCR2 antagonist, INCB3344. J Immunol 175:5370–5378

Brudzynski SM, Chiu EM (1995) Behavioural responses of laboratory rats to playback of 22 kHz ultrasonic calls. Physiol Behav 57:1039–1044

Chopra A, Saluja M, Tillu G (2010) Ayurveda-modern medicine interface: a critical appraisal of studies of Ayurvedic medicines to treat osteoarthritis and rheumatoid arthritis. J Ayurveda Integr Med 1:190–198. doi:10.4103/0975-9476.72620

Costigan M, Scholz J, Woolf CJ (2009) Neuropathic pain: a maladaptive response of the nervous system to damage. Annu Rev Neurosci 32:1–32. doi:10.1146/annurev.neuro.051508.135531

De Bosscher K, Vanden Berghe W, Haegeman G (2003) The interplay between the glucocorticoid receptor and nuclear factor-kappa B or activator protein-1: molecular mechanisms for gene repression. Endocr Rev 24:488–522. doi:10.1210/er.2002-0006

Decosterd I, Woolf CJ (2000) Spared nerve injury: an animal model of persistent peripheral neuropathic pain. Pain 87:149–158

Gao YJ, Ji RR (2010) Chemokines, neuronal-glial interactions, and central processing of neuropathic pain. Pharmacol Therapeut 126:56–68. doi:10.1016/j.pharmthera.2010.01.002

Gouwy M, Struyf S, Proost P, Van Damme J (2005) Synergy in cytokine and chemokine networks amplifies the inflammatory response. Cytokine Growth Factor Rev 16:561–580. doi:10.1016/j.cytogfr.2005.03.005

Grandhi A, Mujumdar AM, Patwardhan B (1994) A comparative pharmacological investigation of Ashwagandha and Ginseng. J Ethnopharmacol 44:131–135

Hunter JC, Gogas KR, Hedley LR, Jacobson LO, Kassotakis L, Thompson J, Fontana DJ (1997) The effect of novel anti-epileptic drugs in rat experimental models of acute and chronic pain. Eur J Pharmacol 324:153–160

Kim YT, Moon SK, Maruyama T, Narumiya S, Dore S (2012) Prostaglandin FP receptor inhibitor reduces ischemic brain damage and neurotoxicity. Neurobiol Dis 48:58–65. doi:10.1016/j.nbd.2012.06.003

Kim JG, Lim DW, Cho S, Han D, Kim YT (2014) The edible brown seaweed Ecklonia cava reduces hypersensitivity in postoperative and neuropathic pain models in rats. Molecules 19:7669–7678. doi:10.3390/molecules19067669

Knutson B, Burgdorf J, Panksepp J (1998) Anticipation of play elicits high-frequency ultrasonic vocalizations in young rats. J Comp Psychol 112:65–73

Knutson B, Burgdorf J, Panksepp J (2002) Ultrasonic vocalizations as indices of affective states in rats. Psychol Bull 128:961–977

Kulkarni SK, Ninan I (1997) Inhibition of morphine tolerance and dependence by Withania somnifera in mice. J Ethnopharmacol 57:213–217

Li H, Xie W, Strong JA, Zhang JM (2007) Systemic antiinflammatory corticosteroid reduces mechanical pain behavior, sympathetic sprouting, and elevation of proinflammatory cytokines in a rat model of neuropathic pain. Anesthesiology 107:469–477. doi:10.1097/01.anes.0000278907.37774.8d

Lim DW, Kim JG, Han D, Kim YT (2014) Analgesic effect of Harpagophytum procumbens on postoperative and neuropathic pain in rats. Molecules 19:1060–1068. doi:10.3390/molecules19011060

Litvin Y, Blanchard DC, Blanchard RJ (2007) Rat 22 kHz ultrasonic vocalizations as alarm cries. Behav Brain Res 182:166–172. doi:10.1016/j.bbr.2006.11.038

Miczek KA, Weerts EM, Vivian JA, Barros HM (1995) Aggression, anxiety and vocalizations in animals: GABAA and 5-HT anxiolytics. Psychopharmacology 121:38–56

Murthy HN et al (2008) Establishment of Withania somnifera hairy root cultures for the production of withanolide A. J Integr Plant Biol 50:975–981. doi:10.1111/j.1744-7909.2008.00680.x

Orru A et al (2014) Withania somnifera root extract prolongs analgesia and suppresses hyperalgesia in mice treated with morphine. Phytomedicine 21:745–752. doi:10.1016/j.phymed.2013.10.021

Portfors CV (2007) Types and functions of ultrasonic vocalizations in laboratory rats and mice. J Am Assoc Lab Anim Sci JAALAS 46:28–34

Rhen T, Cidlowski JA (2005) Antiinflammatory action of glucocorticoids—new mechanisms for old drugs. N Engl J Med 353:1711–1723. doi:10.1056/NEJMra050541

Richner M, Bjerrum OJ, Nykjaer A, Vaegter CB (2011) The spared nerve injury (SNI) model of induced mechanical allodynia in mice. J Vis Exp JOVE. doi:10.3791/3092

Singh B, Saxena AK, Chandan BK, Gupta DK, Bhutani KK, Anand KK (2001) Adaptogenic activity of a novel, withanolide-free aqueous fraction from the roots of Withania somnifera Dun. Phytother Res 15:311–318

Singh N, Bhalla M, de Jager P, Gilca M (2011) An overview on ashwagandha: a Rasayana (rejuvenator) of Ayurveda. Afr J Tradit Compl Altern Med 8:208–213. doi:10.4314/ajtcam.v8i5S.9

Subbaraju GV, Vanisree M, Rao CV, Sivaramakrishna C, Sridhar P, Jayaprakasam B, Nair MG (2006) Ashwagandhanolide, a bioactive dimeric thiowithanolide isolated from the roots of Withania somnifera. J Nat Prod 69:1790–1792. doi:10.1021/np060147p

Swiergiel AH, Zhou Y, Dunn AJ (2007) Effects of chronic footshock, restraint and corticotropin-releasing factor on freezing, ultrasonic vocalization and forced swim behavior in rats. Behav Brain Res 183:178–187. doi:10.1016/j.bbr.2007.06.006

Udayakumar R et al (2009) Hypoglycaemic and hypolipidaemic effects of Withania somnifera root and leaf extracts on alloxan-induced diabetic rats. Int J Mol Sci 10:2367–2382. doi:10.3390/ijms10052367

Wagner R, Janjigian M, Myers RR (1998) Anti-inflammatory interleukin-10 therapy in CCI neuropathy decreases thermal hyperalgesia, macrophage recruitment, and endoneurial TNF-alpha expression. Pain 74:35–42

White FA, Bhangoo SK, Miller RJ (2005) Chemokines: integrators of pain and inflammation. Nat Rev Drug Discov 4:834–844. doi:10.1038/nrd1852

Whiteside GT, Harrison J, Boulet J, Mark L, Pearson M, Gottshall S, Walker K (2004) Pharmacological characterisation of a rat model of incisional pain. Br J Pharmacol 141:85–91. doi:10.1038/sj.bjp.0705568

Wieseler-Frank J, Maier SF, Watkins LR (2005) Central proinflammatory cytokines and pain enhancement Neuro-Signals 14:166–174. doi:10.1159/000087655

Yokota Y, Bargagna-Mohan P, Ravindranath PP, Kim KB, Mohan R (2006) Development of withaferin A analogs as probes of angiogenesis. Bioorg Med Chem Lett 16:2603–2607. doi:10.1016/j.bmcl.2006.02.039

Zhao J, Nakamura N, Hattori M, Kuboyama T, Tohda C, Komatsu K (2002) Withanolide derivatives from the roots of Withania somnifera and their neurite outgrowth activities. Chem Pharm Bull (Tokyo) 50:760–765
Acknowledgements
This research was supported by Main Research Program (E0164502-02) of the Korea Food Research Institute (KFRI) funded by the Ministry of Science and ICT.
Ethics declarations
Conflict of interest
The authors declare that they have no competing interests.
About this article
Cite this article
Lim, D.W., Kim, J.G., Lim, E.Y. et al. Antihyperalgesic effects of ashwagandha (Withania somnifera root extract) in rat models of postoperative and neuropathic pain. Inflammopharmacol 26, 207–215 (2018). https://doi.org/10.1007/s10787-017-0389-1
Received:

Accepted:

Published:

Issue Date:

DOI: https://doi.org/10.1007/s10787-017-0389-1
Keywords