Abstract
A wide variety of herbal remedies are used in traditional Australian medicine to treat inflammatory disorders, including autoimmune inflammatory diseases. One hundred and six extracts from 40 native Australian plant species traditionally used for the treatment of inflammation and/or to inhibit bacterial growth were investigated for their ability to inhibit the growth of a microbial trigger for ankylosing spondylitis (K. pneumoniae). Eighty-six of the extracts (81.1%) inhibited the growth of K. pneumoniae. The D. leichardtii, Eucalyptus spp., K. flavescens, Leptospermum spp., M. quinquenervia, Petalostigma spp., P. angustifolium, S. spinescens, S. australe, S. forte and Tasmannia spp. extracts were effective K. pneumoniae growth inhibitors, with MIC values generally <1000 µg/mL. The T. lanceolata peppercorn extracts were the most potent growth inhibitors, with MIC values as low as 16 µg/mL. These extracts were examined by non-biased GC–MS headspace analysis and comparison with a compound database. A notable feature was the high relative abundance of the sesquiterpenoids polygodial, guaiol and caryophyllene oxide, and the monoterpenoids linalool, cineole and α-terpineol in the T. lanceolata peppercorn methanolic and aqueous extracts. The extracts with the most potent K. pneumoniae inhibitory activity (including the T. lanceolata peppercorn extracts) were nontoxic in the Artemia nauplii bioassay. The lack of toxicity and the growth inhibitory activity of these extracts against K. pneumoniae indicate their potential for both preventing the onset of ankylosing spondylitis and minimising its symptoms once the disease is established.
Access options
Buy single article
Instant access to the full article PDF.
USD 39.95
Price excludes VAT (USA)
Tax calculation will be finalised during checkout.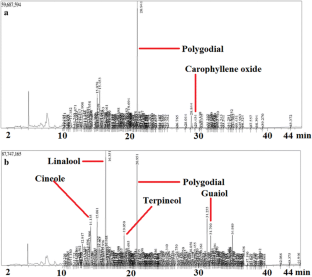 Similar content being viewed by others
References
Aletaha D, Kapral T, Smolen JS (2003) Toxicity profiles of traditional disease modifying antirheumatic drugs for rheumatoid arthritis. ARD 62:482–486

Ashayeri-Panah M, Feizabadi MM, Eftekhar F (2014) Correlation of multi-drug resistance, integron and blaESBL gene carriage with genetic fingerprints of extended-spectrum β-lactamase producing Klebsiella pneumoniae. Jundishapur J Microbiol 7(2):e8747

Baines M, Ebringer A, Avakian H et al (1990) The use of enzyme immunoassay (EIA) and radiobinding assay to investigate the cross-reactivity of Klebsiella antigens and HLA-B27 in ankylosing spondylitis patients and healthy controls. Scand J Rheumatol 19:341–349

Beermann C, Wunderli-Allenspach H, Groscurth P et al (2000) Lipoproteins from Borrelia burgdorferi applied in liposomes and presented to dendritic cells induce CD8 + T-lymphocytes in vitro. Cell Immunol 201:124–131

Blankenberg-Sprenkels SD, Fielder M, Feltkamp TW et al (1998) Antibodies to Klebsiella pneumoniae in Dutch patients with ankylosing spondylitis and acute anterior uveitis and to Proteus mirabilis in rheumatoid arthritis. J Rheumatol 25:743–747

Boyer H, Cock IE (2013) Evaluation of the potential of Macadamia integriflora extracts as antibacterial food agents. Pharmacogn Commun 3(3):53–62

Braun J, Sieper J (2007) Ankylosing spondylitis. Lancet 369:1379–1390

Braun J, Bollow M, Remlinger G et al (1998) Prevalence of spondylarthropathies in HLA B27-positive and negative blood donors. Arthritis Rheum 41:58–67

Brem-Stecher B, Johnson EA (2003) Sensitisation of Staphylococcus aureus and Escherichia coli to antibiotics by the sesquiterpenoids nerolidol, farnesol, bisabolol, and apritone. Antimicrob Agents Chemother 47(10):3357–3360

Chikowe G, Mpala L, Cock IE (2013) Antibacterial activity of selected Australian Syzygium species. Pharmacogn Commun 3(4):77–83

Cock IE (2011) Medicinal and aromatic plants—Australia. In: Ethnopharmacology, Encyclopedia of Life Support Systems (EOLSS) 2011. Developed under the auspices of UNESCO. EOLSS Publishers, Oxford, UK. http://www.eolss.net. Accessed 11 Aug 2016

Cock IE (2013) The phytochemistry and chemotherapeutic potential of Tasmannia lanceolata (Tasmanian pepper): a review. Pharmacogn Commun 3(4):13–25. doi:10.5530/pc.2013.4.3

Cock IE, Winnett V, Sirdaarta J et al (2015) The potential of selected Australian medicinal plants with anti-Proteus activity for the treatment and prevention of rheumatoid arthritis. Pharmacogn Mag 11(42):S190–S208. doi:10.4103/0973-1296.157734

Cristani M, D'Arrigo M, Mandalari G et al (2007) Interaction of four monoterpenes contained in essential oils with model membranes: implications for their antibacterial activity. J Agric Food Chem 55:6300–6308

De Almeida Alves TM, Ribeiro FL, Kloos H et al (2001) Polygodial, the fungitoxic component from the Brazilian medicinal plant Polygonum punctatum. Mem Inst Oswaldo Cruz 96(6):831–833

Di Pasqua R, Hoskins N, Betts G et al (2006) Changes in membrane fatty acid composition of microbial cells induced by addition of thymol, carvacrol, limonene, cinnamaldehyde, and eugenol in the growing media. J Agric Food Chem 54:2745–2749

Ebringer A, Rashid T, Wilson C et al (2006) Ankylosing spondylitis as an auto-immune disease linked to intestinal Klebsiella infection: prospects for a new therapeutic approach. Curr Rheumatol Rev 2:55–68

Fielder M, Pirt SJ, Tarpey I et al (1995) Molecular mimicry and ankylosing spondylitis: possible role of a novel sequence in pullulanase of Klebsiella pneumoniae. FEBS Lett 369:243–248

Hart C, Ilanko P, Sirdaarta J et al (2014) Tasmannia stipitata as a functional food/natural preservative: antimicrobial activity and toxicity. Pharmacogn Commun 4(4):33–47. doi:10.5530/pc.2014.4.4

Hübsch Z, Van Zyl RL, Cock IE et al (2014) Interactive antimicrobial and toxicity profiles of conventional antimicrobials with South African medicinal plants. S Afr J Bot 93:185–197

Jamieson N, Sirdaarta J, Cock IE (2014) The anti-proliferative properties of Australian plants with high antioxidant capacities against cancer cell lines. Pharmacogn Commun 4(4):71–82. doi:10.5530/pc.2014.4.8

Kollef MH, West S, Davis DR et al (1991) Central and peripheral nervous system demyelination after infection with Mycoplasma pneumoniae. Evidence of an autoimmune process. South Med J 84:1255–1258

Kubo I, Fujita K, Lee SH et al (2005) Antibacterial activity of polygodial. Phytother Res 19:1013–1017

Lassak EV, McCarthy T (2011) Australian medicinal plants. New Holland Publishers, Australia

Lawrence RC, Helmick CH, Arnett FC et al (1998) Estimates of the prevalence of arthritis and selected musculoskeletal disorders in the United States. Arthritis Rheum 41:778–799

Menary RC (2003) Mountain pepper extract, Tasmannia lanceolata: quality stabilisation and registration. A report for the Rural Industries Research and Development Corporation (RIRDC). ACT, Barton. http://www.rirdc.gov.au/reports/EOI/02-148.pdf. Accessed 25 July 2016

Paduch R, Kandefer-Szerszen M, Trytek M et al (2007) Terpenes: substances useful in human healthcare. Arch Immunol Ther Exp 55:315–327

Rabe T, Van Staden J (2000) Isolation of an antibacterial sesquiterpenoid from Warburgia salutaris. J Ethnopharmacol 73(1):171–174

Rashid T, Ebringer A (2007) Ankylosing spondylitis is linked to Klebsiella—the evidence. Clin Rheumatol 26:858–864. doi:10.1007/s10067-006-0488-7

Ruebhart DR, Wickramasinghe W, Cock IE (2009) Protective efficacy of the antioxidants vitamin E and Trolox against Microcystis aeruginosa and microcystin-LR in Artemia franciscana nauplii. J Toxicol Environ Health Part A 72:1567–1575

Saag KG, Koehnke R, Caldwell JR et al (1994) Low dose long-term corticosteroid therapy in rheumatoid arthritis: an analysis of serious adverse events. Am J Med 96(2):115–123

Salminen A, Lehtonen M, Suuronen T et al (2008) Terpenoids: natural inhibitors of NF-κB signalling with anti-inflammatory and anticancer potential. Cell Mol Life Sci 65(19):2979–2999

Schwimmbeck PL, Yu DTY, Oldstone MBA (1987) Auto anti-bodies to HLA-B27 in the sera of HLA-B27 patients with ankylosing spondylitis and Reiter's syndrome: molecular mimicry with Klebsiella pneumoniae as a potential mechanism of autoimmune disease. J Exp Med 166:173–181

Tani Y, Tiwana H, Hukuda S et al (1997) Antibodies to Klebsiella, Proteus and HLA-B27 peptides in Japanese patients with ankylosing spondylitis and rheumatoid arthritis. J Rheumatol 24:109–114

Taniguchi M, Adachi T, Oi S et al (1984) Structure-activity relationship of the Warburgia sesquiterpene dialdehydes. Agric Biol Chem 48:73–78

Tiwana H, Wilson C, Walmsley RS et al (1997) Antibody response to gut bacteria in ankylosing spondylitis, rheumatoid arthritis, Crohn's disease and ulcerative colitis. Rheumatol Int 17:11–16

Welsh J, Avakian H, Cowling P et al (1980) Ankylosing spondylitis, HLA-B27 and Klebsiella. I: cross-reactivity studies with rabbit antisera. Br J Exp Pathol 61:85–91

Winnett V, Boyer H, Sirdaarta J et al (2014) The potential of Tasmannia lanceolata as a natural preservative and medicinal agent: antimicrobial activity and toxicity. Pharmacogn Commun 4(1):42–52. doi:10.5530/pc.2014.1.7

Zenegin H, Baysal AH (2014) Antibacterial and antioxidant activity of essential oil terpenes against pathogenic and spoilage-forming bacteria and cell structure-activity relationships evaluated by SEM microscopy. Molecules 19:17773–17798
Acknowledgements
The authors are grateful to Philip Cameron of Mount Coo-tha Botanical Gardens, Brisbane, and to the members of the Queensland Bushfoods Association, Australia, for identifying and providing the plant material used in this study. Financial support for this work was provided by the Environmental Futures Research Institute and the School of Natural Sciences, Griffith University, Australia.
Electronic supplementary material
Below is the link to the electronic supplementary material.
About this article
Cite this article
Winnett, V., Sirdaarta, J., White, A. et al. Inhibition of Klebsiella pneumoniae growth by selected Australian plants: natural approaches for the prevention and management of ankylosing spondylitis. Inflammopharmacol 25, 223–235 (2017). https://doi.org/10.1007/s10787-017-0328-1
Received:

Accepted:

Published:

Issue Date:

DOI: https://doi.org/10.1007/s10787-017-0328-1
Keywords