Abstract
The roles of Omega-3 FAs are inflammation antagonists, while Omega-6 FAs are precursors for inflammation. The plant form of Omega-3 FAs is the short-chain α-linolenic acid, and the marine forms are the long-chain fatty acids: docosahexaenoic acid and eicosapentaenoic acid. Omega-3 FAs have unlimited usages, and they are considered as omnipotent since they may benefit heart health, improve brain function, reduce cancer risks and improve people's moods. Omega-3 FAs also have several important biological effects on a range of cellular functions that may decrease the onset of heart diseases and reduce mortality among patients with coronary heart disease, possibly by stabilizing the heart's rhythm and by reducing blood clotting. Some review studies have described the beneficial roles of Omega-3 FAs in cardiovascular diseases (CVDs), cancer, diabetes, and other conditions, including inflammation. Studies of the effect of Omega-3 FAs gathered from studies in diseased and healthy population. CVDs including atherosclerosis, coronary heart diseases, hypertension, and metabolic syndrome were the major fields of investigation. In studies of obesity, as the central obesity increased, the level of adipocyte synthesis of pro-inflammatory cytokines like tumor necrosis factor alpha (TNF-α) and interleukin 6 (IL-6) were increased and the level of anti-inflammatory adiponectin was decreased indicating a state of inflammation. The level of C reactive protein (CRP) synthesized from hepatocyte is increased by the influence of IL-6. CRP can be considered as a marker of systemic inflammation associated with increased risks of CVDs. In molecular studies, Omega-3 FAs have direct effects on reducing the inflammatory state by reducing IL-6, TNF-α, CRP and many other factors. While the appropriate dosage along with the administrative duration is not known, the scientific evidence-based recommendations for daily intake are not modified.
Access options
Buy single article
Instant access to the full article PDF.
US$ 39.95
Tax calculation will be finalised during checkout.
Subscribe to journal
Immediate online access to all issues from 2019. Subscription will auto renew annually.
US$ 79
Tax calculation will be finalised during checkout.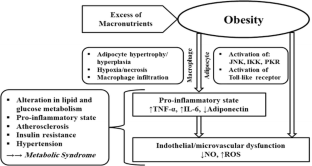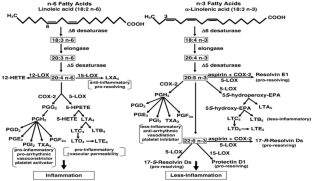 References
Adkins Y, Kelley D (2010) Mechanisms underlying the cardioprotective effects of Omega-3 polyunsaturated fatty acids: review current topic. J Nutr Biochem 21:781–792

Angulo P (2007) Obesity and nonalcoholic fatty liver disease. Nutr Rev 65:S57–S63

Benatti P, Peluso G, Nicolai R, Calvani M (2004) Polyunsaturated fatty acids: biochemical, nutritional and epigenetic properties. J Am Coll Nutr 23:281–302

Bhatnagar D, Durrington PN (2003) Omega-3 fatty acids: their role in the prevention and treatment of atherosclerosis related risk factors and complications. Int J Clin Pract 57:305–314

Blaschke F, Takata Y, Caglayan E, Collins A, Tontonoz P, Hsueh WA, Tangirala RK (2006) A nuclear receptor corepressor-dependent pathway mediates suppression of cytokine-induced C-reactive protein gene expression by liver X receptor. Circ Res 99:e88–e99

Boura-Halfon S, Zick Y (2009) Phosphorylation of IRS proteins, insulin action, and insulin resistance. Am J Physiol 296(4):E581–E591

Bouwens M, van de Rest O, Dellschaft N, Bromhaar MG, de Groot L, Geleijnse J, Muller M, Afman L (2009) Fish-oil supplementation induces antiinflammatory gene expression profiles in human blood mononuclear cells. Am J Clin Nutr 90:415–424

Bowden RG, Wilson RL, Deike E et al (2011) Fish oil supplementation lowers C-reactive protein levels independent of triglyceride reduction in patients with end-stage renal disease. Nutr Clin Pract 24:508–512

Brenna JT, Salem N, Sinclair AJ, Cunnane SC (2009) Alpha-Linolenic acid supplementation and conversion to n-3 long-chain polyunsaturated fatty acids in humans. Prostaglandins Leukot Essent Fatty Acids 80:85–91

Browning JD, Szczepaniak LS, Dobbins R, Nuremberg P, Horton JD, Cohen JC et al (2004) Prevalence of hepatic steatosis in an urban population in the United States: impact of ethnicity. Hepatology 40:1387–1395

Caughey GE, Mantzioris E, Gibson RA, Cleland L, James M (1996) The effect on human tumor necrosis factor α and interleukin 1β production of diets enriched in n-3 fatty acids from vegetable oil or fish oil. Am J Clin Nutr 63:116–122

Chitturi S, Abeygunasekera S, Farrell GC, Holmes-Walker J, Hui JM, Fung C et al (2002) NASH and insulin resistance: insulin hypersecretion and specific association with the insulin resistance syndrome. Hepatology 35:373–379

Chowdhury R, Stevens S, Gorman D, Pan A, Warnakula S, Chowdhury S, et al. (2012). Association between fish consumption, long chain Omega 3 fatty acids, and risk of cerebrovascular disease: systematic review and meta-analysis. Br Med J 345. doi: 10.1136/bmj.e6698

Cinti S, Mitchell G, Barbatelli G et al (2005) Adipocyte death defines macrophage localization and function in adipose tissue of obese mice and humans. J Lipid Res 46(11):2347–2355

De Caterina R, Libby P (1996) Control of endothelial leukocyte adhesion molecules by fatty acids. Lipids 31:S57–S63

Delgado-Lista J, Perez-Martinez P, Lopez-Miranda J, Perez-Jimenez F (2012) Long chain Omega-3 fatty acids and cardiovascular disease: a systematic review. Br J Nutr 107:S201–S213

Din JN, Newby DE, Flapan AD (2004) Omega-3 fatty acids and cardiovascular disease- fishing for a natural treatment. BMJ 328:30–35

Duda MK, O'Shea KM, Tintinu A, Xu W, Khairallah RJ, Barrows BR, Chess DJ, Azimzadeh AM, Harris WS, Sharov VG, Sabbah HN, Stanley WC (2009) Fish oil, but not flaxseed oil, decreases inflammation and prevents pressure overload-induced cardiac dysfunction. Cardiovasc Res 81:319–327

Emanuela F, Grazia M, Marco DR, Paola LM, Giorgio F, Marco B (2012) Inflammation as a Link between Obesity and Metabolic Syndrome: review Article. J Nutri and Metab. doi:10.1155/2012/476380

Engler MM, Engler MB, Malloy MJ (2005) Effect of docosahexaenoic acid on lipoprotein subclasses in hyperlipidemic children (the EARLY study). Am J Cardiol 95:869–871

Evans M, Mahaney PE, Zhang S, Gantan E, Borges-Marcucci L, Lai KD, Wang S, Harnish DC (2007) A synthetic farnesoid X receptor agonist protects against diet-induced dyslipidemia. Circulation 116(16):106

FAO/WHO (2010) Fats and fatty acids in human nutrition Report of an expert consultation. 91 (66), Rome

Forman BM, Goode E, Chen J, Oro AE, Bradley DJ, Perlmann T, Noonan DJ, Burka LT, McMorris T, Lamph WW, Evans RM, Weinberger C (1995) Identification of a nuclear receptor that is activated by farnesol metabolites. Cell 81:687–693

Freund-Levi Y, Hjorth E, Lindberg C et al (2009) Effects of Omega-3 fatty acids on inflammatory markers in cerebrospinal fluid and plasma in Alzheimer's disease: the OmegaD study. Dement Geriatr Cogn Disord 27:481–490

Geelen A, Brouwer IA, Zock PL, Katan MB (2004) Antiarrhythmic effects of n-3 fatty acids: evidence from human studies. Curr Opin Lipidol 15:25–30

Gerber M (2012) Omega-3 fatty acids and cancers: a systematic update review of epidemiological studies. Br J Nutr 107:S228–S239

Halberg N, Wernstedt-Asterholm I, Scherer PE (2008) The adipocyte as an endocrine cell. Endocrinol Metab Clin North Am 37(3):753–768

Hooper L, Thompson RL, Harrison RA, Summerbell C, Ness A et al (2006) Risks and benefits of Omega-3 fats for mortality, cardiovascular disease, and cancer: systematic review. BMJ. doi:10.1136/bmj.38755.366331.2F

Hotamisligil GS, Shargill NS, Spiegelman BM (1993) Adipose expression of tumor necrosis factor-α: direct role in obesity-linked insulin resistance". Science 259(5091):87–91

Itariu B, Zeyda Z, Hochbrugger E, Neuhofer A et al (2012) Long-chain n23 PUFAs reduce adipose tissue and systemic inflammation in severely obese nondiabetic patients: a randomized controlled trial. Am J Clin Nutr 96:1137–1149

Jenkins D, Josse A (2008) Fish oil and Omega-3 fatty acids: fact sheet. Can Med Assoc J 178(2):150. doi:10.1503/cmaj.071754

Johnson IT (2002) Anticarcinogenic effects of dietrelated apoptosis in the colorectal mucosa. Food Chem Toxicol 40:1171–1178

Jump DB (2002) The biochemistry of n-3 polyunsaturated fatty acids. J Biol Chem 277:8755–8758

Karastergiou K, Mohamed-Ali V (2010) The autocrine and paracrine roles of adipokines. Mol Cell Endocrinol 318(1–2):69–78

Khalfoun B, Thibault F, Watier H, Bardos P, Lebranchu Y (1997) Docosahexaenoic and eicosapentaenoic acids inhibit in vitro human endothelial cell production of interleukin-6. Adv Exp Med Biol 400:589–597

Kiecolt-Glaser J, Belury M, Andridge R, Malarkey W, Glaser R (2011) Omega-3 supplementation lowers inflammation and anxiety in medical students: a randomized controlled trial. Brain Behav Immun 25(8):1725–1734

Kiecolt-Glaser J, Belury M, Andridge R, Malarkey W, Hwang B, Glaser R (2012) Omega-3 supplementation lowers inflammation in healthy middle-aged and older adults: a randomized controlled trial. Brain Behav Immun 26(6):988–995

Lee KW, Lip GYH (2003) The role of Omega-3 fatty acids in secondary prevention of cardiovascular disease. Q J Med. 96:465–480

Li L, Wilson A, Kuruba R, Zhang Q, Gao X, He F, Zhang LM, Pitt BR, Xie W, Li S (2008) FXR-mediated regulation of eNOS expression in vascular endothelial cells. Cardiovasc Res 77:169–177

Lichtenstein AH, Jones PJH (2001) Lipids: absorption and transport. present knowledge in nutrition. ILSI press, Washington, DC, pp 92–103

Lin PY, Su KP (2007) A Meta-Analytic Review of Double-Blind, Placebo-Controlled Trials of Antidepressant Efficacy of Omega-3 Fatty Acids. J Clin Psychiatry 68:1056–1061

MacLean C, Newberry S, Mojica W, Khanna P, Issa A, Suttorp M, Lim YW, Traina S, Hilton L, Garland R, Morton S (2006) Effects of Omega-3 fatty acids on cancer risk: a systematic review. JAMA 295:403–415

Makhoul Z, Kristal AR, Gulati R, Luick B, Bersamin A, O'Brien D, Hopkins SE, Stephensen CB, Stanhope KL, Havel PJ, Boyer B (2011) Associations of obesity with triglycerides and C-reactive protein are attenuated in adults with high red blood cell eicosapentaenoic and docosahexaenoic acids. Eur J Clin Nutr 65(7):808–817

Makishima M, Okamoto AY, Repa JJ, Tu H, Learned RM, Luk A, Hull MV, Lustig KD, Mangelsdorf DJ, Shan B (1999) Identification of a nuclear receptor for bile acids. Science 284:1362–1365

Marik P, Varon J (2009) Omega-3 dietary supplements and the risk of cardiovascular events: a systematic review. Clin Cardiol 32(7):365–372

McNamara RK, Jandacek R, Rider T, Tso P, Cole-Strauss A, Lipton JW (2010) Omega-3 fatty acid deficiency increases constitutive pro-inflammatory cytokine production in rats: relationship with central serotonin turnover. Prostaglandins Leukot Essent Fatty Acids 83(4–6):185–191

Medzhitov R (2008) Origin and physiological roles of inflammation. Nature 454(7203):428–435

Micallef MA, Munro IA, Garg ML (2009) An inverse relationship between plasma n-3 fatty acids and C-reactive protein in healthy individuals. Eur J Clin Nutr 63:1154–1156

Murray CJ, Lopez AD (1997) Alternative projections of mortality and disability by cause 1990–2020: global burden of disease study. Lancet 349:1498–1504

Nodari S, Triggiani M, Campia U, Manerba A, Milesi G, Cesana BM, Gheorghiade M, Dei Cas L (2011) Effects of n-3 polyunsaturated fatty acids on left ventricular function and functional capacity in patients with dilated cardiomyopathy. J Am Coll Cardiol 57:870–879

O'Keefe JH Jr, Abuissa H, Sastre A, Steinhaus DM, Harris WS (2006) Effects of Omega-3 fatty acids on resting heart rate, heart rate recovery after exercise, and heart rate variability in men with healed myocardial infarctions and depressed ejection fractions. Am J Cardiol 97(8):1127–1130

Parker HM, Johnson N, Burdon C, Cohn J, O'Connor H, George J (2012) Omega-3 supplementation and non-alcoholic fatty liver disease: a systematic review and meta- analysis. J Hepatol 56:944–951

Peoples GE, McLennan PL, Howe PR and Groeller H (2008) Fish oil reduces heart rate and oxygen consumption during exercise. J Cardiovasc Pharmacol 52:540–547

Pot GK, Brouwer IA, Enneman A et al (2009) No effect of fish oil supplementation on serum inflammatory markers and their interrelationships: a randomized controlled trial in healthy, middle-aged individuals. Eur J Clin Nutr 63:1353–1359

Rader D (2007) Liver X receptor and farnesoid X receptor as therapeutic targets. Am J Cardiol 100:n15–n19

Rangel-Huerta OD, Aguilera CM, Mesa MD, Gil A (2012) Omega-3 long-chain polyunsaturated fatty acids supplementation on inflammatory biomakers: a systematic review of randomised clinical trials. Br J Nutr 107:S159–S170

Renier G, Skamene E, de Sanctis J, Radzioch D (1993) Dietary n-3 polyunsaturated fatty acids prevent the development of atherosclerotic lesions in mice: modulation of macrophage secretory activities. Arterioscler Thomb 13:1515–1524

Rizos E, Ntzani E, Bika E, Kostapanos M, Elisaf M (2012) Association between Omega-3 fatty acid supplementation and risk of major cardiovascular disease events: a systematic review and meta-analysis. JAMA 308(10):1024–1033

Romano M (2008) Inflammation resolution: does the bone marrow have a say? Am J Hematol 83:435–436

Sanyal AJ, Chalasani N, Kowdley KV, McCullough A, Diehl AM, Bass NM et al (2010) Pioglitazone, vitamin E, or placebo for nonalcoholic steatohepatitis. N Engl J Med 362:1675–1685

Seki H, Tani Y, Arita M (2009) Omega-3 PUFA derived anti-inflammatory lipid mediator resolvin E1. Prostaglandins Other Lipid Mediat 89:126–130

Serhan CN, Chiang N, Van Dyke TE (2008) Resolving inflammation: dual anti-inflammatory and pro- resolution lipid mediators. Nat Rev Immunol 8:349–361

Simopoulos A (1991) Omega-3 fatty acids in health and disease and in growth and development. Am J Clin Nutr 54:438–463

Simopoulos A (2002) The importance of the ratio of Omega-6/Omega-3 essential fatty acids. Biomed Pharmacother 56:365–379

Skulas-Ray A, Kris-Etherton P, Harris W, Vanden Heuvel J, Wagner P, West S (2011) Dose-response effects of Omega-3 fatty acids on triglycerides, inflammation, and endothelial function in healthy persons with moderate hypertriglyceridemia. Am J Clin Nutr 93:243–252

Stark AH, Crawford M, Reifen R (2008) Update on alpha-linolenic acid. Nutr Rev 66(6):326–332

Stenlof K, Wernstedt I, Fjallman T, Wallenius V, Wal-lenius K, Jansson JO (2003) Interleukin-6 levels in the central nervous system are negatively correlated with fat mass in overweight/obese subjects. J Clin Endocrinol Metab 88(9):4379–4383

Stern MP, Williams K, Gonzalez-Villalpando C, Hunt KJ, Haffner SM (2004) Does the metabolic-syndrome improve identification of individuals at risk of type 2 diabetes and/or cardiovascular disease? Diabetes Care 27(11):2676–2681

Stryer L (1995) Fatty acids metabolism, in Biochemistry. Ed WH Freeman and Company. New York pp 603–627

Takezaki T, Inoue M, Kataoka H et al (2003) Diet and lung cancer risk from a 14-year population-based prospective study in Japan: with special reference to fish consumption. Nutr Cancer 45:160–167

Tanskanen A, Hibbeln JR, Hintikka J et al (2001) Fish consumption, depression, and suicidality in a general population. Arch Gen Psychiatry 58:512–513

Tao H, Szeszel-Fedorowicz W, Amir-Ahmady B, Gibson MA, Stabile LP, Salati LM (2002) Inhibition of the splicing of glucose-6-phosphate dehydrogenase precursor mRNA by polyunsaturated fatty acids. J Biol Chem 277:31270–31278

Targher G, Arcaro G (2007) Non-alcoholic fatty liver disease and increased risk of cardiovascular disease. Atherosclerosis 191:235–240

Teran-Garcia M, Rufo C, Nakamura MT, Osborne TF, Clarke SD (2002) NF-Y involvement in the polyunsaturated fat inhibition of fatty acid synthase gene transcription. Biochem Biophys Res Commun 290:1295–1299

Thies F, Garry JM, Yaqoob P, Rerkasm K, Williams J, Shearman CP et al (2003) Association of n-3 polyunsaturated fatty acids with stability of atherosclerotic plaques: a randomized controlled trial. Lancet 361:477–485

Trayhurn P, Wood I (2004) Adipokines: inflammation and the pleiotropic role of white adipose tissue. Br J Nutr 92(3):347–355

Trebble T, Arden NK, Stroud MA, Wootton SA, Burdge GC, Miles EA, Ballinger AB, Thompson RL, Calder P (2003) Inhibition of tumour necrosis factor-α and interleukin-6 production by mononuclear cells following dietary fish-oil supplementation in healthy men and response to antioxidant co-supplementation. Br J Nutr 90:405–412

Tulk HMF, Robinson LE (2009) Modifying the n-6/n-3 polyunsaturated fatty acid ratio of a high-saturated fat challenge does not acutely attenuate postprandial changes in inflammatory markers in men with metabolic syndrome. Metabolism 58:1709–1716

Wang X, Li W, Li N et al (2008) w-3 Fatty Acids-Supplemented Parenteral Nutrition Decreases hyperinflammatory response and attenuates systemic disease sequelae in severe acute pancreatitis: a Randomized and controlled study. Nutr Clin Pract Nutr Clin Pract 32:236–241

Wu J, Micha R, Imamura F, Pan A, Biggs M, Ajaz O, Djousse L, Hu F, Mozaffarian D (2012) Omega-3 fatty acids and incident type 2 diabetes: a systematic review and meta-analysis. Br J Nutr 107:S214–S227

Yaqoob P, Calder PC (1995) Effects of dietary lipid manipulation upon inflammatory mediator production by murine macrophages. Cell Immunol 163:120–128

Yunianingtias D, Volker D (2006) Nutritional aspects of non-alcoholic steatohepatitis treatment. Nutr Diet 63:79–90

Yusof H, Cawood A, Ding R, Williams J, Napper F, Shearman C, Grimble R, Payne S, Calder P (2013) Limited impact of 2 g/day Omega-3 fatty acid ethyl esters (omacor®) on plasma lipids and inflammatory markers in patients awaiting carotid endarterectomy. Mar Drugs 11:3569–3581. doi:10.3390/md11093569

Zhang S, Liu Q, Wang J, Harnish DC (2009) Suppression of interleukin-6-induced Creactive protein expression by FXR agonists. Biochem Biophys Res Commun 379:476–479

Zhao YT, Shao L, Teng LL et al (2009) Effects of n-3 polyunsaturated fatty acid therapy on plasma inflammatory markers and N-terminal pro-brain natriuretic peptide in elderly patients with chronic heart failure. J Int Med Res 37:1831–1841
Conflict of interest
The authors declare that they have no significant competing professional or personal interests that might influence the performance or presentation of the work described in this manuscript.
About this article
Cite this article
Ellulu, M.S., Khaza'ai, H., Abed, Y. et al. Role of fish oil in human health and possible mechanism to reduce the inflammation. Inflammopharmacol 23, 79–89 (2015). https://doi.org/10.1007/s10787-015-0228-1
Received:

Accepted:

Published:

Issue Date:
Keywords
Omega-3 fatty acids

Polyunsaturated fatty acids

Inflammation

Mechanism

Metabolic syndrome

Obesity

Cardiovascular diseases

Cancer

Interleukin 6

C reactive protein