Abstract
Mental health is closely linked to physical health. Depression (e.g., major depression) is highly prevalent worldwide and a major cause of disability. In a subgroup with treatment-resistant depression, standard pharmacotherapy interventions provide small if any incremental improvement in patient outcomes and may also require the application of an alternate approach. Therefore, in addition to the standard pharmacotherapies prescribed, patients will also be advised on the benefits of psychological counseling, electroconvulsive therapy, and transcranial magnetic stimulation or increasing physical activity and reducing harmful substance consumption. Numerous nutraceuticals have a beneficial role in treatment-resistant depression and include, herbal medicines of which Hypericum perforatum is the best studied, omega-3 fatty acid preparations, S-Adenosyl-L-Methionine (SAMe), various mineral formulations (e.g., magnesium) and folate (singly or in combination with B group vitamins) are prescribed to a lesser extent. Furthermore, a largely neglected area of research activity has been the role of live probiotic cultures that contribute to repairing dysbiosis (a leaky gut barrier abnormality) in the gastrointestinal tract (GIT). In this commentary, we build a hypothesis that in addition suggests that GIT metabolites that are elaborated by the microbiome cohort may provide novel and significant avenues for efficacious therapeutic interventions for mood disorders. We posit that the microbiome in the gastrointestinal tract is implicit as an important participant for the amelioration of adverse mood conditions via the diverse metabolic activities provided by live beneficial bacteria (probiotics) as an active adjuvant treatment. This activity is in part triggered by a controlled release of reactive oxygen species (ROS) and hence further questions the antioxidant/oxidative stress postulate.
This is a preview of subscription content, log in to check access.
Access options
Buy single article
Instant access to the full article PDF.
US$ 39.95
Price includes VAT for USA
Subscribe to journal
Immediate online access to all issues from 2019. Subscription will auto renew annually.
US$ 99
This is the net price. Taxes to be calculated in checkout.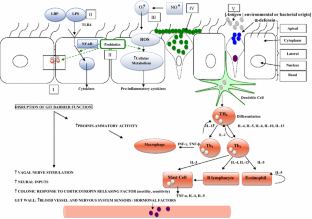 References
Amalaradjou MA, Bhunia AK (2012) Modern approaches in probiotics research to control foodborne pathogens. Adv Food Nutr Res 67:185–239

Andrews G, Hall W, Teeson M, Henderson S (1999) The mental health of Australians. Commonwealth Department of Health and Aged Care, Canberra

Benton D, Williams C, Brown A (2007) Impact of consuming a milk drink containing a probiotic on mood and cognition. Eur J Clin Nutr 61:355–361

Berk M, Williams LJ, Jacka FN et al (2013) So depression is an inflammatory disease, but where does the inflammation come from? BMC Med 11:200

Black DW, Bell S, Hulbert J, Nasrallah A (1988) The importance of axis II diagnoses in patients with major depression. J Affect Disord 14:115–122

Bravo JA, Forsythe P, Chew MV et al (2011) Ingestion of Lactobacillus strain regulates emotional behavior and central GABA receptor expression in a mouse via the vagus nerve. PNAS 108:16050–16055

Brophy JJ (1994) Personality disorder, symptoms and dexamethasone suppression in depression. Affect Disord 31:19–27

Calanni F, Renzulli C, Barbanti M, Viscomi GC (2014) Rifaximin: beyond the traditional antibiotic activity. J Antibiot (Tokyo). doi: 10.1038/ja.2014.106

Clarke G, Grenham S, Scully P et al (2013) The microbiome-gut-brain axis during early life regulates the hippocampal serotonergic system in a sex-dependent manner. Mol Psychiatry 18(6):666–673

Collins SM, Bercik P (2009) The relationship between intestinal microbiota and the central nervous system in normal gastrointestinal function and disease. Gastroenterology 136:2003–2014

Cotter PD, Stanton C, Ross RP, Hill C (2012) The impact of antibiotics on the gut microbiota as revealed by high throughput DNA sequencing. Discov Med 13(70):193–199

Cryan JF, O'Mahony SM (2011) The microbiome-gut-brain axis: from bowel to behavior. Neurogastroenterol Motil 23:187–192

Dinan TG, Cryan JF (2013) Melancholic microbes: a link between gut microbiota and depression? Neurogastroenterol Motil 25:713–719

Dinan TG, Stanton C, Cryan JF (2013) Psychobiotics: a novel class of psychotropic. Biol Psychiatry 74(10):720–726

Fava M (2010) Switching treatments for complicated depression. J Clin Psychiatry 71(2):e04

Foster JA, McVey Neufeld KA (2013) Gut–brain axis: how the microbiome influences anxiety and depression. Trends Neurosci 36(5):305–312

Furness JB, Rivera LR, Cho HJ et al (2013) The gut as a sensory organ. Nat Rev Gastroenterol Hepatol 10(12):729–740

Halmos EP, Christophersen CT, Bird AR et al (2014) Diets that differ in their FODMAP content alter the colonic luminal microenvironment. Gut. doi: 10.1136/gutjnl-2014-307264

Hungin AP, Mulligan C, Pot B et al (2013) Systematic review: probiotics in the management of lower gastrointestinal symptoms in clinical practice—an evidence-based international guide. Aliment Pharmacol Ther 38(8):864–886

Katon W, Russo J, Von Korff M et al (2002) Long-term effects of a collaborative care intervention in persistently depressed primary care patients. J Gen Intern Med 17(10):741–748

Kiloh LG, Andrews G, Neilson M (1988) The long term outcomes of depression. Br J Psychiatry 153:752–759

Lee AS, Murray RM (1988) The long-term outcome of Maudsley depressives. Br J Psychiatry 153:741–751

Loenen W (2006) S-adenosylmethionine: Jack of all trades and master of everything? Biochem Soc Trans 34(Pt 2):330–333

Lyte M (2011) Probiotics function mechanistically as delivery vehicles for neuroactive compounds: Microbial endocrinology in the design and use of probiotics. BioEssays 33:574–581

Maes M, Kubera M, Leunis JC et al (2013) In depression, bacterial translocation may drive inflammatory responses, oxidative and nitrosative stress (O&NS), and autoimmune responses directed against O&NS-damaged neoepitopes. Acta Psychiatr Scand 127(5):344–354

Messaoudi M, Lalonde R, Violle N et al (2011) Assessment of psychotropic-like properties of a probiotic formulation (Lactobacillus helveticus R0052 and Bifidobacterium longum R0175) in rats and human subjects. Br J Nutr 105:755–764

Morris KV, Mattick JS (2014) The rise of regulatory RNA. Nat Rev Genet 15(6):423–437

Najm WI, Reinsch S, Hoehler F et al (2004) S-adenosyl methionine (SAMe) versus celecoxib for the treatment of osteoarthritis symptoms: a double-blind cross-over trial. ISRCTN36233495. BMC Musculoskelet Disord 5:6

National Collaborating Centre for Mental Health (UK) (2010) Leicester (UK): British Psychological Society. National Institute for Health and Clinical Excellence: Guidance. Depression: the treatment and management of depression in adults (Updated Edition)

Naviaux RK (2014) Metabolic features of the cell danger response. Mitochondrion 16:7–17

Neish AS (2013) Redox signaling mediated by the gut microbiota. Free Radic Res 13 [Epub ahead of print]

Nestler EJ, Barrot M, DiLeone RJ et al (2002) Neurobiology of depression. Neuron 34(1):13–25

Papakostas GI, Mischoulon D, Shyu I et al (2010) S-adenosyl methionine (SAMe) augmentation of serotonin reuptake inhibitors for antidepressant nonresponders with major depressive disorder: a double-blind, randomized clinical trial. Am J Psychiatry 167(8):942–949

Perovic B, Jovanovic M, Miljkovic B, Vezmar S (2010) Getting the balance right: established and emerging therapies for major depressive disorders. Nuropsychiatr Dis Treat 7(6):343–364

Piccinelli M, Wilkingson G (1994) Outcome of depression in psychiatric settings. Br J Psychiatry 164:297–304

Rao AV, Bested AC, Beaulne TM et al (2009) A randomized, double-blind, placebo-controlled pilot study of a probiotic in emotional symptoms of chronic fatigue syndrome. Gut Pathog 1:6

Roshchina VV (2010) Evolutionary considerations of neurotransmitters in microbial, plant, and animal cells. In: Lyte M, Freestone PPE (eds) Microbial endocrinology: interkingdom signaling in infectious disease and health. Springer, New York, pp 17–52

Schousboe A, Waagepetersen HS (2007) GABA: homeostatic and pharmacological aspects. In: Tepper JM, Abercrombie ED, Bolam JP (eds) GABA and the basal ganglia: from molecules to systems, vol 9–19. Elsevier Science B, Amsterdam

Shea TM, Glass DR, Pilkonis PA et al (1987) Personality disorders and treatment outcome in the NIMH Treatment of Depression Collaborative Research Program. J Personal Disord 1:27–42

Staudacher H, Lomer MCE, Anderson J et al (2012) Fermentable carbohydrate restriction reduces luminal bifidobacteria and gastrointestinal symptoms in patients with irritable bowel syndrome. J Nutr 142:1510–1518

Tan M, Zhu JC, Du J et al (2011) Effects of probiotics on serum levels of Th1/Th2 cytokine and clinical outcomes in severe traumatic brain-injured patients: a prospective randomized pilot study. Crit Care 15:R290

Tillisch K, Labus J, Kilpatrick L et al (2013) Consumption of fermented milk product with probiotic modulates brain activity. Gastroenterology 144:1394–1401 1401 e1391-1394

Timmerman HM, Koning CJ, Mulder L et al (2004) Monostrain, multistrain and multispecies probiotics—a comparison of functionality and efficacy. Int J Food Microbiol 96:219–233

Vitetta L, Anton B, Cortizo F, Sali A (2005) Mind-body medicine: stress and its impact on overall health and longevity. Ann NY Acad Sci 1057:492–505

Vitetta L, Briskey D, Hayes E et al (2012) A review of the pharmacobiotic regulation of gastrointestinal inflammation by probiotics, commensal bacteria and prebiotics. Inflammopharmacology 20:251–266

Vitetta L, Linnane AW, Gobe GC (2013a) From the gastrointestinal tract (GIT) to the kidneys: live bacterial cultures (probiotics) mediating reductions of uremic toxin levels via free radical signaling. Toxins (Basel) 5(11):2042–2057

Vitetta L, Couslon S, Linnane AW, Butt H (2013b) The gastrointestinal microbiome and musculoskeletal diseases: is there a role for probiotics and prebiotics? Pathogens 2:606–626

Waters LS, Storz G (2009) Regulatory RNAs in bacteria. Cell 136(4):615–628

WHO (2012) World Health Organisation, depression burden of disease. http://www.who.int/mediacentre/factsheets/fs369/en/. Accessed August 2014

Yang X, Xie L, Li Y, Wei C (2009) More than 9,000,000 unique genes in human gut bacterial community: estimating gene numbers inside a human body. PLoS One 4:e6074

Zoetendal EG, Rajilic-Stojanovic M, de Vos WM (2008) High-throughput diversity and functionality analysis of the gastrointestinal tract microbiota. Gut 57:1605–1615
Acknowledgments
Luis Vitetta has received National Institute of Complementary Medicine and National Health and Medical Research Council of Australia competitive funding and Industry support for research into nutraceuticals.
Conflict of interest
The authors have no further conflicts of interest relevant to the content of this review.
Author contributions
LV and MB conception and design of commentary. LV, MB, and HA read, amended and approved the final version of the manuscript.
About this article
Cite this article
Vitetta, L., Bambling, M. & Alford, H. The gastrointestinal tract microbiome, probiotics, and mood. Inflammopharmacol 22, 333–339 (2014). https://doi.org/10.1007/s10787-014-0216-x
Received:

Accepted:

Published:

Issue Date:
Keywords
Mood

Depression

Nutraceuticals

Gastrointestinal tract

Microbiome

Dysbiosis

Probiotics

Prebiotics