Abstract
This article is an historical investigation of the term non-steroidal anti-inflammatory drugs and its acronym NSAIDs. Drug names and categories tend to be taken at face value in everyday practice, as natural categories existing in their own right. The main argument of this article is that the term NSAID is a reminder that drug names and categories are complex cultural and social products that have been created by specific people, for specific purposes, through specific historical processes, and that this is relevant for their use today. The article locates the first appearances of the phrase non-steroidal at the entry to the 1960s, when the iatrogenic tragedies that followed from the introduction of corticosteroids had become apparent, and where a clear separation between these drugs and emerging anti-inflammatory alternatives was needed. The article then shows how both the phrase and the acronym appeared for the first time out of specific textual contexts in publications by Michael W. Whitehouse, before they were taken up by a wider community and transformed into concepts independent on the context of their first appearances.
Access options
Buy single article
Instant access to the full article PDF.
USD 39.95
Price includes VAT (USA)
Tax calculation will be finalised during checkout.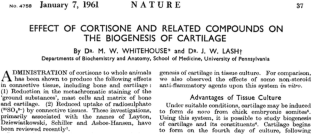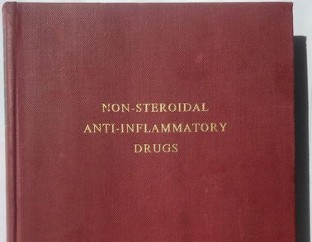 Notes
1.

The Editors thank Professor Ludmila Filaretova, St Petersburg for her knowledge on the original scientific discovery of corticosteroids.

2.

More than two decades should pass before the term disease-modifying anti-rheumatic drug (DMARD) was coined.

3.

Personal communication May 2014.

4.

For details on this, see "Anti-inflammatory glucocorticoid drugs: reflections after 60 years" (Whitehouse 2011).

5.
References
Case JP (2001) Old and new drugs used in rheumatoid arthritis: a historical perspective: part 1: the older drugs. Am J Therapeut 8:123–143

Derbes VJ, Weiss TE (1951) Untowards reactions of cortisone and ACTH. Blackwells Scientific Publications, Oxford

Dixon A, Martin J, Smith B, Wood M (1963) Salicylates: an international symposium, sponsored by the Empire Rheumatism Council, with the support of the Nicholas Research Institute Ltd. Churchill, London.

Garattini S, Dukes MNG (1965) International symposium on non-steroidal anti-inflammatory drugs, 8-10 September 1964. Excerpta Medica Foundation, Milan.

Gourley DRH (1964) Basic mechanisms of drug action. In: Jucker E (ed.) Fortschritte der Arzneimittelforschung/Progress in drug research/Progrès des recherches pharmaceutiques. Birkhäuser, Basel

Gylding-Sabroe JP (1978) Possible causes of treatment failure with the NSAID. Rheumatol Rehabil Suppl:90-3

Klippel JH, Stone JH, Crofford LJ, White PH (2010) The pocket primer on the rheumatic diseases. Springer, London

Le Fanu J (2011) The rise and fall of modern medicine. Abacus, London

Paulus HE, Whitehouse MW (1973) Nonsteroid anti-inflammatory agents. Annu Rev Pharmacol 13:107–125

Pfeiffer JE (1951) How hormone team is saving lives. Popular Sci, June.

Rechenberg HKV, Kunz HA (1962) Phenylbutazone: butazolidin. E. Arnold, London.

Selye H (1941a) Pharmacological classification of steroid hormones. Nature 148:84–95

Selye H (1941b) On the hormonal activity of a steroid compound. Science 94:94

Smith MJH, Smith PK (1966) The salicylates: a critical bibliographic review. Interscience, New York

Strub KM, Muller RK (1979) Relation between ulcerogenic activity of various NSAID and their potency as inhibitors of prostaglandin synthesis in vivo. Agents Actions Suppl, 245–254.

Whitehouse MW (1963) A biochemical distinction between non-steroid anti-inflammatory and analgesic drugs. J Pharm Pharmacol 15:556–557

Whitehouse MW (2011) Anti-inflammatory glucocorticoid drugs: reflections after 60 years. Inflammopharmacology 19:1–19

Whitehouse MW, Lash JW (1960) Effect of hydrocortisone and some of their synthetic analogues upon the biogenesis of cartilage in vitro. Proceedings of the first international congress of endocrinology, Copenhagen

Whitehouse MW, Lash JW (1961) Effect of cortisone and related compounds on the biogenesis of cartilage. Nature 189:37–39
Acknowledgments
I am heavily indebted to Professor Michael Whitehouse and Professor KD Rainsford for encouraging an historical commentary on this topic, and for providing informational fixed points that allowed me to make the step from speculations to facts. Thanks to Professor Whitehouse for sharing his memories and insights about the origin of the term, and for proofreading my analysis. Thanks also to Professor KD Rainsford for checking for other early appearances in rheumatological literature from the period, including several of Derek Willoughby's papers and more (Gourley 1964; Rechenberg and Kunz 1962; Dixon et al. 1963; Smith and Smith 1966). Thanks to Professor KD Rainsford's verifications, it seems even safer to identify Michael Whitehouse as the originator of the term "non-steroidal anti-inflammatory" drugs, as well as of the NSAID acronym. Any misinterpretations or other mistakes are entirely mine. I will be thankful to anyone who points this out for me. I also want to underscore that the identification of Michael Whitehouse as originator of the terms is based on my investigations as well as KD Rainsford's verifications, and that Michael Whitehouse has not made any claims on his own behalf; he has merely contributed with a personal account that does not contradict, but supports, the hypothesis.
About this article
Cite this article
Buer, J.K. Origins and impact of the term 'NSAID'. Inflammopharmacol 22, 263–267 (2014). https://doi.org/10.1007/s10787-014-0211-2
Received:

Accepted:

Published:

Issue Date:
Keywords
NSAID

History

Drug names

Drug categories

Communication