Abstract
Arctium lappa, commonly known as burdock, is being promoted/recommended as a healthy and nutritive food in Chinese societies. Burdock has been used therapeutically in Europe, North America and Asia for hundreds of years. The roots, seeds and leaves of burdock have been investigated in view of its popular uses in traditional Chinese medicine (TCM). In this review, the reported therapeutic effects of the active compounds present in the different botanical parts of burdock are summarized. In the root, the active ingredients have been found to "detoxify" blood in terms of TCM and promote blood circulation to the skin surface, improving the skin quality/texture and curing skin diseases like eczema. Antioxidants and antidiabetic compounds have also been found in the root. In the seeds, some active compounds possess anti-inflammatory effects and potent inhibitory effects on the growth of tumors such as pancreatic carcinoma. In the leaf extract, the active compounds isolated can inhibit the growth of micro-organisms in the oral cavity. The medicinal uses of burdock in treating chronic diseases such as cancers, diabetes and AIDS have been reported. However, it is also essential to be aware of the side effects of burdock including contact dermatitis and other allergic/inflammatory responses that might be evoked by burdock.
This is a preview of subscription content, log in to check access.
Access options
Buy single article
Instant access to the full article PDF.
US$ 39.95
Price includes VAT for USA
Subscribe to journal
Immediate online access to all issues from 2019. Subscription will auto renew annually.
US$ 99
This is the net price. Taxes to be calculated in checkout.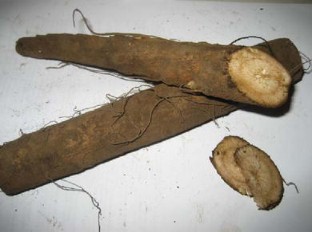 References
Abreu P, Matthew S, Gonzalez T et al (2006) Anti-inflammatory and antioxidant activity of a medicinal tincture from Pedilanthus tithymaloides. Life Sci 78:1578–1585

Awale S, Lu J, Kalauni SK et al (2006) Identification of arctigenin as an antitumor agent having the ability to eliminate the tolerance of cancer cells to nutrient starvation. Cancer Res 66:1751–1757

Bhat SH, Azmi AS, Hadi SM (2007) Prooxidant DNA breakage induced by caffeic acid in human peripheral lymphocytes: involvement of endogenous copper and a putative mechanism for anticancer properties. Toxicol Appl Pharm 218:249–255

Bouayed J, Rammal H, Dicko A et al (2007) Chlorogenic acid, a polyphenol from Prunus domestica (Mirabelle), with coupled anxiolytic and antioxidant effects. J Neurol Sci 262:77–84

Bralley E, Greenspan P, Hargrove JL et al (2008) Inhibition of hyaluronidase activity by select sorghum brans. J Med Food 11:307–312

Chan E, Wong CYK, Wan CW et al (2010) Evaluation of anti-oxidant capacity of root of Scutellaria baicalensis Georgi, in comparison with roots of Polygonum multiflorum Thunb and Panax ginseng CA Meyer. Am J Chinese Med 38:815–827

Chen FA, Wu AB, Chen CY (2004) The influence of different treatments on the free radical scavenging activity of burdock and variations of its active components. Food Chem 86:479–484

Chiang LC, Chiang W, Chang MY et al (2002) Antiviral activity of Plantago major extracts and related compounds in vitro. Antiviral Res 55:53–62

Cho MK, Park JW, Jang YP et al (2002) Potent inhibition of lipopolysaccharide-inducible nitric oxide synthase expression by dibenzylbutyrolactone lignans through inhibition of I-kappa B alpha phosphorylation and of p65 nuclear translocation in macrophages. Int Immunopharmacol 2:105–116

Cho MK, Jang YP, Kim YC et al (2004) Arctigenin, a phenylpropanoid dibenzylbutyrolactone lignan, inhibits MAP kinases and AP-1 activation via potent MKK inhibition: the role in TNF-alpha inhibition. Int Immunopharmacol 4:1419–1429

Eich E, Pertz H, Kaloga M et al (1996) (−)-Arctigenin as a lead structure for inhibitors of human immunodeficiency virus type-1 integrase. J Med Chem 39:86–95

Gao Y, Dong X, Kang TG et al (2002) Activity of in vitro anti-influenza virus of arctigenin. Chin Trad Herbal Drugs 33:724–726

Guo JF, Zhou JM, Zhang Y et al (2008) Rhabdastrellic acid-A inhibited PI3K/Akt pathway and induced apoptosis in human leukemia HL-60 cells. Cell Biol Int 32:48–54

Hirose M, Yamaguchi T, Lin C et al (2000) Effects of arctiin on PhIP-induced mammary, colon and pancreatic carcinogenesis in female Sprague–Dawley rats and MeIQx-induced hepatocarcinogenesis in male F344 rats. Cancer Lett 155:79–88

Ichikawa K, Kinoshita T, Nishibe S et al (1986) The Ca-2+ antagonist activity of lignans. Chem Pharm Bull 34:3514–3517

Ishihara K, Yamagishi N, Saito Y et al (2006) Arctigenin from Fructus Arctii is a novel suppressor of heat shock response in mammalian cells. Cell Stress Chaperon 11:154–161

Iwakami S, Wu JB, Ebizuka Y et al (1992) Platelet activating factor (Paf) antagonists contained in medicinal-plants—lignans and sesquiterpenes. Chem Pharm Bull 40:1196–1198

Kim BH, Hong SS, Kwon SW et al (2008) Diarctigenin, a lignan constituent from Arctium lappa, down-regulated zymosan-induced transcription of inflammatory genes through suppression of dna binding ability of nuclear factor-kappa B in macrophages. J Pharmacol Exp Ther 327:393–401

Knipping K, van Esch E, Wijering SC et al (2008) In Vitro and in vivo anti-allergic effects of Arctium lappa L. Exp Biol Med (Maywood) 233:1469

Lee CP, Shih PH, Hsu CL et al (2007) Hepatoprotection of tea seed oil (Camellia oleifera Abel.) against CCl4-induced oxidative damage in rats. Food Chem Toxicol 45:888–895

Li YJ, Liu SM, Li SL et al (2004) The experimental study of the effect of anti-decrepitude of Arctium lappa L. 15:545–546

Li YJ, Shi W, Li YD et al (2008) Neuroprotective effects of chlorogenic acid against apoptosis of PC12 cells induced by methylmercury. Environ Toxicol Phar 26:13–21

Lin CC, Lin JM, Yang JJ et al (1996) Anti-inflammatory and radical scavenge effects of Arctium lappa. Am J Chin Med 24:127–137

Lin SC, Chung TC, Lin CC et al (2000) Hepatoprotective effects of Arctium lappa on carbon tetrachloride- and acetaminophen-induced liver damage. Am J Chin Med 28:163–173

Lin SC, Lin CH, Lin CC et al (2002) Hepatoprotective effects of Arctium lappa Linne on liver injuries induced by chronic ethanol consumption and potentiated by carbon tetrachloride. J Biomed Sci 9:401–409

Lin XC, Liu CY, Chen KS et al (2004) Extraction and content comparison of chlorogenic acid in Arctium lappa L. leaves collected from different terrain and its restraining bacteria test. Nat Prod Res Dev 16:328–330

Liu L, Tang L (1997) Studies on antimutagenicity of burdock. Acta Academiae Medicine Nanjing 4:343–345

Matsumoto T, Hosono-Nishiyama K, Yamada H (2006) Antiproliferative and apoptotic effects of butyrolactone lignans from Arctium lappa on leukemic cells. Planta Med 72:276–278

Mitsuo M, Nobuo Y, Katsuya T (2005) Inhibitory compounds of alpha glucosidase activity from Arctium lappa L. J Oleo Sci 54:589–594

Miyamoto K, Nomura M, Sasakura M et al (1993) Antitumor-activity of oenothein-B, a unique macrocyclic ellagitannin. Jpn J Cancer Res 84:99–103

Mizushina Y, Nakanishi R, Kuriyama I et al (2006) Beta-sitosterol-3-O-beta-d-glucopyranoside: a eukaryotic DNA polymerase lambda inhibitor. J Steroid Biochem 99:100–107

Morita T, Ebihara K, Kiriyama S (1993) Dietary fiber and fat-derivatives prevent mineral-oil toxicity in rats by the same mechanism. J Nutr 123:1575–1585

Niggemann B, Gruber C (2003) Side-effects of complementary and alternative medicine. Allergy 58:707–716

Pari L, Prasath A (2008) Efficacy of caffeic acid in preventing nickel induced oxidative damage in liver of rats. Chem Biol Interact 173:77–83

Park SY, Hong SS, Han XH et al (2007) Lignans from Arctium lappa and their inhibition of LPS-induced nitric oxide production. Chem Pharm Bull 55:150–152

Paulsen E (2002) Contact sensitization from Compositae-containing herbal remedies and cosmetics. Contact Dermatitis 47:189–198

Pereira JV, Bergamo DC, Pereira JO et al (2005) Antimicrobial activity of Arctium lappa constituents against microorganisms commonly found in endodontic infections. Braz Dent J 16:192–196

Pontiki E, Hadjipavlou-Litina D, Chaviara AT et al (2006) Evaluation of anti-inflammatory and antioxidant activities of mixed-ligand Cu(II) complexes of dien and its Schiff dibases with heterocyclic aldehydes and 2-amino-2-thiazoline. Bioorg Med Chem Lett 16:2234–2237

Rault-Nania MH, Demougeot C, Gueux E et al (2008) Inulin supplementation prevents high fructose diet-induced hypertension in rats. Clin Nutr 27:276–282

Sasaki Y, Kimura Y, Tsunoda T et al (2003) Anaphylaxis due to burdock. Int J Dermatol 42:472–473

Schroder HC, Merz H, Steffen R et al (1990) Differential in vitro anti-HIV activity of natural lignans. Z Naturforsch C 45:1215–1221

Silver AA, Krantz JC Jr (1931) The effect of the ingestion of burdock root on normal and diabetic individuals: a preliminary report. Ann Intern Med 5:274

Takasaki M, Konoshima T, Komatsu K et al (2000) Anti-tumor-promoting activity of lignans from the aerial part of Saussurea medusa. Cancer Lett 158:53–59

Takasugi M, Kawashima S, Katsui N et al (1987) Studies on stress metabolites. 5. 2 Polyacetylenic phytoalexins from Arctium lappa. Phytochemistry 26:2957–2958

Tamayo C, Richardson MA, Diamond S et al (2000) The chemistry and biological activity of herbs used in Flor-Essence (TM) herbal tonic and Essiac (TM). Phytother Res 14:1–14

Tsuneki H, Ma EL, Kobayashi S et al (2005) Antiangiogenic activity of beta-eudesmol in vitro and in vivo. Eur J Pharmacol 512:105–115

Wang BS, Yen GC, Chang LW et al (2007) Protective effects of burdock (Arctium lappa Linne) on oxidation of low-density lipoprotein and oxidative stress in RAW 264.7 macrophages. Food Chem 101:729–738

Weber V, Rubat C, Duroux E et al (2005) New 3-and 4-hydroxyfuranones as anti-oxidants and anti-inflammatory agents. Bioorg Med Chem 13:4552–4564

Xia ZQ, Costa MA, Pelissier HC et al (2001) Secoisolariciresinol dehydrogenase purification, cloning, and functional expression–implications for human health protection. J Biol Chem 276:12614–12623

Xu ZH, Wang XY, Zhou MM et al (2008) The antidiabetic activity of total lignan from fructus arctii against alloxan-induced diabetes in mice and rats. Phytother Res 22:97–101

Yayli N, Yasar A, Gulec C et al (2005) Composition and antimicrobial activity of essential oils from Centaurea sessilis and Centaurea armena. Phytochemistry 66:1741–1745

Yu BS, Yan XP, Xiong JY et al (2003) Simultaneous determination of chlorogenic acid, forsythin and arctiin in Chinese traditional medicines preparation by reversed phase-HPLC. Chem Pharm Bull 51:421–424

Zhao F, Wang L, Liu K (2009) In vitro anti-inflammatory effects of arctigenin, a lignan from Arctium lappa L., through inhibition on iNOS pathway. J. Ethnopharmacol 122:457–462
Acknowledgments
This research was financially supported by a grant from the Shenzhen Municipal Key Laboratory Advancement Program, Shenzhen, People's Republic of China and the Niche Area Research Grant from the Hong Kong Polytechnic University, Hong Kong, People's Republic of China. Our special thanks are due to Ms. Siu-Hung Tsui and Ms. Josephine Hong-Man Leung for proofreading and providing critical comments on the manuscript.
About this article
Cite this article
Chan, Y., Cheng, L., Wu, J. et al. A review of the pharmacological effects of Arctium lappa (burdock). Inflammopharmacol 19, 245–254 (2011). https://doi.org/10.1007/s10787-010-0062-4
Received:

Accepted:

Published:

Issue Date:
Keywords
Arctium lappa (burdock)

Traditional Chinese medicine

Anti-inflammatory

Pharmacology