Abstract
Bacopa monniera (L.) Wettst is a renowned plant in the Ayurvedic system of medicine. The present study seeks to identify the anti-inflammatory activity of two fractions from the methanolic extract of Bacopa, viz. the triterpenoid and bacoside-enriched fractions. The ability of these two fractions to inhibit the production of pro-inflammatory cytokines such as tumor necrosis factor-α (TNF-α) and interleukin-6 was tested using lipopolysaccharide (LPS)-activated peripheral blood mononuclear cells and peritoneal exudate cells in vitro. We found that triterpenoid and bacoside-enriched fractions significantly inhibited LPS-activated TNF-α, IL-6 and nitrite production in mononuclear cells. Significant antioxidant activity was exhibited by the bacoside enriched fraction compared to the triterpenoid fraction. Carrageenan-induced hind paw oedema assay revealed that triterpenoid and bacoside-enriched fractions exerted anti-oedematogenic effect, while in the arthritis model only the triterpenoid fraction exerted an anti-arthritic potential. The present study provides an insight into the ability of Bacopa monniera to inhibit inflammation through modulation of pro-inflammatory mediator release.
This is a preview of subscription content, log in to check access.
Access options
Buy single article
Instant access to the full article PDF.
US$ 39.95
Price includes VAT for USA
Subscribe to journal
Immediate online access to all issues from 2019. Subscription will auto renew annually.
US$ 99
This is the net price. Taxes to be calculated in checkout.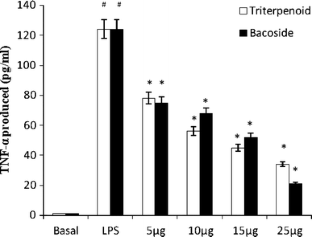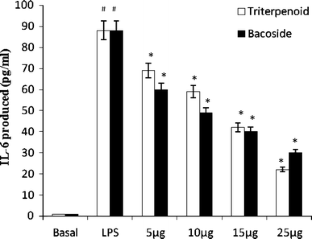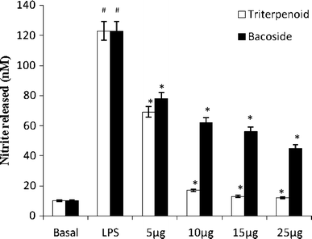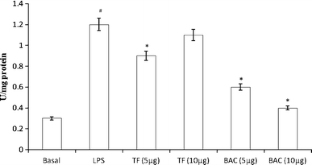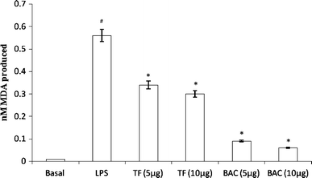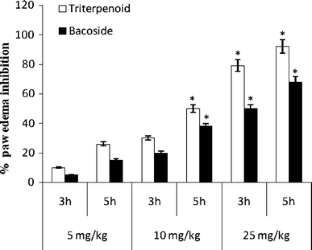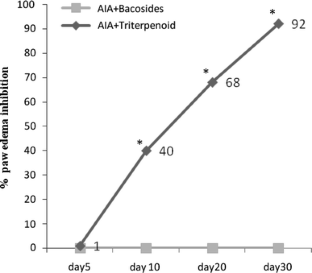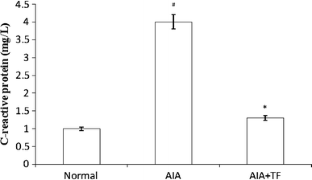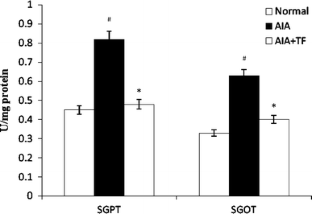 References
Arend W, Deyer J (1995) Inhibition of production and effects of interleukin-1 and tumor necrosis factor-α in rheumatoid arthritis. Arthritis Rheum 38:151–152

Baldwin AS (2001) Series introduction: the transcription factor NF-κB and human disease. J Clin Invest 107:3–6

Bezerra MM, Brain SD et al (2004) Reactive nitrogen species scavenging, rather than nitric oxide inhibition, protects from articular cartilage damage in rat zymosan-induced arthritis. Br J Pharmacol 141:172–182

Chiou W, Chen C et al (2000) Mechanism of suppression of iNOS expression in RAW264.7 cells by Andrographolide. Br J Pharmacol 129:1553–1560

Chowdhury AR, Mandal S et al (2002) Betulinic acid, a potent inhibitor of eukaryotic topoisomerase I: identification of the inhibitory step, the major functional group responsible and development of more potent derivatives. Med Sci Monit 8:254–265

Chung H, Kang M et al (2007) Inhibition of nitric oxide and tumour necrosis factor-α by Moutan cortex in activated mouse peritoneal macrophages. Biol Pharm Bull 30:912–916

Darlington LG, Stone TW (2001) Antioxidants and fatty acids in the amelioration of rheumatoid arthritis and related disorders. Br J Nutr 85:251–269

Dhanasekaran M, Tharakan B et al (2007) Neuroprotective mechanisms of ayurvedic antidementia botanical Bacopa monniera. Phytother Res 21:965–969

Feghali CA, Timothy M et al (1997) Cytokines in acute and chronic inflammation. Front Biosci 2:12–26

Ferreira SH, Lorenzetti BB et al (1993) Bradikinin initiates cytokine mediated inflammatory hyperalgesia. Br J Pharmacol 110:1227–1231

Gauldie J, Richards C et al (1987) Interferon β2/B-cell stimulatory factor type 2 shares identity with monocyte-derived hepatocyte-stimulating factor and regulates the major acute phase protein response in liver cells. Proc Natl Acad Sci USA 84:7251–7255

Gilliam MB, Sherman MP et al (1993) A spectrophotometric assay for nitrate using NADPH oxidation by Aspergillus nitrate reductase. Anal Biochem 212:359–365

Haddad JJ (2002) Antioxidant and prooxidant mechanisms in the regulation of redox-sensitive transcription factors. Cell Signal 14:879–897

Hirano T, Akira S et al (1990) Biological and clinical aspects of interleukin-6. Immunol Today 11:443–449

Hurst SM, Wilkinson TS (2001) IL-6 and its soluble receptor orchestrate a temporal switch in the pattern of leukocyte recruitment seen during acute inflammation. Immunity 14:705–714

Janeway C, Travers P et al (1999) The immune system in health and disease. In: Immunobiology. Garland Publishers, New York, pp 313–316

Jawaheer D, Thomson W et al (1994) Homozygosity for the HLA-DR shared epitope contributes the highest risk for rheumatoid arthritis concordance in identical twins. Arthritis Rheum 37:681–6866

Kakkar P, Das B (1984) A modified spectrophotometric assay of superoxide dismutase. Indian J Biochem Biophys 21:130–134

Kaplanski G, Marin V et al (2003) IL-6: a regulator of the transition from neutrophil to monocytes recruitment during inflammation. Trends Immunol 24:25–29

Kim SY, Kim SH et al (2007) Effects of Prunella vulgaris on mast cell-mediated allergic reaction and inflammatory cytokine production. Exp Biol Med 232:921–926

Kopf M, Baumann H et al (1994) Impaired immune and acute-phase responses in interleukin-6 deficient mice. Nature 368:339–342

Kotanidou A, Xagorarai A et al (2002) Luteolin reduces lipopolysaccharide-induced lethal toxicity and expression of pro-inflammatory molecules in mice. Am J Respir Crit Care Med 165:818–823

Lipsky PE (2006) Interleukin-6 and rheumatic diseases. Arthritis Res Ther 8:4–8

Lowry OH, Rosebrough NJ et al (1951) Protein measurement with Folin's phenol reagent. J Biol Chem 193:265–273

MacMicking J, Xie QW et al (1997) Nitric oxide and macrophage function. Ann Rev Immunol 15:323–350

Nakamura M, Ferreira SH (1987) A peripheral sympathetic component in inflammatory hyperalgesia. Eur J Pharmacol 135:145–153

Okhawa H, Oshishi N et al (1979) Assay of lipid peroxides in animal tissues by thiobarbituric acid reaction. Anal Biochem 95:351–357

Rohini G, Devi CS (2008) Bacopa monniera extract induces apoptosis in murine sarcoma cells (S-180). Phytother Res 22:1595–1598

Sairam K, Rao CV et al (2001) Prophylactic and curative effects of Bacopa monniera in gastric ulcer models. Phytomedicine 8:423–430

Singh A, Singh SK (2009) Reversible suppression of spermatogenesis and fertility without toxic effects. Contraception 79:71–79

Schafer A, Chovanova Z et al (2005) Inhibition of COX-1 and COX-2 activity by plasma of human volunteers after ingestion of French maritime pine bark extract (Pycnogenol). Biomed Pharmacother 60:5–9

Taibi DM, Bourguignon C (2003) The role of complementary and alternative therapies in managing rheumatoid arthritis. Fam Community Health 26:41–52

Tracey K, Cerami A (1990) Metabolic response to cachectin/TNF. Annals of the New York, Academy of Sciences. New York, pp 325–330

Valko MD, Leibfritz J (2007) Free radicals and antioxidants in normal physiological functions and human disease. Int J Biochem Cell Biol 39:44–84

Vijayan V, Helen A (2007) Protective activity of Bacopa monniera Linn. on nicotine-induced toxicity in mice. Phytother Res 21:378–381

Viji V, Helen A (2008) Inhibition of lipoxygenases and cyclooxygenase-2 enzymes by extracts isolated from Bacopa monniera (L.) Wettst. J Ethnopharmacol 118:305–311

Viji V, Kavitha SK et al (2010) Bacopa monniera (L.) Wettst inhibits type II collagen induced arthritis in rats. Phytother Res (PMID: 20309843) (in press)

Yun Y, Han S et al (2003) Immunomodulatory activity of betulinic acid by producing pro-inflammatory cytokines and activation of macrophages. Arch Pharmacol Res 26:1087–1095

Zhou Y, Peng L et al (2009) Effect of triterpenoid fractions from Bacopa monniera on scopolamine induced memory impairment in mice. Planta Med 75:568–574
Acknowledgments
This work was supported by the Kerala State Council for Science, Technology and Environment, Sasthra Bhavan, Thiruvananthapuram, Kerala, India. Standardized Bacopa extract was obtained as a gift from Natural Products Pvt Ltd., Bangalore, India.
Conflict of interest statement
The authors declare that there were no conflicts of interest.
About this article
Cite this article
Viji, V., Helen, A. Inhibition of pro-inflammatory mediators: role of Bacopa monniera (L.) Wettst. Inflammopharmacol 19, 283–291 (2011). https://doi.org/10.1007/s10787-010-0046-4
Received:

Accepted:

Published:

Issue Date:
Keywords
Inflammation

Tumor necrosis factor-α

Interleukin

Oedema

Bacopa monniera

Arthritis

Nitric oxide

Bacoside

Triterpenoid