Abstract
This study was aimed to evaluate both post- and pre-treatment anti-inflammatory activities of the aqueous extract of fresh leaves of Coccinia indica in rats using the carrageenan-induced paw oedema method at various dose levels. Analgesic and antipyretic properties were evaluated using tail flick model and yeast-induced hyperpyrexia, respectively. Ceiling effect of the extract was observed at 50 mg/kg in pre-treatment carrageenan test. In post-treatment studies, a dose-dependent anti-inflammatory effect was observed in the dose range of 25–300 mg/kg. The effect was equivalent to diclofenac (20 mg/kg) at 50 mg/kg but it was significantly pronounced at higher doses. Effectiveness of extract in the early phase of inflammation suggests the inhibition of histamine and serotonin release. The extract produced marked analgesic activity comparable to morphine at 300 mg/kg, which suggests the involvement of central mechanisms. A significant reduction in hyperpyrexia in rats was also produced by all doses of extract with maximum effect at 300 mg/kg comparable to paracetamol. In conclusion, this study has established the anti-inflammatory activity, analgesic and antipyretic activity of C. indica and, thus, justifies the ethnic uses of the plant.
Access options
Buy single article
Instant access to the full article PDF.
USD 39.95
Price includes VAT (USA)
Tax calculation will be finalised during checkout.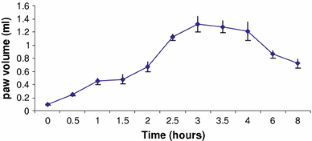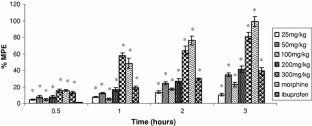 References
Arul V, Miyazakib S, Dhananjayana R (2005) Studies on the anti- inflammatory, antipyretic and analgesic properties of the leaves of Aegle marmelos Corr. J Ethnopharmacol 96:159–163

Asres K, Gibbons S, Hana E, Bucar F (2005) Anti-inflammatory activity of extracts and a saponin isolated from Melilotus elegans. Pharmazie 60:310–312

Badilla B, Arias AY, Arias M, Mora GA, Poveda LJ (2003) Anti-inflammatory and anti-nociceptive activities of Loasa speciosa in rats and mice. Fitoterapia 74:45–51

Chu D, Kovacs BA (1977) Anti-inflammatory activity in Oak gall extracts. Arch Int Pharmacodyn 230:166–176

Gamache DA, Povlishock JT, Ellis EF (1986) Carrageenan-induced brain inflammation. Characterization of the model. J Neurosurg 65:675–685

Goel RK, Singh A, Mahajan MP, Kulkarni SK (2004) Evaluation of anti-inflammatory and antihyperalgesic activity of some novel monocyclic β-lactam compounds in rats. Indian J Pharm Sci 66:87–91

Hossain MZ, Shibib BA, Rahman R (1992) Hypoglycaemic effects of Coccinia indica: Inhibition of key gluconeogenic enzyme, glucose-6-phosphatase. Indian J Exp Biol 30:418–420

Jain SK, Tarafder CR (1970) Medicinal plant-lore of Santals (a revival of P.O. Bodding's work). Econ Bot 24:241–278

Juneja D, Shrivastava PN, Guha MK, Saxena RC (2007) Preliminary phytochemical screening of some folklore medicinal plants for their anti-inflammatory activity. Phcog Mag 11:201–203

Kulkarni SK (2005) Hand book of experimental pharmacology. Vallabh Prakashan, New Delhi, India, pp 123–124

Lassman HB, Kirby RE, Wilker JC, McFadden AR, Aultz DE, Hoffman D, Helsley GC, Novick WJJ (1977) Pharmacology of a new non-steroidal anti-inflammatory agent HP-549. Arch Int Pharmacodyn 227:143–145

Loro JF, Del Rio I, Perez-Santa L (1999) Preliminary studies of analgesic and anti-inflammatory properties of Opunita dillenii aqueous extract. J Ethnopharmacol 67:213–218

Loux JJ, De Palma PD, Yankell SL (1972) Antipyretic testing of aspirin in rats. Toxicol Appl Pharmacol 22:672–675

Maity TK, Mandal SC, Mukherjee PK (1998) Studies on anti-inflammatory effect of Cassia tora leaf extract (Fam. Leguminoseae). Phytother Res 12:221–223

Mooss NS (1977) Single drug remedies. Vaidyasarathy Press, Kottayam, India

Morebise O, Fafunso MA, Makinde JM, Olajide OA, Awe EO (2002) Anti-inflammatory and analgesic property of leaves of Gongronema latifolium. Phytother Res 16:S75–S77

Mukherjee K, Ghosh NC, Datta T (1972) Coccinia indica. As potential hypoglycaemic agent. Indian J Exp Biol 10:347–349

Mutalik S, Paridhavi K, Mallikarjuna RK, Idupa N (2003) Antipyretic and analgesic effect of Solanum melongena linn. in rodents. Indian J Pharmacol 35:312–315

Nadkarni AK (1954) Indian materia medica, vol I. Popular Book Depot, Mumbai, India

Onwukaeme DN, Ikuegbvwehal TB, Asonye CC (2007) Evaluation of phytochemical constituents, antibacterial activities and effect of exudate of Pycanthus Angolensis weld warb (Myristicaceae) on corneal ulcers in rabbits. Trop J Pharm Res 6(2):725–730

Pari L, Venkateswaran S (2003) Protective effect of Coccinia indica on changes in the fatty acid composition in streptozotocin-induced diabetic rats. Pharmazie 58:409–412

Perez-Gurrero C, Herrera MD, Ortiz R, de Sotomayor MA, Fernandez MA (2001) A pharmacological study of Cecropia obtusifolia Betrol aqueous extract. J Ethnopharmacol 76:279–284

Rastogi RP, Mehrotra BN (1998) Compendium of Indian medicinal plants, vol I. CDRI, Lucknow, India, p 115

Ray AB, Kundu S (1987) Chemical examination of Coccinia indica fruits. J Indian Chem Soc LXIV:776–777

Sur T, Pandit S, Battacharyya D, Kumar ACK, Lakshmi MS, Chattopadhyay D, Mandal SC (2002) Studies on the anti-inflammatory activity of Betula alnoides bark. Phytother Res 16:669–671

Theophile D, Laure NE, Benoit NT, Anatole AGB, Emmanuel AA, Paul TV, Pierre K (2006) Antinociceptive and anti-inflammatory effects of the ethyl acetate stem bark extract of Bridelia scleroneura (Euphorbiaceae). Inflammopharmacology 14:42–47

Vazir M, Basheeruddin Asdaq SM (2005) Hepatoprotective activity of Coccinia indica Linn. in carbon tetrachloride induced hepatic injury. Ethiopian Pharm J 23:39–43

Venkateswaran S, Pari L (2003a) Effect of Coccinia indica leaf extract on antioxidant status in streptozotocin-induced diabetic rats. J Ethnopharmacol 84:163–168

Venkateswaran S, Pari L (2003b) Effect of Coccinia indica leaf extract on plasma antioxidants in streptozotocin-induced experimental diabetes in rats. Phytother Res 17:605–608
About this article
Cite this article
Niazi, J., Singh, P., Bansal, Y. et al. Anti-inflammatory, analgesic and antipyretic activity of aqueous extract of fresh leaves of Coccinia indica . Inflammopharmacol 17, 239–244 (2009). https://doi.org/10.1007/s10787-009-0010-3
Received:

Accepted:

Published:

Issue Date:
Keywords
Anti-inflammatory

Coccinia indica

Aqueous extract

Analgesic

Antipyretic

Lyophilized

Carrageenan induced

Phytochemical screening