Abstract
The principle of no significant harm has become a cornerstone of international environmental and specifically international water law. Its implementation does, however, regularly lead to disagreements and conflicts between riparian states to shared watercourses as interpretations as to what constitutes significant transboundary harm and whether a certain water resources infrastructure project can move ahead in spite of proven, potential or perceived impacts vary considerably among different states. Some of these conflicts have had severe repercussions on riparian states' relations and cooperation and stability in the respective region. The procedural principle of prior notification can provide a way out of the no-harm dilemma as it allows riparian states to engage in a structured exchange over a certain project and its impacts that helps mitigate or even prevent potential conflicts. Prior notification is thus not only a principle of international water law, but can also be an instrument of water diplomacy. This article analyzes current state practice in the implementation of the principle of prior notification in different basins around the world. It highlights that while a number of challenges remain with regards to the detailed interpretation and implementation of notification procedures, the overall contribution of notification mechanisms to containing disagreements over planned measures in a structured and cooperative manner cannot be overestimated.
Access options
Buy single article
Instant access to the full article PDF.
USD 39.95
Price includes VAT (USA)
Tax calculation will be finalised during checkout.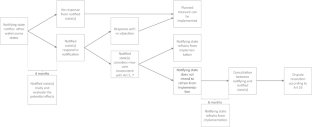 Notes
1.

Such as, for instance, the 2000 Agreement on the Establishment of the Orange-Senqu River Commission (Art 7), the 2002 Framework Agreement on the Sava River Basin (Art 9) or the 2004 Agreement on the Establishment of the Zambezi Watercourse Commission (Art 14).

2.

This article acknowledges the differences between prior notification and other (subsequent and/or more comprehensive) forms of informing co-riparian states about planned measures and their potential impacts (such as prior consultation, prior agreement, etc.). It does, however, for reasons of simplicity, subsume them under "prior notification" unless specified differently.

3.

Art 11, building on the no harm principle, requires states to exchange information and consult with each other over the possible effects of planned measures. Art 12 then establishes the requirement to notify planned measures and establishes the threshold of a "significant adverse effect" as the basis for notification. It also requires the notifying state to provide "available technical data and information, including the results of any environmental impact assessment" as the basis for the notified states to evaluate the potential effects of the proposed measure (Art 12). The following articles then provide details on the procedural details of a notification, including the time period for notified states to reply to the notification (Art 13), the obligations arising for the notified state during this period (Art 14), the reply to a notification (Art 15)—as well as the situation of notified states not replying to a notification (Art 16)—as well as potential consultations and negotiations arising as a consequence of a notification that leads notified states to believe that the planned measure will have significant effects (Art 17).

4.

It is important to note that Annex 3 requires declaration (as opposed to the stricter requirement of prior notification) for all other measures ("any Niger Basin Authority Member State contemplating the implementation of planned measures in the basin not subject to prior notification pursuant to Art 6 shall officially declare such measures in advance to the Executive Secretariat by submission of a declaration if the said measures are likely to cause proven transboundary impacts on hydrosystems that are considered not to be significant" (Art 7). This implies that information on any measures—whether expected to have significant impact or not—has to be shared in advance with co-riparian states.

5.

It should be noted here that other (non-water specific) international environmental law instruments—to a limited extent—provide further guidance. The 1991 UNECE Convention on Environmental Impact Assessment in a Transboundary Context (Espoo Convention) provides that "the formal stage for the identification of issues to be examined in the [environmental impact agreement] EIA, often called scoping, provides a suitable moment for an early notification" (Art 3(1)).

6.

Different to most other basins, in the Zambezi River Basin the notification procedures differentiate between a preliminary notification and a technical notification, the former one taking place as soon as a decision on the feasibility of a project has been taken and before an EIA is completed (so that any potentially affected state can be invited to contribute to such EIA), and the latter one representing the "real" notification in international water law terms (Sect. 5.5 ZAMCOM Procedures for Notification of Planned Measures).

7.

Moreover, the Power Purchase Agreement with the Thai power company Electricity Generating Authority of Thailand (EGAT) were signed on 29 October 2010 already (with preparations for this signature necessarily pre-dating the date of submission to the MRC) and the MoU with the Thai company that would construct the project (Ch Karnchang) and thus be part of the above-mentioned consortium was even signed in 2007 already. The environmental and social impact assessments were also conducted in 2007/2008 already.

8.

The specific situation of emergency measures is addressed in Art 19 and Art 28, but will not be discussed in more detail in this paper.

9.

According to Art 12 ZAMCOM Agreement, these are the principles of sustainable development, sustainable utilization, prevention of harm, precaution-inter-generational equity, the assessment of trans-frontier impacts, cooperation and reasonable and equitable utilization.

10.

Stating that "we hereby confirm that any necessary step in relation to the 1995 Mekong Agreement has been duly taken in a spirit of cooperation" (Ministry of Energy and Mines 2011). This judgment was based on an analysis conducted on behalf of the Lao government by the engineering consulting company Pöyry Energy AG, which concluded that "in the case of the Xayaburi HPP, the decision whether or not to proceed with the project rests solely with the Government of Laos" as it was in compliance with the 1995 Mekong Agreement (Pöyry 2011: 45). Pöyry has received heavy international criticism for this – with other engineering consulting firms later distancing themselves from Pöyry. This illustrates how external actors do not also shape the development of hydropower in many developing regions around the world, but also influence the legal principles and related processes riparian states have set up to govern potentially arising issues around those.
Abbreviations
CARU:

Comisión Administradora del Río Uruguay/Administrative Commission of the Uruguay River

CICOS:

Commission Internationale du Bassi Congo-Oubangui-Sangha

EGAT:

Electrity Generating Authority of Thailand

EIA:

Environmental Impact Assessment

GERD:

Grand Ethiopian Renaissance Dam

ILC:

International Law Commission

JC:

MRC Joint Committee

MRC:

Mekong River Commission

PCA:

Permanent Court of Arbitration

PNPCA:

MRC Procedures for Notification, Prior Consultation and Agreement

RBO:

River Basin Organization

SADC:

Southern African Development Community

UN:

United Nations

UNECE:

United Nations Economic Commission for Europe

ZAMCOM:

Zambezi Watercourse Commission

ZAM-TEC:

ZAMCOM Technical Committee
References
Accord Instituant un Régime Fluvial Uniforme et Créant la CICOS, November 6, 1999, Brazzaville, Congo.

Agreement between the Governments of the Republic of Botswana, the Kingdom of Lesotho, the Republic of Namibia and the Republic of South Africa on the Establishment of the Orange-Senqu River Commission, November 3, 2000, Windhoek, Namibia.

Agreement on the Cooperation for the Sustainable Development of the Mekong River Basin (Mekong Agreement), April 5, 1995, Bangkok, Thailand.

Agreement on the Establishment of the Zambezi Watercourse Commission (ZAMCOM Agreement), July 13, 2004, Kasane, Botswana.

Annex 3 of the Niger Basin Water Charter on the Prior Notification of Planned Measures, December 16, 2013, Niamey, Niger.

Blumstein, S., & Schmeier, S. (2017). Disputes over international watercourses: Can river basin organizations make a difference? In A. Dinar & Y. Tsur (Eds.), Management of transboundary water resources under scarcity. A multidisciplinary approach (pp. 191–236). Singapore: World Scientific Publishers.

Boisson de Chazournes, L., & Sangbana, K. (2015). Principle 19: Notification and consultation on activities with transboundary impact. In J. Vinuales (Ed.), The Rio declaration on environment and development: A commentary (pp. 493–507). Oxford: Oxford University Press.

Chelkeba, A. (2017). Notification and consultation of projects in transboundary water resources: confidence building rather than legal obligation in the context of GERD. Mizan Law Review, 11(1), 125–152.

Convention and Statues relating to the Development of the Chad Basin, May 22, 1964, Fort Lamy/N'Djamena, Chad.

Convention on Biological Diversity, June 5, 1992, Rio de Janeiro, Brazil.

Convention on Environmental Impact Assessment in a Transboundary Context (Espoo Convention), February 25, 1991, Espoo, Finland.

Décision du Comité des Ministres portant adoption du Manuel relative à la notification préalable et à la declaration des mesures projetées dans le basin du fleuve Congo. 13th Ordinary Meeting of the Ministerial Committee, June 26–27, 2016, Yaoundé, Cameroon.

Dellapenna, J., & Gupta, J. (2008). Toward global law on water. Global Governance, 14, 437–453.

Farrajota, M. (2005). Notification and consultation in the law applicable to international watercourses. In S. Salman (Ed.), Boisson de Chazournes L (pp. 281–339). Leiden: Les ressources en eau et le droit international. Martinus.

Fitzmaurice, M. (2017). Legitimacy of international environmental law. The Sovereign states overwhelmed by obligations: Responsibility to react to problems beyond national jurisdiction? Zeitschrift für Ausländisches Öffentliches Recht und Völkerrecht, 77, 339–370.

Framework Agreement on the Sava River Basin, December 3, 2002, Kransjka Gora, Slovenia.

Guidelines on Implementation of the Procedures for Notification, Prior Consultation and Agreement, August 31, 2005, Vientiane, Lao PDR.

ILA. (2004). Berlin Conference (2004). Water resources law. https://www.unece.org/fileadmin/DAM/env/water/meetings/legal_board/2010/annexes_groundwater_paper/Annex_IV_Berlin_Rules_on_Water_Resources_ILA.pdf.

ILC. (1994). Draft articles on the law of the non-navigational uses of international watercourses and commentaries thereto and resolution on transboundary confined groundwater. Adopted at the 46th session of the ILC, Yearbook of the International Law Commission (Vol. II, Part 2, pp. 88–135). https://legal.un.org/ilc/publications/yearbooks/english/ilc_1994_v2_p2.pdf

Indus Waters Treaty, September 19, 1960, Karachi, Pakistan.

McIntyre, O. (2006). The role of customary rules and principles of international environmental law in the protection of shared international freshwater resources. Natural Resources Journal, 46(1), 157–210.

Ministry of Energy and Mines. (2011). Xayaburi hydroelectric power project (letter addressed to Xayaburi Power Company Limited), June 8, 2011, Vientiane, Lao PDR.

MRC. (2011a). Proposed Xayaburi Dam Project—Mekong River. Prior Consultation Review Report, March 24, 2011, Vientiane, Lao PDR.

MRC. (2011b). Minutes of the 18th meeting of the MRC Council, December 8, 2011, Siem Reap, Cambodia.

MRC. (2011c). Form for reply to prior consultation—Kingdom of Cambodia, April 13, 2011, Phnom Penh, Cambodia.

MRC. (2011d). Form for reply to prior consultation—The socialist Republic of Viet Nam, April 15, 2011, Hanoi, Vietnam.

Perkins Coie. (2011). PNPCA process for Xayaburi Dam (letter in response to a request by International Rivers and Environmental Defender Law Center). July 5, 2011, Portland, OR.

Plakokefalos, I. (2013). Prevention obligations in international environmental law (pp. 2013–2112). Amsterdam: ACIL Research Paper.

Pöyry. (2011). Compliance report. Government of Lao PDR. Main Report. Xayaburi Hydroelectric Power Project Run-of-River Plant, August 8, 2011, Zurich, Switzerland.

Procedures for Notification, Prior Consultation and Agreement (PNPCA), November 30, 2003, Phnom Penh, Cambodia.

Protocol for Sustainable Development of the Lake Victoria Basin, November 29, 2003, Arusha, Tanzania.

Revised Protocol on Shared Watercourses in the Southern African Development Community (SADC), August 7, 2000, Windhoek, Namibia.

Radio Free Asia. (2012). Cambodia warns Laos over Mekong Dam, April 19, 2012. https://www.rfa.org/english/news/cambodia/dam-04192012143244.html.

Rahaman, M. (2009). Principles of international water law: Creating effective transboundary water resources management. International Journal of Sustainable Society, 1(3), 207–223.

Rieu-Clarke, A. (2013). The obligation to notify and consult on planed measures concerning international watercourses—learning lessons from recent international case-law. In Yearbook of international environmental law (pp. 1–39).

Rieu-Clarke, A. (2014). Notification and consultation procedures under the Mekong agreement: Insights from the Xayaburi controversy. Asian Journal of International Law, 5, 143–175.

Rieu-Clarke, A. (2015). Transboundary hydropower projects seen through the lens of three international legal regimes - foreign investment, environmnetal protection and human rights. International Journal of Water Governance, 3(1), 27–48. https://doi.org/10.7564/13-IJWG36.

Salman, S. (2019). Notification concerning planned measures on shared watercourses. International Water Law, 4(2), 1–106.

Schmeier, S. (2013). Governing international watercourses. River Basin Organizations and the sustainable governance of internationally shared rivers and lakes. London: Routledge.

Schmeier, S. (2020). The Mekong Legal Regime—Can treaty arrangements keep up with basin development? In J. Gupta & J. Dellapenna (Eds.), Edward elgar environmental law series: Volume on water law. Cheltenham: Edgar Elgar (forthcoming).

Statute of the River Uruguay, February 26, 1975, Salto, Uruguay.

Tanzi, A. (2020). A systemic approach to the no-harm and the equitable and reasonable utilization principles, International Environmental Agreements, Special Issue: The principle of no significant harm (forthcoming)

The Niger Basin Water Charter, April 30, 2008, Niamey, Niger.

The Indus Waters Kishenganga Arbitration (Pakistan v India) (Partial Award) (2013). https://pca-cpa.org/en/cases/20/.

Treaty Between His Majesty's Government of Nepal and the Government of India Concerning the Integrated Development of the Mahakali Barrage Including Sarada Barrage, Tanakpur Barrage and Pancheshwar Project, February 12, 1996, Delhi, India.

Transboundary Freshwater Dispute Database (TFDD)—RBO Database, Oregon State University, Corvallis, OR. https://transboundarywaters.science.oregonstate.edu/content/international-river-basin-organization-rbo-database.

United Nations. (1982). United Nations convention on the law of the sea. Done at Montego Bay, Jamaica, on December 10, 1982, UN.

United Nations. (1992). Convention on the protection and use of transboundary watercourses and international lakes. Done at Helsinki, on March 17, 1992, UN.

UN. (1997). Convention on the law of non-navigational uses of international watercourses. Done at New York, US, May 21, 1997, UN.

Wegerich, K., & Olsson, O. (2010). Late developers and the inequity of "equitable utilization" and the harm of "do no harm". Water International, 35(6), 707–717.

ZAMCOM Procedures for notification of planned measures. Adopted February 23, 2017, Tete, Mozambique.

Zeitoun, M. (2015). The relevance of international water law to later-developing upstream states. Water International, 40(7), 949–968.
Additional information
Publisher's Note
Springer Nature remains neutral with regard to jurisdictional claims in published maps and institutional affiliations.
About this article
Cite this article
Schmeier, S. Prior notification of planned measures: A response to the no-harm dilemma?. Int Environ Agreements 20, 683–698 (2020). https://doi.org/10.1007/s10784-020-09505-4
Accepted:

Published:

Issue Date:
Keywords
International water law

Principle of prior notification

International river basins

River basin organizations

Water diplomacy