Abstract
In the context of the UNFCCC negotiation process on a global climate agreement, policy makers are looking for approaches on how to significantly raise the mitigation ambition of all relevant sectors, including the land use sector. Aside of the formal negotiations some Parties to the UNFCCC have started an informal dialogue and discuss how to merge the fragmented accounting rules for mitigation relevant land use activities, in particular those concerning forest-sector emissions. Stressing that 'history matters', we use a historical institutionalist perspective to assess the institutional pathways of the different accounting rules for developed and developing countries, their mutual relationship, and in how far they are supportive or counterproductive for this endeavour. Our empirical analysis shows that Parties tend to use any modification phase in the negotiation process to water down already achieved agreements, and that negotiating modalities after targets have been agreed is not conducive either. In the efforts of specifying the Paris agreement, merging existing rules into a common accounting framework is likely to further compromise the exisiting weak rules and modalities, and potentially what negotiators consider as 'environmental integrity'. With this, a formal negotiation of common rules for the accounting of the land use sector may yield an outcome below what has been achieved since the negotiations on a post-2020 agreement started in 2005. We conclude that politically acceptable approaches for the land use sector that also contribute to the overall objective of raising ambition should avoid reopening already agreed decisions on rules and modalities.
Access options
Buy single article
Instant access to the full article PDF.
USD 39.95
Price includes VAT (USA)
Tax calculation will be finalised during checkout.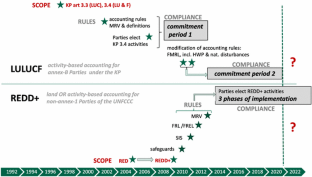 Notes
1.

LULUCF rules and modalities have been modified for the second commitment period.

2.

REDD+ is the acronym for "Reducing emissions from deforestation and forest degradation, and the role of conservation, sustainable management of forests and enhancement of forest carbon stocks in developing countries".

3.

Transparency, consistency over time, comparability (among countries and over time), comprehensiveness and accuracy.

4.

Accounting rules determine what counts, i.e. measures and activities, a country can use to meet its responsibilities and commitments. Accounting is intricately linked to rules for measuring and reporting (MR); they specify eligible activities, how baselines are determined and how aspects as leakage or permanence should be addressed (Parker et al. 2014).

5.

6.

i.e. 'capped' at 15 % of the estimated sink in the year 1990, listed in Annex Z of the Bonn Agreement of 2001.

7.

Emissions and removals are compared with a defined base year.

8.

The amount of RMU is based on carbon stock changes during the CP (Macintosh 2012).

9.

Accounted either as instantaneous oxidation or using decay functions.

10.

Biotic (pests) and abiotic calamities (fire, storms).

11.

FCCC/KP/CMP/2010/12/Add.1.

12.

13.

The latter three being referred to as the '+'-activities Decision 1/CP.16 §70.

14.

For instance, for "forest degradation" or "sustainable management of forests" and how these activities are to be distinguished from each other.
References
Bell, S. (2011). Do we really need a new "constructivist institutionalism" to explain institutional change? British Journal of Political Science, 41(04), 883–906. doi:10.1017/S0007123411000147.

Bennett, A., & Elman, C. (2008). Qualitative research: Recent developments in case study methods. Annual Review of Political Science, 9, 455–476.

Böhringer, C., & Vogt, C. (2004). The dismantling of a breakthrough: The Kyoto protocol as symbolic policy. European Journal of Political Economy, 20(3), 597–617.

Broschek, J. (2008). Historical institutionalism and canadian social policy: Assessing two models of policy change. Paper prepared for the workshop "Explaining Canadian Social Policy", Canadian Political Science Association Meetings June 4th 2008, University of British Columbia, Vancouver, BC. https://www.cpsa-acsp.ca/papers-2008/Broschek.pdf.

Davis, C., & Daviet, F. (2010). Investing in results: Enhancing coordination for more effective interim REDD+ financing. Washington, DC: World Resources Institute.

DenBesten, J. W., Arts, B., & Verkooijen, P. (2014). The evolution of REDD+: An analysis of discursive-institutional dynamics. Environmental Science and Policy, 35, 40–48. doi:10.1016/j.envsci.2013.03.009.

Dutschke, M., & Pistorius, T. (2008). Will the future be REDD? Consistent carbon accounting for land use. International Forestry Review, 10(3), 176–484.

Fioretos, O. (2011). Historical institutionalism in international relations. International Organization, 65(02), 367–399. doi:10.1017/S0020818311000002.

Fry, I. (2007). More twists, turns and stumbles in the jungle: A further exploration of land use, land-use change and forestry decisions within the Kyoto protocol. Review of European Community and International Environmental Law, 16(3), 341–355.

Gehring, T., & Oberthür, S. (2008). Interplay: Exploring institutional interaction. In O. R. Young, H. Schroeder, & L. A. King (Eds.), Institutions and environmental change: Principal findings, applications, and research frontiers (pp. 187–223). Cambridge, MA: MIT Press.

Henschel, C., Ward, M., Rueter, S., Ashton, R., Bird, N., Frieden, D., et al. (2008). Options for improving the treatment of LULUCF in a Copenhagen agreement: Forest and wetland degradation, factoring out, harvested wood products, and approaches for fuller accounting. Cambridge, UK: Climate Strategies.

Kim, D. H., Sexton, J. O., & Townshend, J. R. (2015). Accelerated deforestation in the humid tropics from the 1990s to the 2000s. Geophysical Research Letters, 42(9), 3495–3501.

Macintosh, A. K. (2011). LULUCF in the post-2012 regime: Fixing the problems of the past? Climate Policy, 12(3), 341–355.

Mahoney, J., & Thelen, K. (2010). Theory of Gradual Institutional Change. In J. Mahoney & K. Thelen (Eds.), Explaining institutional change: Ambiguity, agency, and power (pp. 1–37). Cambridge, MA: Cambridge University Press.

Oberthür, S., & Gehring, T. (2006). Institutional interaction in global environmental governance: The case of the cartagena protocol and the world trade organization. Global Environmental Politics, 6(2), 1–31.

Oberthür, S., & Gehring, T. (2011). Institutional interaction: Ten years of scholarly development. In S. Oberthür & O. S. Stokke (Eds.), Managing institutional complexity: Regime interplay and global environmental change (pp. 25–58). Cambridge, MA: MIT Press.

Pan, Y., Birdsey, R., Fang, J., Houghton, R., Kauppi, P., Kurz, W., et al. (2011). A large and persistent carbon sink in the world's forests. Science, 333(6045), 988–993.

Parker, C., Merger, E., Streck, C., Conway, D., Tennigkeit, T., & Wilkes, A. (2014). The land-use sector within the post-2020 climate regime. 10.6027/TN2014-520.

Peters, B. G., Pierre, J., & King, D. S. (2005). The politics of path dependency: Political conflict in historical institutionalism. Journal of Politics, 67(4), 1275–1300.

Pierson, P., & Skocpol, T. (2002). Historical institutionalism in contemporary political science. In I. Katznelson & H. Milner (Eds.). Political science: State of the discipline (pp. 693–721). New York: W.W. Norton. Retrieved from http://arilson.favareto.googlepages.com/Pierson_Skocpol.pdf.

Pistorius, T. (2012). From RED to REDD+: The evolution of a forest-based mitigation approach for developing countries. Current Opinion in Environmental Sustainability, 4(6), 638–645. doi:10.1016/j.cosust.2012.07.002.

Reinecke, S., Pistorius, T., & Pregernig, M. (2014). UNFCCC and the REDD+ Partnership from a networked governance perspective. Environmental Science and Policy, 35, 30–39.

Schlamadinger, B., Bird, N., Johns, T., Brown, S., Canadell, J., Ciccarese, L., et al. (2007). A synopsis of land use, land-use change and forestry (LULUCF) under the Kyoto protocol and Marrakech accords. Environmental Science and Policy, 10(4), 271–282. doi:10.1016/j.envsci.2006.11.002.

Schulze, E.-D., Valentini, R., & Sanz, M.-J. (2002). The long way from Kyoto to Marrakesh: Implications of the Kyoto protocol negotiations for global ecology. Global Change Biology, 8(6), 505–518.

Stokke, O. S. (2000). Managing straddling stocks: The interplay of global and regional regimes. Ocean and Coastal Management, 43(2–3), 205–234. doi:10.1016/S0964-5691(99)00071-X.

Thelen, K. (1999). Historical institutionalism in comparative politics. Annual Review of Political Science, 2(1), 369–404. doi:10.1146/annurev.polisci.2.1.369.

Thelen, K., & Steinmo, S. (1992). Historical Institutionalism in Comparative Politics. In K. Thelen, S. Steinmo, & F. Longstreth (Eds.), Structuring politics: Historical institutionalism in comparative analysis (pp. 1–32). Cambridge, MA: Cambridge University Press.

Underdal, A., & Young, O. (2004). Regime consequences: Methodological challenges and research strategies. Dordrecht: Kluwer Academic Publishers.

Young, O. R. (1996). Institutional linkages in international society: Polar perspectives. Global Governance, 2, 1–24.
Acknowledgments
This study is an outcome of the research project "Integration of REDD+ into a post-2020 climate agreement and linkages to the CBD". This project is financially supported by the German Federal Agency for Nature Conservation (BfN), with funds from the German Federal Ministry for the Environment, Nature Conservation and Nuclear Safety (BMUB).
About this article
Cite this article
Pistorius, T., Reinecke, S. & Carrapatoso, A. A historical institutionalist view on merging LULUCF and REDD+ in a post-2020 climate agreement. Int Environ Agreements 17, 623–638 (2017). https://doi.org/10.1007/s10784-016-9330-0
Accepted:

Published:

Issue Date:
Keywords
UNFCCC

LULUCF

REDD+

Land use sector

Post-2020 climate agreement

Historical

Institutionalism