Abstract
Historically, students from racially minoritized communities receive exclusionary disciplinary actions more frequently and severely in the United States. Researchers have recommended that schoolwide behavioral interventions implemented to address racial disproportionality need to be culturally responsive to local school contexts. Using the theory of expansive learning, we conducted a one and a half year-long formative intervention, Learning Lab, to examine and address racial disproportionality with local stakeholders at an urban middle school. We analyzed how parents, teachers, administrators, community members, and researchers collaborated to design a culturally responsive school discipline system at Rogoff Middle School. The analysis of expansive learning actions showed that the systemic transformation process facilitated at the school included a cycle of seven expansive learning actions. We discussed implications of the current study for education research and practice.
Access options
Buy single article
Instant access to the full article PDF.
USD 39.95
Price excludes VAT (USA)
Tax calculation will be finalised during checkout.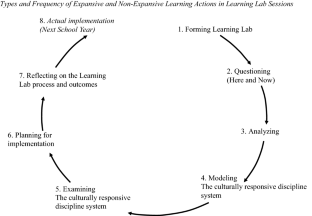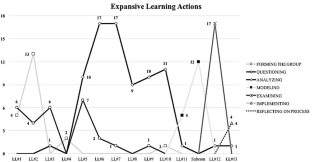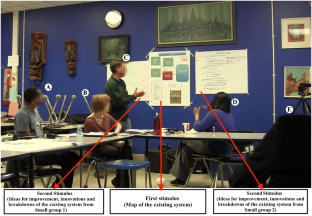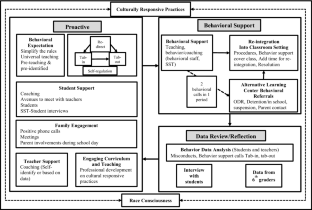 References
Adelson, J. L., Dickinson, E. R., & Cunningham, B. C. (2016). A multigrade, multiyear statewide examination of reading achievement: Examining variability between districts, schools, and students. Educational Researcher, 45, 258–262.

Arcia, E. (2006). Achievement and enrollment status of suspended students: Outcomes in a large, multicultural school district. Education and Urban Society, 38, 359–369.

Artiles, A. J. (2011). Toward an interdisciplinary understanding of educational equity and difference: The case of the racialization of ability. Educational Researcher, 40, 431–445.

Bal, A. (2011). Culturally responsive school-wide positive behavioral interventions and supports framework. Madison, WI: Wisconsin Department of Public Instruction.

Bal, A. (2017). System of disability. Critical Education, 8(6), 1–27.

Bal, A. (2018). Culturally responsive positive behavioral interventions and supports: A process-oriented framework for systemic transformation. Review of Education, Pedagogy, and Cultural Studies, 40(2), 144–174.

Bal, A., Betters-Bubon, J., & Fish, R. (2017). A multilevel analysis of statewide disproportionality in exclusionary discipline and the identification of emotional disturbance. Education and Urban Society. https://doi.org/10.1177/0013124517716260.

Bal, A., Kozleski, E. B., Schrader, E. M., Rodriguez, E. M., & Pelton, S. (2014). Systemic transformation from the ground-up: Using learning lab to design culturally responsive schoolwide positive behavioral supports. Remedial and Special Education, 35(6), 327–339.

Bal, A., & Trainor, A. A. (2016). Culturally responsive experimental intervention studies: The development of a rubric for paradigm expansion. Review of Educational Research, 86(2), 319–359.

Brantlinger, E., Jimenez, R., Klingner, J., Pugach, M., & Richardson, V. (2005). Qualitative studies in special education. Exceptional Children, 71, 195–207.

Engeström, Y. (1987). Learning by expanding. New York: Cambridge University Press.

Engeström, Y. (2001). Expansive learning at work: Toward an activity theoretical reconceptualization. Journal of Education and Work, 14, 133–156.

Engeström, Y. (2008). From teams to knots. Cambridge, UK: Cambridge University.

Engeström, Y. (2011). From design experiments to formative interventions. Theory & Psychology, 21, 598–628.

Engeström, Y. (2015). Learning by expanding (2nd ed.). New York, NY: Cambridge University.

Engeström, Y. (2016). Studies in expansive learning: Learning what is not yet there. New York, NY: Cambridge University Press.

Engeström, Y., Engeström, R., & Suntio, A. (2002). Can a school community learn to master its own future? In G. Wells & G. Claxton (Eds.), Learning for life in the 21st century: Sociocultural perspectives on the future of education (pp. 211–224). Oxford: Blackwell.

Engeström, Y., Rantavuori, J., & Kerosuo, H. (2013). Expansive learning in a library: Actions, cycles and deviations from instructional intentions. Vocations and Learning, 6, 81–106.

Engeström, Y., & Sannino, A. (2011). Discursive manifestations of contradictions in organizational change efforts: A methodological framework. Journal of Organizational Change Management, 24, 368–387.

Engeström, Y., Sannino, A., & Virkkunen, J. (2014). On the methodological demands of formative interventions. Mind, Culture, and Activity, 21, 118–128.

Erickson, F. (1986). Qualitative methods in research on teaching. In M. Wittrock (Ed.), Handbook of research on teaching (3rd ed., pp. 119–161). New York: Macmillan.

Freire, P. (2000). Pedagogy of the oppressed. New York: Continuum.

Gagnon, J. C., Gurel, S., & Barber, B. R. (2017). State-level analysis of school punitive discipline practices in Florida. Behavioral Disorders, 42, 65–80.

Gregory, A., Skiba, R., & Noguera, P. (2010). The achievement gap and the discipline gap: Two sides of the same coin? Educational Researcher, 39, 59–68.

Harry, B. (2008). Collaboration with culturally and linguistically diverse families: Ideal versus reality. Exceptional Children, 74, 372–388.

Losen, D. J., & Gillespie, J. (2012). Opportunities suspended. Los Angeles: The Center for Civil Rights Remedies.

Marx, K. (1970). Critique of Hegel's' Philosophy of right. Cambridge: Cambridge University Press.

Marx, K., & Engels, F. (1998). The German ideology. Amherst, NY: Prometheus Books.

McNamara, K., Rasheed, H., & Delamatre, J. (2008). A statewide study of school-based intervention teams. Journal of Educational and Psychological Consultation, 18, 5–30.

Sannino, A., Engeström, Y., & Lemos, M. (2016). Formative interventions for expansive learning and transformative agency. Journal of the Learning Sciences, 25, 599–633.

Saporito, S. (2003). Private choices, public consequences: Magnet school choice and segregation by race and poverty. Social Problems, 50, 181–203.

Skiba, R. J., Horner, R. H., Chung, C. G., Rausch, M. K., May, S. L., & Tobin, T. (2011). Race is not neutral: A national investigation of African American and Latino disproportionality in school discipline. School Psychology Review, 40, 85–107.

Skiba, R. J., & Peterson, R. L. (2000). School discipline at a crossroads: From zero tolerance to early response. Exceptional Children, 66, 335–346.

Skiba, R. J., Poloni-Staudinger, L., Simmons, A. B., Feggins-Azziz, L. R., & Chung, C. G. (2005). Unproven links: Can poverty explain ethnic disproportionality in special education? The Journal of Special Education, 39, 130–144.

Sugai, G., & Horner, R. H. (2009). Responsiveness-to-intervention and school-wide positive behavior supports. Exceptionality, 17, 223–237.

Sugai, G., O'Keeffe, B., & Fallon, L. (2012). A contextual consideration of culture and school-wide positive behavior support. Journal of Positive Behavior Interventions, 14, 197–208.

U.S. Department of Education Office for Civil Rights. (2018). 2015–16 Civil rights data collection: School climate and safety. Washington, DC: Author.

Vincent, C. G., & Tobin, T. J. (2011). The relationship between implementation of school-wide positive behavior support (SWPBS) and disciplinary exclusion of students from various ethnic backgrounds with and without disabilities. Journal of Emotional and Behavioral Disorders, 19, 217–232.

Virkkunen, J., & Newnam, (2013). The Change Laboratory: A tool for collaborative development of work and education. Rotterdam: Sense Publishers.
Acknowledgements
The first author acknowledges the support of Wisconsin Department of Public Instruction under Disproportionality Demonstration Grant #84.027.
Additional information
Publisher's Note
Springer Nature remains neutral with regard to jurisdictional claims in published maps and institutional affiliations.
About this article
Cite this article
Bal, A., Afacan, K. & Cakir, H.I. Transforming Schools from the Ground-Up with Local Stakeholders: Implementing Learning Lab for Inclusion and Systemic Transformation at a Middle School. Interchange 50, 359–387 (2019). https://doi.org/10.1007/s10780-019-09353-5
Received:

Accepted:

Published:

Issue Date:

DOI: https://doi.org/10.1007/s10780-019-09353-5
Keywords