Abstract
The aim of a computer assisted language learning (CALL) system is to improve the language skills of learners. Such systems often include, grammar and vocabulary components, while the pronunciation learning seems to be the hardest step in language learning process. Little attention has been paid to this aspect among the required ones in CALL systems. In pronunciation learning context, the learner would like to know if its pronunciation is good or bad. In the case where the pronunciation is bad, it will be suitable if some advices are given to him. The goal of this work is an early detection of pupils with reading difficulties and in the issue of decision whether their pronunciation is good or not is our particular interest. For this purpose, we consider the answer to this question as a classification problem and we use a statistical approach to make a decision; this approach allows us to pursue the investigation concerning the pronunciation of every phoneme in the word or in the sentence.
Access options
Buy single article
Instant access to the full article PDF.
USD 39.95
Price includes VAT (USA)
Tax calculation will be finalised during checkout.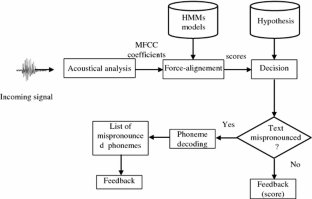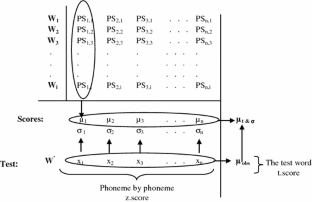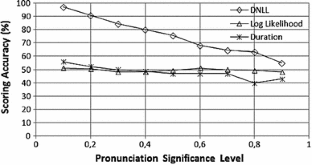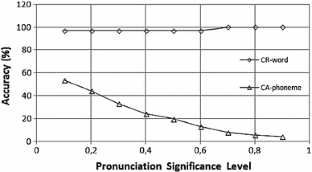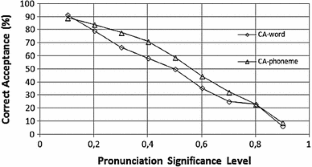 References
Cheng, J., Bernstein, J., Pado, U., & Suzuki, M. (2009). Automatic assessment of spoken modern standard Arabic, NAACL HLT Workshop on Innovative Use of NLP for Building Educational Applications Proceedings, (pp. 1–9) Boulder, Colorado.

Dahan, H., Hussin, A., Razak, Z., & Odelha, M. (2011). Automatic arabic pronunciation scoring for language instruction, EDULEARN11 Proceedings, (pp. 145–150) Barcelona, Spain .

Delmonte, R. (2009). Prosodic tools for language learning. International Journal of Speech Technology, 12, 161–184.

Fengpei, G., Fuping, P., Changliang L., Bin, D., Shui-duen, C., Xinhua, Z., & Yonghong, Y. (2009). An SVM-based mandarin pronunciation quality assessment system. The 6th International Symposium on Neural Networks Proceedings, (pp. 255–265).

Franco, H., Neumeyer, L., Digalakis, V., & Ronen, O. (2000a). Combination of machine scores for automatic grading of pronunciation quality. Speech Communication, 30, 121–130.

Franco, H., Abrash, V., Precoda, K., Bratt, H., Rao, R., Butzberger, J., et al. (2000b). The SRI EduSpeakTM system: Recognition and pronunciation scoring for language learning, InSTILL'00 Proceedings (pp. 123–128). Dundee, Scotland.

Ito, A., Lim, Y. L., Suzuki, M., & Makino, S. (2007). Pronunciation error detection for computer assisted language learning system based on error rule clustering using a decision tree. Acoustical Science and Technology, 28(2), 131–133.

Mak, B., Siu, M., Ng, M., Tam, Y. C., Chan, Y. C., Chan, K. W., et al. (2003). PLASER: Pronunciation learning via automatic speech recognition, HLT-NAACL-EDUC'03 Proceedings (pp. 23–29). Stroudsburg, PA, USA.

Necibi, K., & Bahi, H. (2012). An arabic mispronunciation detection system by means of automatic speech recognition technology, The 13th International Arab Conference on Information Technoloy Proceedings, Jordan.

Neumeyer, L., Franco, H., Weintraub, M., & Price, P. (1996). Automatic text-independent pronunciation scoring of foreign language student speech, ICSLP'96 Proceedings, (pp. 1457–1460). Philadelphia, PA.

Neumeyer, L., Franco, H., Digalakis, V., & Weintraub, M. (2000). Automatic scoring of pronunciation quality. Speech Communication, 30, 83–93.

Witt, S. M., & Young, S. J. (2000). Phone-level pronunciation scoring and assessment for interactive language learning. Speech Communication, 30(2), 95–108.
About this article
Cite this article
Necibi, K., Bahi, H. A statistical-based decision for arabic pronunciation assessment. Int J Speech Technol 18, 37–44 (2015). https://doi.org/10.1007/s10772-014-9248-2
Received:

Accepted:

Published:

Issue Date:
Keywords
Pronunciation assessment

Computer assisted pronunciation teaching

Computer assisted language learning

Arabic language learning

HMM

t test