Abstract
The purpose of this article is to take the admonition of taking the visual seriously into the realms of murals. It will present empirical data on contemporary murals in the Basque Country with a view to examining why murals are important to the abertzale-left, the broad left-wing nationalist movement in the Basque Country which includes but ranges far beyond the armed group ETA. The struggle for Basque autonomy from Spain has its roots in a nationalist awakening in the late twentieth century. It has developed through the struggle with fascism; the prolonged authoritarian, centralist state; and the transition to democracy after the death of Franco. Central to this development has been the definition of Basque identity in terms of culture rather than birth. Language has been key, but there has also been a visual strand to the struggle. The article will examine the state of that visual strand currently by examining murals on a range of themes: language and culture, independence and socialism, armed struggle, political prisoners, torture and repression, martyrs and heroes, women and environmental issues.
Access options
Buy single article
Instant access to the full article PDF.
USD 39.95
Price excludes VAT (USA)
Tax calculation will be finalised during checkout.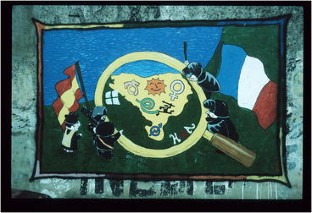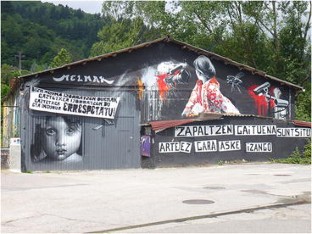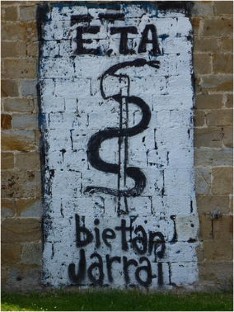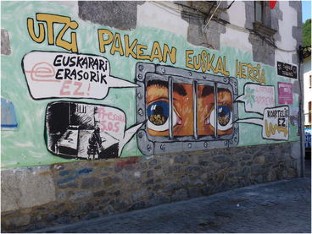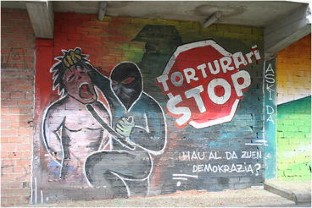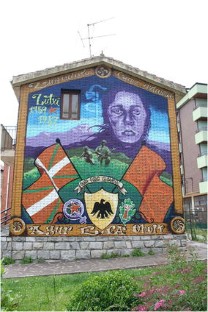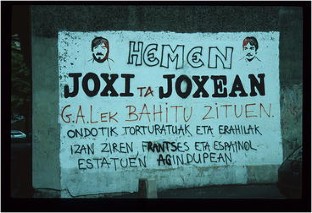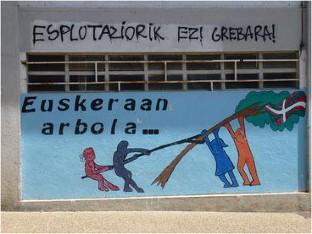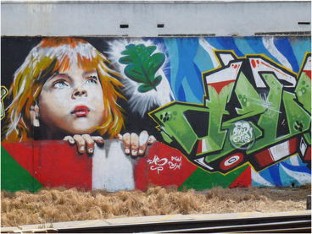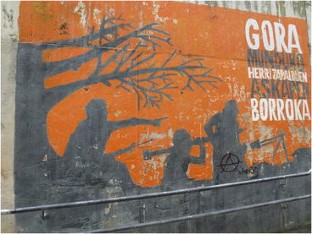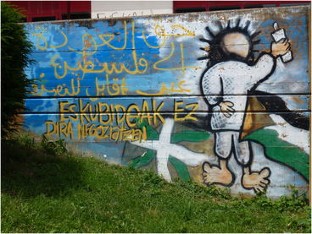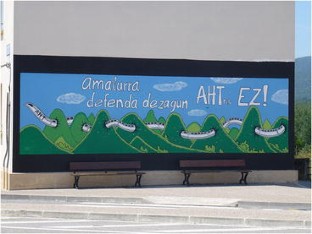 Notes
Ley 4/2008, de 19 de Junio, de Reconocimiento y Reparación a las Víctimas del Terrorismo, Comunidad Autonoma del Pais Vasco, Boletin Oficial del Estado, Num. 212. / Law 4/2008, 19th June, of Recognition and Reparation of Victims of terrorism, Basque Autonomous Community, The Congressional Record, No. 212. 1st Title, Article 4.

Ley 29/2011, de 22 de septiembre, de Reconocimiento y Protección Integral a las Víctimas del Terrorismo. Boletin Oficial del Estado Num. 229. / Law 29/2011, 22 September, of Recognition and Integral Protection to the Victims of Terrorism, The Congressional Record, No. 229. 7th Title, 1st Section, Article 61.

In October 2013, the European Court of Human Rights (ECtHR) found against Spain under articles 5 and 7 of the European Convention on Human Rights over the failure to release a Basque prisoner, Inés del Río Prada (see Del Rio Prada v. Spain no. 42750/09; http://hudoc.echr.coe.int/sites/eng/pages/search.aspx?i=001-112108). The decision rested on the fact that, because of subsequent changes in Spanish law, the prisoner had served a longer term of imprisonment than she should have done under the law as it existed at the time of her conviction (see http://www.echr.coe.int/Documents/CP_Spain_ENG.pdf).

The cases are Affaire Otamendi Egiguren v. Spain, Requete no. 47303/08, Affaire San Argimiro Isasa v. Spain, Requete no. 2507/07; Asunto Beristain Ukar v. Spain, Demanda no. 40351/05; Affaire Etxebarrria Caballero v. Spain (Requête no. 74016/12); Affaire Ataun Rojo v. Spain (Requête no. 3344/13); Affaire Arratibel Garcaindia v. Spain(Requête no. 58488/13).

Galindo was released in 2005 and Elgorriaga in 2001, both on health grounds.

The creation of cartoonist Naji Salim al-Ali, Handala is perpetually 10 years of age, the age his creator was when he became a refugee.
References
Abushagur, S. (2011) The art of uprising: the Libyan revolution in graffiti. Author.

Adams, J. (2001). The makings of political art. Qualitative Sociology 24(3), 311–348.

Alonso, R. (2004). Pathways out of terrorism in Northern Ireland and the Basque Country: the misrepresentation of the Irish model. Terrorism and Political Violence, 16(4), 695–713.

Amnesty International. (2009). Spain: adding insult to injury. Police impunity two years on. London: Amnesty International.

Anderson, B. (2006). Imagined communities: reflections on the origin and spread of nationalism. London: Verso.

Bartolomé-Gutiérrez, R., & Rechea-Alberola, C. (2006). Violent youth groups in Spain. Young: Nordic Journal of Youth Research, 14(4), 323–342.

Bassets, L. (1983). Clandestine communications: notes on the press and propaganda of the anti-Franco resistance, 1939–1975. In A. Mattelart & S. Siegelaub (Eds.), Communication and class struggle, vol. 2. Liberation, socialism (pp. 192–200). New York/Bagnelot: International General/International Mass Media Research Center.

Beck, J. (2006). Geopolitical Imaginations of the Basque Homeland. Geopolitics, 11, 507–528.

Benford, R., & Snow, D. (2000). Framing processes and social movements: an overview and assessment. Annual Review of Sociology, 26, 611–639.

Bengoetxea, J. R. (2013). Transitional justice versus traditional justice: the Basque case. Journal on Ethnopolitics and Minority Issues in Europe, 12(2), 30–58.

Bew, J., Frampton, M., & Gurruchaga, I. (2009). Talking to terrorists: making peace in Northern Ireland and the Basque Country. London: Hurst and Company.

Blasi, P. (2009) Patxi López promete acabar con el 'muro de la vergüenza' en Mondragón, 8 March, El Mundo. http://www.elmundo.es/elmundo/2009/03/07/paisvasco/1236427285.html.

Bray, Z. (2006). Basque militant youths in France: new experiences of ethnonational identity in the European context. Nationalism and Ethnic Politics, 12, 533–553.

Bullain, I. (2011). Revolucionarismo Patriótico: El Movimiento De Liberación Nacional Vasco (MLNV). Tecnos.

Calvente, L., & García, G. (2014). The city speaks. Cultural Studies 28(3), 438–462.

Carmena, M., Landa, J. M., Múgica, R., & Uriarte, J. (2013). Base report on human rights violations in the Basque country case (1960–2013). Vitoria Gasteiz: Office of the Secretariat General for Peace and Social Harmony.

Casquete, J. (2003). From imagination to visualization: protest rituals in the Basque Country. Berlin: Wissenschaftszentrum Berlin für Sozialforschung.

Chaffee, L. (1988). Social conflict and alternative mass communications: public art and politics in the service of Spanish-Basque nationalism. European Journal of Political Research, 16(5), 545–572.

Chaffee, L. (1993). Political protest and street art: popular tools for democratization in Hispanic countries. Westport: Greenwood Press.

Chehabi, H. E., & Christia, F. (2008). The art of state persuasion: Iran's post-revolutionary murals. Persica, 22, 1–13.

Chesters, G., & Welsh, I. (2004). Rebel colours: 'framing' in global social movements. Sociological Review, 52(3), 314–335.

Chiumbu, S. (2012). Exploring mobile phone practices in social movements in South Africa: the Western Cape Anti-Eviction Campaign. African Identities, 10(2), 193–206.

Davant, J. L. (1997). Lore Jokoeningurumenaz, Soziolinguistikaaldizkaria, 25.

Doerr, N., Mattoni, A., & Teune, S. (2013). Toward a visual analysis of social movements, conflict and political mobilization. In N. Doerr, A. Mattoni, & S. Teune (Eds.), Advances in the visual analysis of social movements. Bingley: Emerald Group Publishing. xi–xxvi.

Doerr, N. and Teune, S. (2008) Visual codes in movement: when the protest imagery hits the establishment. http://protestkuriosa.files.wordpress.com/2008/05/doerr-teune.pdf.

Dorfman, A. (1978). The invisible Chile: three years of cultural resistance. Praxis, 4, 191–197.

Douglass, W., & Zulaika, J. (1990). On the interpretation of terrorist violence: ETA and the Basque political process. Comparative Studies in Society and History, 32(2), 238–257.

El País. (1987) Un disparo atravesó la cabeza de Lucía Urigoitia, según la Guardia Civil., 27 July.

Emmison, M., Smith, P., & Mayall, M. (2012). Preface. In M. Emmison et al. (Eds.), Researching the visual. London: Sage.

Entman, R. M. (1993). Framing: toward clarification of a fractured paradigm. Journal of Communication, 43(4), 51–58.

Eyerman, R., & Jamison, A. (1998). Music and social movements. Cambridge: Cambridge University Press.

Espinosa, P. and Lopez, E. (2013). Hertzainak. La Confesion Radical. Pepitas De Calabaza Editorial.

Franco, J. (1970). The modern culture of Latin America, society and the artist. Baltimore: Penguin Books.

Gibbons, S. (2004). The costs of urban property crime. The Economic Journal, 114(499), F441–F463.

Gröndahl, M. (2013). Revolution graffiti: street art of the new Egypt. London: Thames and Hudson.

Goicoechea, E. (1984). Cuadrillas en el Pais Vasco: Identidad Local y Revitalizacion etnica. Reis, 25, 213–220.

Goodnow, T. (2006). On black panthers, blue ribbons and peace signs: the function of symbols in social campaigns. Visual Communication Quarterly 13(3), 166–179.

Hamilton, C. (2007a). The gender politics of political violence: women armed activists in ETA. Feminist Review, 86, 132–148.

Hamilton, C. (2007). Women and ETA: the gender politics of radical Basque nationalism. Manchester University Press.

Hobsbawm, E., & Ranger, T. (Eds.). (1983). The invention of tradition. Cambridge: Cambridge University Press.

Howard, P., & Hussain, M. (2013). Democracy's fourth wave? Digital media and the Arab Spring. New York: Oxford University Press.

Kasmir, S. (2002). 'More Basque than you!' Class, youth and identity in an industrial Basque town. Identities: Global Studies in Culture and Power, 9(1), 39–68.

Khatib, L. (2013). Image politics in the Middle East: the role of the visual in political struggle. London: I.B. Tauris.

Kopper, A. (2014). Why guernica became a globally used icon of political protest? Analysis of its visual rhetoric and capacity to link distinct events of protests into a grand narrative. International Journal of Politics, Culture and Society, 27, 443–457.

Kunzle, D. (1973). Art in Chile's revolutionary process: guerrilla muralist brigades. New World Review, 41(3), 42–53.

Kunzle, D. (1975). Public graphics in Cuba. Latin American Perspectives 2, 1975: 100.

Lahusen, C. (1993). The aesthetic of radicalism: the relationship between punk and the patriotic nationalist movement of the Basque country. Popular Music, 12(3), 263–280.

Leone, S. (2008). Euskal Herri Imaginario Baten Alde. Donostia: Elkar.

Mac Gall, C. (2013), Treatment of Basque political prisoners and their families—a catalogue of abuse of human and civil rights, http://www.indymedia.ie/article/103425.

Martínez-Herrara, E. (2002). Nationalist extremism and outcomes of state policies in the Basque Country, 1979–2001. International Journal on Multicultural Societies, 4(1), 16–40.

Mattoni, A., & Teune, S. (2014). Visions of protest: a media-historic perspective on images in social movements. Sociology Compass 8(6), 876–887.

Matusitz, J. (2014). Symbolism in terrorism: motivation, communication, and behavior. Lanham: Rowan and Littlefield.

Mohl, E. (2011). Zapatista signs of the times—Chiapas, Mexico. http://trans-americas.com/blog/2011/06/zapatista-signs-chiapas/.

Musleh, M. (2010). Taking back Palestine's streets: exclusive interview with underground Jerusalem graffiti artist. The Electronic Intifada 29 August.

Olesen, T. (2013). 'We are all Khaled Said': visual injustice symbols in the Egyptian revolution. In N. Doerr et al. (Eds.), Advances in the visual analysis of social movements (pp. 3–25). Bingley: Emerald Group Publishing.

Philipps, A. (2012). Visual protest material as empirical data. Visual Communication, 11(1), 3–21.

Prieto, J. (1993). El Imaginario vasco: representaciones de una conciencia histórica, nacional y política en el escenario europeo, 1833–1876. Ediciones Internacionales Universitarias.

Ransome, A. (2004). The crisis in Russia. Charleston, South Carolina: Booksurge Classics (originally published 1920).

Rolston, B. (1991). Politics and painting: murals and conflict in Northern Ireland. Cranbury: Associated University Presses

Sánchez, M. (2006). Los Murales Efímeros de la Guerra Civil Española y su Relación con México. Crónicas: El muralismo, producto de la revolución mexicana, en América, México, UNAM-IIE, No. 12.

Sánchez-Cuenca, I. (2008). The persistence of nationalist terrorism: the case of ETA, chapter prepared for Mulaj, K. (ed) Violent non-state actors in contemporary world politics.http://www.march.es/ceacs/proyectos/dtv/pdf/ETA%20%28Kledja%29.pdf.

Sawer, M. (2007). Wearing your politics on your sleeve: the role of political colours in social movements. Social Movement Studies, 6(1), 39–56.

Siqueiros, D. (1975). Art and revolution (pp. 123–129). London: Lawrence and Wishart.

Stermer, D. (1970). The art of revolution. New York: McGraw-Hill.

Schmitt, P. (2009). Advertised to death: Lebanese poster boys. Lebanon: Author.

Tejerina, B. (2001). Protest cycle, political violence and social movements in the Basque Country. Nations and Nationalism, 7(1), 39–57.

Urla, J. (1995). Outlaw language: creating alternative public spheres in Basque free radio. Pragmatics, 5(2), 245–261.

Whitfield, T. (2014). Endgame for ETA: elusive peace in the Basque Country. London: Hurst.

Woodworth, P. (2001). Dirty war, clean hands. Cork: Cork University Press.

Woodworth, P. (2005). Using terror against terrorists: the Spanish experience. In S. Balfour (Ed.), The politics of contemporary Spain (pp. 61–80). London: Routledge.

Woodworth, P. (2007). Basque Country: a cultural history. Oxford: Oxford University Press.

Wright, H. K. (2003). Cultural studies as Praxis: (making) an autobiographical case. Cultural Studies 17(6), 805–822.

Zarraibeitia, P. (1986). Expresion mural. Ikuspen.

Zirakzadeh, C. (2002). From revolutionary dreams to organizational fragmentation: disputes over violence within ETA and Sendero Luminoso. Terrorism and Political Violence, 14(4), 66–92.
About this article
Cite this article
Rolston, B., Alvarez Berastegi, A. Taking Murals Seriously: Basque Murals and Mobilisation. Int J Polit Cult Soc 29, 33–56 (2016). https://doi.org/10.1007/s10767-015-9204-4
Published:

Issue Date:

DOI: https://doi.org/10.1007/s10767-015-9204-4
Keywords
Political murals

Basque Country

Abertzale-left

Social movement

Mobilization

ETA